Toronto mayor calls for national summit to tackle mental health crisis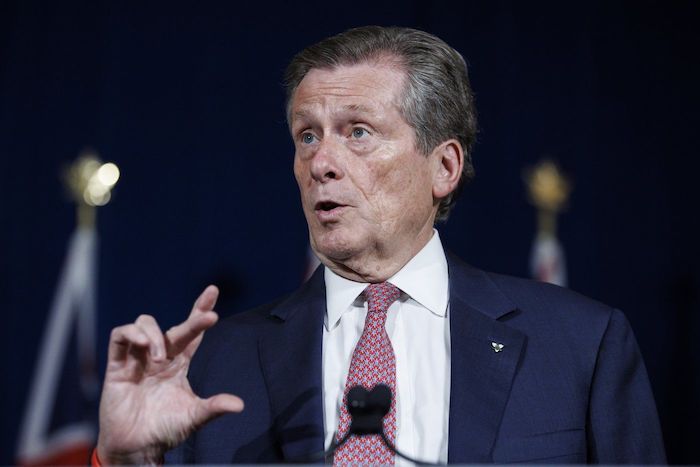 Toronto – Canada's mental health crisis demands a national summit with representation from all levels of government, Toronto Mayor John Tory said Wednesday, claiming a lack of provincial and federal support is offloading responsibilities onto "ill-equipped" municipalities.
In a statement Wednesday morning, Tory called for a summit that would see mayors, ministers, premiers and the prime minister discuss how better to support people living with mental health and addictions challenges.
Coming out of the COVID-19 pandemic, Tory said the lack of spending on mental health is "painfully clear on the streets" of Canadian municipalities.
"This summit must be the moment we start treating mental health care as health care. That we clearly decide on who has responsibility to do what, and to get on with doing much more together," he said.
The mayor has routinely linked with issues of mental health support with recent random violent attacks on Toronto public transit. The city's transit system has seen three incidents in the past four days alone.
After a woman was stabbed to death during a random attack on a subway in mid-December, Tory said more mental health investments were required to ensure people in crisis had places to go other than the transit system.
"When the federal and provincial governments don't fully and adequately fund mental health care, the responsibility is offloaded to ill-equipped municipalities across Canada," he said in Wednesday's statement.
"It is offloaded to our shelters, to our police services, to our transit systems, and to hospital emergency departments."
The best evidence of the ongoing mental health crisis is issues related to substance abuse, Tory said, noting the thousands of people who have died from opioid overdoses.
Tory says he first made the proposal for a national mental health summit directly to Prime Minister Justin Trudeau in December.
"Three years ago, we confronted the COVID-19 pandemic and in that moment all governments worked together to help people and to help each other get through those tough times," Tory said in the statement.
"Now we are facing a mental health crisis that requires that same level of dedication, co-operation and commitment."
This report by The Canadian Press was first published Jan. 25, 2023.
What to know about new research on coffee and heart risks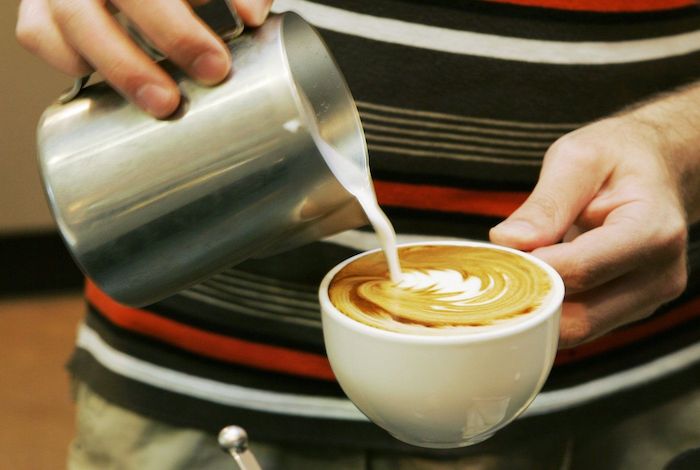 A worker prepares a coffee drink at a shop in Overland Park, Kan., Thursday, Aug. 14, 2008. In a study published in the New England Journal of Medicine on Wednesday, March 22, 2023, healthy volunteers who were asked to drink coffee or skip it on different days showed no signs of an increase in a certain type of heart rhythm after sipping the caffeinated drinks, although they did walk more and sleep less. (AP Photo/Orlin Wagner)
By Jonel Aleccia
Coffee lovers — and their doctors — have long wondered whether a jolt of java can affect the heart. New research published Wednesday finds that drinking caffeinated coffee did not significantly affect one kind of heart hiccup that can feel like a skipped beat.
But it did signal a slight increase in another type of irregular heartbeat in people who drank more than one cup per day. And it found that people tend to walk more and sleep less on the days they drank coffee.
Coffee is one of the most common beverages in the world. In the U.S., two-thirds of Americans drink coffee every day, more than bottled water, tea or tap water, according to the National Coffee Association, a trade group. Coffee contains caffeine, a stimulant, which is widely regarded as safe for healthy adults at about 400 milligrams per day, or roughly the equivalent of four or five cups brewed at home.
Coffee has been associated with multiple health benefits and even a lower risk of dying, based on large studies that observed participants' behavior. Despite research that has shown moderate coffee consumption doesn't raise the risk of heart rhythm problems, some professional medical societies still caution against consuming caffeine.
The latest research:
THE EXPERIMENT
Researchers outfitted 100 healthy volunteers with gadgets that continuously monitored their heart function, daily steps, sleep patterns and blood sugar. The volunteers, who were mostly younger than 40, were sent daily text messages over two weeks instructing them to drink or avoid caffeinated coffee on certain days. The results were reported Wednesday in the New England Journal of Medicine.
This type of study, which directly measures the biological effects of drinking or not drinking caffeinated coffee in the same people, is rare and provides a dense array of data points, said study co-author Dr. Gregory Marcus, a cardiologist at the University of California, San Francisco, who specializes in treating heart arrhythmias.
THE FINDINGS
Researchers found that drinking caffeinated coffee did not result in more daily episodes of extra heartbeats, known as premature atrial contractions. These extra beats that begin in the heart's upper chambers are common and typically don't cause problems. But they have been shown to predict a potentially dangerous heart condition called atrial fibrillation.
They also found slight evidence of another kind of irregular heartbeat that comes from the lower heart chambers, called premature ventricular contractions. Such beats are also common and not usually serious, but they have been associated with a higher risk of heart failure. The researchers found more of these early beats in people on the days they drank coffee, but only in those who drank two or more cups per day.
The volunteers logged about 1,000 more steps per day on the days they drank coffee — and they slept about 36 minutes less, the study found. There was almost no difference in blood sugar levels.
One interesting result: People with genetic variants that make them break down caffeine faster experienced less of a sleep deficit, while folks with variants that lead them to metabolize caffeine more slowly lost more sleep.
WHAT IT MEANS FOR YOU
Because the study was performed in a small number of people over a short period of time, the results don't necessarily apply to the general population, said Dr. Dave Kao, a cardiologist and health data expert at the University of Colorado School of Medicine, who was not involved in the study. However, the study is consistent with others that have found coffee is safe and it offers a rare controlled evaluation of caffeine's effect, Kao added.
Co-author Marcus cautions that the effects of drinking coffee can vary from person to person. He said he advises his patients with heart arrhythmias to experiment on their own to see how caffeine affects them.
"They're often delighted to get the good news that it's OK to try coffee and drink coffee," he said.
Surgery wait times for cancer, joint replacement patients still lagging amid backlog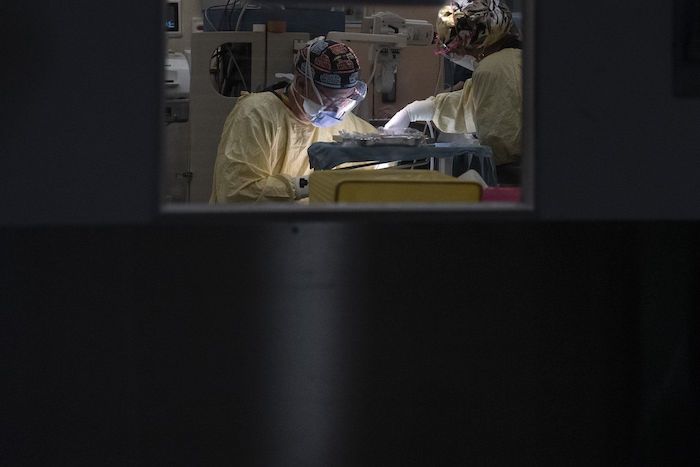 A surgery is performed in the operating room at Toronto's Hospital for Sick Children on Wednesday, November 30, 2022. THE CANADIAN PRESS/Chris Young
By Nicole Ireland
Hospitals across Canada are performing surgeries at close to pre-pandemic levels, but many patients continue to face longer-than-recommended wait times due to the backlog created by COVID-19, a new report from the Canadian Institute for Health Information says.
The report, published on Thursday, looked at knee and hip replacements, cataract surgeries and cancer surgeries performed in 2019 versus those performed in 2022.
Thousands of joint replacement and cataract surgeries were cancelled or delayed when COVID-19 hit.
"Things like knee and hip replacements and cataracts are what we call scheduled surgeries and they were particularly affected during the pandemic because they're not life-threatening," said Tracy Johnson, director of health system analytics at CIHI.
"They are very uncomfortable for patients. They cause them more pain. They might even have economic pain. But those are the kinds of things that had to be delayed, especially in the first part of the pandemic when we didn't know what kind of COVID stuff was going to come at us," Johnson said.
Those delays created a backlog of surgical procedures that health-care providers still haven't been able to catch up on.
"The most recent data shows that while the monthly number of scheduled surgeries is nearing pre-pandemic levels, this is insufficient to clear the backlog and improve wait times," the CIHI report said.
"It also shows that catching up has been more challenging for joint replacement surgeries, which are primarily performed in hospital operating rooms, than for cataract surgeries, which can be done in day procedure rooms or community clinics."
The longest recommended wait time for knee and hip replacements is six months.
Only half of Canadian patients got their knee replacement surgery within that time frame between April and September 2022, the researchers found. Prior to the pandemic, about 70 per cent of knee replacements were done within the recommended period.
About 57 per cent of hip replacement patients had their surgery in the recommended six-month window in 2022 compared to 75 per cent of patients in 2019.
Cancer surgery wait times haven't been as dramatically affected because the most urgent cases were prioritized during COVID-19 shutdowns, said Johnson.
Still, during the first several months of the pandemic, there were about 20 per cent fewer cancer procedures performed than before. Those delays and cancellations created the initial backlog, the report said.
Half of patients needing breast, bladder, colorectal and lung cancer surgery waited one to three days longer between April and September 2022 compared to before the pandemic, it said. For patients with prostate cancer, that average wait time jumped to 12 days longer.
Andrea Seale, CEO of the Canadian Cancer Society, said it's critical for the health-care system to reduce those wait times.
"A day or two might not sound like a lot but it truly is when it comes to cancer because it's just a disease that cannot wait," she said.
In a survey of 700 patients and caregivers conducted by the Canadian Cancer Society in November, about a quarter of respondents reported they are still experiencing cancelled or postponed appointments, Seale said.
"Any delay is extremely distressing to people who are facing cancer."
For cataract surgery, the recommended maximum wait time is 112 days. Although two-thirds of Canadian patients, on average, are getting their surgery within that time frame — the same proportion as before the pandemic — there is "considerable variation" across the provinces, the CIHI report said.
More patients in Newfoundland and Labrador, Quebec and Ontario are waiting longer for cataract surgery, while a higher proportion of patients in B.C., Alberta, Manitoba and P.E.I. are getting their cataract procedures within the recommended 112 days.
Dr. Thomas Forbes, surgeon-in-chief at University Health Network in Toronto, said the CIHI report is "valuable" as it highlights patients most affected by surgical backlogs.
"It is really an all-hands-on-deck effort at our hospital and at, I suspect, all other hospitals," he said.
Forbes agreed with the report's findings that hospitals have to do even more surgeries than they did before the pandemic to catch up, noting that an aging population increases the demand even more.
UHN has expanded its operating room capacity between 110 and 120 per cent compared to before the pandemic, he said.
That means extending operating room hours during the week, as well as scheduling surgeries on weekends, which had previously been limited to emergencies only.
UHN has also reopened old operating rooms that had been decommissioned, Forbes said.
"Everything is on the table," he said, including the possibility of transferring patients to a different physician who has a shorter waiting list.
The current staffing shortage, particularly among nurses, is another issue that has to be resolved for hospitals to be able to catch up, Johnson from CIHI said.
"You have a list of people who need surgeries, but you also need people to be able to either perform the surgeries or care for those people post-op," she said.
This report by The Canadian Press was first published March 23, 2023.
Canadian Press health coverage receives support through a partnership with the Canadian Medical Association. CP is solely responsible for this content.