Timeline of events in the case of convicted rapist and killer Paul Bernardo
A chronology of events in the case of convicted rapist and killer Paul Bernardo:
1991
June 15 – Leslie Mahaffy, 14, disappears from outside her home in Burlington, Ont., in the early hours of the morning.
June 29 – Mahaffy's body parts are found encased in concrete blocks in Lake Gibson near St. Catharines, Ont. The same day, Paul Bernardo marries Karla Homolka.
1992
April 16 – Kristen French, 15, is abducted as she walks home from school in St. Catharines.
April 30 – French's nude body is found in a ditch in Burlington, Ont., 500 metres from Mahaffy's grave.
1993
Feb. 17 – Police arrest Bernardo at his St. Catharines home.
April 30 – Police end three-month search of Bernardo's house after warrant expires.
May 6 – Bernardo's lawyer, Ken Murray, enters house and, after receiving phone call from his client, removes videotapes depicting rapes of four girls including French and Mahaffy.
May 18 – Homolka is charged with two counts of manslaughter in the French and Mahaffy slayings after striking deal with Crown. She is freed on bail.
May 19 – Bernardo is charged with two counts each of first-degree murder, kidnapping, forcible confinement and aggravated sexual assault, and one count of committing an indignity to a body.
July 5 – Justice Francis Kovacs orders delay on publication of most information from Homolka's trial.
July 6 – Homolka is convicted of manslaughter and sentenced to 12 years in prison.
1994
March 30 – Crown files a preferred indictment that cancels Bernardo's preliminary hearing and sends him directly to trial on the murder charges.
May 4 – Bernardo pleads not guilty to the nine charges.
Sept. 7 – Murray asks to withdraw from the case. Toronto lawyer John Rosen says he's been asked to represent Bernardo.
Sept. 12 – Rosen formally replaces Murray as Bernardo's lawyer, and says he needs several months to prepare for trial. Murray gives Rosen videotapes, which Rosen later turns over to police.
Nov. 7 – Rosen says the trial should be moved out of St. Catharines because of intense media coverage.
Nov. 10 – Justice Patrick LeSage agrees to move the trial.
1995
May 3-5 – 12 jurors are selected from pool of about 1,000.
May 18 – Trial begins. Prosecutor Ray Houlahan's opening statement portrays Bernardo as a sexual sadist who battered and blackmailed Homolka and strangled French and Mahaffy with an electrical cord.
May 31 – Jurors begin watching videotapes depicting sexual assaults on French, Mahaffy, Homolka's sister Tammy and a girl known in court as Jane Doe.
June 19 – Homolka testifies she was battered into submission by Bernardo and ultimately watched him strangle Mahaffy and French.
July 13 – Rosen, the defence lawyer, concludes cross-examination by alleging French choked to death while Homolka was beating her with a mallet. Homolka denies it.
Aug. 14 – Crown ends its case after three months and 86 witnesses.
Aug. 15 – Defence begins its case. Bernardo admits kidnapping and raping French and Mahaffy to satisfy an "out-of-control" sex life, but denies killing them. He says both died while he was out of the room.
Aug. 22 – Crown finishes cross-examining Bernardo, and defence wraps up its case.
Aug. 28 – In his closing argument, Rosen admits his client — "the devil incarnate" — kidnapped, raped and confined the two girls, but says Crown did not prove he murdered the girls. Rosen says Homolka's testimony was not credible and should not be believed by jurors.
Aug. 29 – Houlahan tells jurors that even if they don't believe Homolka, they should still convict Bernardo of murder because the videotapes provide "overwhelming proof" he killed the girls. The prosecutor suggests Homolka would also have been tried for murder if police had the videotapes in 1993.
Sept. 1 – After eight hours of deliberation, jury declares Bernardo guilty on all nine counts. He is sentenced to life in prison with no parole for 25 years on the two murder charges.
2018
May 18 – Bernardo, now 54, is ordered to stand trial for allegedly possessing a homemade shank in the maximum-security prison where he is serving his life sentence.
Oct. 5 – The weapon charge is withdrawn after the Crown says there is no reasonable prospect of conviction.
Oct. 17 – A National Parole Board panel denies Bernardo's bid for parole.
The Canadian Press
'If there'd even been five minutes' warning': Woman questions storm alert system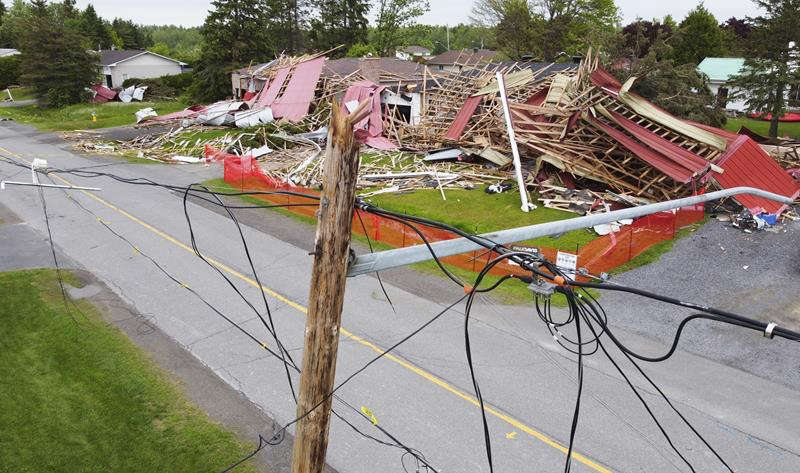 Bethany Armstrong watched as the sky turned a tint of green on Saturday afternoon.
The Peterborough, Ont., woman was out camping with friends in Lakehurst, Ont., at the time, so she checked a weather app on her phone and noticed a thunderstorm warning.
That was the only indication she said she had that a vicious storm was about to hit.
Armstrong said she never received the emergency alert that many Ontario residents got on their cellphones, warning them to seek shelter ahead of severe weather that ultimately killed 11 people.
One of those who died was a close friend of Armstrong's family – Armstrong says that friend didn't get the alert either.
"If there'd even been five minutes' warning … she would have gotten inside," Armstrong said of the woman she likened to her second mom.
Joanne Labelle, 64, of Cornwall, Ont., was among those killed as a result of the storm. She had been staying in a trailer on Armstrong's parents' property in the Peterborough area when the intense winds and rains hit.
Labelle's husband and Armstrong's father found Labelle struck by a tree – Armstrong said the family thinks Labelle had been trying to get from the trailer to a house on the property when she was hit.
Armstrong said her family and Labelle's husband later checked Labelle's cellphone, which was with her during the storm, but found no evidence of an alert.
"I just think like, 'Wow, you know, if she had got the alert, we wouldn't maybe be in this situation,'" Armstrong said, describing Labelle as a "smart" woman who loved the outdoors and would have taken a severe weather warning seriously.
Emergency alerts are issued in Canada through the Alert Ready system, which delivers critical alerts to Canadians through television, radio and LTE-connected and compatible wireless devices.
The system was developed with many partners, including federal, provincial and territorial emergency management officials, Environment and Climate Change Canada, weather information company Pelmorex Corp., the broadcasting industry and wireless service providers.
Cecelia Parsons, a spokesperson for Environment Canada, said "broadcast immediate" alerts are sent through the Alert Ready system for tornado warnings and severe thunderstorm warnings involving wind gusts of 130 kilometres per hour or greater and hail that is at least seven centimetres in diameter. Saturday's storm was the first time such an alert for a thunderstorm was sent through the system, she said.
However, some residents may not have received an emergency alert on their smartphones for a number of reasons, including their phones not being "compatible," Parsons said.
"This may occur for a variety of reasons: the phone is turned off or in silent or airplane mode; the phone is not physically in the specific area targeted for the alert; device compatibility, connection to an LTE network, cell tower coverage and device software and settings," she said.
Martin Belanger, director of public alerting for Pelmorex, said smartphones need to be in the area where an emergency alert has been issued in order to receive an alert and also need to be connected to an LTE or 5G network — a requirement established by the Canadian Radio-television and Telecommunications Commission.
As of April 2019, the CRTC requires that new phones sold by Canada's wireless carriers be compatible with the emergency alerting system, Parsons added.
Belanger said Environment Canada was responsible for issuing the emergency alerts on Saturday and Pelmorex received those alerts and made them available to broadcasters and wireless service providers.
He added that Pelmorex received "some" reports from the public about not getting an emergency alert during Saturday's storm. When the company receives such reports, it shares that information with its partners, he said.
Emergency Preparedness Minister Bill Blair said that with 11 people dead, the early warning system didn't work as well as it could have to protect residents from last weekend's storm.
"I think there needs to be improvement," Blair said on Friday from Indonesia, where he was attending international meetings on disaster risk and mitigation.
"When (there's) information that Canadians need to take the steps in order to be safe, we need to make sure that they get that information."
Blair said public education is also needed so Canadians know what to do when they receive such an alert. He also said the country's public alerting system, controlled by provinces and territories, is applied "inconsistently."
"The tragic loss of life and the damage that occurred in Ontario and Quebec over the past several days demonstrate to us that there is still more work to do, and we're committed to doing that," he said.
Armstrong, who made it through the storm last weekend by taking shelter in a nearby home, said she would like to see the Alert Ready system improved.
"I just hope that things can improve for the future and that they can get either a better system in place or adjust the criteria that has to be met," she said as she remembered Labelle as a beloved matriarch and a mainstay at the pharmacy where she worked. "So we can try and help save other people."
This report by The Canadian Press was first published May 27, 2022.
– with files from Stephanie Taylor in Ottawa.
———
This story was produced with the financial assistance of the Meta and Canadian Press News Fellowship.
Noushin Ziafati, The Canadian Press
Federal government posts $95.6 billion deficit for 2021-2022 fiscal year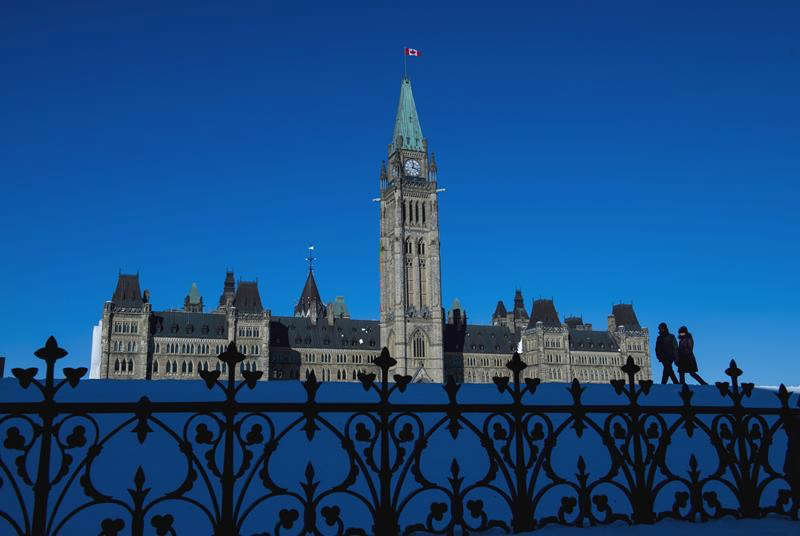 OTTAWA — The federal government posted a deficit of $95.6 billion for its 2021-22 fiscal year.
In its monthly fiscal monitor report, the Finance Department says the tally for the April 2021 to March 2022 period compared with a deficit of $314.0 billion a year earlier.
Program expenses, excluding net actuarial losses, totalled $457.3 billion, down from $577.6 billion a year earlier due in large part to lower transfers to businesses, individuals, and other levels of government.
Public debt charges rose to $24.8 billion compared with $20.5 billion a year earlier.
Revenue for the fiscal year totalled $396.8 billion, up from $299.5 billion, due to higher tax and other revenues.
Net actuarial losses were $10.3 billion, down from $15.4 billion.
This report by The Canadian Press was first published May 27, 2022.
The Canadian Press