Thunderbirds look to lean on big-game experience in run for first Memorial Cup title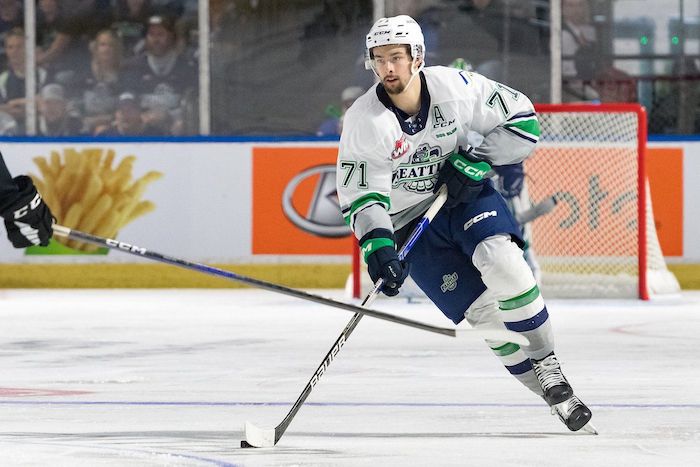 Dylan Guenther of the Seattle Thunderbirds is shown in a handout photo. Guenther is among five players on the Thunderbirds squad who led Canada to a world junior championship gold medal back in January
By Abdulhamid Ibrahim in Kamloops
The Seattle Thunderbirds are looking to continue using the big-game experience they possess to their advantage at the Memorial Cup.
Dylan Guenther is among six players on the Thunderbirds squad who led Canada to a world junior championship gold medal back in January — where Guenther had a two-goal outing, including the overtime winner in the final. Defencemen Nolan Allan and Kevin Korchinski, goaltender Thomas Milic and forwards Reid Schaefer and Colton Dach were the others.
Allan, Guenther and Dach were in-season trade pickups for Western Hockey League champion Seattle, which is taking aim at its first Memorial Cup title in its third tournament appearance.
"It's really important, I think it's the reason why we're here," said head coach Matt O'Dette. "It helps to have the big-game experience.
"We have guys who played world juniors, we've got guys who played gold-medal games in that tournament, which is obviously bright lights. We're going to use those experiences … for the remainder of the tournament, so we've got those guys to lean on."
Guenther started the year with the NHL's Arizona Coyotes, who drafted him ninth overall in 2021. The six-foot-two, 175-pound right-winger had six goals and nine assists in 33 games for Arizona and was loaned to Canada for the world juniors in December.
He had seven goals and three assists in seven contests, including his headlining performance against Czechia in the gold-medal final. After a short return to the Coyotes, he was re-assigned to Seattle in February, which had acquired his rights from the Edmonton Oil Kings the month prior.
Guenther had 29 points (13 goals, 16 assists) in 20 regular-season games before adding 28 more, including a WHL- and then-CHL-high 16 goals in 19 post-season games leading into the Memorial Cup. He has yet to find the scoresheet in two games since.
"It's been pretty good," Guenther said of his season to date. "I think, obviously, this is the time where you want to peak."
"I think just trusting yourself and your abilities," he added about the space he has to be in for big moments. "Played hockey for a long time, worked really hard to get here, so just trusting myself and trusting my teammates."
The Thunderbirds earned a berth in Friday's semifinal with a 6-1 win over the Kamloops Blazers on Wednesday.
Seattle's next opponent is the winner of Thursday's tiebreaker between the host Blazers and Ontario Hockey League's Peterborough Petes.
Allan, a 2021 first-round draft pick of the Chicago Blackhawks, was part of a package deal between Seattle and the Prince Albert Raiders in November.
He had 10 points (two goals, eight assists) in the WHL playoffs and has two goals through two games at the Memorial Cup. He has played a key role on the Thunderbirds' blue line trying to stifle opponents' top lines.
The world junior experience is one Allan says has helped both individually and collectively.
"Any time you win a championship or something special like that, you create a bond with one another. (It) made us a little bit tighter of a group.
"Especially me, I had only known a couple of the guys here for like two weeks before I went there, so I think that was a big part of … getting to know them a bit better."
"Having a lot of us with that experience, it's big going into our playoff run," he added. "Coming here to this tournament, knowing how to handle the pressure and what the games are going to be like (and) to be able to share that with our other teammates, who may not have had that much experience."
Guenther views the shared experience of being in-season additions and time at the world juniors as a positive for the team.
"I think it's good," he said. "Obviously world juniors is really hard to mimic, so when you have guys who have played there and who want to continue to get better every day, I think it develops the rest of the team.
"The players within the team get better, which contributes to team success. I think just the drivers that we have, it starts in practice, that has allowed us to have success over the course of the season."
This report by The Canadian Press was first published May 31, 2023.
U Sports drops first-year grade requirements for participation, scholarships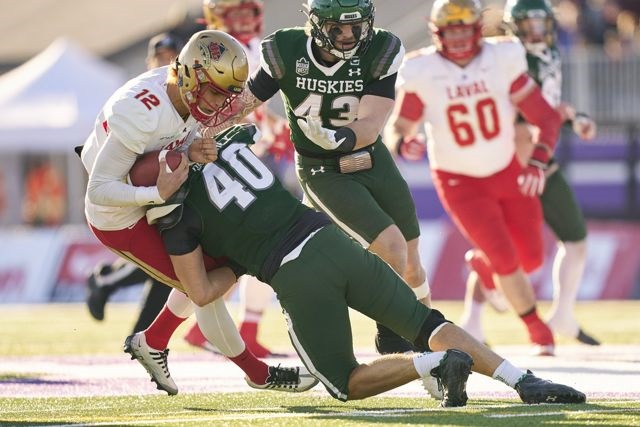 Laval Rouge et Or quarterback Arnaud Desjardins is tackled by Conner Delahey of the Saskatchewan Huskies during the first half of the Vanier Cup in London, Ont., Saturday, Nov. 26, 2022. Canada's governing body of varsity sports is changing its policies to allow students entering universities to be eligible to participate in sports and receive athletic scholarships regardless of their grades.THE CANADIAN PRESS/Geoff Robins
Toronto
Canada's governing body of varsity sports is changing its policies to allow students entering universities to be eligible to participate in sports and receive athletic scholarships regardless of their grades.
U Sports said in a statement Thursday that enrolling student-athletes will be able to play and receive scholarships as long as they have been accepted to a member university and enrolled in degree-granting courses.
The changes will come into force for the 2024-25 season.
Currently, student-athletes to have an 80 per cent average in their final year of high school or CEGEP to be eligible for an entering athletic scholarship and a 60 per cent average to be allowed to play varsity sports in their first year.
Also, beginning in the 2024-25 U SPORTS institutions will be required to give a minimum of 45 per cent of their total athletic scholarship units to athletes on men's teams and a minimum of 45 per cent to athletes on women's teams.
An athletic scholarship unit equals 100 per cent of tuition and mandatory fees for any student-athlete during an academic year.
"These changes intend to remove systemic barriers impacting a student-athlete's ability to participate in U Sports and receive funding assistance for pursuing their education," Pierre Arsenault, U Sports chief executive officer, said in a statement.
This report by The Canadian Press was first published Sept. 28, 2023.
"I Promised Mess I Wouldn't Do This"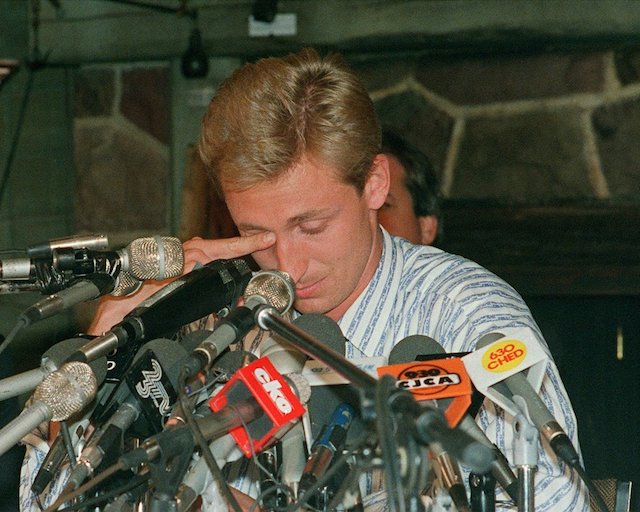 There's an abiding idiom in hockey trades. It says whoever got the best player in a deal wins the trade. If you get Wayne Gretzky you win every trade. After that, received wisdom of trades is more honoured in the breach than in the observance. Everyone has a theory. But all agree there's no denying the impact of trades toward NHL success.
From their evolution as simple player-for-player swaps to the current version of trading players for draft picks, cash, future considerations, salary-cap space or actual humans, the art of swapping in the NHL has become a science, an art and an accounting exercise. Where once it was a pair of hockey-lifer GMs making deals, today's moves require capologists, accountants, lawyers, agents and, often, the player's family being onside before a deal can be approved by the NHL.
A whole new culture has grown up within the sport so that deals can be swung. As trades have become more complicated, they have concurrently become less of a burden on the moving parts involved. We've come off an offseason with a surprisingly modest number of intriguing deals.
With preseason games starting, to whet the ref's whistle, here's a list Rating The Top 25 Trades in NHL history from our next book Deal With It: The Most Impactful Trades In NHL history and How They Changed The Game (due later in 2023). (from ***** to ***)
1) August 9, 1988: Wayne Gretzky, Marty McSorley, and Mike Krushelnyski from Edmonton to Los Angeles for Jimmy Carson, Martin Gélinas, the Kings' first rounders in 1989 (traded to New Jersey) , 1991 (Martin Rucinsky), 1993 (Nick Stadujar), and $15 million. *****
2) May 15, 1967: Phil Esposito, Fred Stanfield and Ken Hodge from Chicago to Boston for Gilles Marotte, Pit Martin and Jack Norris. ****1/2
3) October 4, 1991: Mark Messier and future considerations (Jeff Beukeboom) from Edmonton to the New York Rangers for Bernie Nicholls, Steven Rice, Louie DeBrusk and future considerations (David Shaw) ****1/
4) December 6, 1995: Patrick Roy and Mike Keane from Montreal to Colorado for Jocelyn Thibault, Martin Rucinsky and Andrei Kovalenko ****1/2
5) June 30, 1992 Eric Lindros from Quebec City to Philadelphia for Steve Duchesne, Peter Forsberg, Ron Hextall, Kerry Huffman, Mike Ricci, Chris Simon, a 1993 1st round pick (#10-Jocelyn Thibault), a 1994 1st-Round pick, (#10-Nolan Baumgartner)) and $15 million in cash *****
6) March 3, 1968: Norm Ullman, Floyd Smith, Paul Henderson and Doug Barrie to Toronto for Garry Unger, Peter Stemkowski, Frank Mahovlich and Carl Brewer ****1/2
6A). January 13, 1971: Frank Mahovlich from Detroit to the Montreal for Guy Charron, Bill Collins and Mickey Redmond ****
7) March 10, 1980 Butch Goring from L.A. to New York Islanders for Dave Lewis and Bill Harris ****
8. November 1947 : Max Bentley from Chicago to Toronto for Gus Bodnar, Gaye Stewart, Bud Poile, Bob Goldham and Ernie Dickens ****
9) January 2, 1992: Gary Leeman, Alex Godynyuk, Jeff Reese, Craig Berube and Michel Petit from Toronto to Calgary for Jamie Macoun, Ric Nattress, Rick Wamsley, Kent Manderville and Doug Gilmour ****1/2
10) August 17, 1992 Dominik Hasek from Chicago to Buffalo for Stephane Beauregard and a fourth-round draft pick (Eric Daze) ****
11) July 23, 1957 Ted Lindsay and Glenn Hall From Detroit To Chicago for Johnny Wilson, Forbes Kennedy, Hank Bassen, Eric Preston ***1/2
12) June 28, 1994: Garth Butcher, Mats Sundin, Todd Warriner and 1994 first-round pick (#10-Nolan Baumgartner) from Quebec City to Toronto for Wendel Clark, Sylvain Lefebvre, Landon Wilson and 1994 1st round pick (#22-Jeff Kealty) ***1/2
13) May 22, 1970 : 1971 1st-round pick (#1-Guy Lafleur) and Francois Lacombe from Oakland to Montreal for Ernie Hicke and 1970 1st-round pick (#10-Chris Oddleifson) *****
14) Nov. 7, 1975: Phil Esposito, Carol Vadnais from Boston to New York Rangers For Brad Park, Jean Ratelle ****
15) October 1989: Tom Kurvers from New Jersey to Toronto for first-round pick (#3 Scott Niedermayer) ****
16) Nov. 30 2005: Joe Thornton from Boston to San Jose for Brad Stuart, Wayne Primeau and Marco Sturm ***1/2
17) December 20, 1995: Joe Nieuwendyk from Calgary to Dallas for Jarome Iginla ***1/2
18) Feb. 22, 1964: Andy Bathgate and Don McKenney from New York Rangers to Toronto for Dick Duff, Bob Nevin, Rod Seiling, Arnie Brown and Bill Collins. ***
19) March 7, 1988: Brett Hull from Calgary to to St. Louis for Rick Wamsley and Rob Ramage ***
20) June 29, 1990: Denis Savard from Chicago to Montreal for Chris Chelios ***
21) June 24, 1963: Dave Balon, Leon Rochefort, Len Ronson and Lorne "Gump" Worsley from New York Rangers to Montreal for Donny Marshall, Phil Goyette and Jacques Plante. ***
22) June 24, 2000: Mark Parrish and Oleg Kvasha from Florida to the New York Islanders for Roberto Luongo and Olli Jokinen ***
23) February 10, 1960: Red Kelly from Detroit to Toronto for Marc Rheaume ***1/2
24) October 10, 1930: King Clancy from Ottawa to Toronto for Eric Petting, Art Smith, cash ***
25) June 28, 1964: Ken Dryden and Alex Campbell from Boston to Montreal for Paul Reid and Guy Allen ****
Sign up today for Not The Public Broadcaster newsletters. Hot takes/ cool slants on sports and current affairs. Have the latest columns delivered to your mail box. Tell your friends to join, too. Always provocative, always independent. https://share.hsforms.com/16edbhhC3TTKg6jAaRyP7rActsj5
Bruce Dowbiggin @dowbboy is the editor of Not The Public Broadcaster A two-time winner of the Gemini Award as Canada's top television sports broadcaster, he's a regular contributor to Sirius XM Canada Talks Ch. 167. Inexact Science: The Six Most Compelling Draft Years In NHL History, his new book with his son Evan, was voted the seventh-best professional hockey book of all time by bookauthority.org . His 2004 book Money Players was voted sixth best on the same list, and is available via http://brucedowbigginbooks.ca/book-personalaccount.aspx