Thousands of Afghans who helped Canada trapped in Afghanistan, struggling to leave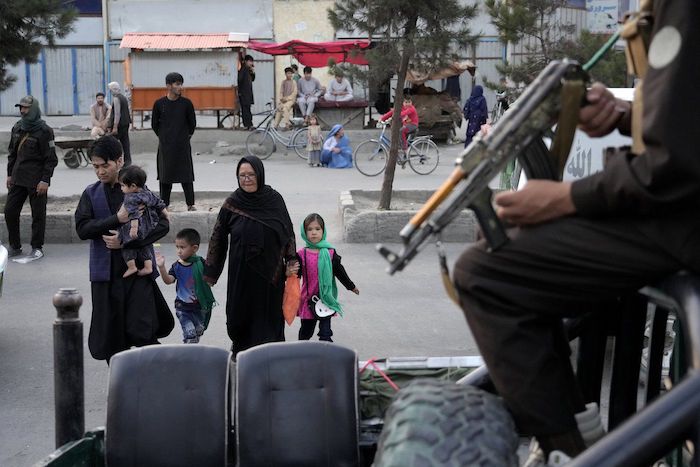 By Marie Woolf in Ottawa
MPs and veteran-led aid groups are urging ministers to do more to help thousands of Afghans who assisted Canadian Forces but remain trapped in Afghanistan a year after the Taliban seized Kabul.
They warn that 8,000 Afghans approved to come to Canada have not yet been able to escape. Many do not have a passport or visa and applying to the Taliban for documents could put them in danger.
Another 3,000 Afghans who helped Canada's Armed Forces and government have not been approved to come to Canada, according to Aman Lara, a veteran-led non-governmental organization working to help interpreters and other Canadian government employees on the ground.
Brian Macdonald, Aman Lara's executive director, urged Canada to extend the special immigration program, set up to settle 18,000 former local employees of the Canadian Armed Forces or government, which is being effectively wound down after reaching capacity.
"There are 8,000 people in Afghanistan who have been approved to come to Canada under the special immigration program who can't get out," he said.
"We are asking the government of Canada to keep the special immigration program open and unlimited in numbers until everybody who helped Canada gets out."
A spokeswoman for Immigration Minister Sean Fraser said in June the department has received over 15,000 applications for the program, as well as referrals for the remaining 3,000 spaces.
Official figures show Canada's resettlement efforts have lagged behind federal targets and efforts to help those fleeing the war in Ukraine.
More than 17,300 Afghans have arrived in Canada since last August compared to 71,800 Ukrainians who have come to Canada in 2022 alone, according to government statistics. The federal government has promised to resettle 40,000 Afghans.
Fraser predicted in December that it could take two years to fulfil the government's promise to bring 40,000 Afghan refugees to Canada.
Canadian activists and opposition MPs accused the Liberals of not doing enough and say some families are in hiding from the Taliban as they await approval of their immigration applications.
NDP immigration critic Jenny Kwan, who has been in contact with many Afghan refugees who worked with Canadian Forces, said there is a "stark difference" between the government's treatment of those fleeing the Taliban and those fleeing the Russian invasion.
She said the situation for Afghans who helped Canada is "grave," with many unable to escape the country and facing persecution by the Taliban.
Kwan said some received no reply to their applications from the Immigration Department other than an automated response. Others seeking visas from the Taliban authorities to escape their regime were put in peril if they identified themselves.
"Their lives are in danger. They told me what the Taliban are calling them: they are called 'the Western dogs,'" Kwan said.
"We owe them a debt of gratitude. We cannot abandon them."
Amanda Moddejonge, a military veteran and activist, said she has witnessed families being split up, with only some members making it to Canada. She also warned that Afghans who worked for Canadian Forces "are being hunted" by the Taliban.
"Nobody should face death for working for the Government of Canada, especially when this government can identify those who worked for them and is able to provide them life-saving assistance," she said.
Macdonald said safe houses set up by Aman Lara for Afghan interpreters and their families, and others who helped Canada, have closed because the exodus to Canada has taken so long and it could not afford to keep them open.
He said the Pakistan government had agreed to a 60-day window in June to allow Afghans without full documentation to leave the country to fly to Canada, but not all Afghan and Pakistani officials at borders and airports were aware.
He called on the Canadian government to negotiate to keep that window open until all Afghans approved to come to Canada are able to get here.
His plea came as aid agencies working in Afghanistan raise alarms that the country is in a dire humanitarian crisis, with 18.9 million people facing acute hunger.
Asuntha Charles, national director of World Vision Afghanistan, said aid workers have encountered acute poverty and malnutrition, including among children.
"At least one million children are on the brink of starvation, and at least 36 per cent of Afghan children suffer from stunting — being small for their age — a common and largely irreversible effect of malnutrition," she said.
"In the four areas we work, we've found that families live on less than a dollar a day. This has forced seven out of 10 boys and half of all girls to work to help their families instead of going to school."
Vincent Hughes, a spokesman for Fraser, said the Afghan and Ukrainian immigration programs are very different.
He said Afghan refugees who arrive through programs set up to bring them to Canada have a right to stay permanently, whereas it's believed many Ukrainians who have fled to Canada intend eventually to return to Ukraine.
Helping get people out of Afghanistan and to Canada was very challenging, he added, as Canada has no diplomatic presence there and does not recognize the Taliban government.
"Our commitment of bringing at least 40,000 vulnerable Afghans to Canada has not wavered, and it remains one of the largest programs around the world," he said.
Afghanistan's ambassador to Canada, who has no contact with the Taliban regime, said "the experience of the past one year in Afghanistan has been very painful and disturbing."
Hassan Soroosh said the Taliban had swiftly reintroduced "repressive policies" including restrictions "on almost every aspect of girls' and women's lives and rights."
"The Taliban's forced takeover has caused a huge disruption to constitutional order, socio-economic development, public services and civil society activities," he said.
The ambassador called for the international community to take a unified approach toward the Taliban and put greater pressure on them "as they continue to insist on their uncompromising approach and repressive rule."
"We remain grateful to Canada for maintaining a principled position on the current tragic situation in Afghanistan and for a sustained commitment in support of the people of Afghanistan including women, girls and those who need resettlement support," he said.
In a joint statement on Sunday, Canada's ministers of foreign affairs, immigration, international development and national defence said "we have witnessed the hardships endured by the Afghan people, with some having undergone harrowing journeys to flee the country and countless others living in fear of persecution and retribution."
"Faced with a heart-wrenching situation in Afghanistan, Canadians opened their hearts to help people rebuild their lives and more than 17,300 Afghans have arrived in Canada over the past year."
This report by The Canadian Press was first published Aug. 15, 2022.
Russians rush for flights out amid partial reservist call-up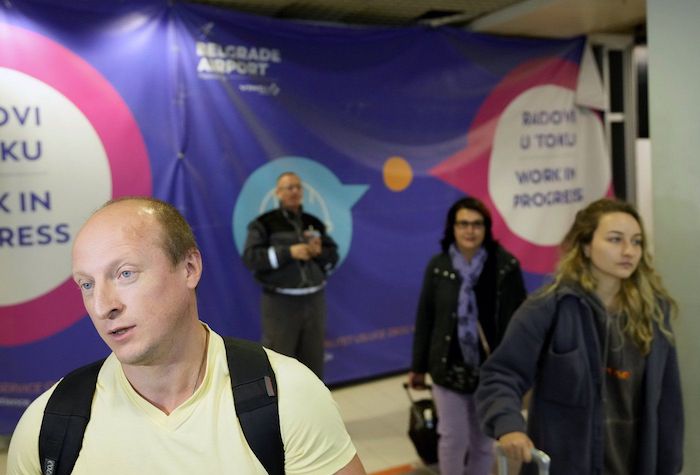 By Dusan Stojanovic in Belgrade
BELGRADE, Serbia (AP) — Large numbers of Russians rushed to book one-way tickets out of the country while they still could Wednesday after Russian President Vladimir Putin announced a partial mobilization of military reservists for the war in Ukraine.
Flights filled up quickly and the prices of tickets for remaining connections sky-rocketed, apparently driven by fears that Russia's borders could soon close or of a broader call-up that might send many Russian men of fighting age to the war's front lines.
Tickets for the Moscow-Belgrade flights operated by Air Serbia, the only European carrier besides Turkish Airlines to maintain flights to Russia despite a European Union flight embargo, sold out for the next several days. The price for flights from Moscow to Istanbul or Dubai increased within minutes before jumping again, reaching as high as 9,200 euros ($9,119) for a one-way economy class fare.
Putin's decree stipulates that the amount of people called to active duty will be determined by the Defense Ministry. Defense Minister Sergei Shoigu said in a televised interview that 300,000 reservists with relevant combat and service experience initially would be mobilized.
Russia has seen a marked exodus of citizens since Putin ordered his troops to invade Ukraine almost seven months ago. During the early morning address to the nation in which the president announced the partial mobilization of reservists, he also issued a veiled nuclear threat to Russia's enemies in the West.
Reports of panic spreading among Russians soon flooded social networks. Anti-war groups said the limited airplane tickets out of Russia reached enormous prices due to high demand and swiftly became unavailable.
Some postings alleged people already had been turned back from Russia's land border with Georgia and that the website of the state Russian railway company collapsed because too many people were checking for ways out of the country.
Social networks in Russian also surged with advice on how to avoid the mobilization or leave the country.
Russian officials sought to calm the public, stressing that the call-up would affect a limited number of people fitting certain criteria. However, conflicting statements and a lack of details helped fuel the panic.
The head of the Duma defense committee, Andrei Kartapolov, said there would be no additional restrictions on reservists leaving Russia based on this mobilization. But he also advised individuals who could be eligible for the call-up against "traveling to resorts in Turkey."
"Spend your vacation at the resorts of Crimea or (Russia's southern) Krasnodar region," Russian media quoted Kartapolov as saying.
Avtozak, a Russian group that monitors political demonstrations and detentions, reported that some participants were detained at anti-mobilization demonstrations in several cities.
A group based in Serbia, called Russians, Belarussians, Ukrainians and Serbs Together Against War, tweeted that there were no available flights to Belgrade from Russia until mid-October. Flights to Turkey, Georgia or Armenia also sold out, according to the Belgrade-based group.
"All the Russians who wanted to go to war already went," the group said. "No one else wants to go there!"
Serbia's capital, Belgrade, has become a popular destination for Russians during the war. Up to 50,000 Russians have fled to Serbia since Russia invaded Ukraine and many opened businesses, especially in the IT sector.
Russians don't need visas to enter Serbia, which is the only European country which has not joined Western sanctions against Russia for its aggression in Ukraine.
___
AP Writers Jovana Gec and Daria Litvinova contributed to this story.
Putin sets partial mobilization in Russia, threatens enemies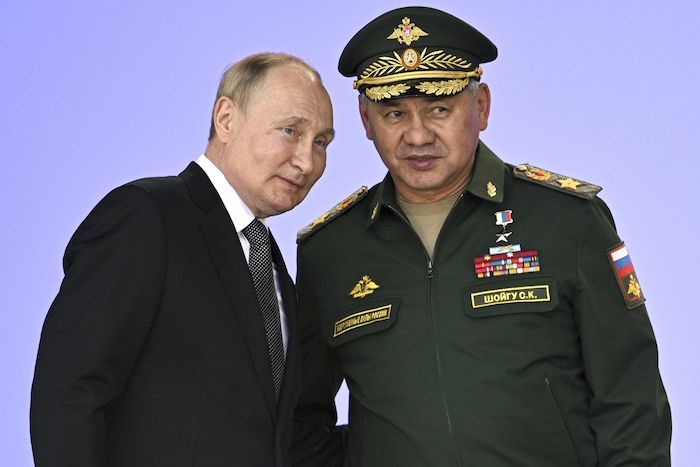 By Karl Ritter in Kyiv
KYIV, Ukraine (AP) — Russian President Vladimir Putin announced a partial mobilization in Russia as the war in Ukrainereaches nearly seven months and Moscow loses ground on the battlefield. Putin also warned the West that "it's not a bluff" that Russia would use all the means at its disposal to protect its territory.
The total number of reservists to be called up is 300,000, officials said.
The Russian leader's televised address to the nation released Wednesday came a day after Russian-controlled regions in eastern and southern Ukraine announced plans to hold votes on becoming integral parts of Russia. Putin's remarks also come against the backdrop of the U.N. General Assembly in New York at which Moscow was warned about its referendum plans.
The Kremlin-backed efforts to swallow up four regions could set the stage for Moscow to escalate the war following Ukrainian successes. The referendums, which have been expected to take place since the first months of the war, will start Friday in the Luhansk, Kherson and partly Russian-controlled Zaporizhzhia and Donetsk regions.
Putin accused the West in engaging in "nuclear blackmail" and noted "statements of some high-ranking representatives of the leading NATO states about the possibility of using nuclear weapons of mass destruction against Russia."
"To those who allow themselves such statements regarding Russia, I want to remind you that our country also has various means of destruction, and for separate components and more modern than those of NATO countries and when the territorial integrity of our country is threatened, to protect Russia and our people, we will certainly use all the means at our disposal," Putin said.
He added: "It's not a bluff."
Putin said he has signed a decree on the partial mobilization, which is due to start on Wednesday.
"We are talking about partial mobilization, that is, only citizens who are currently in the reserve will be subject to conscription, and above all, those who served in the armed forces have a certain military specialty and relevant experience," Putin said.
Russian Defense Minister Sergei Shoigu said in a televised interview Wednesday that only those with relevant combat and service experience will be mobilized.
Shoigu also said that 5,937 Russian soldiers have died in the Ukraine conflict, far lower than Western estimates that Russia has lost tens of thousands.
Putin said the decision to partially mobilize was "fully adequate to the threats we face, namely to protect our homeland, its sovereignty and territorial integrity, to ensure the security of our people and people in the liberated territories."
Earlier Wednesday, Ukrainian President Volodymyr Zelenskyy dismissed the referendum plans as "noise" and thanked Ukraine's allies for condemning the votes scheduled to start Friday.
In his nightly address Zelenskyy said there were lots of questions surrounding the announcements but stressed that they would not change Ukraine's commitment to retake areas occupied by Russian forces.
"The situation on the front line clearly indicates that the initiative belongs to Ukraine," he said. "Our positions do not change because of the noise or any announcements somewhere. And we enjoy the full support of our partners in this."
Even a partial mobilization is likely to increase dismay among Russians about the war. The Vesna opposition movement called for nationwide protests on Wednesday, saying "Thousands of Russian men — our fathers, brothers and husbands — will be thrown into the meat grinder of the war. What will they be dying for? What will mothers and children be crying for?"
It was unclear how many would dare to protest amid Russia's overall suppression of opposition and harsh laws against discrediting soldiers and the military operation.
The upcoming referendum votes are all but certain to go Moscow's way. They were quickly dismissed as illegitimate by Western leaders who are backing Kyiv with military and other support that has helped its forces seize momentum on battlefields in the east and south.
"I thank all friends and partners of Ukraine for today's mass principled firm condemnation of Russia's attempts to stage new sham referenda," Zelenskyy said.
In another signal that Russia is digging in for a protracted and possibly ramped-up conflict, the Kremlin-controlled lower of house of parliament voted Tuesday to toughen laws against desertion, surrender and looting by Russian troops. Lawmakers also voted to introduce possible 10-year prison terms for soldiers refusing to fight.
If approved, as expected, by the upper house and then signed by Putin, the legislation would strengthen commanders' hands against failing morale reported among soldiers.
In the Russian-occupied city of Enerhodar, shelling continued around Europe's largest nuclear power plant. Ukrainian energy operator Energoatom said Russian shelling again damaged infrastructure at the Zaporizhzhia nuclear power plant and briefly forced workers to start two diesel generators for emergency power to the cooling pumps for one of the reactors.
Such pumps are essential for avoiding a meltdown at a nuclear facility even though all six of the plant's reactors have been shut down. Energoatom said the generators were later switched off as main power weas restored.
The Zaporizhzhia Nuclear Power Plant has been a focus for concern for months because of fears that shelling could lead to a radiation leak. Russia and Ukraine blame each other for the shelling.
___
Follow the AP's coverage of the war at https://apnews.com/hub/russia-ukraine