This Recession Brought To You By PMJT, WEF & ESG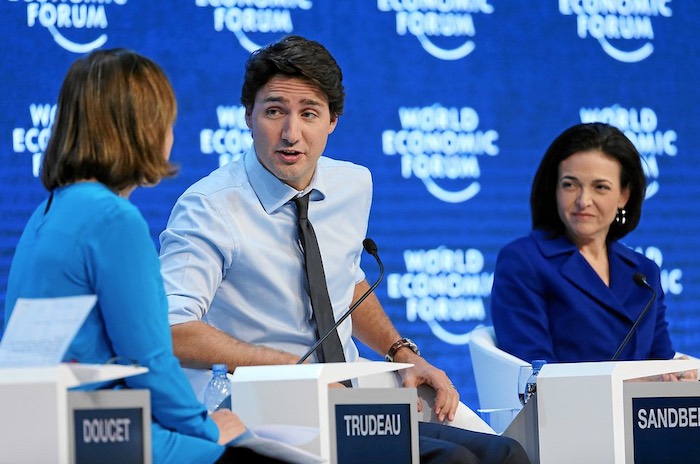 [Sign up today for Not The Public Broadcaster newsletters. Hot takes and cool slants on sports and current affairs. Have the latest columns delivered to your mail box. Tell your friends to join, too. Always provocative, always independent. ]
A simple proposition: Ask your family, your friends, your neighbours to tell you how they're being directly affected by changes in the climate. Tell them you don't want to hear media jeremiads about melting glaciers or promises of annihilation from Prince Charles. Or supply-chain headaches or other man-made conditions.
No. How can you feel, see, smell a difference in your physical world. Is your lake lower, your air harder to breath, your availability of food scarcer? Does it rain/ snow more? Are those around you suffering from respiratory problems unlike the past? Are storms worse, better or the same?
Likely you'll see a greener world. Thank CO2 for that. Compared to London in the 1950s or Hamilton in the 1960s your air is cleaner. Atlantic hurricane levels are way down from the 1930s-50s. So are tornadoes. There are a lot more people and— thanks to aggressive immigration levels— a lot of different races in your city/ town. But you live happily with that. Even if enviro scolds don't.
What's changed is that Justin Trudeau now wants you to believe you are killing the earth with nitrogen. William Jennings Bryan said mankind wouldn't be crucified on a cross of gold. But Trudeau believes his voters should be crucified on a World Bank cross of green. The answer to every question of his government ends like this from deputy Liberal leader Chrystia Freeland."$200 (gas) fill-ups are why we have to work even harder and move even faster towards a green economy."
That's why they're pricing carbon up to $170/ tonne by 2030 and making you pay. In the thrall of globalist technocrats and One World Marxists, Liberals are Jim-Jones deep in what Rob Henderson has coined the "luxury beliefs" of the elites. All to push Canada's Energy Sustainability Governance (ESG) number into a level Klaus Schwab can appreciate.
Forget that Canada's impact on the world's environment is miniscule. Trudeau and his purchased Media Party are bombarding the bewildered population with guilt. As Tom Nelson tweeted, "97% of climate scam propaganda involves dreaming up claims that sound kind of plausible to people like Bette Midler." So Trudeau and his Fossil Fools can feel sanctimonious on their private jets.
The latest from the laptop class is the lunacy of reducing greenhouse gas emissions from fertilizers in Canada to 30 percent below 2020 levels by 2030. This after his government's target of reducing Canada's greenhouse emissions to 40-45 percent below 2005 levels by 2030 and to net zero by 2050. The levels are absurd. And they threaten to wreck the world's food supply, a miracle that keeps 7 billion alive.
Why? Trudeau's ESG fetish— and Bill Gates' version of the food chain— come first. No wonder the PM has to sneak Into Calgary's Stampede for photo ops with the Green mayor Gyoti Gondak. Liberal hacks must be pictured with him in remote parking lots. He's surrounded by dense security, shaking hands only with approved stooges. It replicates his bunkered no-show performance during February's Convoy— a crisis that he precipitated.
Most telling about Trudeau's collapsed Man Of Science image was the use of Canadian flags as a rallying symbol for Dutch farmers faced with expropriation over… wait for it… fertilizer pollution. It comes as no surprise that Dutch PM Mark Rutte is a fellow chorister with Trudeau in the WEF One World Choir. Faced with people who get their hands dirty he's replicated Trudeau's pecksniff performance. from February, turning the police loose on lower-caste demonstrators.
It's not going as planned for Rutte. His private jet was stolen from a government hangar by angry farmers. Newsweek reported, "Current polls indicate that the Farmers Political Party, formed just three years ago in response to the new regulations, would gain a whopping 11 seats in Parliament if elections were held today. Moreover, the Dutch Fishermen's Union has publicly joined the protests, blocking harbours with fishing crews holding signs that read Unity Creates Strength."
Holland is the world's second-largest agricultural exporter after the United States. No matter. Its economy is now a lab experiment. It must be bent to the World Bank's ESG regime.
To see what happens when reality strikes, just look to Germany. Chancellor Angela Merkel championed the WEF's Green energy scheme that proposed a transfer to renewable technologies offered by the Euro Geniuses. Coal and nuclear were out. Smug German officials laughed heartily at U.S. president Donald Trump when he warned in 2018 that it would leave Germany's outdated economy vulnerable to Vladimir Putin.
Guess who's laughing now? The war in Ukraine has exposed Germany's creaking industrial base dependency on Russia. "Most of Europe's 100 largest companies were founded in the 1980s or before, which means that the old continent has entirely slept through the digital revolution of the 1990s and 2000s." With gas supplies dwindling and renewables unable to cope, Germany is scrambling to re-open coal-fuelled generators.
Major cities like Hamburg are already preparing for rationing of gas and warm water supply. Robert Habeck, the Green minister of minister of economics and climate protection, has predicted that "the whole market is in danger of collapsing at some point." Oh, and Germany is also villainizing traditional fertilizers as a polluter.
So is hapless Sri Lanka— with disastrous results. Sri Lanka drank the WEF kool-aid in 2021, going full natural fertilizers. Bad idea. "The underlying reason for the fall of Sri Lanka is that its leaders fell under the spell of Western green elites peddling organic agriculture and ESG," writers Michael Shellenberger. Like the Dutch farmers, Sri Lankan farmers have rebelled against attempts to seize property, violently overturning the government and forcing its leaders to flee the country.
Ditto Ghana, another self-sufficient state in the early 2010s that signed on for WEF reductions in fertilizer for more macro biotic means. Now the country is on rolling blackouts, food is scarce and the economy is in a shambles.
These are the canaries in the coal mine. But WEF lapdogs like Justin Trudeau sleep happily, knowing they've pleased their real constituents.. The Davos jet set. The rest can freeze in the dark, to quote Ralph Klein.
Bruce Dowbiggin @dowbboy is the editor of Not The Public Broadcaster (http://www.notthepublicbroadcaster.com). The best-selling author was nominated for the BBN Business Book award of 2020 for Personal Account with Tony Comper. A two-time winner of the Gemini Award as Canada's top television sports broadcaster, he's also a regular contributor to Sirius XM Canada Talks Ch. 167. His new book with his son Evan Inexact Science: The Six Most Compelling Draft Years In NHL History is now available on http://brucedowbigginbooks.ca/book-personalaccount.aspx
Transitory Madness: Woke Goes For Broke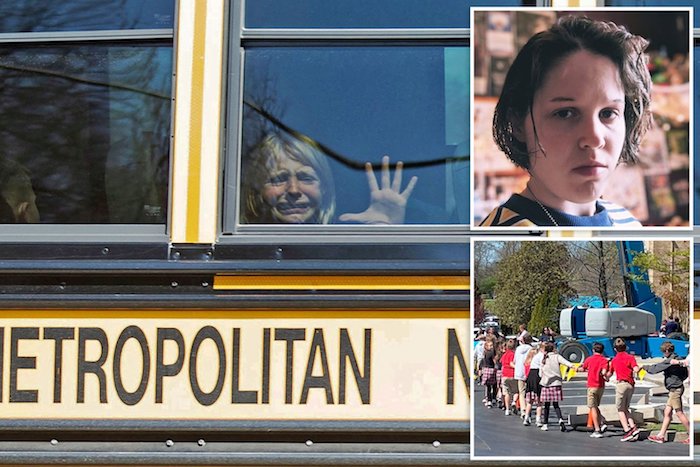 In the final days of World War I, exhausted Canadian soldiers made a curious discovery when viewing German soldiers captured or killed in a late-1918 confrontation. They noticed the regimental badges of many units of the German army mixed into the unit they'd just confronted.
This told them that the Germans were at the end of their resources, throwing together soldiers from whatever units that still had left. They were desperate to hold back the inevitable defeat. Indeed, the Canadian soldiers were correct. Within weeks the Germans sued for an Armistice, ending the slaughter.
When some future historian gets around to writing the current version of Gibbon's Decline and Fall of the Roman Empire will they observe the obsession over trans-rights as being peak hysteria for early 21st century society? Will they ask, "Is that all there was?"
Having gone through victim status for women's rights, gay rights, indigenous rights, Asian rights, immigrant rights and climate rights the past two decades, radical social engineers now seemingly only have trans-rights left in their chamber with which to create moral panics. While earlier manufactured victim crises could claim 51 percent of the population (women) down to five percent (LGBTQ), trans people represent an estimated 1.6 million people in the U.S. (0.04 percent).
Even allowing that the obsessive spotlight on the issue has boosted numbers in the impressionable 13-17 year old group, we are looking at a rounding-error segment of the population claiming grievance status. But you wouldn't have any idea of the marginality of this community if you watched the current media cycle. Trans stories dominate the headlines.
The latest cause célèbre being a trans woman murdering children and staff at a Christian Academy in Nashville, Tennessee— all the while the trans lobby claims the shooter as a victim. A tiny community of dysphoric adults has been conflated into apparent martyrs by Woke society.
Which comes as a surprise to most middle-class citizens who haven't been aware of trans people— or their own hatred for them— until informed by media outlets such as CBC, PBS or the New York Times (which just published an open letter from 1,000 writers, authors, and journalists demanding that The New York Times not report on problems with prescribing gender dysphoric children puberty blockers.)
How hysterical? Here's career radical poseur Jane Fonda suggesting on The View that Christians who refuse to wear the Trans ribbon should be "murdered". While her panel pals hasten to suggest she was simply joshing, a glib Fonda shrugs, raises an eyebrow and lets everyone know by her silence exactly what she's thinking.
Then there's a Michigan professor who wants murder over mediation. "I think it is far more admirable to kill a racist, homophobic, or transphobic speaker than it is to shout them down," said Wayne State endowed chair holder Steve Shepiro. "When right-wing groups invite such speakers to campus, it is precisely because they want to provoke an incident that discredits the left, and gives more publicity and validation to these reprehensible views than they could otherwise attain".
Look, every movement has its loonies. (Witness TrumpWorld.) But the percentage of progressives who have suddenly gone from "I love RuPaul" to deciding trans rights is a hillside for them to die on is stunning. But such is the nature of modern hysterics. The Salem Witch Trials were generated by Christian fervour, the current fervour is driven by secular liberals casting about for quasi-religious meaning.
Citing new WSJ/ NORC polling showing a cratering of public trust in a number of categories since 2019, author Michael Shellenberger notes, "The evidence is now overwhelming that recent panics around climate, race, and sex — the mass desire to conform to a strict moral (Woke) code — stem from a) the acute need of liberal secular people for purpose, b) rising loneliness, and c) mass anxiety created by social media…
Like many new religions, Wokeism is characterized by intolerance." Witness the current disproportionate furore over a tiny number of NHL players refusing to wear Pride jerseys. Or the elite panic that spawned censorship of venerated authors such as Roald Dahl, Ian Fleming, and Agatha Christie whose work is now butchered after their deaths.
While Woke media pounds its drum over right-wing indoctrination and its incipient violence, psychology Professor Sam Vaknin says, "The potential for aggression and even violence in victimhood movements is much larger than in the general public." Witness the @transdayofvengeance "Kill christcucks. Behead christcucks. Roundhouse kick a christcuck into the pavement…" @TNDtracker
That is worrisome in a society where virtually everyone now thinks they belong to a victim group that needs reparations from the rest of that society.
Finally, the Gibbon of this age will likely come to the conclusion that none of these tempests really have anything to do with their putative grievances. Rather they are the useful mechanisms by which totalitarians are trying to remake every aspect of society. Not unlike the effort attempted by Pol Pot and the Khmer Rouge in the 1970s. Like today's radicals they sought to change human nature. If it took a million dead, it was a price they felt worth paying. Don't underestimate today's radicals if given the chance to demonize. If only they could seize the guns.
Or perhaps our historians will identify how a quasi-religious coalition of radical Maoists, declining media outlets and The View's white progressive women saturated-with-class-guilt pulled back before it became The Killing Fields for dissenters. That a Joseph Welch asked them, Have you no shame?" as they frog-marched cultural figures to a gulag of their making, causing them to relent.
Perhaps. Or maybe the whiff of power will be too strong. With just 38 percent polled by WSJ favourable to patriotism, 30 percent positive about parenthood, 39 percent favourable to religion and 27 percent positive about community involvement they have an open field of despair to exploit for their purposes. What then? As Shellenberger concludes these forces are not the defeated German army of 1918. "It's hard to see how Western civilization survives these trends."
Sign up today for Not The Public Broadcaster newsletters. Hot takes/ cool slants on sports and current affairs. Have the latest columns delivered to your mail box. Tell your friends to join, too. Always provocative, always independent. https://share.hsforms.com/16edbhhC3TTKg6jAaRyP7rActsj5
Bruce Dowbiggin @dowbboy is the editor of Not The Public Broadcaster A two-time winner of the Gemini Award as Canada's top television sports broadcaster, he's a regular contributor to Sirius XM Canada Talks Ch. 167. Inexact Science: The Six Most Compelling Draft Years In NHL History, his new book with his son Evan, was voted the seventh-best professional hockey book of all time by bookauthority.org . His 2004 book Money Players was voted sixth best on the same list, and is available via http://brucedowbigginbooks.ca/book-personalaccount.aspx
Hockey Tolerance Is A Two-Way Street, Not A One-Way Road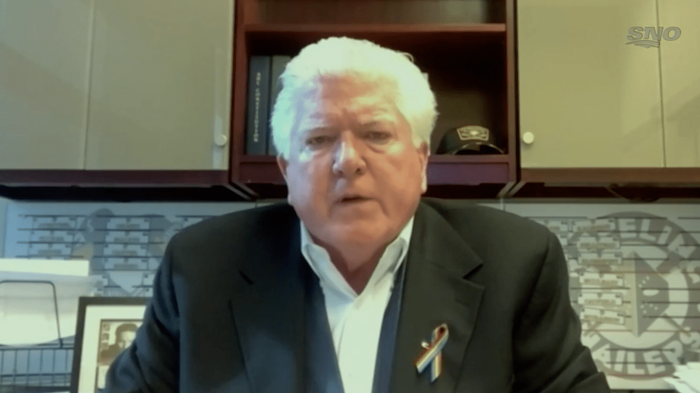 The problem with liberal tolerance in Canada is that it's not particularly liberal and it's certainly not tolerant. For instance, the "everyone must wear an LGBTQ-2 jersey" controversy we highlighted last week. The reverberations from goalie James Reimer declining to wear a San Jose Sharks rainbow jersey have continued all week.
It seems to have escaped many people's tolerance that refusing to march in a parade does not mean you hate the people in the parade. It is to say that you have a different opinion. One your employer can't compel you to abandon. An opinion guaranteed to you by generations of free speech and religious freedom.
It is why we have halal and kosher foods. Live and let live. But the hysteria is not stopping with Reimer. The radical blood hounds have tracked down new targets to mount on their gibbet of 100 percent conformity to Woke causes.
The latest NHLers caught up in this fundamental failure to communicate are the Staal brothers in Florida who followed Reimer's path to say that they haven't and won't wear symbols with which they disagree. Immediately the SJW sports media attacked them. When they said they wouldn't Pride jerseys it was shown by the gotchas ' that they had worn subtle LGBTQ jerseys in the past. As if this makes them hypocrites.
My friend Mark Hebscher asked if the NHL should suspend them. Really? What would Mark say if Edmonton's Zach Hyman, a Jew, declined to wear Muslim symbols on an Islamic Pride night? Would Mark demand Hyman be suspended?
What would he say if secular players in the league declined to wear the cross on their jersey for a Christian appreciation night? Should they be punished as haters? What if a pro sports team has a Mormon appreciation night. Does refusing to wear an LDS badge make people haters?
Of course these examples are moot. There are no progressive DEI laurels for creating political trip wires over Muslims or secularists to advance Woke influence. The only targets that matter here are conservative whites. Sports teams these days would only entertain the most provocative causes to create "a crisis that shouldn't go to waste" (in the words of Saul Alinsky in his Rules for Radicals).
So Brian Burke was imported by Rogers Hockey Night in Canada on Saturday to further whip the herd into 100-percent compliance on Pride jerseys— and to push Rogers corporate bonafides as a Woke organization. Burke has become a fervent LGBTQ-2 spokesman since his son Brendan came out (and was tragically killed in a car crash). Good on him as a parent.
But he's also a high-profile NHL figure, who was, in a major way, responsible for perpetuating the "boys-only" culture in the sport when he handled NHL discipline. He was his usual truculent self on HNIC as he conflated free speech with prejudice. He saw no room for tolerance on anything but the Pride agenda, insisting against all evidence that wearing the Pride jersey isn't a political statement. "I was born and raised a Catholic, I don't see any conflict between my religious beliefs and my ability to say to the LGBTQ+ community 'you're welcome here."
That's not what he's saying, but play along. Host Ron Maclean— with whom we have had our disagreements in the past— did his job, gamely asking why wasn't there a middle ground between hating and enforced 100 percent compliance to the cause? Burke shooed him away.
Naturally, radical social-media trolls pounced, asking for Maclean's scalp for doing his job. There can be no exceptions! Reason is not a long suit for these Maoist shills. They want to be in Pol Pot's Cambodia while their fellow citizens would prefer to remain in what used to be Canada before Justin Trudeau turned it into a postmodern state that stands for everything— and nothing.
The point that needs debate on HNIC is whether a few rich hockey players, who make so much money that they don't have to give a flip, are going to make the league more inclusive by wearing a Pride jersey for one night. Likely not.
As we've contended over decades, the key to acceptance of gays in hockey will be the coming-out of a prominent NHL star(s). They are out there. It wasn't high rhetoric from Brooklyn Dodgers GM Branch Rickey that changed the colour line in baseball. It was Jackie Robinson's forbearance. It wasn't slogans that slowly changed the skin colour of golf. It was Tiger Woods' utter dominance.
It was also the hyper-macho world that Brian Burke nurtured through the years before his son came out — not colourful jerseys— that has repressed gay participation in the NHL. The weeding-out of gay youth in the development process comes from the grass roots. (To his credit a penitent Burke now owns some of this.)
While it is commendable that Burke now supports his son's memory, flailing Christians for refusing to wear Pride jerseys is not the way to achieve understanding. Worshipping symbols is a divisive, not a unifying action that plays into the hands of forces Burke clearly does not acknowledge or understand. Radicals who use terms like white settler and cis-gender-entitlement to baffle the vulnerable. And who will discard him when he's no longer of use to them.
Those would be the people who applaud the current PM and his caucus for having equal numbers of women in their ranks— the same PM who fired his prominent female/ indigenous justice minister for insubordination when the RCMP dug too deep. And the same "feminist" women MPs who stood by silently as Trudeau publicly destroyed one of their own to save himself from RCMP scrutiny. Those are the cowards who back the destruction of free speech.
Churchill was prescient about appeasing today's virtue warriors when he long ago said that appeasers "are like people who feed the crocodile in hopes that the crocodile eats them last." Chomp.Chomp. Their day is coming.
Sign up today for Not The Public Broadcaster newsletters. Hot takes/ cool slants on sports and current affairs. Have the latest columns delivered to your mail box. Tell your friends to join, too. Always provocative, always independent. https://share.hsforms.com/16edbhhC3TTKg6jAaRyP7rActsj5
Bruce Dowbiggin @dowbboy is the editor of Not The Public Broadcaster A two-time winner of the Gemini Award as Canada's top television sports broadcaster, he's a regular contributor to Sirius XM Canada Talks Ch. 167. Inexact Science: The Six Most Compelling Draft Years In NHL History, his new book with his son Evan, was voted the seventh-best professional hockey book of all time by bookauthority.org . His 2004 book Money Players was voted sixth best on the same list, and is available via http://brucedowbigginbooks.ca/book-personalaccount.aspx