Tentative $161.5M settlement reached in WVa opioid trial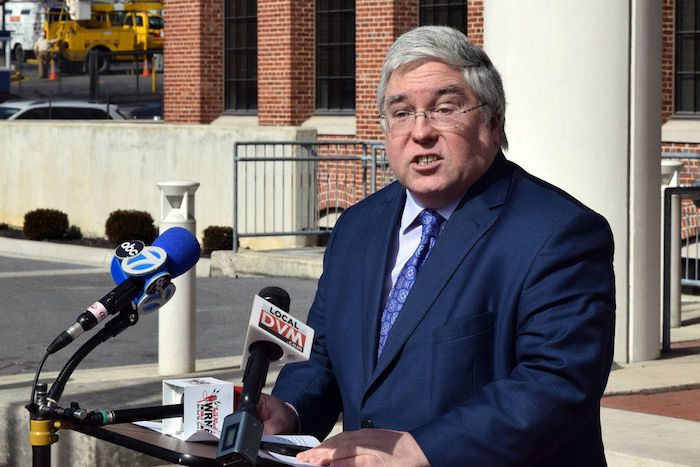 By John Raby in Charleston
CHARLESTON, W.Va. (AP) — Attorneys for the state of West Virginia and two remaining pharmaceutical manufacturers have reached a tentative $161.5 million settlement just as closing arguments were set to begin in a seven-week trial over the opioid epidemic, Attorney General Patrick Morrisey said Wednesday.
Morrisey announced the development in court in the state's lawsuit against Teva Pharmaceuticals Inc., AbbVie's Allergan and their family of companies. The judge agreed to put the trial on hold to give the parties the opportunity to work out a full settlement agreement in the upcoming weeks.
"Today does represent a very big day for our state," Morrisey said later at a news conference.
The trial started April 4. The lawsuit accused the defendants of downplaying the risks of addiction associated with opioid use while overstating the benefits.
Under the tentative deal, West Virginia would receive more than $134.5 million in cash, while Teva would supply the state with $27 million worth of Narcan, a medication that can reverse opioid overdoses, restore breathing and bring someone back to consciousness.
By reaching a settlement, "it obviously puts us in a position where we mitigate risk," Morrisey said. "We could win if we kept going to trial. I think we would have won. No guarantees, of course. But then we might be subject to five years of appeals and then we wouldn't see any resources for five years."
"I want to make sure we start to put feet on the ground now. And I want to see resources targeted to this epidemic now."
Under a plan announced by Morrisey in February, 72.5% of the settlement will go to a nonprofit foundation established to distribute money in opioid-related litigations, 24.5% would be allocated to local governments and 3% would go to the state. The foundation would consist of an 11-member board, including five state appointees and representatives from six regions of the state. The board members will have expertise in fields such as mental health, substance misuse and law enforcement.
West Virginia had reached a $99 million settlement withdrugmaker Johnson & Johnson's subsidiary Janssen Pharmaceuticals Inc. last month over the drugmaker's role in perpetuating the opioid crisis in the state that has long led the nation in drug overdose deaths.
Before the trial started, Morrisey's office announced the state settled part of the lawsuit involving another defendant, Endo Health Solutions, for $26 million.
In separate, similar lawsuits, the state of West Virginia previously reached a $37 million settlement with McKesson Corp. in 2019, and $20 million with Cardinal Health Inc. and $16 million with AmerisourceBergen Drug Co. in 2017.
After years of lawsuits, drugmakers, distribution companies and some pharmacies have been settling cases over the toll of opioids.
In deals finalized this year, the three biggest distribution companies and drugmaker Johnson & Johnson agreed to settlements totaling $26 billion over time. OxyContin maker Purdue Pharma is in court trying to win approval for a national settlement including up to $6 billion in cash, plus using future profits from a remade version of the company to fight the opioid crisis.
In other settlements this year, the distributors have agreed to pay Washington state, which did not participate in the national settlement with them, more than $500 million, and a group of companies are sending $276 million to Alabama.
In all, proposed and finalized settlements, judgements and criminal penalties over opioids have reached more than $47 billion since 2007. Much of the money is to be used only to address the crisis, which has been linked to the deaths of more than 500,000 Americans in the last two decades. A relatively small portion of the settlement money – at least $750 million in the Purdue deal – is to be paid to individual victims and their survivors.
In Charleston, a separate bench trial wrapped up last summer in a federal lawsuit accusing AmerisourceBergen, Cardinal Health and McKesson of fueling the opioid crisis in Cabell County and the city of Huntington. That judge has not indicated when he will rule.
___
Associated Press writer Geoff Mulvihill contributed to this report.
Two deputy chief medical officers resign from their positions with Alberta Health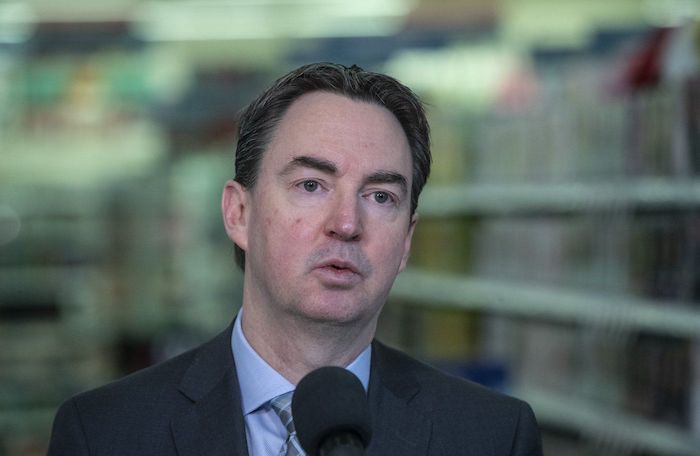 Edmonton – Alberta's two deputy chief medical officers of health are leaving their roles — less than a month after Dr. Deena Hinshaw was removed as the province's top doctor.
Health Minister Jason Copping confirmed during question period Wednesday that both of the doctors have submitted letters of resignation.
"They are still continuing to work at this point in time," he said in the legislature. "We are in the process of actually looking to fill those roles."
A statement from Alberta Health said Dr. Rosana Salvaterra and Dr. Jing Hu, who are listed as public health physicians on the department's website, have given notice.
When reached by her department email, Salvaterra responded: "Unfortunately, we are not able to comment."
She later added that she respects and admires both Dr. Hinshaw and Dr. Hu.
"They are brilliant, hard-working, and compassionate public health physicians and I consider myself fortunate to have had the opportunity to work alongside them for these past 14 months."
Salvaterra, who has extensive public health experience including as the medical officer of health for Peterborough, Ont., joined the office in October 2021.
Her career in public health includes work in "the COVID-19 response, mental health, the opioid response, women's health, poverty reduction, health equity, community food security and building stronger relationships with First Nations."
Hu's out-of-office message said her "last day at work with Alberta Health was Nov. 18, 2022," and noted she wouldn't have access to the department email after that date.
She got extensive training in China and at the University of Calgary before joining the health department in January 2020.
Their resignations came within a month of Hinshaw, who became the face of Alberta's public health response to the COVID-19 pandemic, being removed from her position.
Hinshaw was replaced by Dr. Mark Joffe, a senior executive member of Alberta Health Services, on an interim basis.
"Dr. Joffe will be supported by medical officers of health within AHS, by other staff in the Office of the Chief Medical Officer of Health, and by the Public Health Division," said the statement from Alberta Health late Wednesday.
"We expect these changes to have no impact on the department's and Dr. Joffe's ability to meet the requirements of the Public Health Act."
Hinshaw's dismissal didn't come as a surprise.
Premier Danielle Smith announced on her first day in office in October that she would be replaced.
Smith has made it clear that she blames both Hinshaw and Alberta Health Services for failing to deliver the best advice and care for Albertans as the hospital system came close to buckling in successive waves of the COVID-19 pandemic.
"A lot of the bad decisions were made by Alberta Health Services on the basis of bad advice from the chief medical officer of health," Smith told reporters on Oct. 22.
Smith has not placed the blame on front-line doctors and nurses but broadly on AHS senior management. Joffe, while serving as chief medical officer of health, retains his role in AHS senior management as a vice-president responsible for areas in cancer and clinical care.
Hinshaw, an Alberta-trained public health specialist, became a celebrity of sorts in the first wave of the pandemic in the spring of 2020, as she delivered regular, sometimes daily, updates to Albertans on the virus, its spread and methods to contain it.
This report by The Canadian Press was first published Dec. 7, 2022.
— By Colette Derworiz in Calgary.
Alberta to bring in more children's pain medication as illnesses strain hospitals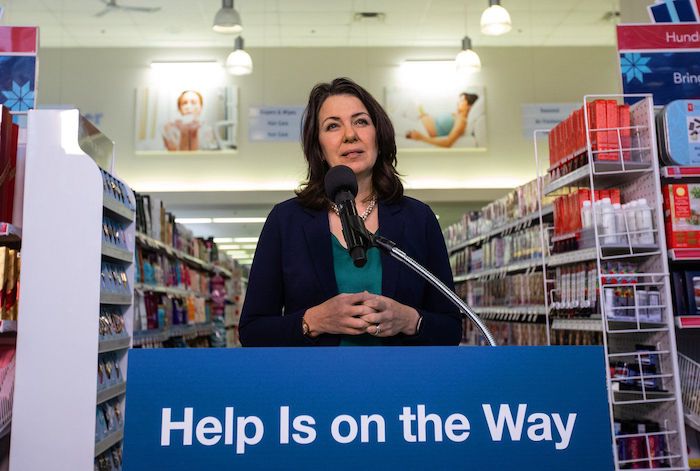 The Alberta government says it has secured another five million bottles of children's medication for parents to manage fever and pain at home as hospitals continue to feel the strain of several respiratory illnesses.
Premier Danielle Smith said the government is working with Alberta Health Services and Health Canada to bring in the pediatric acetaminophen and ibuprofen.
"Just about every parent with young ones at home is frustrated and worried about the shortage of children's over-the-counter medications right now," Smith said Tuesday at a news conference in Edmonton. "Unfortunately, this shortage is an issue across the country.
"It's distressing to our families and to our health-care professionals when symptoms can't be treated at home."
Parents across Canada have been scrambling to manage their children's fever and pain as rates of respiratory syncytial virus, or RSV, and influenza skyrocket amid a dire shortage of the medications.
The federal government also imported one million units of children's acetaminophen, commonly known as Tylenol, across the country late last month. Health Canada has distributed the children's Tylenol to retailers and has also sent children's ibuprofen, commonly known as Advil, to hospitals.
Health officials have said Alberta Children's Hospital in Calgary and the Stollery Children's Hospital in Edmonton have been operating at or above 100 per cent of their normal capacity for most of November and into December.
Alberta Health Services, which delivers health care in the province, set up a heated trailer outside the emergency department at the Calgary pediatric hospital last month to help with crowding and frigid weather conditions.
It has also redeployed about 65 full- and part-time staff to the hospital from a facility that provides respite care for chronically and terminally ill children, as well as five of its outpatient clinics.
Smith said during the news conference that the health-care system is under strain.
When asked by a reporter what steps her government was taking to prevent children's respiratory illnesses, Smith suggested the question was off topic.
"Here's the fact of the matter: We know we've been hit with RSV, COVID and influenza all at once," she said. "Sadly, there isn't a vaccine for RSV and it is the most common childhood illness.
"What people need to know is that when their child gets sick that they have the medication available for them so they can treat the influenza at home."
A health official at Alberta Children's Hospital said this week that the patients are primarily children with RSV and influenza, as well as some COVID-19 cases.
"Influenza and RSV are the major concerns," Margaret Fullerton, senior operating officer, said late Monday afternoon.
There are, she said, measures people can take to prevent the spread of all three illnesses.
"If you are sick, stay at home. Wearing a mask is certainly something that will help when you are out in a big group of people," Fullerton said. "With winter upon us and parties going on, there is that viral activity that can happen in this respiratory season."
She said getting vaccinated also helps to prevent illness.
"We have really low vaccination for influenza, especially for children right now in Alberta," she said. "The more flu vaccines we can get into children and families can really help."
Alberta Health data shows 15.3 per cent of children between six months and four years old have had their flu shots. The target is 80 per cent for the age group.
A total of 135 children under four have been hospitalized for flu and one of those children has died. A second child between the age of five and nine has also died. The flu vaccination rate for five- to nine-year-olds is 13.6 per cent, while 10- to 14-year-olds have 12.3 per cent coverage.
Overall, 22.5 per cent of Albertans have received their flu shots.
The respiratory illnesses are also creating challenges at the Chinook Regional Hospital in Lethbridge, Alta.
"Our hospital capacity is very stretched," Dr. Aaron Low, medical director for the south zone of Alberta Health Services, said Tuesday. "We have not had to transfer any patients out who would have required critical care … but that is something we are actively working on."
He said there were a few hours on the weekend when they would have had to divert patients to other hospitals, due to staffing shortages, had anyone arrived with intensive care needs.
Low said children who need intensive care are often sent to Calgary, but he noted the hospital is seeing more older patients with severe diseases.
"We encourage people to be vaccinated for influenza," he said. "It appears … the circulating strains are more severe strains and that's partly why we are seeing such a severe viral season in Alberta."
This report by The Canadian Press was first published Dec. 6, 2022.