Taliban fire in air to disperse protesters, arrest reporters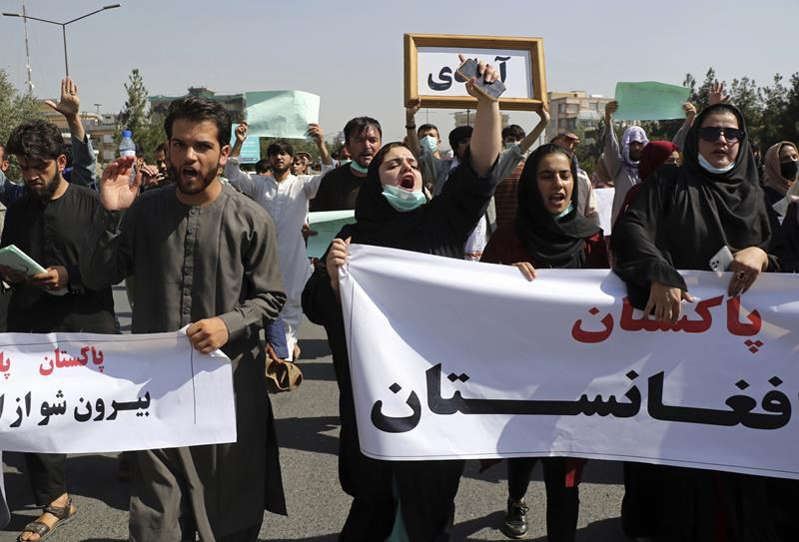 KABUL, Afghanistan (AP) — The Taliban fired into the air Tuesday to disperse protesters and arrested several journalists, the second time in less than a week the group used heavy-handed tactics to break up a demonstration in the Afghan capital of Kabul.
The demonstrators had gathered outside the Pakistan Embassy to accuse Islamabad of aiding the Taliban's assault on northern Panjshir province. The Taliban said Monday they seized the province — the last not in their control — after their blitz through Afghanistan last month.
Afghanistan's previous government routinely accused Pakistan of aiding the Taliban, a charge Islamabad has denied. Former vice president Amrullah Saleh, one of the leaders of the anti-Taliban forces, has long been an outspoken critic of neighboring Pakistan.
Dozens of women were among the protesters Tuesday. Some of them carried signs bemoaning the killing of their sons by Taliban fighters they say were aided by Pakistan. One sign read: "I am a mother when you kill my son you kill a part of me."
On Saturday, Taliban special forces troops in camouflage fired their weapons into the air to end a protest march in the capital by Afghan women demanding equal rights from the new rulers.
The Taliban again moved quickly and harshly to end Tuesday's protest when it arrived near the presidential palace. They fired their weapons into the air and arrested several journalists covering the demonstration. In one case, Taliban waving Kalashnikov rifles took a microphone from a journalist and began beating him with it, breaking the microphone. The journalist was later handcuffed and detained for several hours.
"This is the third time i have been beaten by the Taliban covering protests," he told The Associated Press on condition he not be identified because he was afraid of retaliation. "I won't go again to cover a demonstration. It's too difficult for me."
A journalist from Afghanistan's popular TOLO News was detained for three hours by the Taliban before being freed along with his equipment and the video of the demonstration still intact.
There was no immediate comment from the Taliban.
Meanwhile, in the northern city of Mazar-e-Sharif, four aircraft chartered to evacuate about 2,000 Afghans fleeing Taliban rule were still at the airport.
Mawlawi Abdullah Mansour, the Taliban official in charge of the city's airport, said any passenger, Afghan or foreigner, with a passport and valid visa would be allowed to leave. Most of the passengers are believed to be Afghans without proper travel documents.
None of the passengers had arrived at the airport. Instead, organizers apparently told evacuees to travel to Mazar-e-Sharif and find accommodation until they were called to come to the airport.
The Taliban say they are trying to find out who among the estimated 2,000 have valid travel documents.
U.S. Secretary of State Antony Blinken said in Qatar on Tuesday the Taliban have given assurances of safe passage for all seeking to leave Afghanistan with proper travel documents.
He said the United States would hold the Taliban to that pledge. "It's my understanding that the Taliban has not denied exit to anyone holding a valid document, but they have said those without valid documents, at this point, can't leave," he said.
"Because all of these people are grouped together, that's meant that flights have not been allowed to go," he added.
The State Department is also working with the Taliban to facilitate additional charter flights from Kabul for people seeking to leave Afghanistan after the American military and diplomatic departure, Blinken told a joint news conference with Qatar's top diplomatic and defense officials.
"In recent hours" the U.S. has been in contact with Taliban officials to work out arrangements for additional charter flights from the Afghan capital, he said.
Blinken and U.S. Defense Secretary Lloyd Austin were in Qatar to thank the Gulf state for its help with the transit of tens of thousands of people evacuated from Afghanistan after the Taliban took control of Kabul on Aug. 15.
___
Associates Press writers Tameem Akhgar in Istanbul and Robert Burns in Qatar contributed to this report.
Kathy Gannon, The Associated Press
Crowd gathers north of Toronto to cheer on trucker convoy heading to Ottawa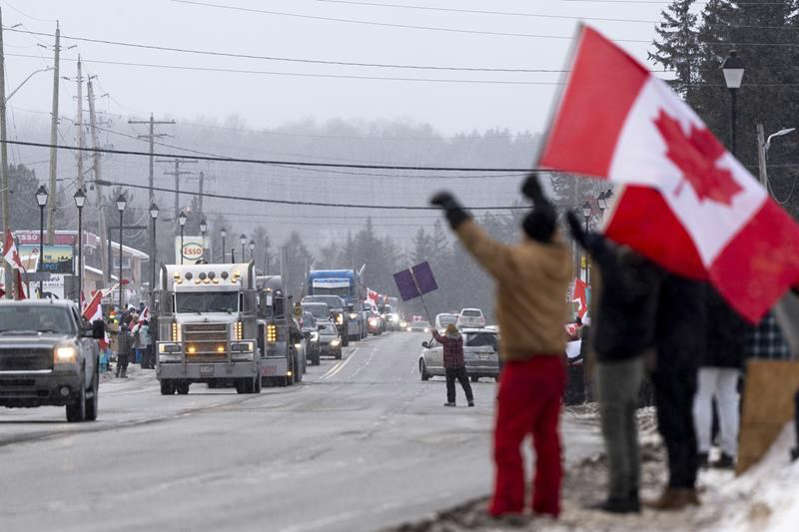 TORONTO — A large crowd gathered outside a mall north of Toronto on Thursday as a group of local truckers prepared to join a convoy to Ottawa in protest of the federal government's COVID-19 vaccine mandate for cross-border drivers.
Some in the crowd threw cash and food up to truckers in their vehicles at the Vaughan Mills mall while others hoisted Canadian flags and signs protesting the government as the truckers gradually rolled out.
Mike Fabinski, a truck driver from Barrie, Ont., said the vaccine mandate means he won't be able to work cross-border routes any more.
"You want to be vaccinated, go ahead, your choice. I don't want to be vaccinated, that's my choice," he said.
Fabinski said he's been a truck driver for 20 years but has not been able to travel to the U.S. since the federal mandate came to effect on Jan 15.
"I was going non-stop until they started last Saturday," he said. "Now I cannot go. I cannot work no more."
The federal government ended truckers' exemption to the vaccine mandate two weeks ago meaning Canadian truck drivers need to be fully vaccinated if they want to avoid a two-week quarantine when they cross into Canada from the U.S.
Some with extreme, far-right views have latched onto the protest against the mandate. One online video includes a man expressing hope the rally will turn into the Canadian equivalent of the Jan. 6, 2021, riot at the U.S. Capitol by supporters of former president Donald Trump.
On Thursday, some in the crowd that came out to support the truckers said they planned to join the convoy and make the trek to Ottawa as well.
Dean Brown said he supported peaceful protest intended by the convoy and rejected suggestions that it could lead to violence.
"The people who are in charge of this (convoy) are blocking people who are insisting or suggesting violence," the 57-year-old Toronto man said.
"It's all about peace. It's all about freedom. It's all about getting the Canadian way of life back. We are not here to turn it to violence."
Ontario Provincial Police were urging drivers to be patient as several groups of truckers planned to drive across the province to Ottawa before a so-called "freedom rally" on Parliament Hill planned for Saturday.
Police spokesman Sgt. Kerry Schmidt said drivers should prepare for delays on Toronto-area highways, including Highway 401, Highway 400 and the Queen Elizabeth Way.
Police in Ottawa have said they are planning for as many as 2,000 demonstrators, and while protest leaders have been co-operative, there are concerns that far-right extremist groups that have attached themselves to the convoy could spark violence.
The Canadian Trucking Alliance, which has denounced the convoy protest, estimates that roughly 15 per cent of truckers — up to 16,000 — are not fully vaccinated against COVID-19.
This report by The Canadian Press was first published Jan. 27, 2022.
Maan Alhmidi, The Canadian Press
Bodies of family from India trying to cross into U.S. by foot identified
Officials in Ottawa say they have confirmed the identities of four Indian nationals whose bodies were found frozen in Manitoba near the Canada-U. S. border last week.
The High Commission of India has released a notice saying the four who died were Jagdish Baldevbhai Patel, a 39-year-old man, Vaishaliben Jagdishkumar Patel, a 37-year-old woman, Vihangi Jagdishkumar Patel, an 11-year-old girl, and Dharmik Jagdishkumar Patel, a three-year-old boy.
Investigators believe the family of four was attempting to cross over the border by foot on Jan. 19 during severe winter weather and died from exposure.
The family's immediate relatives have been informed, says the release.
"The Consulate General of India in Toronto is in touch with the family of the deceased and is providing all consular support. The High Commission offers its sincere condolences to the family and friends of the victims."
The release says a special team, led by a senior consular officer from the Consulate General of India, is in Manitoba to help with investigations on the Canadian side and to offer services for the victims.
Manitoba RCMP found the four bodies near Emerson, Man., after U.S. border patrol agents advised them they had picked up a group of Indian nationals on the U.S. side.
One of the individuals was found with a backpack full of items for an infant. He told investigators he was carrying the backpack for a group that got separated from his.
Investigators have said they believe the deaths are linked to a human smuggling scheme.
Steve Shand of Deltona, Fla., faces counts of transporting or attempting to transport illegal aliens. He was released from custody on Monday.
Police in the western state of Gujarat in India have begun delving deeper into the deaths of four Indian migrants.
Ashish Bhatia, director general of police in Gujarat, says investigators are trying to determine whether there was a travel agent in India who helped the group.
This report by The Canadian Press was first published Jan. 27, 2022.
The Canadian Press