Taliban fire in air to disperse protesters, arrest reporters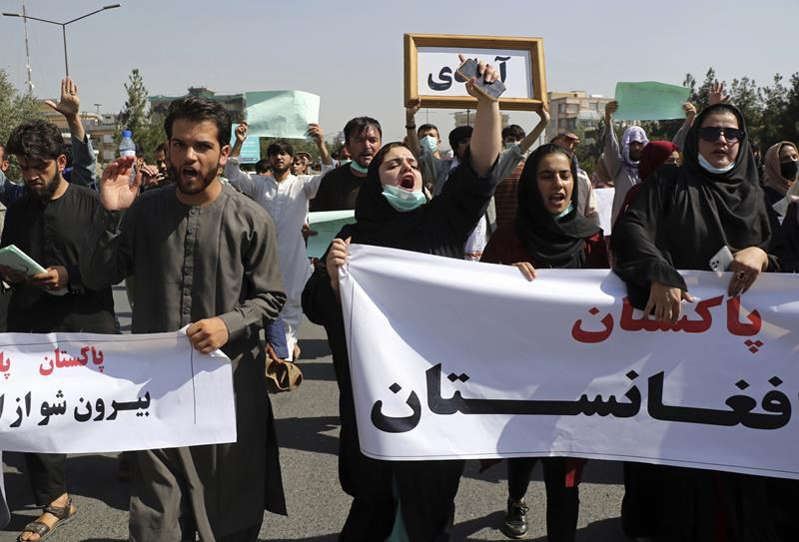 KABUL, Afghanistan (AP) — The Taliban fired into the air Tuesday to disperse protesters and arrested several journalists, the second time in less than a week the group used heavy-handed tactics to break up a demonstration in the Afghan capital of Kabul.
The demonstrators had gathered outside the Pakistan Embassy to accuse Islamabad of aiding the Taliban's assault on northern Panjshir province. The Taliban said Monday they seized the province — the last not in their control — after their blitz through Afghanistan last month.
Afghanistan's previous government routinely accused Pakistan of aiding the Taliban, a charge Islamabad has denied. Former vice president Amrullah Saleh, one of the leaders of the anti-Taliban forces, has long been an outspoken critic of neighboring Pakistan.
Dozens of women were among the protesters Tuesday. Some of them carried signs bemoaning the killing of their sons by Taliban fighters they say were aided by Pakistan. One sign read: "I am a mother when you kill my son you kill a part of me."
On Saturday, Taliban special forces troops in camouflage fired their weapons into the air to end a protest march in the capital by Afghan women demanding equal rights from the new rulers.
The Taliban again moved quickly and harshly to end Tuesday's protest when it arrived near the presidential palace. They fired their weapons into the air and arrested several journalists covering the demonstration. In one case, Taliban waving Kalashnikov rifles took a microphone from a journalist and began beating him with it, breaking the microphone. The journalist was later handcuffed and detained for several hours.
"This is the third time i have been beaten by the Taliban covering protests," he told The Associated Press on condition he not be identified because he was afraid of retaliation. "I won't go again to cover a demonstration. It's too difficult for me."
A journalist from Afghanistan's popular TOLO News was detained for three hours by the Taliban before being freed along with his equipment and the video of the demonstration still intact.
There was no immediate comment from the Taliban.
Meanwhile, in the northern city of Mazar-e-Sharif, four aircraft chartered to evacuate about 2,000 Afghans fleeing Taliban rule were still at the airport.
Mawlawi Abdullah Mansour, the Taliban official in charge of the city's airport, said any passenger, Afghan or foreigner, with a passport and valid visa would be allowed to leave. Most of the passengers are believed to be Afghans without proper travel documents.
None of the passengers had arrived at the airport. Instead, organizers apparently told evacuees to travel to Mazar-e-Sharif and find accommodation until they were called to come to the airport.
The Taliban say they are trying to find out who among the estimated 2,000 have valid travel documents.
U.S. Secretary of State Antony Blinken said in Qatar on Tuesday the Taliban have given assurances of safe passage for all seeking to leave Afghanistan with proper travel documents.
He said the United States would hold the Taliban to that pledge. "It's my understanding that the Taliban has not denied exit to anyone holding a valid document, but they have said those without valid documents, at this point, can't leave," he said.
"Because all of these people are grouped together, that's meant that flights have not been allowed to go," he added.
The State Department is also working with the Taliban to facilitate additional charter flights from Kabul for people seeking to leave Afghanistan after the American military and diplomatic departure, Blinken told a joint news conference with Qatar's top diplomatic and defense officials.
"In recent hours" the U.S. has been in contact with Taliban officials to work out arrangements for additional charter flights from the Afghan capital, he said.
Blinken and U.S. Defense Secretary Lloyd Austin were in Qatar to thank the Gulf state for its help with the transit of tens of thousands of people evacuated from Afghanistan after the Taliban took control of Kabul on Aug. 15.
___
Associates Press writers Tameem Akhgar in Istanbul and Robert Burns in Qatar contributed to this report.
Kathy Gannon, The Associated Press
Luxury goods tax on super-rich could hit electric vehicles: expert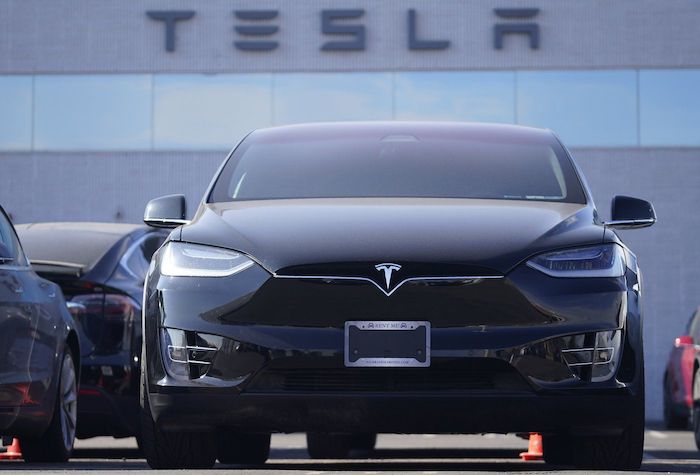 By Marie Woolf in Ottawa
A new tax on yachts, luxury cars and private aircraft designed to hit the super-rich could also cover vehicles meant to help the environment, a tax expert warns.
The luxury goods tax, which will come into force on Sept. 1, will cover cars and SUVs, as well as private planes and helicopters, worth more than $100,000.
The federal tax will also cover yachts and boats — including motorboats — worth more than $250,000.
But senior tax lawyer Héléna Gagné says the new tax could also hit some electric and hybrid vehicles, including Tesla and BMW models, which cost more than $100,000.
The federal government has been encouraging Canadians to invest in clean technology and zero-emission vehicles, which can carry a higher price tag than cars that run on fossil fuels.
Gagné said the thresholds for the tax could also affect people who would not be regarded as wealthy, but have saved up to buy a private plane for a hobby.
"It seems to be assumed that it is only the wealthiest who will be impacted by the luxury tax but it is not necessarily the case," said Gagné, a partner at Osler, Hoskin & Harcourt LLP. "It can also impact indirectly taxpayers who may not consider themselves as being among the wealthiest but who may decide to purchase an electric vehicle with a retail sales price that happens to be over the $100,000 threshold."
Adrienne Vaupshas, a spokeswoman for Finance Minister Chrystia Freeland, said the measures, originally proposed in the 2021 budget, are not designed to hit the middle class.
She said the threshold for the tax for boats was deliberately set at $250,000 so it would cover superyachts and not middle-class families buying boats.
Vaupshas said it was "only right and fair that the very wealthiest are asked to pay their fair share."
"The government was re-elected on a platform that included a commitment to bring forward a luxury tax on yachts, private jets, and luxury cars and implementing this measure is a priority," she said.
The tax was originally proposed in the 2021 budget. It will cover luxury cars, planes, and boats bought for personal use and leisure. Commercial vehicles, including small planes selling seats, and emergency vehicles are among the classes of vehicle exempt from the new tax.
The tax amounts to either 10 per cent of the taxable amount of the item or 20 per cent of the amount over the price threshold — whichever is less.
The NDP has been putting pressure on the federal government to do more to tax the super-rich. Measures to increase taxes on the wealthiest people in Canada, however, were not included in the Liberal-NDP confidence and supply pact.
NDP critic for tax fairness and inequality, Niki Ashton, said at a news conference last month that she wants the federal government to close loopholes she says are being used by the super-rich and corporations to avoid paying billions in taxes.
This report by The Canadian Press was first published Aug. 11, 2022.
Ex-police officer gets 7-plus years in prison in Jan. 6 case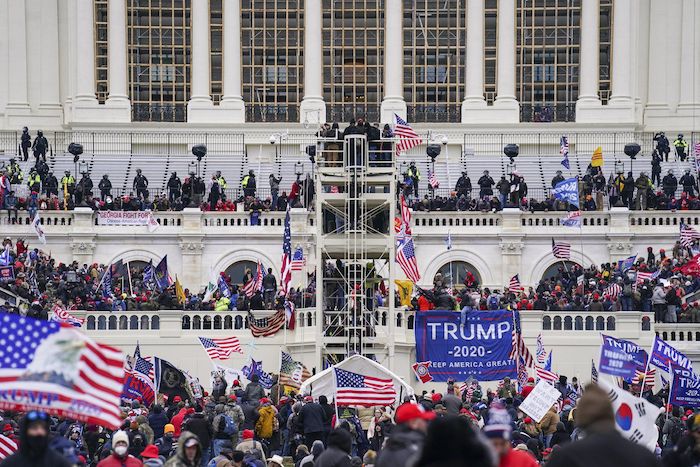 By Michael Kunzelman in Washington
WASHINGTON (AP) — An off-duty Virginia police officer who stormed the U.S. Capitol with a fellow officer was sentenced Thursday to more than seven years in prison, matching the longest prison sentence so far among hundreds of Capitol riot cases.
Former Rocky Mount Police Sgt. Thomas Robertson didn't speak in court before U.S. District Judge Christopher Cooper sentenced him to seven years and three months in prison. Cooper also sentenced Robertson to three years of supervised release after his prison term.
Federal prosecutors had recommended an eight-year prison sentence for Robertson. The sentence he got equals that of Guy Reffitt, a Texas man who attacked the Capitol while armed with a holstered handgun.
Robertson gets credit for the 13 months he has already been jailed.
In April, a jury convicted Robertson of attacking the Capitol on Jan. 6, 2021, to obstruct Congress from certifying President Joe Biden's 2020 electoral victory. Jurors found him guilty of all six counts in his indictment, including charges that he interfered with police officers at the Capitol and that he entered a restricted area with a dangerous weapon, a large wooden stick.
Robertson traveled to Washington on the morning of Jan. 6 with another off-duty Rocky Mount police officer, Jacob Fracker, and a third man, a neighbor who wasn't charged in the case.
Fracker was scheduled to be tried alongside Robertson before he pleaded guilty to a conspiracy charge in March and agreed to cooperate with federal authorities. Cooper is scheduled to sentence Fracker next Tuesday.
Prosecutors have asked Cooper to spare Fracker from a prison term and sentence him to six months of probation along with a period of home detention or "community confinement." They said Fracker's "fulsome" cooperation and trial testimony was crucial in securing convictions against Robertson.