Talcum powder products may be harmful to lungs, possible cause of ovarian cancer: feds
TORONTO — Consumers are being warned to avoid inhaling talcum powder or using the products on the female genital area, as exposure may cause potentially serious respiratory problems and possibly ovarian cancer.
Baby powder should also be kept away from a child's face to avoid inhalation, Health Canada and Environment and Climate Change Canada said Wednesday in releasing a draft screening assessment of products containing talc.
The draft assessment focuses on the safety of talc in such self-care products as cosmetics; baby, body, face and foot powders; diaper and rash creams; and genital antiperspirants and deodorants.
"When you inhale talc, the fine talc particles will get lodged inside of the lung, and over time there's a cumulative effect associated with that," said David Morin, director general of the safe environment directorate.
Inhaling talc, a naturally occurring mineral, can cause difficulty breathing, decreased lung function and pulmonary fibrosis, a scarring of the lungs.
Products containing talc have also been linked to ovarian cancer in some women, and the Canadian Cancer Society identifies its use on the female genitals as a possible risk factor for the malignancy.
A number of class action lawsuits in the U.S. and Canada launched against Johnson & Johnson contend that longtime use of its talcum powder for feminine hygiene resulted in the development of the plaintiffs' ovarian cancer. The cosmetics giant has denied its product, which has been on the market since 1894, causes the disease.
Despite studies suggesting a link, Health Canada has not mandated that labels on talc-containing products carry specific warnings about the possible link with the development of ovarian cancer or the respiratory risks to adults who inadvertently inhale talcum powder particles.
Ottawa only requires label warnings related to the use of loose talc powder for infants and children, said Tolga Yalkin, head of the consumer products safety directorate.
"Essentially, those warnings are: 'Keep out of reach of children' and 'Keep out of the way of a child's face to avoid inhalation, which can cause breathing problems,'" he said.
The Canadian Paediatric Society also advises against the use of talcum powder — long used by parents to prevent diaper rash — for infants and babies.
Muhannad Malas, toxics program manager for Environmental Defence, said Health Canada's screening assessment shows that the effects of talc can be "really serious."
"What we want to see here is some regulatory actions in terms of banning talcum powder in cosmetics and personal care products that pose significant risks to women and to children," he said in an interview.
The environmental action organization is also calling for "much stronger health warnings that would clearly identify the risks and clearly tell consumers why talcum is a problem and why we should avoid exposure to it," he said.
Yalkin said the government is investigating the possibility of updating its cosmetic ingredient hotlist and possibly expanding warnings on product labels, but any decision would follow a 60-day consultation process and the final version of the screening assessment.
The consultation will offer members of the public, talc-products manufacturers, academics and others to provide comment and information on the issue. Their input, as well as any new scientific evidence, will help inform the final assessment.
"It's possible you will see additional warnings that are mandated by Health Canada," Yalkin said.
Morin added that if the final screening assessment confirms that talc in certain products is harmful to human health, regulatory action will be taken to manage the identified risks.
But Malas said he's concerned about how long that process could take, from finalizing the screening assessment to taking regulatory action if deemed warranted.
He said it took four to five years for the government to finalize a risk assessment for triclosan, an antibacterial chemical used in cleaning and personal care products, following release of its draft document, and another a few years more before it decided on what measures to take.
"We want to avoid that," he said. "I think what we're looking for is some concrete and immediate actions in terms of reducing Canadians' exposure, especially women's exposure to talcum powder and also infants' exposure."
Federal law requires companies to list the ingredients on cosmetic and personal care products, noted Yalkin.
"So in the meantime, Canadians who are concerned about their exposure can check to see if (talc) is on the product that they're considering using and make a decision accordingly."
The draft screening assessment will be published in the Canada Gazette, Part I, and will be open for public comment until Feb. 6. The Canada Gazette containing public notices, official appointments and proposed regulations from the federal government is published every Saturday, but available online Fridays at 2 p.m. Eastern time.
— Follow @SherylUbelacker on Twitter.
Sheryl Ubelacker, The Canadian Press
New app uses AI to help Calgary medical students practise interacting with patients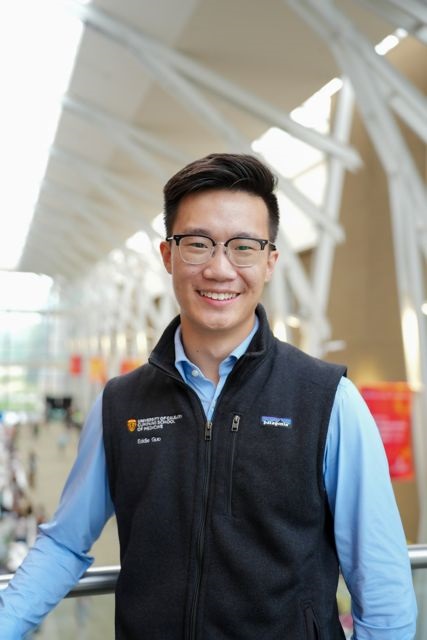 A Calgary medical student has developed a new app that allows future doctors to work on their diagnostic and communication skills before they set up their practices. Eddie Guo, seen in an undated handout photo, is a second-year student at the University of Calgary's Cumming School of Medicine. He says that one of the challenges in medical school is becoming better at interacting with patients. THE CANADIAN PRESS/HO-University of Calgary
By Bill Graveland in Calgary
A Calgary medical student has developed an app that allows future doctors to work on their diagnostic and communication skills before they set up their practices.
Eddie Guo, a second-year student at the University of Calgary's Cumming School of Medicine, said one of the challenges beyond the book learning in medical school is becoming better at interacting with patients.
As a result, he's turned to the rapidly growing area of artificial intelligence to create a number of virtual patients, with a variety of health conditions, that a student can talk to.
"It's good to get more than just two or four hours of the practice we get in medical school to really be able understand what it's like to communicate in a real-life scenario," said Guo.
"We think it's a good idea to have more than a few hours of practice before actually going out into the wild and seeing patients for the first time."
Guo created a program, called OSCE-GPT, where the computer is the patient. Users choose the patient's gender and can select a scenario or let the computer decide on one for them.
"I'm Ben Johnson and I've been having some really bad abdominal pains over the past two days. It's in the right upper quadrant and it spreads to my back," said the robotic male voice in the program.
"I've also been feeling nauseous and vomiting. I'm here in the emergency department because of the pain."
The AI patient can answer questions about its condition and, after the conversation, provides feedback to the student along with a list of other questions that could have been asked.
Guo said until he is finally allowed on the medical wards, the only other interactions he gets are with standardized patients, professional actors who present with various conditions.
"As you can imagine, they're really quite good at their job, but they're also very expensive," Guo said.
"We don't get that much opportunity really to practise speaking with a patient, and so what this app was born out of was a lack of possibility to practise."
Guo collaborated with medical resident Dr. Mehul Gupta. He said this kind of additional help will make for better doctors.
"One of the things we learn again and again in medical school, and that's reinforced again in residency, is that the history you take from a patient is almost 99 per cent of the diagnosis that you make and the impression you make on a patient the first time you speak with them is long-lasting," Gupta said.
"If you have the opportunity to practise to tailor your questions to see how you could have done better, you really do become a better doctor overall."
Guo said the app is still being upgraded and at this point there is no image of a patient that shows up on the screen. He said he is hoping that things like a chest X-ray, a CT scan or a picture of someone's skin could be incorporated into the program.
Within the first month of the app's launch, more than 550 health-care trainees from Canada and across the world including Europe, India, Saudi Arabia and the United States signed on.
This report by The Canadian Press was first published Sept. 22, 2023.
Encouraging news: Update on E. coli outbreak in Calgary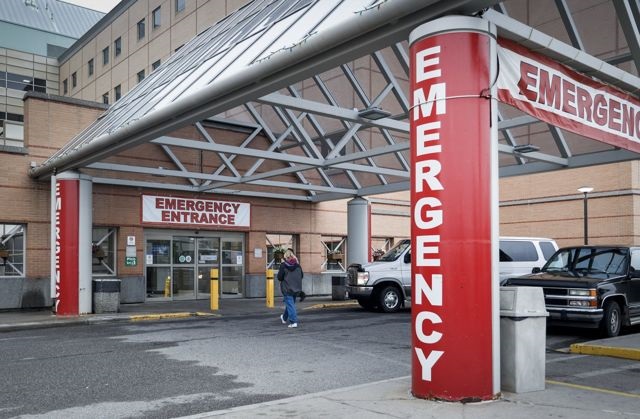 The Emergency Department at Calgary's Peter Lougheed Hospital at the height of the E. coli outbreak, Sept 7, 2023
As hospital admissions and daily numbers of new E. coli cases continue to decline, health officials are seeing signs that the initial outbreak that affected several Calgary daycares has peaked.
The number of secondary transmissions connected to this outbreak remains low, indicating there is limited transmission of the E. coli bacteria beyond the initial outbreak.
The kitchen connected with the original outbreak remains closed indefinitely. In addition, precautionary measures at specific daycare facilities remain in place. Parents and operators have been made aware of these measures directly and through communication with Alberta Health Services.
"I am relieved every time I hear of a child who is well enough to leave hospital. My heart goes out to each family member who has been impacted, and I want them to know that we will get to the bottom of this. Thank you as well to our front-line staff for supporting these children and their families on the road to recovery."
"Families have had their lives turned upside down by this outbreak. I'm relieved many of them are seeing their children recover and start to get back to their normal routines. I want to reassure parents they can place their trust in our high-quality child-care system and that they are not alone. We are here to support them in any way we can."
"We are cautiously optimistic that the outbreak has peaked and that we will continue to see case numbers drop. That said, this does not diminish the fact that we still have some children who remain very ill, and my heart goes out to them, their parents and their loved ones."
Hospitalizations and cases
As of Sept.19, there were a total of 348 lab-confirmed cases connected to this outbreak, no increase from Sept. 18. Between Sept. 9 and Sept. 14, there was an average increase of 33 new cases a day. Since then, the average case numbers decreased to fewer than four a day to no increase on Sept. 19.
There have been a total of 27 lab-confirmed secondary cases, with no additional secondary cases confirmed, since Sept. 16. Some cases of secondary transmission are common and expected in significant outbreaks such as this.
Currently eight patients are receiving care in hospital, down one from Sept. 18. All these patients have been confirmed as having hemolytic uremic syndrome (HUS), including two on dialysis (a decrease of one since Sept. 18). All patients are in stable condition and responding to treatment. Front-line health care teams continue to provide the best care and support possible.
A total of 707 children connected to the outbreak have been cleared to return to a daycare facility.
Daycares
As of Sept. 19, six daycare facilities are under closure or partial closure orders:
Active Start Country Hills – Dolphin and Starfish preschool classes
CanCare Childcare – Scenic Acres location­ – Busy Bees, Bumble Bees and Butterflies classrooms
CEFA Early Learning Calgary South ­– JK 3-1 classroom
Renert Junior Kindergarten – all four Junior K classrooms
1st Class Childcare Shawnessy ­– "Main daycare" area is being closed
Calgary JCC Child Care ­– a closure order was issued for infant and toddler rooms on Sept. 15
Closure orders were rescinded for Classrooms 3 and 4 at Vik Academy on the afternoon of Sept. 18 following negative test results for E. coli.
Additionally, while MTC Daycare site is not being closed, affected children and staff in Prominade and McKenzie classrooms are being notified that they are excluded from attending all child-care facilities until they test negative for E. coli and remain symptom-free.
All closure orders are posted on the Calgary Zone Alberta Health Services website.
Initial results suggest these cases affecting additional daycare facilities are predominantly cases of secondary transmission. Either these new cases were in contact with children from the original daycare or children from the original daycares were in contact with the facility.
Parents and staff from all the daycare facilities involved are being provided with information about what to do if they experience symptoms, test positive or have concerns about the health and safety of their child.
Investigations
The public health investigation into this outbreak continues, and work continues to identify the source of the outbreak. Additionally, the ministries of Health and Children and Family Services are conducting a review of all shared kitchens serving child-care facilities across Alberta.
The food histories of more than 1,150 children and 250 daycare staff are being reviewed by public health officials. This includes those who became ill and those who did not, all of whom were at the 11 affected daycares between Aug. 15 and Aug. 31.
Guidance to parents
If children develop symptoms, including bloody diarrhea, families are encouraged to visit an emergency department. If a child is not symptomatic, do not take them to hospital. Families with concerns or questions can call Health Link at 8-1-1 or contact their family physician for advice and support.
In addition, Alberta's government is providing families with a one-time payment of $2,000 per child enrolled in the original facilities that were closed due to the outbreak.
Alberta's government is committed to working with parents and operators through this challenging time and encourage them to reach out to Child Care Connect at 1-844-644-5165 with questions or concerns.
Related links
Update on E. coli outbreak in Calgary (Sept. 12, 2023)