Survivors scream as desperate rescuers work in Turkey, Syria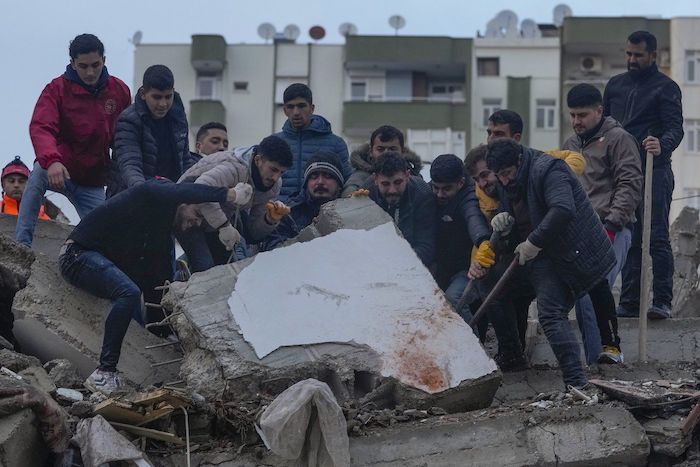 By Mehmet Guzel And Zeynep Bilginsoy in Adana
ADANA, Turkey (AP) — Rescuers called out, "Slowly, slowly," as they lifted a man inch by inch from between slabs of collapsed concrete Monday in the Turkish province that was the epicenter of a devastating earthquake.
His neck in a brace, the barefoot man was carried on a stretcher as he emerged. Rescuers in Pazarcik in the province of Kahramanmaras held him aloft and ran off with him.
It was among numerous rescue efforts that unfolded as darkness, rain and cold enveloped the region of Turkey and Syria that was rocked by a powerful 7.8 magnitude earthquake. Hours later, a 7.5 magnitude temblor struck more than 100 kilometers (60 miles) away. At least 3,400 people were killed, and civilians joined rescuers in desperate efforts across Turkey and Syria.
"Can anyone hear me?" rescuers shouted. In some places around southeast Turkey, survivors could be heard screaming from beneath collapsed buildings.
People crouched to look below a massive sheet of concrete propped at an angle by steel bars. They crawled in and out, trying to reach survivors. Excavating equipment dug through the rubble below.
Elsewhere in Kahramanmaras province, rescuers pulled two children alive from the rubble. One lay on a stretcher on the snowy ground. Rescuers quieted the throngs of people trying to help so they could hear survivors and find them.
Some emerged safely then waited to hear any word on relatives.
"My two grandchildren, my daughter-in-law, are all inside. They haven't come out," said Hasan Birbalta while waiting near a collapsed building in Pazarcik, adding the granddaughter is 2 and the grandson is 6.
Thousands of search-and-rescue personnel, firefighters and medics were working across 10 provinces, along with some 3,500 soldiers. Residents lifted rubble and unearthed people heard screaming from beneath buildings. Aftershocks made rescue efforts more dangerous.
In Adana, about 20 people, some in emergency rescue jackets, used power saws atop the concrete mountain of a collapsed building to carve out space that would let any survivors climb out or be rescued. Later, excavators joined the efforts as bright spotlights illuminated the wreckage.
Turkish military ambulance planes were transporting the injured to Istanbul and Ankara hospitals, the defense ministry said. Rescuers from across Turkey tried to make it to the provinces amid heavy snow and rain.
At a news conference late Monday, four ministers said that because Hatay's airport had been severely damaged, they had to fly into Adana nearly three hours away.
In Syria, a man held a dead girl in his arms beside a two-story collapsed concrete building as he walked away from the debris. He and a woman set the girl on the floor under covering to protect her from the rain, wrapping her in a large blanket and looking back to the building, overwhelmed.
An official with Turkey's disaster management authority said 7,840 people had been rescued across 10 provinces. The official, Orhan Tatar, said 5,606 buildings had collapsed.
Tatar said the total area affected was large and places were hard to reach, but that as of late Monday, teams had been directed to all collapsed buildings.
___
Bilginsoy reported from Istanbul. Associated Press writer Carley Petesch in Chicago contributed.
Wildfires, smoke having 'huge impact' on some tourism operators across Canada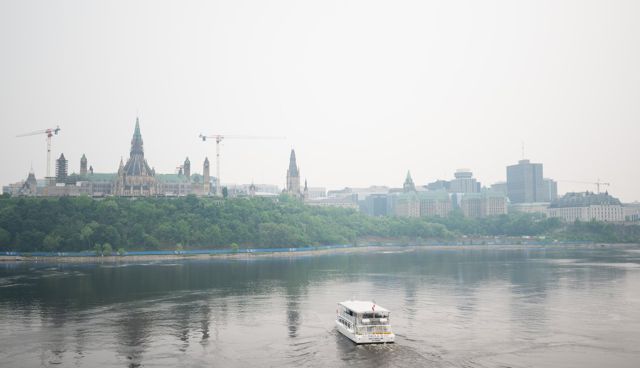 Downtown Ottawa is seen blanketed in smoke from wildfires on Monday, June 5, 2023. Raging wildfires and smoky skies across much of Canada have put a damper on travel and tourism plans this summer resulting in cancelled plans and closed businesses. THE CANADIAN PRESS/Spencer Colby
By Emily Blake
Raging wildfires and smoky skies across much of Canada have put a damper on travel this summer, resulting in cancelled plans and closed businesses.
"We have had a few conversations with our members and we're already seeing domestic and international visitors cancelling trips," said Madison Simmons with the Tourism Industry Association of Ontario.
Simmons pointed to a 2018 study by Visit California, which found that during the state's most destructive wildfire season on record, 11 per cent of potential travellers cancelled their trips to the state, representing a loss of about $20 million that July.
The Ontario tourism group released a study last month suggesting leisure travel in the province was set to grow after being hit by the COVID-19 pandemic and cost-of-living crisis.
Simmons said businesses in the northern part of the province, particularly outfitters and outdoor tours, are most affected.
The wildfires are adding to challenges posed by high gas prices and border delays, she added.
"We're still facing a cost-of-living and cost-of-travel issue. It'll put a further strain on tourism insurance."
Canada's travel and tourism industry was set to almost fully recover from the pandemic this year, the World Travel and Tourism Council said in mid-May.
But Canada's emergency preparedness minister warned on Monday that 2023 is now on track to be the worst year on record for fires.
The Canadian Interagency Forest Fire Centre said that as of Thursday, there were 428 fires actively burning across the country, 231 of which were out of control. Some 43,000 square kilometres has burned so far this year.
In Nova Scotia, the number of fires has already about doubled the yearly average. The largest fire in the province's history is currently burning near Barrington Lake, which has forced out thousands from Shelburne County and destroyed 150 structures.
Daniel Khan is vice president of the Shelburne and Area Chamber of Commerce and owns Roseway River Cottages. He said the business is one of many outside the evacuation area that has opened its doors to evacuees.
"We're trying to do our best in terms of managing both the immediate need of people who are local and also our businesses in terms of accommodations with bookings that we have," he said.
Khan said many of bookings until early July are from returning guests who have family in the area while tourists who had planned to explore the province have cancelled. He said it remains to be seen how the fire will affect tourism for the remainder of the summer.
The province recently lifted restrictions on travel and activities in the woods, including hiking and camping, in all areas except for Shelburne County. A provincewide ban on burning remains, including campfires and fireworks.
Quebec, which officials said is experiencing its worst wildfire season, has also prohibited access to forests in several regions. The fires and restrictions have caused many wilderness outfitters to shut down during one of their busiest times of year.
Dominic Dugré, president of industry association Fédération des pourvoiries du Québec, said of the more than 500 outfitters who operate in Quebec's forests, 350 have been forced to close.
Most affected by wildfires in the province are the Abitibi-Témiscamingue and Nord-du-Québec regions.
"We're surrounded by forest so it's our playground," said Nancy Arpin, general manager of Tourisme Val-d'Or.
She noted Val d'Or is near La Vérendrye wildlife reserve and Route 117, the Trans Canada Highway Northern Route, which is on pre-alert for closure due to smoke.
In northern Saskatchewan, wildfires have forced an Indigenous tourism conference to reschedule.
Candice Evans-Waite is the project coordinator for Westside Indigenous Experience Inc., a non-profit that supports tourism operators in northwest Saskatchewan.
"I feel very shocked and saddened. I don't know what's it's going to be like going back home," Evans-Waite, whose home community is Buffalo Narrows, said of the wildfires. "I think our landscape has drastically changed."
"It's been a huge impact on our industry as well as our communities."
Evans-Waite said around 75 people were expected to attend the symposium in Beauval this week, which would have included a cultural demonstration, lake tours and an artisan market. She said the group also planned to share a tourism strategy it has worked on for six months.
"It was a hard call," she said of the cancellation.
The symposium has been rescheduled for September and Evans-Waite is expecting it to be bigger and better, with a focus on authentic Indigenous experiences.
Keith Henry, chief executive officer of the Indigenous Tourism Association of Canada, said in 2019 Indigenous tourism contributed nearly $2 billion in revenue to Canada's economy and supported roughly 40,000 jobs.
"This is a very challenging time for the industry," he said, adding the organization is concerned about environmental impacts. "We were looking forward to a very strong summer this year driven with significant new domestic interest but the wildfires are really having an impact on the consciousness of consumer spending."
Many other outdoor events and businesses across Canada have been cancelled or are taking precautions due to poor air quality from wildfire smoke.
Canada's Wonderland said the park is providing KN95 masks to employees who request them as well as additional breaks and advice on steps to take if they or visitors feel unwell. The Toronto Zoo said it is has put precautions in place for animals, including access to the indoors and additional ventilation.
This report by The Canadian Press was first published June 9, 2023.
— With files from Rosa Saba and Sammy Hudes in Toronto and Jacob Serebin in Montreal.
—
From hoses and shovels to water bombers: how wildfires are being fought across Canada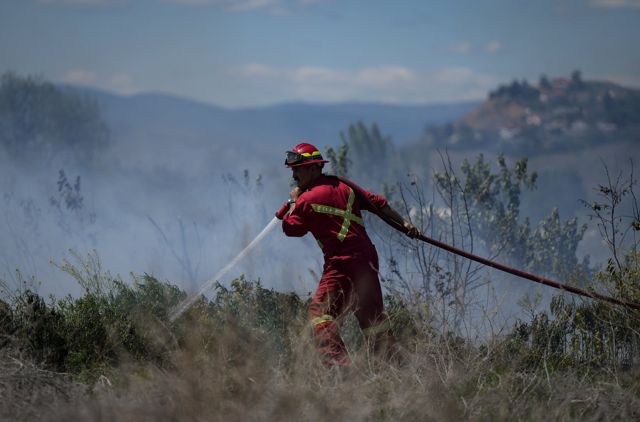 A firefighter directs water on a grass fire burning on an acreage behind a residential property in Kamloops, B.C., Monday, June 5, 2023. THE CANADIAN PRESS/Darryl Dyck
By Morgan Lowrie in Montreal
The techniques used to put out the wildfires that are burning across Canada vary somewhat depending on geography, but ultimately they depend on people on the ground with hoses and shovels digging out hot spots one by one, experts say.
As of midday Thursday, there were 430 fires burning across Canada, including 235 that were out of control, according to the Canadian Interagency Forest Fire Centre.
Regardless of how many fires there are, the tactics to put them out remain largely the same, involving a combination of air attacks and firefighters working on the ground, said a longtime firefighter and former member of the Ontario Ministry of Natural Resources' fire program.
Dave Cowan, who now trains new recruits with the private company Fire 1, said that while aircraft can help stop a fire's advance, the hard work of putting it out is always done at ground level.
"The water bombers are a great support system, but they're not going to put the fire out," he said in an interview this week. "It's that person with the shovel at the end of the day that is going to put that last hot spot out."
Cowan said firefighting tactics depend partly on the landscape. In Ontario and Quebec, where lakes are plentiful, the bulk of the work is done with water, either mixed with foam and dropped from aircraft, or pumped from lakes and rivers into hoses that are manned by firefighters on the ground.
In drier places, such as British Columbia, there's a greater use of fire retardant — which is placed around the fire's edge — and preventive burning to strip an area of vegetation that acts as fuel, he said.
Stéphane Caron, a spokesman for Quebec's forest fire prevention agency, known as SOPFEU, said that while tactics in fighting fires are consistent, the sheer number of fires in his province is forcing the agency to abandon its goal of extinguishing all fires below the 51st parallel.
"There are far too many (fires) for us to do that, so at the moment our objective is really linked to the protection of communities, human lives and strategic infrastructure," he said in an interview this week. He said the agency's firefighting capacity is about 30 fires at a time. On Thursday, there were 133 fires in the province.
With resources in short supply, "our goal isn't necessarily to go until the fire is extinguished, but to contain and hopefully control it to be able to go take care of another fire."
Caron said the first line of attack against a fire is the water bomber aircraft, which can carry about 6,000 litres of water and must pass every 10 to 12 minutes to be effective.
However, he said the aircraft can only help contain a fire. It's the firefighters on the ground who extinguish a blaze, not only above ground with hoses but underground as well. That is done using a tool known as a Pulaski, similar to an axe, to dig into spots where the fire is hiding beneath the surface.
The biggest challenge in the current situation, he said, is that fires are happening simultaneously in several provinces at once, straining resources that are usually shared between provinces and forcing agencies to look abroad for reinforcements.
Roger Collet, wildfire management officer with the New Brunswick Department of Natural Resources, says fire efforts start by finding a spot that provides a good escape route, and then attacking the fire on its flanks before moving to the head.
He said that while tactics haven't changed substantially in recent years, they're being constantly refined by improvements in the technology that helps predict and monitor fires. Drones, for example, offer a cheaper and easier way to keep tabs on a fire than helicopters. "They're always tweaking the technology," he said.
The experts agree that when a fire is advancing, workers may have to fall back and focus on building defences to protect homes, businesses and critical infrastructure, such as communications towers. That can be done by using a bulldozer to raze a section of land and create a firebreak near the structures, or through a preventive burn of the vegetation.
Both Caron and Cowan say the main danger to firefighters is not being encircled by the fire, which is closely monitored, but rather injuries from falling trees, falls or heatstroke. The work is very demanding for firefighters, who have to contend with heat from the fires, mud and water, and difficult terrain.
"You're walking through the bush, which is logs laying there and hills and rocks," he said. "It's not like walking on a city block, I'll tell you, it's very demanding and it's hot."
He notes that a fire is not considered fully "out" until firefighters can walk all the way to the centre of a burned area and ensure there are no more hot spots that could reignite and start another fire.
This report by The Canadian Press was first published June 9, 2023.