Surf's up! Florida's St. George Island beach named nation's best in annual ranking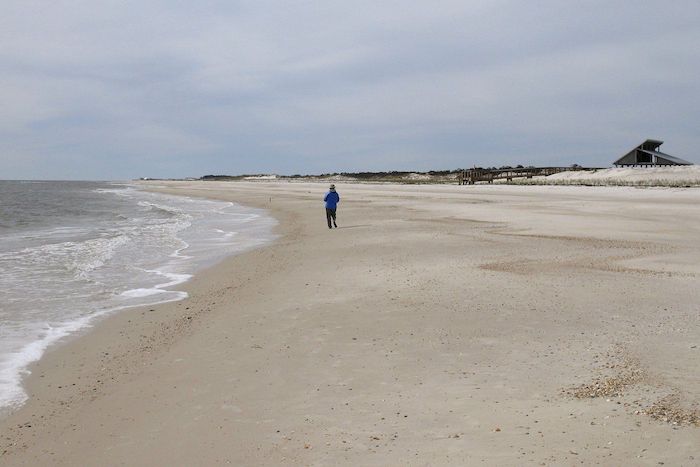 Miles of empty beach and billions of sea shells await a lone beachcomber at St. George Island State Park near Apalachicola in the Florida Panhandle, Feb. 5, 2007. The nine-mile (14-kilometer) stretch of Florida sugar-white sand in an unspoiled natural setting alongside the Gulf of Mexico is the nation's best beach for 2023, according to the annual ranking released Thursday, May 18, 2023, by the university professor known as "Dr. Beach." (AP Photo/William Kronholm, File)
By Curt Anderson in St. Petersburg
ST. PETERSBURG, Fla. (AP) — A 9-mile (14-kilometer) stretch of Florida sugar-white sand in an unspoiled natural setting alongside the Gulf of Mexico is the nation's best beach for 2023, according to the annual ranking released Thursday by the university professor known as "Dr. Beach."
The state park on St. George Island just off the Florida Panhandle drew the top honor from Stephen Leatherman, professor in the Department of Earth & Environment at Florida International University. This year's top 10 list marks the 33rd year Leatherman has rated the best of America's 650 public beaches around Memorial Day, the traditional start of summer.
St. George Island is frequently on the list. But this year what set it apart from others is its natural beauty, lack of development, abundant activities including fishing, swimming, kayaking, cycling, camping and an unparalleled view of the night sky for stargazers, Leatherman said.
"There's just so many things that capture my imagination there," Leatherman said in an interview. "It's an idyllic place."
The park covers about 2,000 acres (810 hectares) on the east end of the island, which is connected by a bridge to the mainland across Apalachicola Bay, famed for its oysters. The other sections of the island contain a small village, restaurants, rental homes and motels, but not a whole lot else.
And that's the way Leatherman likes it.
"People can have the best of both worlds there, just miles and miles of unspoiled beaches," he said.
The island has been battered over the decades by tropical storms, most recently by Hurricane Michael in October 2018. That deadly Category 5 storm made landfall about 50 miles (80 kilometers) northwest in Mexico Beach, but packed enough punch to level many St. George Island sand dunes and damage park facilities such as picnic pavilions and restrooms.
"Since that time, staff and volunteers have made great strides toward getting the park back to normal," park officials said on its website.
In 2005, a 153-year-old lighthouse on nearby, uninhabited Little St. George Island collapsed into the Gulf due to storms and erosion. It was rebuilt on the main island after volunteers salvaged 22,000 of the original bricks and found the 19th-century plans at the National Archives. The new location means people can more easily trek to the top for a panoramic view.
Leatherman uses 50 criteria to evaluate beaches including sand type, wave action, whether lifeguards are present, presence of wildlife, the level of development and crowding, and many other factors. Extra credit is given to beaches that forbid cigarette smoking, mainly because of the need to prevent discarded butts. None were seen during a recent visit to St. George Island, he said.
"I had to give them more credit for that," Leatherman said. "I think people are coming around to the point of view that our beaches are some of our greatest recreational areas. You can go to the beach and you can do so many things."
A second Florida Gulf coast beach, Caladesi Island State Parknear Clearwater and Dunedin, ranks fourth on the list this year. It's reachable mainly by ferry and private boat, or a person could walk a fairly good distance there from Clearwater Beach depending on the tides. Despite the name, Caladesi isn't a true island any longer because an inlet closed off, Leatherman said.
"The white beach is composed of crystalline quartz sand, which is soft and cushy at the water's edge, inviting one to take a dip in the sparkling clear waters," he said.
Caladesi has boardwalk nature trails and kayaking through mangroves that are home to numerous species of fish, birds and other animals.
Hawaii placed three beaches on the list, more than any other state. Florida was next with two.
Here is Dr. Beach's complete 2023 top 10:
1. St. George Island State Park, Florida Panhandle
2. Duke Kahanamoku Beach, Oahu, Hawaii
3. Coopers Beach, Southampton, New York
4. Caladesi Island State Park, Dunedin/Clearwater, Florida
5. Lighthouse Beach, Buxton, Outer Banks of North Carolina
6. Coronado Beach, San Diego
7. Wailea Beach, Maui, Hawaii
8. Beachwalker Park, Kiawah Island, South Carolina
9. Poipu Beach, Kauai, Hawaii
10. Coast Guard Beach, Cape Cod, Massachusetts
After briefing on intel, Singh says 'clear evidence' India involved in B.C. killing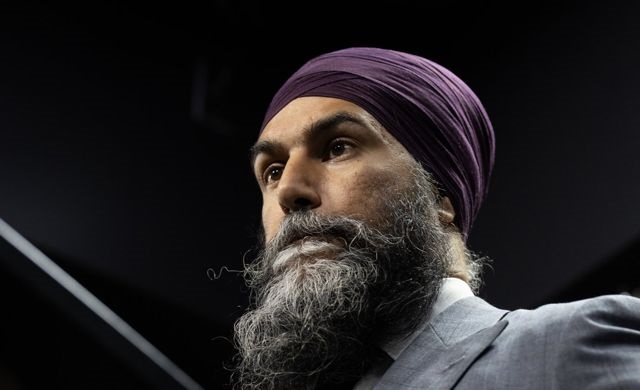 New Democratic Party leader Jagmeet Singh speaks with the media on Parliament Hill, Tuesday, September 26, 2023 in Ottawa. THE CANADIAN PRESS/Adrian Wyld
By Stephanie Taylor in Ottawa
Federal NDP Leader Jagmeet Singh said Tuesday he received an intelligence briefing about allegations that the Indian government could be behind the killing of a Sikh gurdwara leader in British Columbia.
"I can confirm what the prime minister has shared publicly: that there is clear intelligence that Canada has that lays out the following case that a Canadian citizen was killed on Canadian soil and a foreign government was involved," Singh told reporters in Ottawa on Tuesday.
"That intelligence is something that I think is very credible."
Prime Minister Justin Trudeau told the House of Commons Sept. 18 about "credible allegations" that the Indian government was involved in the June death of Hardeep Singh Nijjar in Surrey, B.C.
The well-known activist belonged to a movement that advocated for the creation of an independent Sikh state in India's Punjab province. India's government had labelled him a terrorist but has denied any involvement in his killing, calling the allegations by Trudeau "absurd and motivated."
The extraordinary allegation has worsened already rocky relations between India and Canada. India's government has accused Canada of not providing evidence to back up its claim, while Trudeau and other other ministers have called on India to co-operate with investigations.
Singh said Trudeau first told him and Conservative Leader Pierre Poilievre about the allegations against India before sharing them publicly. Three days later, Singh received a briefing from Trudeau's national security adviser, Jody Thomas.
Singh told reporters Tuesday that he was able to request the briefing on the matter because of the top-secret security clearance he obtained to review foreign-interference materials prepared by former governor general David Johnston, who had been named as a special rapporteur to explore that issue. Johnston has resigned from that role.
The former governor general's report had concluded that Trudeau's government did not knowingly or negligently fail to act on foreign attempts to interfere in the last two federal elections.
He had also recommended against calling a public inquiry into the issue. The Liberal government ended up tapping Quebec Court of Appeal Justice Marie-Josée Hogue to lead one earlier this month after months of outcry from, and discussions with, opposition parties.
Singh said that after reviewing the confidential material he had access to from Johnston, he agrees a public inquiry into foreign interference is necessary.
Poilievre has so far rejected getting the clearance needed to review the top-secret annex from Johnston's earlier report.
Poilievre said Tuesday that he was offered a briefing similar to one B.C. Premier David Eby received on the matter.
He said he doesn't believe the briefing will offer any more substantial details on the allegation and would only force him to be tight-lipped about whatever he learned.
The Conservative leader has called on Trudeau to "come clean" about the evidence behind the allegation against India, saying Canadians deserve more facts.
Singh said Tuesday he does not support that call.
"They're matters of national security and so information cannot be released beyond the general statements that were released," he said.
"There's going to be a next step in the investigation and a prosecution and then information will be made public in an appropriate manner. … To do it early would jeopardize the investigation."
A Canadian official told The Associated Press that the allegation of India's involvement is based on surveillance of Indian diplomats in Canada, including intelligence provided by a major ally.
The official said the communications involved Indian government officials and Indian diplomats in Canada and that some of the intelligence was provided by a member of the "Five Eyes" intelligence-sharing alliance — Canada, the U.S., Britain, Australia and New Zealand.
The official did not say which ally provided the intelligence or give any details of the communications or how they were obtained. The official spoke on condition of anonymity because they weren't authorized to discuss the matter publicly.
In an interview with CTV's Question Period that aired on Sunday, David Cohen, the U.S. ambassador to Canada, confirmed "there was shared intelligence among Five Eyes partners that helped lead Canada to making the statements that the prime minister made."
He said he does not generally comment on "private diplomatic conversations," but added: "There was a lot of communication between Canada and the United States about this, and I think that's as far as I'm comfortable going."
This report by The Canadian Press was first published Sept. 26, 2023.
— With files from James McCarten in Washington and The Associated Press.
JPMorgan settles claims that it enabled Jeffrey Epstein's sex trafficking acts for $75 million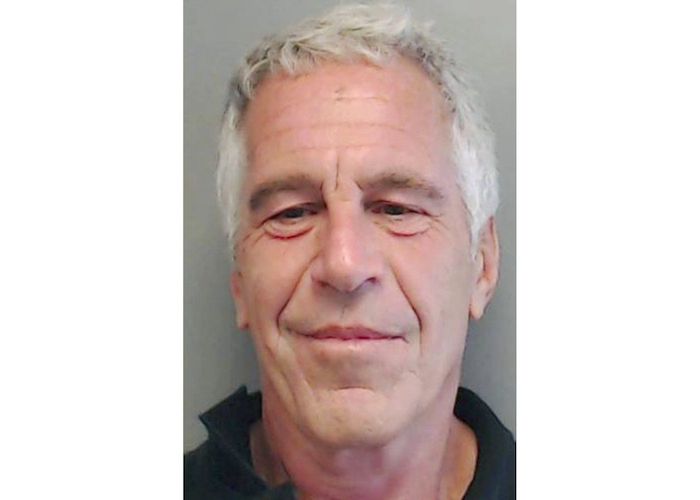 By Ken Sweet in New York
NEW YORK (AP) — JPMorgan Chase agreed Tuesday to pay $75 million to the U.S. Virgin Islands to settle claims that the bank enabled the sex trafficking acts committed by financier Jeffrey Epstein.
JPMorgan said that $55 million of the settlement will go toward local charities and assistance for victims. Another $20 million will go toward legal fees.
The Virgin Islands, where Epstein had an estate, sued JPMorgan last year, saying its investigation has revealed that the financial services giant enabled Epstein's recruiters to pay victims and was "indispensable to the operation and concealment of the Epstein trafficking enterprise."
In effect, the Virgin Islands had argued that JPMorgan had been complicit in Epstein's behavior and did not raise any red flags to law enforcement or bank regulators about Epstein being a "high risk" customer and making repeated large cash withdrawals.
The bank also said it reached an confidential legal settlement with James "Jes" Staley, the former top JPMorgan executive who managed the Epstein account before leaving the the bank. JPMorgan sued Staley earlier this year, alleging that he covered up or minimized Epstein's wrongdoing in order to maintain the lucrative account.
JPMorgan had already agreed to pay $290 million in June in a class-action lawsuit that involved victims of Epstein's trafficking crimes.
Epstein died by suicide in a federal jail in 2019.