Stephen King to testify for government in books merger trial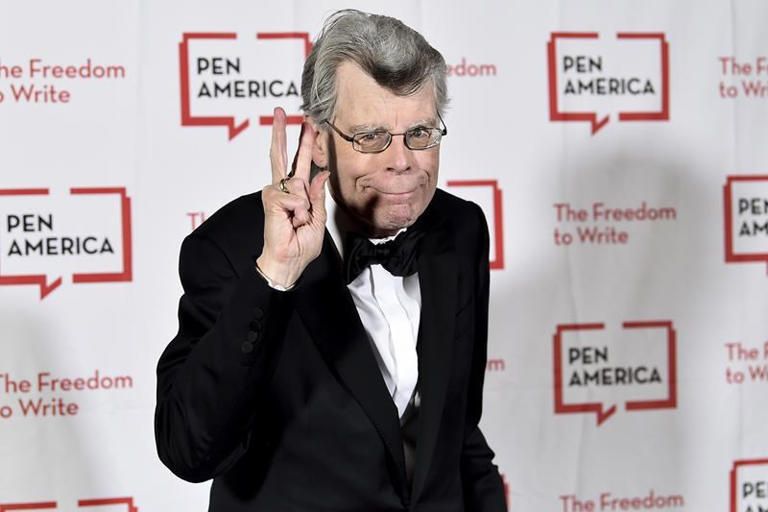 WASHINGTON (AP) — As the Justice Department bids to convince a federal judge that the proposed merger of Penguin Random House and Simon & Schuster would damage the careers of some of the most popular authors, it is leaning in part on the testimony of a writer who has thrived like few others: Stephen King.
The author of "Carrie," "The Shining" and many other favorites, King has willingly — even eagerly — placed himself in opposition to Simon & Schuster, his longtime publisher. He was not chosen by the government just for his fame, but for his public criticism of the $2.2 billion dealannounced in late 2021, joining two of the world's biggest publishers into what rival CEO Michael Pietsch of Hachette Book Group has called a "gigantically prominent" entity.
"The more the publishers consolidate, the harder it is for indie publishers to survive," King tweeted last year.
One of the few widely recognizable authors, known for his modest-sized glasses and gaunt features, King is expected to take the witness stand Tuesday, the second day of a federal antitrust trial anticipated last two to three weeks.
He may not have the business knowledge of Pietsch, the DOJ's first witness, but he has been a published novelist for nearly 50 years and knows well how much the industry has changed: Some of his own former publishers were acquired by larger companies. "Carrie," for instance, was published by Doubleday, which in 2009 merged with Knopf Publishing Group and now is part of Penguin Random House. Another former King publisher, Viking Press, was a Penguin imprint that joined Penguin Random House when Penguin and Random House merged in 2013.
King's affinity for smaller publishers is personal. Even while continuing to publish with the Simon & Schuster imprint Scribner, he has written thrillers for the independent Hard Case Crime. Years ago, the publisher asked him to contribute a blurb, but King instead offered to write a novel for them, "The Colorado Kid," released in 2005.
"Inside I was turning cartwheels," Hard Case co-founder Charles Ardai would remember thinking when King contacted him.
King himself would likely benefit from the Penguin Random House-Simon & Schuster deal, but he has a history of favoring other priorities beyond his material well-being. He has long been a critic of tax cuts for the rich, even as "the rich" surely includes Stephen King, and has openly called for the government to raise his taxes.
"In America, we should all have to pay our fair share," he wrote for The Daily Beast in 2012.
On Monday, attorneys for the two sides offered contrasting views of the book industry. Government attorney John Read invoked a dangerously narrow market, ruled tightly by the Big Five— Penguin Random House, Simon & Schuster, HarperCollins Publishing, Macmillan and Hachette — with little chance for smaller or startup publishers to break through.
Attorney Daniel Petrocelli argued for the defense that the industry was actually diverse, profitable and open to newcomers. Publishing means not just the Big Five, but also such medium-size companies as W.W. Norton & Co. and Grove Atlantic. The merger, he contended, would in no way upend the ambitions so many hold for literary success.
"Every book starts out as an anticipated bestseller in the gleam of an author's or an editor's eye," he said.
Hillel Italie, The Associated Press
Apple Inc will manufacture iPhone 14 in India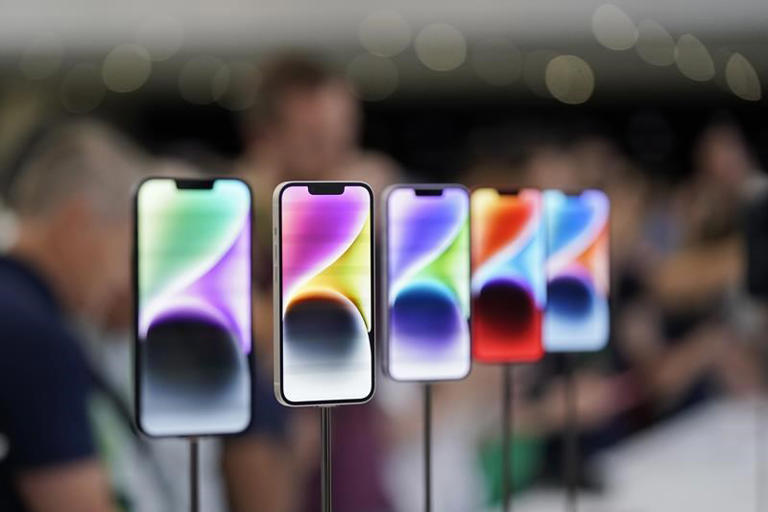 NEW DELHI (AP) — Apple Inc. will make its iPhone 14 in India, the company said on Monday, as manufacturers shift production from China amid geopolitical tensions and pandemic restrictions that have disrupted supply chains for many industries.
"The new iPhone 14 lineup introduces groundbreaking new technologies and important safety capabilities. We're excited to be manufacturing iPhone 14 in India," Apple said in a statement.
Apple unveiled its latest line-up of iPhones earlier this month. They will have improved cameras, faster processors and longer lasting batteries at the same prices as last year's models.
India is the world's second-largest smartphone market after China but Apple iPhone sales have struggled to capture a large share of the market against cheaper smartphones from competitors.
The announcement from the Cupertino, California-based company dovetails with Prime Minister Narendra Modi's push for local manufacturing, which has been a key goal for his government ever since he took office in 2014.
The tech company has bet big on India, where it first began manufacturing its iPhone SE in 2017 and has since continued to assemble a number of iPhone models there. Apple opened its online store for India two years ago, but the pandemic has delayed plans for a flagship store in India, according to local media reports.
The latest model will be shipped out by Foxconn, a major iPhone assembler, whose facilities are on the outskirts of Chennai, a city in southern India.
Apple is likely to shift about 5% of its iPhone 14 production to India from later this year, raising it to 25% by 2025, according to a JP Morgan report quoted by the Press Trust of India news agency.
The analysts expect that nearly a quarter of all Apple products to be manufactured outside China by 2025, compared to about 5% now. Supply chain risks like the stringent COVID-19 lockdowns seen in China are likely the trigger for such relocation efforts that will continue over the next two or three years, the report said.
"Apple has been trying to diversify its supply chain for a while, but these efforts have grown in the last two years over trade sanctions between the U.S. and China," said Sanyam Chaurasia, an analyst at Canalys.
Last year, the tech giant manufactured around 7 million iPhones in India. This news is likely to significantly increase India-made Apple smartphones, he added.
He said the plan to make more iPhones in India may also lead Apple to drop its prices for the Indian market, making it more competitive. "You can adopt a more aggressive pricing strategy if you manufacture locally," Chaurasia said.
Most of Apple Inc.'s smartphones and tablets are assembled by contractors with factories in China, but the company started asking them in 2020 to look at the possibility of moving some production to Southeast Asia or other places after repeated shutdowns to fight COVID-19 disrupted its global flow of products.
Apple hasn't released details, but news reports say the company planned to set up assembly of tablet computers and wireless earphones in Vietnam.
Other companies are keeping or expanding manufacturing in China to serve the domestic market while shifting export-oriented work to other countries due to rising wages and other costs, as well as the difficulty for foreign executives to visit China due to anti-COVID-19 travel restrictions.
___
AP Business Writer Joe McDonald in Beijing contributed.
Krutika Pathi, The Associated Press
Dow sinks to 2022 low as recession fears roil world markets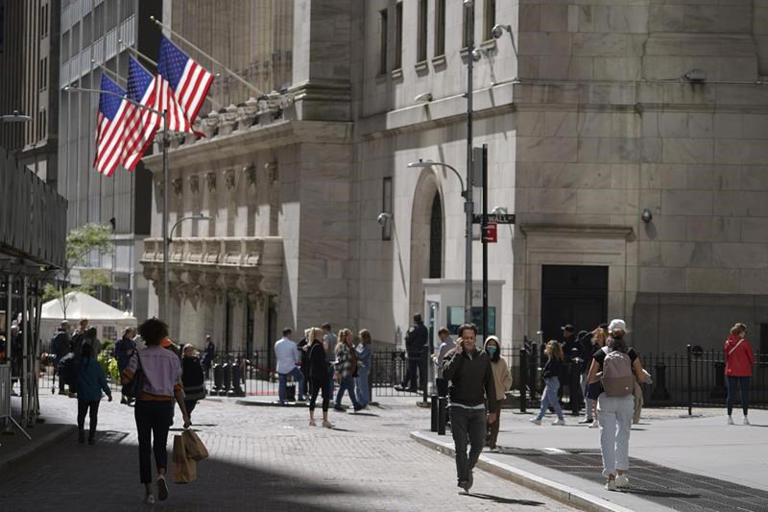 BEIJING — Stocks fell sharply worldwide Friday on worries an already slowing global economy could fall into recession as central banks raise the pressure with additional interest rate hikes.
The Dow Jones Industrial Average fell 1.6%, closing at its lowest level since late 2020. The S&P 500 fell 1.7%, close to its 2022 low set in mid-June, while the Nasdaq slid 1.8%.
The selling capped another rough week on Wall Street, leaving the major indexes with their fifth weekly loss in six weeks.
Energy prices closed sharply lower as traders worried about a possible recession. Treasury yields, which affect rates on mortgages and other kinds of loans, held at multiyear highs.
European stocks fell just as sharply or more after preliminary data there suggested business activity had its worst monthly contraction since the start of 2021. Adding to the pressure was a new plan announced in London to cut taxes, which sent U.K. yields soaring because it could ultimately force its central bank to raise rates even more sharply.
The Federal Reserve and other central banks around the world aggressively hiked interest rates this week in hopes of undercutting high inflation, with more big increases promised for the future. Such moves put the brakes on economies by design, in hopes that slower purchases by households and businesses will deflate inflationary pressures. But they also threaten a recession, if they rise too far or too quickly.
Besides Friday's discouraging data on European business activity, a separate report suggested U.S. activity is also still shrinking, though not quite as badly as in earlier months.
"Financial markets are now fully absorbing the Fed's harsh message that there will be no retreat from the inflation fight," Douglas Porter, chief economist at BMO Capital Markets, wrote in a research report.
U.S. crude oil prices slid 5.7% to their lowest levels since early this year on worries that a weaker global economy will burn less fuel. Cryptocurrency prices also fell sharply because higher interest rates tend to hit hardest the investments that look the priciest or the most risky.
Even gold fell in the worldwide rout, as bonds paying higher yields make investments that pay no interest look less attractive. Meanwhile the U.S. dollar has been moving sharply higher against other currencies. That can hurt profits for U.S. companies with lots of overseas business, as well as put a financial squeeze on much of the developing world.
The S&P 500 fell 64.76 points to 3,693.23, its fourth straight drop. The Dow, which at one point was down more than 800 points, lost 486.27 points to close at 29,590.41. The Nasdaq fell 198.88 points to 10,867.93.
Smaller company stocks did even worse. The Russell 2000 fell 42.72 points, or 2.5%, to close at 1,679.59.
More than 85% of stocks in the S&P 500 closed in the red, with technology companies, retailers and banks among the biggest weights on the benchmark index.
The Federal Reserve on Wednesday lifted its benchmark rate, which affects many consumer and business loans, to a range of 3% to 3.25%. It was at virtually zero at the start of the year. The Fed also released a forecast suggesting its benchmark rate could be 4.4% by the year's end, a full point higher than envisioned in June.
Treasury yields have climbed to multiyear highs as interest rates rise. The yield on the 2-year Treasury, which tends to follow expectations for Federal Reserve action, rose to 4.20% from 4.12% late Thursday. It is trading at its highest level since 2007. The yield on the 10-year Treasury, which influences mortgage rates, slipped to 3.69% from 3.71%.
Goldman Sachs strategists say a majority of their clients now see a "hard landing" that pulls the economy sharply lower as inevitable. The question for them is just on the timing, magnitude and length of a potential recession.
Higher interest rates hurt all kinds of investments, but stocks could stay steady as long as corporate profits grow strongly. The problem is that many analysts are beginning to cut their forecasts for upcoming earnings because of higher rates and worries about a possible recession.
"Increasingly, market psychology has transitioned from concerns over inflation to worries that, at a minimum, corporate profits will decline as economic growth slows demand," said Quincy Krosby, chief global strategist for LPL Financial.
In the U.S., the jobs market has remained remarkably solid, and many analysts think the economy grew in the summer quarter after shrinking in the first six months of the year. But the encouraging signs also suggest the Fed may have to jack rates even higher to get the cooling needed to bring down inflation.
Some key areas of the economy are already weakening. Mortgage rates have reached 14-year highs, causing sales of existing homes to drop 20% in the past year. But other areas that do best when rates are low are also hurting.
In Europe, meanwhile, the already fragile economy is dealing with the effects of war on its eastern front following Russia's invasion of Ukraine. The European Central Bank is hiking its key interest rate to combat inflation even as the region's economy is already expected to plunge into a recession. And in Asia, China's economy is contending with still-strict measures meant to limit COVID infections that also hurt businesses.
While Friday's economic reports were discouraging, few on Wall Street saw them as enough to convince the Fed and other central banks to soften their stance on raising rates. So they just reinforced the fear that rates will keep rising in the face of already slowing economies.
Economics Writer Christopher Rugaber and Business Writers Joe McDonald and Matt Ott contributed to this report.
Damian J. Troise And Alex Veiga, The Associated Press