Statistics Canada blames guns, gangs as homicide rate hits 10-year high
OTTAWA — Canada's national homicide rate last year was the highest it's been in a decade, Statistics Canada says, because of a spike in gang-related violence and shootings.
In a report released Wednesday, the agency said there were 660 reported homicides in Canada last year.
Not only was that an increase of nearly eight per cent from 2016, it also pushed up the homicide rate to 1.8 victims for every 100,000 people — the highest since 2009.
Much of the increase was linked to a dramatic rise in the number of gun-related killings, which itself was driven by more gang-related violence.
"Gang-related homicides committed with a firearm represented 12 per cent of all homicides in 2015," Statistics Canada said. "By 2017, this proportion had grown to 21 per cent."
The federal Liberals and Conservatives earlier this month presented competing plans for tackling guns and gangs, which had emerged as significant public-safety concerns even before Statistics Canada's findings were released on Wednesday.
The Trudeau government announced on Nov. 7 a plan to spend $86 million on expanded intelligence and border-security measures for the RCMP and Canada Border Services Agency – part of a five-year, $327-million funding promise made earlier this year to stop criminal gun and gang activities.
The same day, Conservative Leader Andrew Scheer laid out his own proposal. It would include more punitive measures for gang members, including longer jail sentences and limited parole and bail opportunities for repeat and violent offenders.
The moves and promises came after a rash of shootings this year, including a mass attack on Toronto's Danforth Avenue in July that killed an 18-year-old woman and a 10-year-old girl and injured 13 others.
Statistics Canada reported that Toronto accounted for the most firearms-related homicides of all cities last year, but British Columbia and Quebec were largely responsible for pushing up the national homicide rate.
"With 2.45 homicides per 100,000 population, the homicide rate in British Columbia was up 32 per cent, making it the province's highest rate since 2009," the agency said. "This increase occurred in both urban and rural areas and can be partly explained by more gang- and firearm-related homicides."
Handguns accounted for 60 per cent of gun-related homicides last year, the agency added, which continued a trend that has seen a steady decline in the number of deaths from rifles and shotguns.
The Danforth shooting led to calls for Ottawa to ban handguns and assault weapons, including from both Montreal and Toronto city councils. Federal consultations on a possible ban are ongoing.
While the increase in the national homicide rate may be troubling, Statistics Canada noted that it remains much lower than the peak of three per 100,000 people in 1975 and accounted for less than 0.2 per cent of all violent crimes reported to police last year.
But the agency said the rates of other serious offences, including attempted murder, sexual assault, robbery and aggravated assault were all up last year, as was the use of guns in violent crimes.
Lee Berthiaume, The Canadian Press
Emergencies Act inquiry studies fundamental rights and freedoms at stake in protests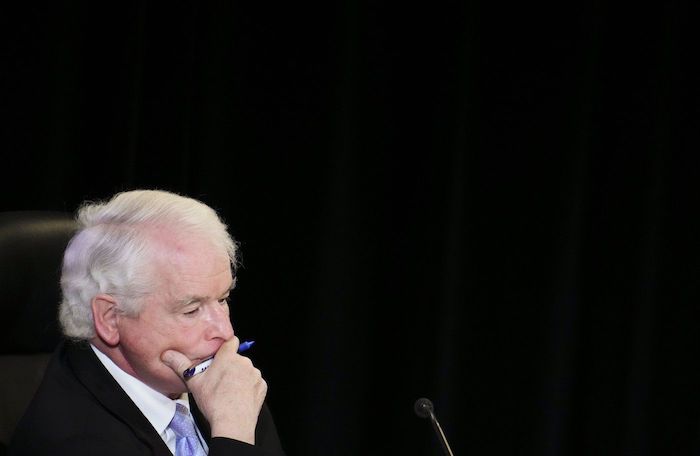 The inquiry into the Liberal government's historic choice to invoke the Emergencies Act to quell weeks-long demonstrations against COVID-19 mandates last winter is now moving into its public policy phase.
The Public Order Emergency Commission is expected to hear this week from about 50 experts who will share their perspectives on the use of the Emergencies Act, including whether it needs updating.
A session this morning will focus on fundamental rights and freedoms at stake in public protests, as well as their limits, while an afternoon session will explore financial governance, policing and intelligence.
Other topics to be discussed this week include cryptocurrency, international supply chains and criminal law, with discussions largely driven by policy papers the inquiry commissioned earlier this year.
Prime Minister Justin Trudeau invoked the Emergencies Act on Feb. 14 after thousands of protesters associated with the "Freedom Convoy" blockaded downtown Ottawa and key border crossings.
Calling a public inquiry is a requirement under the emergency legislation and Justice Paul Rouleau, the commissioner of the inquiry, must submit his report to Parliament by Feb. 20, 2023.
"I look forward to hearing the thoughts and views of the experts and the discussion and analysis of these key policy issues," Rouleau said in a statement last Thursday.
"This will assist the commission in considering what recommendations to make on the use of and potential modernization of the Emergencies Act and on any areas where we consider further study or research should be undertaken."
The policy phase follows six weeks of public hearings at the Library and Archives Canada building in downtown Ottawa, culminating in Trudeau's hours-long testimony on Friday.
This report by The Canadian Press was first published Nov. 28, 2022.
Alphonso Davies scores Canada's first-ever World Cup goal
AL RAYYAN, Qatar — Alphonso Davies scored against Croatia on Sunday to give Canada its first-ever goal at the men's World Cup.
The goal came 67 seconds into the game.
Canada's goalkeeper Milan Borjan set up the play with a long goal kick that found Cyle Larin down field.
Larin directed the ball to Tajon Buchanan on the right flank.
Buchanan then sent a cross that found Davies flying through the air and the Bayern Munich star headed the ball past Croatian keeper Dominik Livaković to give Canada a 1-0 lead.
Canada failed to score or secure a point in its first trip to the tournament in 1986, exiting after three first-round losses in Mexico.
Consider that 2,548 goals in total were scored at the 21 previous World Cups, with 132 of those scored at the 1986 tournament. Brazil came to Qatar as the all-time goals leader at the World Cup with 229, having competed at every tournament.
At the other end of the list, Congo (competing as Zaire), China, Indonesia (competing as Dutch East Indies) and Trinidad and Tobago have yet to score at the World Cup.
It looked like Davies was going to end the scoring drought in the 11th minute of Canada's opener Wednesday against No. 2 Belgium at Ahmad Bin Al Stadium, but his penalty kick was saved by Belgian 'keeper Thibault Courtois.
The 41st-ranked Canadians ended up losing 1-0 despite outshooting Belgium 21-9 (each team had three shots on target). Forward Jonathan David led Canada with seven attempted shots, none of which hit the mark.
Canada needed to secure at least a point against No. 12 Croatia to keep alive its hopes of making it to the knockout round.
In 1986, the bookmakers laid long odds on Canada getting a goal in Mexico. And they were proved right as the Canadian men lost 1-0 to France and 2-0 to Hungary in their first two outings at the tournament.
Defender Bob Lenarduzzi came close in Canada's final Group C game at Estadio Sergio Leon Chavez in Irapuato, on a corner against the Soviet Union, only to have the ball squib off his foot in the penalty box. Canada was blanked again, losing 2-0 in its tournament finale.
"It was a terrible effort," Lenarduzzi recalled prior to the tournament with a laugh.
"To this day I will have people, older people that is, say 'You cost me a few bucks. If you had scored there, I would have done all right.' Whoever scores that first goal for Canada _ and someone's going to do it in Qatar _ they don't know it, but they should thank me for them having that honour. Because I should have scored."
Canada has offensive weapons in Qatar. Cyle Larin came into the tournament with a Canadian men's record 25 goals while David had 22, Lucas Cavallini 18, Junior Hoilett 14 and Davies 12.
Midfielder Jonathan Osorio, who came into Sunday's matchup with seven Canada goals to his credit, said scoring in Qatar was just a step to a greater goal.
"Of course that will be very special to the country when we get our first goal," he said prior to the tournament. "You're going to be remembered forever really. But I don't think that's really the focus. The focus is getting the first win. That's what we're looking forward to.
"For us it really doesn't matter who scores as long as somebody does it and we're able to win the game. I think people are more looking forward to the first win rather than just the first goal."
The first strike was one of Canada's first team goals in Qatar, however.
Croatia outscored its opposition 14-9 at the 2018 World Cup, losing 4-2 to France in the final. But it was stymied in its Group F opener Wednesday, playing No. 22 Morocco to a 0-0 draw.
—
Follow @NeilMDavidson on Twitter
This report by The Canadian Press was first published Nov. 27, 2022