Stankoven scores twice, Canada doubles up Swiss 6-3 at world juniors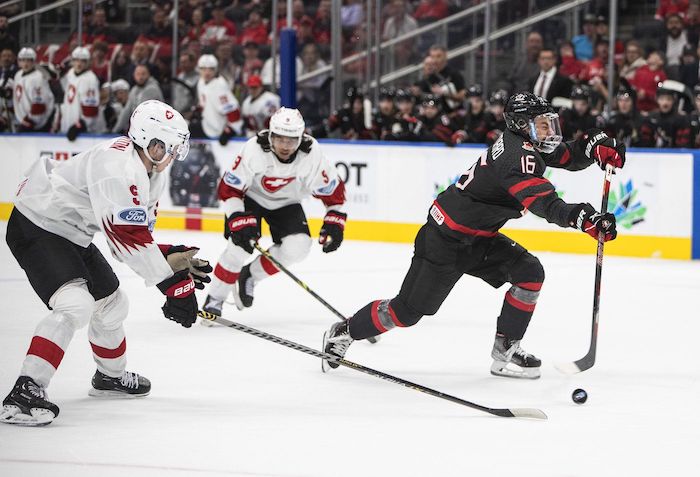 By Gemma Karstens-Smith in Edmonton
Canada's Logan Stankoven is used to putting pucks in the back of the net, but scoring hasn't come easily at the world junior hockey championship.
He buried a pair of chances on Wednesday, though, helping Canada to a 6-3 quarterfinals win over Switzerland.
"It's harder than I thought, for sure," said Stankoven, a Kamloops Blazers forward who was named the Canadian Hockey League's player of the year in June.
"The goals haven't come easy. I've had chances, but not as much as I'd like. Tonight I thought I was able to create a few more chances and the puck was going in the net. So it was a good feeling."
Stankoven also notched an assist, while Tyson Foerster scored and contributed two helpers. Jack Thompson, Nathan Gaucher and Will Cuylle all added goals for Canada (5-0-0) and Ronan Seeley chipped in with a pair of assists.
Attilio Biasca scored twice for Switzerland (1-4-0) and captain Simon Knak also found the back of the net.
After exploding for four goals in the first period, the Canadians struggled at times Wednesday, giving up prime scoring opportunities on sloppy play.
"We definitely didn't want to take these guys lightly but they played really strong and kind of caught us by surprise a little bit," said goalie Dylan Garand, who made 23 saves. "I think we did a good job of sticking with it and finding a way. It wasn't pretty but we're moving on."
The victory means Canada will face Czechia (2-2-1) — the country commonly known as the Czech Republic — in Friday's semifinals.
The other semifinal will pit Sweden (4-1-0) against Finland (4-1-0).
The Czechs gritted out a massive 4-2 upset over the U.S. (4-1-0) in the final quarterfinal game on Wednesday, leaping out to a 3-1 lead midway through the second period and held on for the win.
Jiri Kulich helped out with two assists before scoring into the empty net to dash the hopes of the reigning champion Americans with less than two minutes on the clock.
Jan Mysak, Petr Hauser and Matyas Sapovaliv also had goals for the Czechs, who have not won a medal at the world juniors in 15 years.
Logan Cooley opened the scoring for the U.S. and Carter Mazur briefly brought his team to within one 11:31 into the second.
Czech goalie Tomas Suchanek stopped 19-of-20 shots and Kaidan Mbereko made 15 saves for the Americans.
Switzerland made a late push Wednesday, pulling goalie Kevin Pasche with 3:15 to go in favour of an extra attacker but couldn't make up the two-goal deficit.
Instead, Stankoven scored into the empty net with 69 seconds left on the game clock.
"It's the dreaded quarterfinal game where you're playing a team that has absolutely nothing to lose," Canadian coach Dave Cameron said of the pressure. "And give them credit — they came at us and they made it interesting. But we found a way."
Some sloppy play created trouble for Canada midway through the second period.
Trying to clear the puck from behind the net, Garand sent the puck to Donovan Sebrango along the boards and the defenceman sent the puck up ice.
Biasca picked off the pass and snapped a shot past the Canadian goalie to make it 5-3 at the 7:51 mark.
"Things didn't really go our way some of the game," Seeley said. "We battled back and found a way to win. And that's all that matters."
A pass from Olen Zellweger to Cuylle down low set up Canada's fifth goal. Cuylle sent a sharp-angle shot in off Pasche 4:30 into the second.
The Swiss cut their deficit to 4-2 with just 8.2 seconds left in the opening frame.
Joshua Fahrni sent Biasca the puck from below the goal line and the Halifax Mooseheads' forward blasted a shot in over Garand's shoulder.
Pasche took over the Swiss net late in the first period after starter Noah Patenaude allowed four goals on nine shots.
Patenaude denied Canada's Elliot Desnoyers but the puck got caught under his pad and Gaucher poked it in for his first goal of the tournament 17:01 into the game.
Pasche made 30 saves in relief.
Stankoven gave Canada a 3-1 cushion with a breakaway 14:32 into the first.
The Dallas Stars' prospect picked off a pass at the Swiss bench and sprinted into the offensive zone alone. His initial shot ricocheted off the crossbar, so Stankoven collected the rebound and backhanded it into the open net for good measure.
Seeley's sneaky pass across the slot helped Canada re-take the lead 12:31 into the first. Thompson collected the puck and fired a quick shot pass Patenaude to make it 2-1.
Switzerland's first goal of the night came 2:21 into the game when Brian Zanetti uncorked a rocket from inside the blue line and Knak tipped it in for the equalizer.
Canada opened scoring just 74 seconds earlier when Stankoven sent a crisp pass to Foerster in the faceoff circle and he blasted it in for his third goal of the tournament.
Earlier Wednesday, Emil Andrae scored the game winner as Sweden took a 2-1 victory over Latvia.
Isak Rosen got Sweden on the board 16:44 into the first period and Gustavs Ozolins buried the equalizer for Latvia at the end of the second.
Latvia's Martins Lavins was tossed from the game 89 seconds into the third for a check to the head, but his teammates killed a five-minute major penalty to keep the score at 1-1.
Andrae broke the deadlock 9:49 into the third with a long shot through traffic.
Jesper Wallstedt stopped 12 shots for Sweden (4-1-0) and Bruno Bruveris made 25 saves for Latvia (1-3-1).
Four points from Roby Jarventie led Finland to a 5-2 victory over Germany in another quarterfinal Wednesday.
Jarventie's first goal at 14:48 of the first period gave Finland a 3-1 lead and ended up as the game winner.
After Germany's Bennet Rossmy scored his second goal of the game in the second period to make it 3-2, Jarventie restored Finland's lead 6:22 into the third with Yannick Proske off for hooking.
Roni Hirvonen and Joel Maatta also scored power-play goals as Finland went 4-for-6 with the man advantage. Finland's power-play unit has been lethal throughout the tournament, firing at a 59 per cent clip (13-for-22).
Kasper Simontaival opened scoring for Finland with an even-strength goal 3:37 into the contest.
Leevi Merilainen made 19 saves for Finland (4-1-0) while Florian Bugl stopped 17 shots for Germany (2-3-0).
Canada took silver in the 2021 tournament, which was held at Edmonton's Rogers Place without fans due to COVID-19 restrictions.
POKE CHECKS: Both Canada and Switzerland went 0-for-1 on the power play. … Canadian forward Ridly Greig headed to the locker room midway through the first period with an apparent shoulder injury and did not return. … The groups for the 2023 world juniors have been announced. Canada is in Group A with Sweden, Czechia, Germany and Austria, and will play its preliminary round games in Halifax. The U.S., Finland, Switzerland, Slovakia and Latvia are in Group B and will open the tournament in Moncton.
This report by The Canadian Press was first published April 17, 2022.
'Short-term pain': Group of Alberta lawyers escalate job action over legal aid cases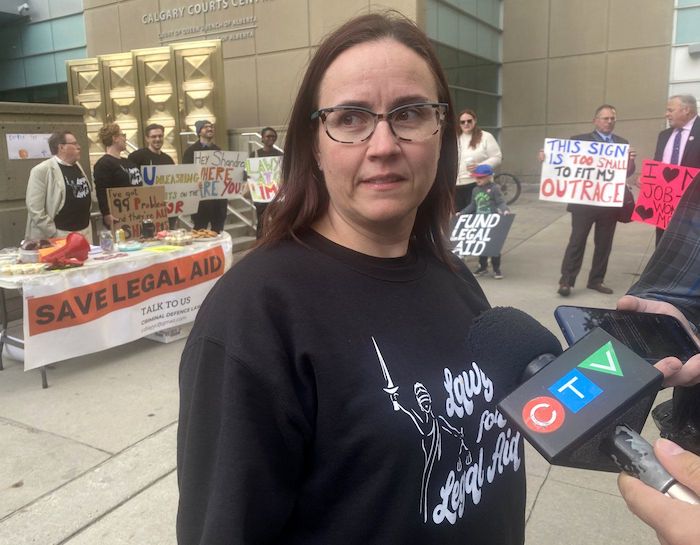 By Bill Graveland in Calgary
Alberta criminal defence lawyers are taking another step in their dispute with the provincial government over the amount of compensation paid by Legal Aid Alberta.
Organizations representing lawyers in Edmonton, Calgary, Red Deer and southern Alberta began job action Aug. 8 by refusing to accept certain bail and duty counsel files from legal aid.
The lawyers also began refusing certificates for new cases for the most serious criminal charges, including sexual offences, firearms-related crimes and homicides.
Beginning Monday, they say all services will be withdrawn.
"We're going to stop taking all certificates. That will include some our prior job actions still allowed us to take certificates for people who are already existing clients and there will be a very, very limited set of circumstances now where our members will do that," said Kelsey Sitar, vice-president of the Criminal Defence Lawyers Association in Calgary.
"The default will be: 'We are just not taking any new work from legal aid until the problem is fixed.'"
Sitar made her comments at a rally in front of the Calgary Courts Centre on Friday that drew about 50 criminal defence lawyers.
A table with a sign reading "Save Legal Aid" offered bake goods for sale. Lawyers carried signs reading "Access 2 Justice Must be Equal." Another read: "This sign is too small to fit my outrage."
"This is drastic. I mean, what we were doing up until now is something I know has happened in Ontario before, it did not last long, frankly," Sitar said.
"I can tell you that none of us want to be out here. We all want to be in there doing our jobs."
Justice Minister Tyler Shandro has said nothing is going to be done until a review of the Legal Aid Alberta administrative system is complete, which is scheduled for next month.
He said any budget changes for legal aid wouldn't happen until next year.
Sitar said the ministry chose to undertake "an incomplete and, frankly, useless review" at a time when the governing United Conservative Party is about to go through a leadership change.
"So we have to act now and they need to respond now," she said.
Sitar said she understands the people being affected the most by the job action will be people with lower incomes who need the services to afford legal representation.
"It's short-term pain right now," she said. "It's really unfortunate, but I can tell you that most of the people I've talked to on the street who are finding themselves caught up in this understand and are grateful that we're doing it."
Alberta Opposition NDP Leader Rachel Notley said the problem has been growing over the last three years. She said when her party was in power, it committed to additional funding for Legal Aid, but the UCP government backtracked.
"We simply cannot be asking the Legal Aid bar to be doing what we are asking them to do at the rate that we are asking them to do it," she told reporters.
"We have the lowest funding for Legal Aid in the country. What that means is that we don't have equal access to justice. It undermines the integrity of our justice system and, overall, it undermines our ability to build a sense of community safety, community security and an overall respect for the rule of law — all of which are important to community health and economic growth.
"It sounds like a niche issue, but it's not. It actually has knock-off effects to very, very important issues that affect all of us. So, the government needs to come to the table and negotiate decently with these lawyers."
This report by The Canadian Press was first published Sept. 23, 2022.
— With files from Colette Derworiz in Calgary.
'Kind of like carnies': International balloon festival returns to High River, Alta.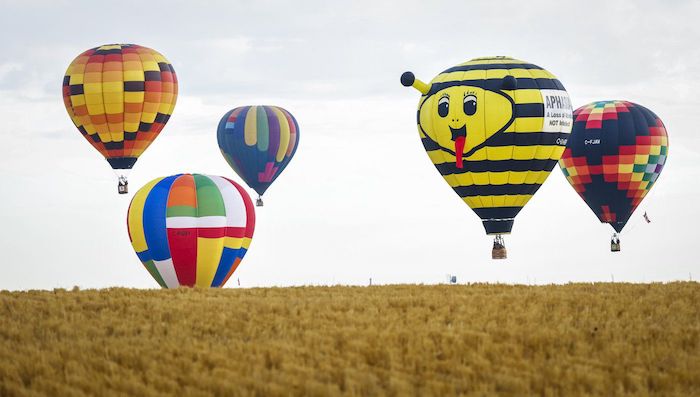 By Bill Graveland in High River, Alberta
The windswept prairie east of the Rocky Mountains seems an unlikely spot for a hot-air balloon festival, but the town of High River, Alta., is celebrating the event's 10th year.
More than 20 brightly coloured balloons — including a pink elephant, a black and yellow bee and the purple and yellow Eye of Ra, named after the Egyptian sun god — took advantage of a lull in the prevailing wind this week to get some up-in-the-air time to mark the opening of the Heritage Inn International Balloon Festival.
"We get about 50 per cent of our flights off. Weather impacts us everywhere," said event director Jamie Kinghorn, who is also a town councillor.
"This is our 10th. We started in 2013 partly because of the flood that happened. I'd been to a number of balloon events and thought this might lift the spirits of the folks in town."
The town of 12,000 just south of Calgary gained an international profile in 2013 when flooding in parts of southern Alberta caused billions of dollars in damage.
High River was one of the hardest-hit communities. Entire neighbourhoods were under water for weeks.
"I called in a bunch of friends from the balloon community and they knew what happened, so 20 of them came into High River and we put on a balloon festival that was actually amazing for the community," Kinghorn said.
"That was sort of the first major thing toward recovery after the flood and we've been doing it every year since at the end of September."
Kinghorn said the festival is a boon to local tourism and there's not a hotel room to be had in town.
He had his first hot air balloon over the city of Calgary in 1988. A year later he was a balloon pilot.
There are 23 balloons participating this year, including some from the United States, Belgium and the United Kingdom.
Kinghorn said it's a pretty small community.
"We tend to meet at various events. We tend to travel. We're kind of like carnies to some extent," he said with a laugh.
"We travel around to different cities to different balloon events."
Alan Davidson, who has been involved in the sport since 1977, is one of the volunteers.
He said those who get involved tend to stick with it.
"The amazing thing is that there are still seven or eight of the people I was ballooning with in the '70s and early '80s who are still here at this event," said Davidson. "They've been working with balloons for over 40 years."
Kinghorn, who is the owner and pilot of the Eye of Ra, was the first balloon in the air Thursday morning after a Wednesday evening flight was cancelled due to the wind.
"My God am I glad we got this off," he said as the flight came to an end.
The festival runs through Sunday.
This report by The Canadian Press was first published Sept. 23, 2022.