Stakes are high for farmers as 2022 crop shapes up to be most expensive in history
CALGARY — The stakes are high as Canadian farmers take to the fields to plant 2022's crop, which some are saying could find a place in the record books as "the most expensive ever."
On her family's farm northeast of Calgary near Acme, Alta., where she farms with her husband Matt, Sawyer already knows she's going to need a better-than-average crop this year just to break even.
All of her input costs have surged since last year due to inflationary pressures, spiking energy costs, and the war in Ukraine. The price of fertilizer is more than double what it was last year, and the diesel used to power her farm equipment also costs nearly twice what it did last year at this time.
But getting that above average crop could be a challenge. Last year, Sawyer's farm was hit hard by the widespread drought that reduced crop yields across Western Canada and there are fears already that this could be another dry year.
"Most farmers, including us, saw a 30 per cent reduction in our yields, so we need to be able to have really good yields come out this year in order to pay for that," she said. "But in our region, we're already horribly dry, so we're concerned."
But it's not all bad news. While the cost of everything from seed to herbicides to tractor tires has increased in 2022, so too have crop prices. Sawyer, for example, grows wheat, barley and canola — all of which are hot commodities right now due to supply pressures created by the Russia-Ukraine war and the aftermath of last year's drought.
"There's a number of crops that are sitting at all-time highs, or near all-time highs," said Jon Driedger, of Manitoba-based LeftField Commodity Research. "If you go back two years, the price of canola has doubled, almost tripled. Wheat's higher than it's been in 20 years, corn's pushing up against a record high. It's really across the board."
In fact, Driedger said crop prices are high enough that any farmer able to produce a "normal-sized" yield should still be able to earn a sizable profit. But in addition to the dry conditions in Alberta, many farmers in Manitoba and eastern Saskatchewan have the opposite problem and haven't even been able to get onto the land yet due to flooding and excess moisture.
The acres seeded by Canadian farmers this spring will not only be the most expensive in history, but in some ways, the riskiest as well, Driedger said.
"For those farms that are fortunate enough to harvest a normal crop or even better, it could be a great year. But there'll be a lot of farms for whom that's looking awfully precarious right now."
Cornie Thiessen — general manager of ADAMA Canada, a Winnipeg-based company that sells crop protection products like fungicides, herbicides and insecticides — said some of these inputs have become significantly more expensive and harder to find due to supply-side factors like COVID-driven disruptions at manufacturing plants and shipping delays. But he added the war in Ukraine is also increasing demand for these products, as farmers get the message that this year, their work is more vital than ever.
"Very high crop prices change the economics for farmers of how much they invest to protect the crop," Thiessen said. "With really high prices like we're seeing right now, it sends a message to farmers that the world really needs your crop so you need to make it as big as possible. You need to spend more on fertilizer and herbicides to maximize those yields."
Thiessen said 2022 will likely be the most expensive crop ever planted in Canada, and there's a lot riding on it.
"For the individual farmer, certainly there is an opportunity to take advantage of these high prices, but it's a bigger investment than before," he said. "If the weather works against them and they have a poor crop, that's where the downside risk comes in."
"And for the world, to help alleviate concerns about food security, we really do need Canada to produce a great crop this year," Thiessen added. "If Canada's crop isn't as strong as possible this year, it will further exacerbate concerns about food security."
This report by The Canadian Press was first published May 20, 2022.
Amanda Stephenson, The Canadian Press
CannTrust CEO was warned over illicit pot growing: former compliance worker
TORONTO — A former director of quality and compliance at CannTrust Holdings Inc. says he warned the company's chief executive that Health Canada could levy penalties if the firm grew pot in unlicensed rooms at its Niagara, Ont. facility.
In the months leading up to Health Canada finding pot growing in unlicensed rooms, Graham Lee said Tuesday that he told Peter Aceto he couldn't say what the exact consequences could be, but knew the government regulator had previously issued warning letters and handed out penalties.
For example, Lee said Health Canada reviewed CannTrust's inventory more extensively after it discovered the company using a storage facility at its Vaughan, Ont. location contrary to licensing.
"In general, Health Canada was there every day checking up on the inventory," Lee recalled.
His comments were made at the Old City Hall courthouse in Toronto in response to questioning from Dihim Emami, a lawyer representing the Ontario Securities Commission (OSC) in a case aiming to prove Aceto and other former CannTrust executives are guilty of several offences related to unlicensed growing at the Niagara facility.
Aceto, former CannTrust chairman Eric Paul and former vice-chairman Mark Litwin have pleaded not guilty to fraud and authorizing, permitting or acquiescing in the commission of an offence.
Litwin and Paul are also facing insider trading charges, and Litwin and Aceto are charged with making a false prospectus and false preliminary prospectus.
The OSC and Royal Canadian Mounted Police allege Litwin, Aceto and Paul did not disclose to investors that about 50 per cent of the growing space at CannTrust's Pelham, Ont. facility in the Niagara area was not licensed by Health Canada. They say the men used corporate disclosures to assert that they were compliant with regulatory approvals.
They also allege that Litwin and Aceto signed off on prospectuses used to raise money in the U.S., which stated that CannTrust was fully licensed and compliant with regulatory requirements, and that Litwin and Paul traded shares of CannTrust while in possession of material, undisclosed information regarding the unlicensed growing.
The men no longer work for CannTrust and their lawyers are arguing their clients are all innocent.
Frank Addario, Aceto's lawyer, previously told The Canadian Press his client was hired because of his financial acumen and track record. Before his time at CannTrust, Aceto was the president and chief executive of ING Direct Canada.
Addario also pointed out that CannTrust was subject to inspections and financial audits that uncovered no material issues.
"The evidence will show Peter Aceto behaved legally and with integrity during his time at CannTrust," Addario said in an email.
However, Lee testified Monday that the growth of cannabis in unlicensed rooms was "very openly discussed" at the pot company.
"There was no hiding this. There was no denial of this," he said.
On Tuesday, he reinforced those allegations, describing how he brought up his concerns about unlicensed activity during at least one meeting in winter 2019 that he recalled Aceto attended.
"I noticed that no one in the room was referring to or cognizant of the fact that these were unlicensed areas, so I reminded them," Lee said.
This report by The Canadian Press was first published Dec. 6, 2022.
Tara Deschamps, The Canadian Press
Dowd's winner lifts Capitals past Oilers 3-2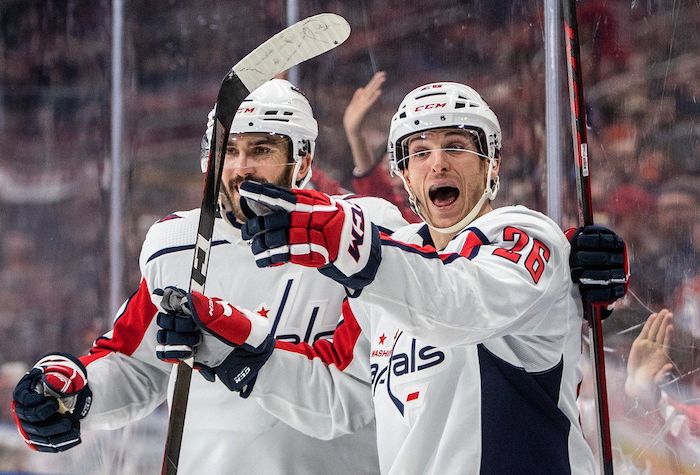 By Shane Jones in Edmonton
Throwing 50 shots on net proved to be a successful recipe for the Washington Capitals on Monday.
Nic Dowd scored the game winner as the Capitals snapped a two-game losing skid with a 3-2 victory over the Edmonton Oilers. Washington outshot Edmonton by 20 in the win.
"It was one of our best wins of the season," Capitals coach Peter Laviolette said. "I thought it was every guy in there that played really hard and came out the right way in the first period and were doing the right things.
"We had gotten away from that for a couple of games. I thought we did a good job tonight of trying to push it and control the game."
Lars Eller and T.J. Oshie also scored for the Capitals (11-12-4), who have gone 2-5-3 in their last 10 road games. Charlie Lindgren made 28 saves.
"It was good, especially considering we have so many guys out," Eller said of his team's high-octane performance. "We haven't had that many wins in this building, It is a tough place to come in to and we gave it everything we had and it was enough today.
"We were playing to our identity with good forechecking and forcing some turnovers and having some long times in the zone cycling and long attacks. That is the stuff we are doing when we are playing our best and we saw some of that today. There were a lot of positives."
Brett Kulak and Connor McDavid replied for the Oilers (14-12-0), who have lost two of their last three. Stuart Skinner stopped 47 shots.
With yet another bad start, Edmonton was fortunate to emerge from the first period without surrendering a goal, despite being blitzed by Washington, getting outshot 22-12.
"We come in here and we talk about it every day," Oilers defenceman Darnell Nurse said of his team's rough starts. "We sit here after the game, talk about it over and over and over. … We want to have good starts each and every night but, you know, we're sitting here and it's a part of our game. We're almost a quarter of the way through the season.
"The more we just talk away and pester at it, we need to just show up and play. Relax, pin our ears back and come out on the on the attack."
Skinner was rock solid in the opening frame, particularly during a Washington power play where he made seven saves in one sequence, including a pair of one-timers from Alex Ovechkin and an opportunity in tight for Oshie.
Despite the slow start, the Oilers opened the scoring 1:44 into the second period as Kulak unleashed a blast from the point with traffic in front for his first of the season.
Washington levelled the score just under six minutes later. Leon Draisaitl coughed the puck up in his own zone, giving Eller a clear path to the net and he beat Skinner following a deke for his fourth of the campaign.
Edmonton regained the advantage with 4:35 to play in the middle frame when McDavid picked off a John Carlson pass and blazed up ice on a breakaway before beating Lindgren through his legs for a short-handed marker.
McDavid's 22nd of the year pushed his goal streak to five games. It is the best start through 26 games of his career, with his previous best being 16 goals in that span.
The Capitals answered back on the same power play, however, on a perfect three-way passing effort that was finished off when Oshie blasted a feed from Dylan Strome into the net. The shot totals were 41-19 for the visitors after 40 minutes.
Washington grabbed its first lead 7:13 into the third period as a buzzing Aliaksei Protas came in on a partial break, but instead dropped it back to Dowd, who wired home his fourth to give his team the eventual win.
NOTES:
Both teams have been badly hit with injuries. Missing from the Washington lineup were Nicklas Backstrom (hip surgery), Connor Brown (torn ACL), Carl Hagelin (hip surgery), Tom Wilson (torn ACL), Beck Malenstyn (upper body), Dmitry Orlov (lower body), Darcy Kuemper (upper body) and Martin Fehervary (upper body). … Hunter Shepard was called up from the Hershey Bears of the American Hockey League to serve as the backup goalie with Kuemper getting injured in their last game against Calgary. … The Oilers were missing Evander Kane (wrist surgery), Warren Foegele (undisclosed), Ryan McLeod (undisclosed) and Zach Hyman, who took a stick to the head in Saturday's contest against Montreal. The Oilers did get some good news, with Kailer Yamamoto able to return after missing 11 games with an undisclosed injury.
UP NEXT:
Both teams return to action on Wednesday. The Capitals close out a six-game road trip in Philadelphia against the Flyers. The Oilers play the third of a four-game homestand when they host the Arizona Coyotes.
This report by The Canadian Press was first published Dec. 5, 2022.