Springer's 5 hits help Jays outlast Cards 10-9 in opener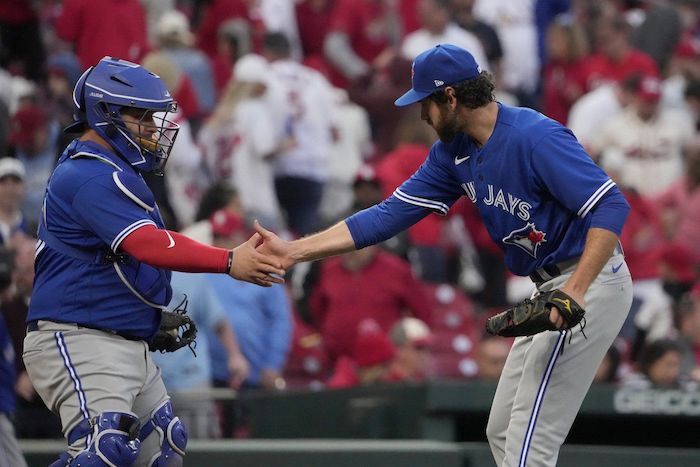 Toronto Blue Jays relief pitcher Jordan Romano, right, and catcher Alejandro Kirk celebrate a 10-9 victory over the St. Louis Cardinals in an opening day baseball game Thursday, March 30, 2023, in St. Louis. (AP Photo/Jeff Roberson)
By Steve Overbey in St. Louis
ST. LOUIS (AP) — George Springer had five hits and Vladimir Guerrero Jr. drove in three runs as the Toronto Blue Jays beat St. Louis 10-9 on Thursday despite the Cardinals' Tyler O'Neill tying a major league record by homering on opening day George for the fourth straight season.
Making his Cardinals debut, catcher Willson Contreras left after the eighth inning because of an injured knee and was sent for a scan.
Springer was 5 for 6 with five singles in the fourth five-hit game of his big league career to go along with a six-game game for Houston at Oakland in May 2018. Springer set a Toronto record for hits in an opener and combined with Baltimore's Adley Rutschman to become the first pair of players with five hits each on opening day since at least 1901.
"It's awesome, obviously you want to start off good," Springer said. "It's only one game. But, I'll take all the hits I can get."
Bo Bichette had four hits and Matt Chapman three for the Blue Jays, who outhit the Cardinals 19-15 and set a team record for hits in an opener.
"It was a grind. It was a roller-coaster," Toronto manager John Schneider said. "But up and down the at-bats were great."
Toronto won its fourth straight opener by overcoming a 9-8 deficit in the ninth against Ryan Helsley (0-1). Springer tied the score with an RBI single and Guerrero followed with a sacrifice fly.
Cleanup hitter Daulton Varsho added a hit and two RBI. The top four hitters in the Blue Jays order were a combined 12-for-21 with seven RBI and seven runs scored.
"Our offense went out there and had an amazing day," Varsho said. "We continued to battle no matter what. That's the kind of team that we are."
O'Neill's two-run homer in the third off Alek Manoah cut the Cardinals' deficit to 4-3. O'Neill matched the mark for consecutive openers with home runs shared by the New York Yankees' Yogi Berra (1955-58), Montreal's Gary Carter (1977-80) and the New York Mets' Todd Hundley (1994-97).
Contreras was hit on the left knee by a 102.7 mph fastball from Jordan Hicks on the first pitch to Guerrero in the eighth inning, which bounced away for a wild pitch. Guerrero followed with a two-run single for an 8-7 lead.
"He's hurting pretty good," St. Louis manager Oliver Marmol said. "It squared him up in the knee."
Contreras was scheduled to get an MRI later in the evening.
"Hope it's just day to day," Marmol said.
Nolan Arenado hit a two-run double in the bottom half off Yimi García (1-0) and had three RBIs.
Jordan Romano struck out two in a perfect ninth for the save, fanning World Baseball Classic fan favorite Lars Nootbar on a slider to end the game.
St. Louis 41-year-old right-hander Adam Wainwright sang the national anthem to the surprise of the standing room only crowd of 47,649. The 41-year-old is an accomplished musician who plays guitar.
"Adam did a real nice job," Marmol said.
Despite the pitch clock, the game lasted 3 hours, 38 minutes
Brendan Donovan hit a solo homer that tied the score 5-5 in the fourth off Manoah, who gave up five runs and 11 hits in 3 1/3 innings.
St. Louis starter Miles Mikolas allowed five runs and 10 hits in 3 1/3 innings.
YOUNG PUP
St. Louis OF Jordan Walker at 20 years, 312 days became the youngest player to make his debut for the Cardinals since Rick Ankiel at 20 years, 35 days on Aug. 23, 1999. Walker went 1 for 5 with an RBI groundout.
TRAINER'S ROOM
Cardinals: Wainwright remains on the 10-day IL with a groin injury sustained while working out with the U.S. during the World Baseball Classic. He is eligible to be activated on April 9.
UP NEXT
St. Louis RHP Jack Flaherty (2-1, 4.25 ERA last season) will face RHP Kevin Gausman (12-10, 3.35) in the second game of the three-game series on Saturday. Flaherty was the opening day starter in 2021 and 2022. Gausman is 1-4 with a 4.05 ERA in nine appearances against St. Louis.
___
AP MLB: https://apnews.com/hub/mlb and https://twitter.com/AP_Sports
Stars stay alive with 4-2 road victory over Golden Knights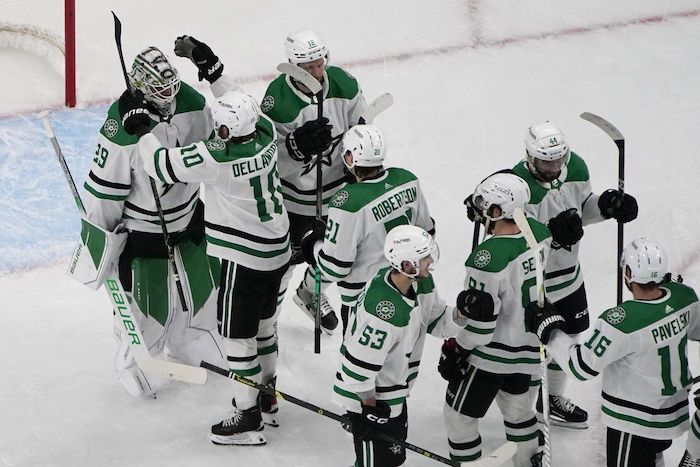 Dallas Stars celebrate after defeating the Vegas Golden Knights in Game 5 of the NHL hockey Stanley Cup Western Conference finals Saturday, May 27, 2023, in Las Vegas. (AP Photo/John Locher)
By Mark Anderson in Las Vegas
LAS VEGAS (AP) — With Dallas' season on the line, the Stars got two critical goals from a player who was a healthy scratch the first two games of the Western Conference final.
Ty Dellandrea's goals came within a 1:27 span midway through the third period, and the Stars beat the Vegas Golden Knights 4-2 on Saturday to keep alive their hopes of advancing to the Stanley Cup final to face the Florida Panthers.
"He's one of the best guys I've ever played with," said Stars goalie Jake Oettinger, who made 27 saves. "He deserves every opportunity he gets, and there's no one happier for him than the guys in this room.
"It shows how special you are when you get taken out. He didn't make it about him. He needed the opportunity to step up, and that's what he did."
The Stars escaped elimination for the second straight game and head to Dallas for Game 6 on Monday night down 3-2. Dallas is attempting to become the fifth team in NHL history to win a series after being down 3-0.
And look who's back for the Stars? Captain Jamie Benn returns after a two-game suspension for his cross-check to the neck of Vegas captain Mark Stone in Game 3. That was the only game in this series that was decided early, and until Saturday the Stars hadn't even had a multigoal lead.
"I know our group, and we weren't happy about being in the hole we were in, and they decided to do something about it," Stars coach Pete DeBoer said. "And now we're rolling."
The only problem for DeBoer was waiting two days to play Game 6.
"Drop the puck," he said.
DeBoer said before the game if his team won, the pressure would shift to the Knights. Now it's up to them to respond after twice being a period away from playing in the Stanley Cup final and letting both opportunities slip away.
"I don't think we brought our best the last two games," Stone said. "We were still in a good spot to win the game. We've got to bring a little bit better effort and start playing a little more desperate."
Vegas coach Bruce Cassidy said "it's a very good question" why his team didn't play with more desperation, but he also wasn't thrilled with the Knights' execution.
"We had 24 giveaways," Cassidy said. "I'm not sure you're beating the Arizona Coyotes in January with 24 giveaways. That's no disrespect to Arizona, but it's not the right way to play."
Dellandrea found the right way to play and put together the first multigoal playoff game of his career. Jason Robertson and Luke Glendening also scored, and Thomas Harley had two assists.
Chandler Stephenson and Ivan Barbashev scored for the Knights, and Jonathan Marchessault had two assists to extend his points streak to four games. Adin Hill made 30 saves.
Dellandrea scored from the right circle to put Dallas ahead, the puck deflecting off Vegas defenceman Alex Pietrangelo with 9:25 left for a 3-2 lead. Then, Dellandrea scored from the slot with 7:58 remaining.
Dellandrea said the older players kept him motivated when he was temporarily sidelined.
"There's no denying it's hard," he said. "I'm thankful for a good group of character guys, and you've just got to stay ready."
The teams traded goals in the first two periods.
Jack Eichel battled two Stars players for the puck in Vegas' offensive zone, and then Barbashev swooped in and made a fantastic move to glide past Oettinger and score with 6:24 left in the first period. The Stars wasted little time in answering when Glendening scored on a deflection less than two minutes later.
Dallas was robbed of what looked like a sure goal when Hill snagged a point-blank shot from Roope Hintz, who then threw his back in disbelief.
Like in the first period, the Knights had a goal in the second quickly answered by one from the Stars. Stephenson scored from the left circle at 16:40 of the period, and Robertson knocked his own rebounds 2:09 later to make it 2-2. Stephenson tied the Knights' record with his eight playoff goal this year, and Robertson had his fifth of the series.
—
18-year-old Adam Fantilli scores as Canada advances to final of ice hockey worlds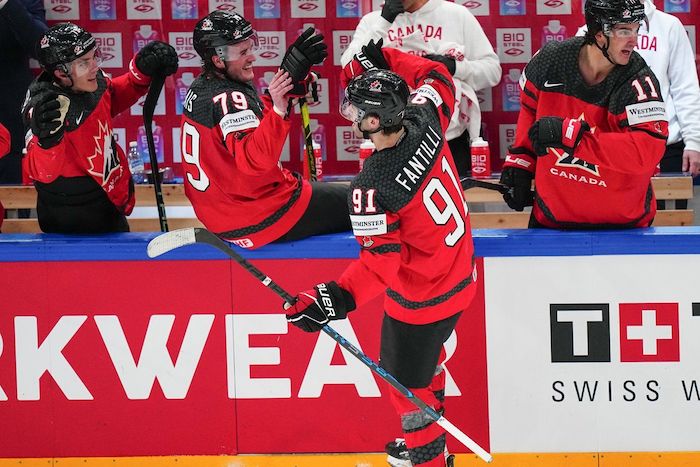 TAMPERE, Finland (AP) — Teenage forward Adam Fantilli scored the go-ahead goal as Canada edged Latvia 4-2 and advanced to the final of the ice hockey world championship.
The United States plays Germany in the other semifinal later Saturday.
The 18-year-old Fantilli, who is expected to be one of the top picks in the NHL draft, fooled a defenseman before netting his first goal of the tournament with 11:04 to go as Canada took a 3-2 lead.
Samuel Blais, Jack Quinn and Scott Laughton also scored for Canada whose goaltender Samuel Montembeault made 20 saves.
Canada had to twice come back from a goal down to reach its fourth straight final.
Dans Locmelis scored 8:18 into the game to put tournament co-host Latvia 1-0 ahead on a rebound.
Blais one-timed a shot to the roof of Latvia's goal with 4:28 to go in the middle period for his fourth goal at the tournament to tie the score at 1-1.
Rudolfs Balcers restored the lead for Latvia from the left circle only 1:06 later in the frame.
Quinn leveled 45 seconds into the final period when his shot was deflected into the net from the mask of goaltender Arturs Silovs.
___