Special meeting of House foreign affairs committee will discuss Russia turbine export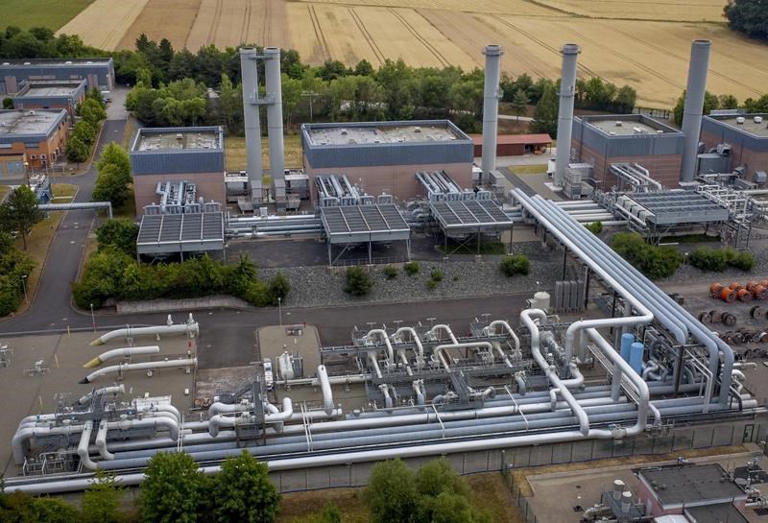 OTTAWA — A House of Commons committee will hold a special meeting this morning to discuss Canada's controversial decision to send repaired parts for a Russian natural gas pipeline back to Germany.
The Liberal government is facing mounting pressure over its move to exempt six Siemens Energy turbines, which were serviced in Montreal, from the economic sanctions it levied against Russia over its invasion of Ukraine.
Russian state-owned energy company Gazprom reduced gas deliveries from its Nord Stream 1 pipeline, which runs to northeastern Germany, by 60 per cent last month, citing turbine-related technical problems.
Prime Minister Justin Trudeau said the decision to deliver the turbines was made so Canada could support European allies that are facing energy crises as Russia constricts access to its oil and gas supply.
Conservative and NDP MPs triggered the meeting of the House of Commons foreign affairs and international development committee to raise their request for a study on the exports.
The Ukrainian Canadian Congress called for such a meeting earlier this week, and the Ukraine World Congress is petitioning the Federal Court to uphold the sanctions regime and stop the shipment.
This report by The Canadian Press was first published July 15, 2022.
The Canadian Press
Ukraine criticizes Canada over return of turbines for Russia-Germany pipeline
The Ukrainian government is calling on Canada to reconsider its decision to allow the delivery of turbines from a Russia-Europe natural gas pipeline to Germany, saying it sets a "dangerous precedent" when it comes to sanctions against the Russian regime.
Natural Services Canada Minister Jonathan Wilkinson announced on social media Saturday that turbines from the Nord Stream 1 pipeline—which supplies natural gas from Russia to Germany — that had been sent to Montreal for scheduled repairs would be allowed to be returned.
Back in June, Siemens Energy said Canadian sanctions imposed on Russia over its invasion of Ukraine meant the company couldn't return the turbines.
In his recent announcement, Wilkinson said turbine maker Siemens Canada would be granted a "time-limited and revocable permit" to return the equipment — essentially giving it an exemption.
He said delivery was necessary to support "Europe's ability to access reliable and affordable energy" as it tries to transition away from reliance on Russian oil and gas. The government says it plans to return six turbines.
In a statement Sunday, Ukraine's Foreign Affairs Ministry and Energy Ministry expressed their "deep disappointment" in Canada's decision.
"This dangerous precedent violates international solidarity, goes against the principle of the rule of law and will have only one consequence: it will strengthen Moscow's sense of impunity," it read.
In the lead up to Canada's decision, German vice chancellor Robert Habeck had voiced concerns Russia may shut off deliveries of natural gas to Europe after the planned maintenance. The warning followed Russia's previous reduction of natural gas flow to Germany, along with Italy, Austria, the Czech Republic and Slovakia.
While Gazprom, Russia's state-owned energy giant, has blamed the pipeline's reduction of natural gas to Germany on the repairs in Canada, German leaders have cast doubt on the explanation of technical problems and characterized it instead as a political move.
The Ukrainian government voiced similar concerns in its statement, saying Russia's threats amounted to "blackmail that has no technical justification."
"Russia is able to continue to supply gas to Germany in full without this turbine," it said.
Germany, which is Europe's largest economy, warned last month it was in a crisis over Russia's decision to cut the amount of gas flowing through the Nord Stream 1 pipeline by 60 per cent.
Alexandra Chyczij, president of the Ukrainian Canadian Congress, expressed disappointment in Canada's decision, saying Ottawa is bowing to Russian threats to cut off the gas supply by fulfilling Germany's request.
"Canada will not only contravene its policy of isolating Russia, it will set a dangerous precedent that will lead to the weakening of the sanctions regime imposed on Russia," Chyczij said in a statement.
"This decision will ensure that the coffers of the Russian state budget will continue to be filled with European money which will be used to finance Russia's genocide against the Ukrainian people. "
Chyczij said Canada was put in the position of deciding whether to fulfill the request of an ally or "hold firm on the sanctions imposed on Gazprom and Nordstream 1."
Three Conservative MPs also issued a statement on Sunday saying that allowing the equipment's return undermines the sanctions Canada has imposed on Russia at a time when it should be stepping up as an alternative provider of gas to Europe instead.
"Allowing the return of the gas turbine sets a dangerous precedent of folding to Putin's blackmail of Europe, and will negatively impact Canada's standing on the world stage," reads a joint statement by Tories Michael Chong, James Bezan and Pierre Paul-Hus.
In light of the criticism over Canada's decision, Wilkinson's office pointed to the minister's earlier statement. It said not only was Germany's economy vulnerable, but "Germans themselves will be at risk of being unable to heat their homes as winter approaches."
The statement also noted Canada has levied sanctions against more than 1,600 individuals since Russia annexed the Ukrainian peninsula of Crimea in 2014.
The same day Wilkinson announced the turbines would be returned, Foreign Affairs Minister Mélanie Joly announced Canada planned to apply a new set of sanctions targeting Russia's land and pipeline transportation and manufacturing sectors.
This report by The Canadian Press was first published July 10, 2022.
— With files from The Associated Press
Russian FM: US, NATO directly involved in Ukraine conflict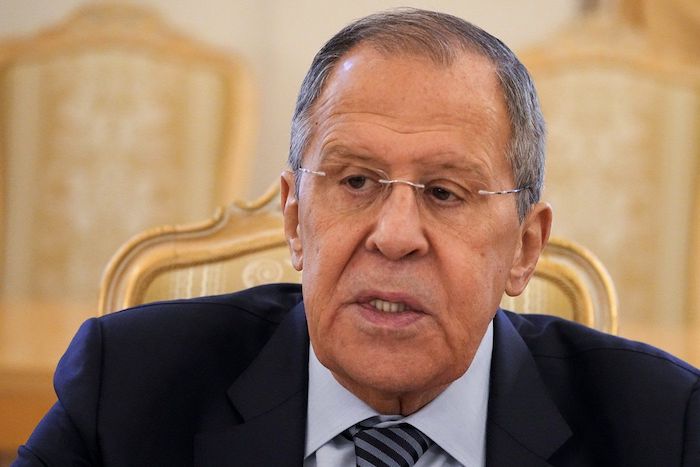 MOSCOW (AP) — Russia's foreign minister accused the West on Thursday of becoming directly involved in the conflict in Ukraine by supplying the country with weapons and training its soldiers.
Foreign Minister Sergey Lavrov also said that Russian missile strikes on Ukrainian energy facilities and other key infrastructure were intended to weaken Ukraine's military potential and derail the shipments of Western weapons.
"You shouldn't say that the U.S. and NATO aren't taking part in this war. You are directly participating in it," Lavrov said in a video call with reporters. "And not just by providing weapons but also by training personnel. You are training their military on your territory, on the territories of Britain, Germany, Italy and other countries."
He said the barrages of missiles, drones and artillery fire that have left millions of Ukrainians without power, heating and water was intended to "knock out energy facilities that allow you to keep pumping deadly weapons into Ukraine in order to kill the Russians."
"The infrastructure that is targeted by those attacks is used to ensure the combat potential of the Ukrainian armed forces and the nationalist battalions," Lavrov said.
Ukraine and the West have accused Russia of targeting key civilian infrastructure in order to reduce morale, cause Ukraine's people to suffer during the winter and to force the government in Kyiv into peace talks on Moscow's terms.
The southern city of Kherson, which Russia's forces seized in the opening days of the conflict and withdrew from last month, is among the places targeted. Russian shelling on Thursday cut off power in the recently liberated city just days after it was restored.
Weeks before the pullback allowed Ukrainian forces to reclaim Kherson, Russia declared the entire Kherson region part of its territory along with three other regions following hastily called "referendums" that Ukraine and the West rejected as shams.
Asked how the strikes on infrastructure in Kherson and other areas comply with Moscow's stated goal of protecting Ukraine's Russian-speaking population, Lavrov responded by drawing parallels with the Battle of Stalingrad during World War II.
"The city of Stalingrad also was part of our territory, and we beat the Germans to make them flee," he said.
Lavrov insisted that Moscow remains open for talks on ending the conflict. "We never asked for talks but always said that we are ready to listen to those who are interested in a negotiated settlement," he said.
The Kremlin has urged Ukraine to acknowledge Crimea, which Moscow annexed from Ukraine in 2014, as part of Russia and to recognize other land gains that Russia has made since sending its troops into Ukraine on Feb. 24. It also has pushed for guarantees that Ukraine wouldn't join NATO, along with vaguely formulated "demilitarization" and "denazification" goals.
Asked if a meeting between Russian President Vladimir Putin and U.S. President Joe Biden was possible, Lavrov replied that "we don't shun contacts" but added that "we haven't yet heard any serious ideas yet."
Lavrov said U.S. Secretary of State Antony Blinken has raised the issue of U.S. citizens imprisoned in Russia in a phone call, but he noted that Putin and Biden agreed to set up a separate channel of communication between special services to discuss the issue when they met in Geneva in June 2021.
"It's working, and I hope that some results will be achieved," he said.
The Biden administration has tried for months to negotiate the release of WNBA star Brittney Griner and another American jailed in Russia, Michigan corporate security executive Paul Whelan, including through a possible prisoner swap with Moscow.
Commenting on Russia's decision to postpone a round of nuclear arms control talks with the United States that was scheduled for this week, Lavrov maintained "it's impossible to discuss strategic stability nowadays while ignoring everything that is happening in Ukraine."
"The goal has been announced to defeat Russia on the battlefield or even destroy Russia," he said. "How can the goal of defeating Russia not bear significance for strategic stability, considering that they want to destroy a key strategic stability actor?"
During the online news conference that lasted for 2 1/2 hours, Lavrov railed against the U.S. and its NATO allies, accusing them of trampling on international law while trying to isolate and destroy Russia.
He claimed the U.S. has tried to discourage other countries, including India, from maintaining close ties with Russia but said those attempts have failed.
Uneasy calm grips Ukraine as West prepares winter aid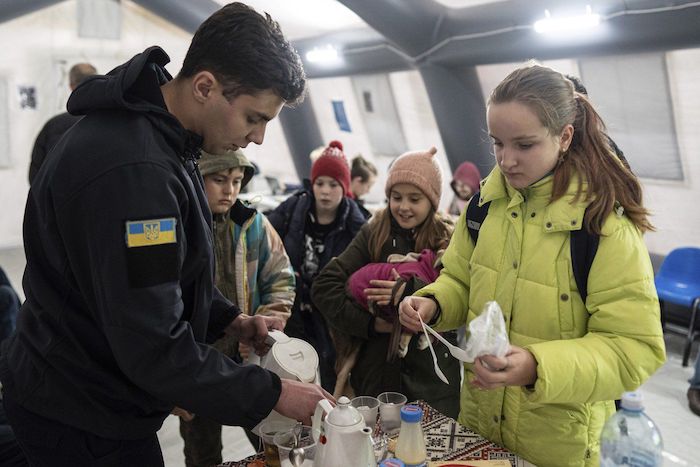 By Jamey Keaten in Kyiv
KYIV, Ukraine (AP) — An uneasy calm hung over Kyiv on Tuesday as residents of the Ukrainian capital did what they could to prepare for anticipated Russian missile attacks aiming to take out more energy infrastructure as winter sets in.
To ease that burden, NATO allies made plans to boost provisions of blankets, generators and other basic necessities to ensure Ukraine's 43 million people can maintain their resolve in the 10th month of fighting against Russia's invasion.
Ukraine's first lady implored the West to show the same kind of steadfastness that Ukrainians had shown against Russian President Vladimir Putin's military campaign.
"Ukrainians are very tired of this war, but we have no choice in the matter," Olena Zelenska, the wife of President Volodymyr Zelenskyy, said in a BBC interview during a visit to Britain.
"We do hope that the approaching season of Christmas doesn't make you forget about our tragedy and get used to our suffering," she said.
A two-day meeting of NATO foreign ministers in Bucharest, Romania, was likely to see the 30-nation alliance make fresh pledges of nonlethal support to Ukraine: fuel, generators, medical supplies and winter equipment, on top of new military support.
U.S. Secretary of State Antony Blinken was to announce substantial U.S. aid for Ukraine's energy grid, U.S. officials said. Targeted Russian strikes have battered Ukraine's power infrastructure since early October in what Western officials have described as a Russian attempt campaign to weaponize the coming winter cold.
NATO Secretary-General Jens Stoltenberg said at the outset of the Bucharest meeting that Russia "is willing to use extreme brutality and leave Ukraine cold and dark this winter. So we must stay the course and help Ukraine prevail as a sovereign nation."
About a third of Ukraine's residents faced power supply disruptions, Ukraine's state grid operator said, both because of increased demand due to colder temperatures and the emergency shutdown of power units at several plants since Monday morning.
"The overall deficit in the energy system is a consequence of seven waves of Russian missile attacks on the country's energy infrastructure," electricity system operator Ukrenergo said.
Kyiv saw continued interruptions to its electricity, heat and water supply, Mayor Vitali Klitschko said Tuesday, leading authorities to "consider the option of partial evacuation of the capital's residents to the suburbs."
Blinken reminded everyone it was not the first time that Russia had targeted helpless civilians in this war and insisted only strong support would impact the Kremlin.
Russia's Black Sea fleet already bombarded Ukrainian cities and towns and bottled up vital grain shipments for the rest of the world in Ukrainian ports. Blinken said the U.S and NATO's resulting military buildup in the strategic waterway would only intensify.
"We're not going to be deterred," he told reporters, in one of his more forceful statements of the day. "We're going to be reinforcing NATO's presence from the Black to the Baltic seas."
Bogdan Aurescu, foreign minister of Romania, another Black Sea nation, said that Romania would be pushing the two-day NATO meeting to up the military presence further still.
The Ukrainian government was putting up defenses too — both for troops and for civilians. The government rolled out hundreds of help stations, christened Points of Invincibility, where residents facing the loss of power, heating and water can warm up, charge their phones, enjoy snacks and hot drinks, and even be entertained.
"I had no electricity for two days. Now there's only some electricity, and no gas," said Vanda Bronyslavavina, who took a breather inside one such help center in Kyiv's Obolon neighborhood.
The 71-year-old lamented the uncertainty about whether Russia will simply resume its strikes after infrastructure gets fixed, a frustrating cycle of destruction and repair that has made wartime life even more uncertain.
Kyrylo Tymoshenko, the deputy head of the Ukrainian president's office, said Russian forces overnight fired on seven regions in Ukraine's south and east, employing missiles, drones and heavy artillery. At least one civilian was killed and two wounded.
Tymoshenko said that as of Tuesday, power had been restored to 24% of residents in the hard-hit southern city of Kherson.
On the battlefields in eastern Ukraine's Russia-annexed Luhansk region, Ukrainian forces were continuing a slow advance, pushing toward Russian defense lines set up between two key cities, Gov. Serhiy Haidai said. He acknowledged in televised remarks that the onset of winter was compounding a "difficult" military situation.
The prospect of any peace remained remote. The Kremlin reaffirmed Tuesday that negotiations could only be possible if Ukraine meets Russian demands. Kremlin spokesman Dmitry Peskov told reporters that "it's impossible to hold any talks now because the Ukrainian side strongly rejects them."
He noted that "political will and readiness to discuss the Russian demands" are needed to conduct negotiations.
Russia has demanded that Ukraine recognize Crimea as part of Russia and acknowledge other Russian gains. It also has repeated its earlier demands for "demilitarization" and "denazification," albeit with less vigor than in the past.
___
Jill Lawless in London and Lorne Cook in Bucharest contributed to this report.