'Some baloney' in assertion Canada's pension fund has highest ethical standards
OTTAWA — "We expect the CPPIB, like other Crown corporations, to live up to the highest standards of ethics and behaviour and that is, in fact, exactly what it is doing." — Finance Minister Bill Morneau during question period Monday in the House of Commons.
—
The New Democrats challenged Morneau this week to weigh in on new ethical questions surrounding the investment portfolio of the arms-length Canada Pension Plan Investment Board — which manages hundreds of billions of dollars worth of Canadians' retirement savings.
NDP MP Charlie Angus pressed Morneau for his opinion on CPPIB's holdings in a tobacco company, a military weapons manufacturer and firms that run private American prisons. The prison operators and their facilities are seen as beneficiaries of the Trump administration's controversial detention of asylum seekers and, in some cases, their children.
On Monday, Angus demanded Morneau explain whether he thought CPPIB's investments in "cigarette companies and privatized prisons" met a "credible standard of corporate investment" for the CPP.
Morneau replied that the pension manager, which oversees more than $366 billion of CPP's net assets, lives up to the "highest standards of ethics and behaviour."
Spoiler alert: The Canadian Press Baloney Meter is a dispassionate examination of political statements culminating in a ranking of accuracy on a scale of "no baloney" to "full of baloney" (complete methodology below).
Morneau's statement on its own earns a rating of "some baloney" — it's mostly accurate but more information is required. Here's why.
THE FACTS
CPPIB's holdings in private U.S. prison operators CoreCivic Inc. and the GEO Group Inc. grew considerably between August 2017 and August 2018.
Over that period, the number of GEO Group shares held by CPPIB increased nearly 13-fold to a value of US$4.2 million, while its shares of CoreCivic more than doubled to a value of US$1.76 million, according to U.S. Securities and Exchange Commission filings. CPPIB's holdings in the prison companies were made public in a report last week by the Guardian newspaper.
CoreCivic and GEO Group are expected to receive major business boosts because of the Trump administration's approach to dealing with asylum seekers. The policy has led to the U.S. government's highly contentious detention of parents and their children.
Michel Leduc, CPPIB's global head of public affairs and communications, said the shares in the two prison companies were acquired through an algorithm that captures more than 3,000 companies as a way to diversify the fund's portfolio.
"I want to be crystal clear about this: no CPPIB employee made a decision … to invest in those two companies," he said in an interview, before noting that many mutual funds and pension plans in Canada likely contain shares in the prison firms as well.
He added that CPPIB is an active manager in its major investments in areas like ports, electricity grids, toll roads and shopping centres. But the fund tends to be passive when it comes to its smaller holdings in publicly traded companies.
Due to CPPIB's size — it's one of the 10 largest retirement funds in the world — the value of the prison company shares make up only 0.001 per cent of its total investments, he said.
The organization, Leduc argued, takes pride in its very high standards when it comes to ethical, environmental and social considerations. CPPIB also follows a strict policy of only investing in businesses that would be lawful if they operated in Canada.
"The CPP Investment Board is seen around the world as one of the most ethical institutional investors on the planet," he said.
After Morneau defended the CPPIB on Monday in the House of Commons, Angus criticized him the following day: "Could the finance minister explain what is it about privatized American prison camps that he thinks represents any kind of ethical investment standard?"
In his response Tuesday, Morneau appeared to tone down his position on the matter.
"All Canadian Crown corporations, all Canadian government institutions are expected to live up to the highest standards of ethical behaviour and corporate governance. That includes the Canada Pension Plan Investment Board," Morneau said.
"This is important. We monitor it. We stay on top of it."
WHAT THE EXPERTS SAY
Many experts credit CPPIB for having a very strong model when it comes to responsible investing. But they argue it could go even further if it truly wanted to avoid making gains from certain types of businesses.
Tim Nash, a financial planner and founder of Good Investing, questions whether the for-profit U.S. prisons comply fully with Canadian laws because of the related concerns around human rights.
He recognizes CPPIB is the Canadian leader on sustainable investment policies. But he also argues it's not the highest ranked globally.
"In this specific case, I would argue there is a breach of those policies and that, in fact, they are not living up to those highest standards with the inclusion of these companies within the investment portfolio," said Nash, who added the controversial nature of these prison operators — and the possibility of lawsuits — raises the risk level of the investment.
"As far as I can tell when it comes to CPPIB's specific investment policy, they should not be owning these companies."
He said CPPIB could easily adjust its approach to omit some types of companies — without sacrificing financial returns.
Lisa Kramer, a University of Toronto finance professor, said so-called ESG investing principles, which are followed by CPPIB, are part of an emerging area that's still not well defined. ESG stands for environmental, social and governance.
"Socially responsible investing is often in the eye of the beholder depending on what principles one holds dear to her own heart," said Kramer, an expert on behavioural finance.
"It can be very difficult to adopt an investment strategy that makes everybody happy."
Tessa Hebb, a Carleton University expert on responsible investment, credits CPPIB for having a very good model of responsible investing.
But Hebb stressed there's a difference between responsible investing and ethical investing. Responsible investing makes a business case for investments and helps investors avoid riskier decisions.
Ethical standards, on the other hand, are far more subjective, she said.
"It's interesting that Minister Morneau would use the term ethics," Hebb said. "If he had said that they were one of the top responsible investors — absolutely."
THE VERDICT
In this case, Morneau said CPPIB is living up to the "highest standards of ethics and behaviour" as he responded to a question about its investments in U.S. prison companies.
But while experts say CPPIB is viewed in many ways as a leader in responsible investing, they argue determining ethical standards depends on an individual's views and can vary greatly.
For that reason, Morneau's statement rates "some" baloney.
METHODOLOGY
The Baloney Meter is a project of The Canadian Press that examines the level of accuracy in statements made by politicians. Each claim is researched and assigned a rating based on the following scale:
No baloney — the statement is completely accurate
A little baloney — the statement is mostly accurate but more information is required
Some baloney — the statement is partly accurate but important details are missing
A lot of baloney — the statement is mostly inaccurate but contains elements of truth
Full of baloney — the statement is completely inaccurate
Andy Blatchford, The Canadian Press
The Plan: Lock You Down for 130 Days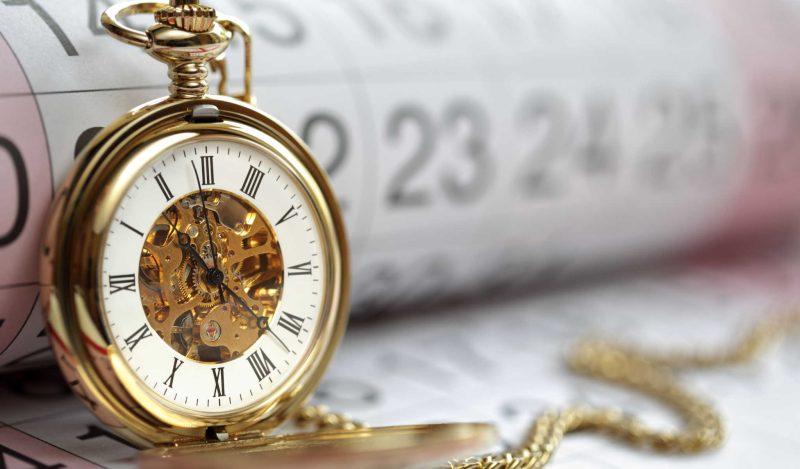 BY
JAYANTA BHATTACHARYA
What if the coronavirus pandemic was not a once-in-a-century event but the beginning of a new era of regular deadly respiratory viral pandemics? The Biden administration is already planning for this future. Last year, it unveiled a national strategy to develop pharmaceutical firms' capacity to create vaccines within 130 days of a pandemic emergency declaration.
The Biden plan enshrines former president Donald Trump's Operation Warp Speed as the model response for the next century of pandemics. Left unsaid is that, for the new pandemic plan to work as envisioned, it will require us to conduct dangerous gain-of-function research. It will also require cutting corners in the evaluation of the safety and efficacy of novel vaccines. And while the studies are underway, politicians will face tremendous pressure to impose draconian lockdowns to keep the population "safe."
In the case of COVID-19 vaccines, it took about a year for governments to deploy the jab at scale after scientists sequenced the virus. Scientists identified a vaccine target—fragments of the spike protein that the virus uses to access cells—by early January 2020, even before the WHO declared a worldwide pandemic.
This rapid response was only possible because some scientists already knew much about the novel virus. Despite heavy regulations limiting the work, the US National Institutes of Health had funded collaborations between the EcoHealth Alliance and the Wuhan Institute of Virology. They collected bat viruses from the wild, enhanced their function to study their potential, and designed vaccines before the viruses infected humans.
While there is controversy over whether this gain-of-function work is responsible for the COVID pandemic, there is no question this research is potentially dangerous. Even cautious scientists sometimes accidentally leak hazardous, highly infectious viruses into the surrounding community. In December 2021, for instance, the virus that causes COVID-19 accidentally leaked out of a laboratory in Taiwan, where scientists were researching the virus.
A promising vaccine target would be needed immediately after a disease outbreak for the Biden pandemic plan to work. For that to be possible, there will need to be permanent support for research enhancing the capacity of viruses to infect and kill humans. The possibility of a deadly laboratory leak will hang over humanity into perpetuity.
Furthermore, before any mass vaccination campaign, pharmaceutical firms must test the vaccines for safety. High-quality randomized, controlled studies are needed to make sure the vaccine works.
In 1954, Jonas Salk's group tested the vaccine in a million children before the polio mass vaccination campaign that effectively defanged the threat of polio to American children. Physicians need the results of these studies to provide accurate information to patients.
Operation Warp Speed cut red tape so that vaccine manufacturers could conduct these studies rapidly. The randomized trials cut some corners. For instance, the Pfizer and Moderna trials did not enroll enough people to determine whether the COVID vaccines reduce all-cause mortality.
Nor did they determine whether the vaccines stop disease transmission; a few months after the government deployed the vaccines, researchers found protection against infection was partial and short-lived. Each of these cut corners has since created policy controversies and uncertainty that better trials would have avoided. Because of the pressure to produce a vaccine within 130 days, President Biden's pandemic plan will likely force randomized trials on future vaccines to cut the same corners.
This policy effectively guarantees that lockdowns will return to the US in the event of a new pandemic. Though the lockdowns did not work to protect populations from getting or spreading COVID—after 2.5 years, nearly everyone in the US has had COVID—public health bureaucracies like the CDC have not repudiated the strategy.
Imagine the early days of the next pandemic, with public health and the media fomenting fear of a new pathogen. The impetus to close schools, businesses, churches, beaches, and parks will be irresistible, though the pitch will be "130 days until the vax" rather than "two weeks to flatten the curve."
When the vaccine finally arrives, the push to mass vaccinate for herd immunity will be enormous, even without evidence from the rushed trials that the vaccine provides long-lasting protection against disease transmission. This happened in 2021 with the COVID vaccine and would happen again amidst the pandemic panic. The government would push the vaccine even on populations at low risk from the novel pathogen. Mandates and discrimination against the unvaccinated would return, along with a fierce movement to resist them. The public's remaining trust in public health would shatter.
Rather than pursue this foolish policy, the Biden administration should adopt the traditional strategy for managing new respiratory-virus pandemics. This strategy involves quickly identifying high-risk groups and adopting creative strategies to protect them while not throwing the rest of society into panic.
The development of vaccines and treatments should be encouraged, but without imposing an artificial timeline that guarantees corners will be cut in evaluation. And most of all, lockdowns—a disaster for children, the poor, and the working class—should be excised from the public health toolkit forever.
A version of this piece appeared in Newsweek
Premiers need to keep talking about the health-care crisis: medical associations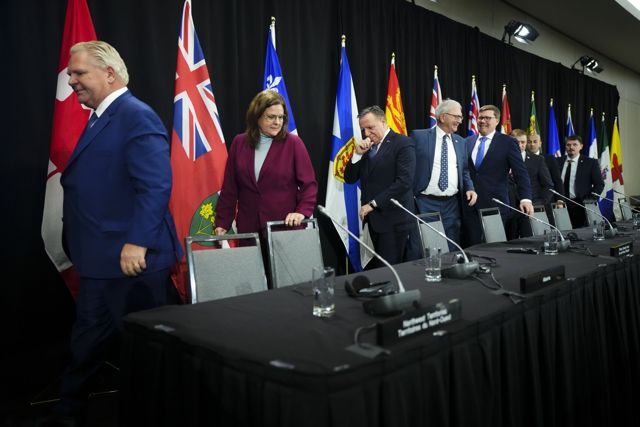 Ontario Premier Doug Ford, left to right, Manitoba Premier Heather Stefanson, Quebec Premier Francois Legault, New Brunswick Premier Blaine Higgs, Saskatchewan Premier Scott Moe, Newfoundland Premier Andrew Furey, Yukon Premier Ranj Pillai and Nunavut Premier P.J. Akeaagok, leave following a press conference of Canada's premiers discussing health care, in Ottawa on Tuesday, Feb. 7, 2023. The Canadian Medical Association and 14 other organizations representing health-workers are urging provincial and territorial premiers to make sure health-care remains at the top of their agenda at their next meeting in July. THE CANADIAN PRESS/Sean Kilpatrick
Ottawa
The Canadian Medical Association and 14 other organizations representing health workers are urging premiers to keep health care at the top of the agenda at their next meeting in July.
The provincial and territorial leaders met several times last year to compare notes on the health-care crisis and call on the federal government to give them more money to fix it.
In February, Prime Minister Justin Trudeau announced a deal that will see Ottawa give $196 billion for the Canada Health Transfer over the next 10 years.
All provinces except Quebec have agreed to the deal in principle.
In a press release on behalf of several doctors' and nurses' associations, the Canadian Medical Association says the deals are a positive step but the health-care crisis has not ended.
They say excessive wait times, a lack of primary care, a shortage of workers and overcapacity in emergency rooms should all be on the premiers' agenda.
This report by The Canadian Press was first published June 5, 2022.