'Short-term pain': Group of Alberta lawyers escalate job action over legal aid cases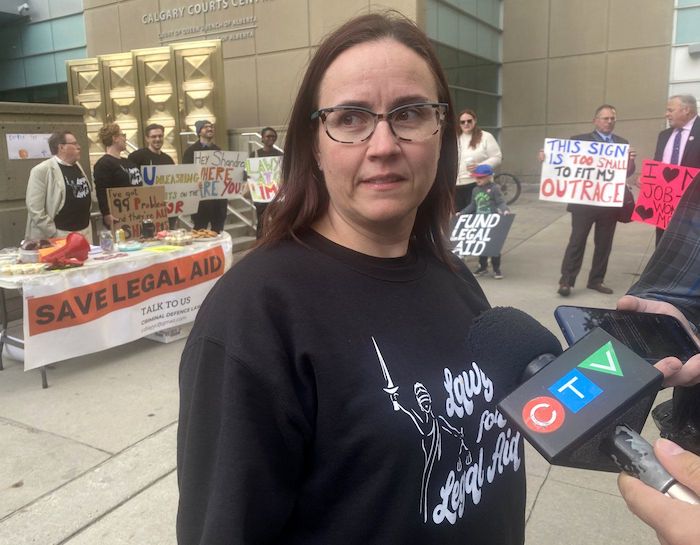 By Bill Graveland in Calgary
Alberta criminal defence lawyers are taking another step in their dispute with the provincial government over the amount of compensation paid by Legal Aid Alberta.
Organizations representing lawyers in Edmonton, Calgary, Red Deer and southern Alberta began job action Aug. 8 by refusing to accept certain bail and duty counsel files from legal aid.
The lawyers also began refusing certificates for new cases for the most serious criminal charges, including sexual offences, firearms-related crimes and homicides.
Beginning Monday, they say all services will be withdrawn.
"We're going to stop taking all certificates. That will include some our prior job actions still allowed us to take certificates for people who are already existing clients and there will be a very, very limited set of circumstances now where our members will do that," said Kelsey Sitar, vice-president of the Criminal Defence Lawyers Association in Calgary.
"The default will be: 'We are just not taking any new work from legal aid until the problem is fixed.'"
Sitar made her comments at a rally in front of the Calgary Courts Centre on Friday that drew about 50 criminal defence lawyers.
A table with a sign reading "Save Legal Aid" offered bake goods for sale. Lawyers carried signs reading "Access 2 Justice Must be Equal." Another read: "This sign is too small to fit my outrage."
"This is drastic. I mean, what we were doing up until now is something I know has happened in Ontario before, it did not last long, frankly," Sitar said.
"I can tell you that none of us want to be out here. We all want to be in there doing our jobs."
Justice Minister Tyler Shandro has said nothing is going to be done until a review of the Legal Aid Alberta administrative system is complete, which is scheduled for next month.
He said any budget changes for legal aid wouldn't happen until next year.
Sitar said the ministry chose to undertake "an incomplete and, frankly, useless review" at a time when the governing United Conservative Party is about to go through a leadership change.
"So we have to act now and they need to respond now," she said.
Sitar said she understands the people being affected the most by the job action will be people with lower incomes who need the services to afford legal representation.
"It's short-term pain right now," she said. "It's really unfortunate, but I can tell you that most of the people I've talked to on the street who are finding themselves caught up in this understand and are grateful that we're doing it."
Alberta Opposition NDP Leader Rachel Notley said the problem has been growing over the last three years. She said when her party was in power, it committed to additional funding for Legal Aid, but the UCP government backtracked.
"We simply cannot be asking the Legal Aid bar to be doing what we are asking them to do at the rate that we are asking them to do it," she told reporters.
"We have the lowest funding for Legal Aid in the country. What that means is that we don't have equal access to justice. It undermines the integrity of our justice system and, overall, it undermines our ability to build a sense of community safety, community security and an overall respect for the rule of law — all of which are important to community health and economic growth.
"It sounds like a niche issue, but it's not. It actually has knock-off effects to very, very important issues that affect all of us. So, the government needs to come to the table and negotiate decently with these lawyers."
This report by The Canadian Press was first published Sept. 23, 2022.
— With files from Colette Derworiz in Calgary.
TC Energy shuts down Keystone pipeline system after leak in Nebraska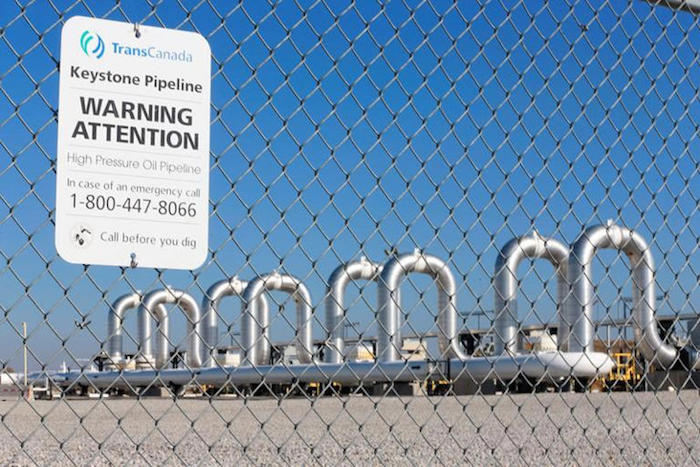 CALGARY — TC Energy Corp. says it has shut down its Keystone pipeline after a leak in Nebraska.
The company says it has mobilized people and equipment in response to a confirmed release of oil into a creek, about 32 kilometres south of Steele City, Neb.
TC Energy says an emergency shutdown and response was initiated Wednesday night after a pressure drop in the system was detected.
It says the affected segment of the pipeline has been isolated and booms have been deployed to prevent the leaked oil from moving downstream.
The Keystone pipeline system stretches 4,324 kilometres and helps move Canadian and U.S. crude oil to markets around North America.
TC Energy says the system remains shutdown as its crews respond and work to contain and recover the oil.
This report by The Canadian Press was first published Dec. 8, 2022.
Companies in this story: (TSX:TRP)
The Canadian Press
Two deputy chief medical officers resign from their positions with Alberta Health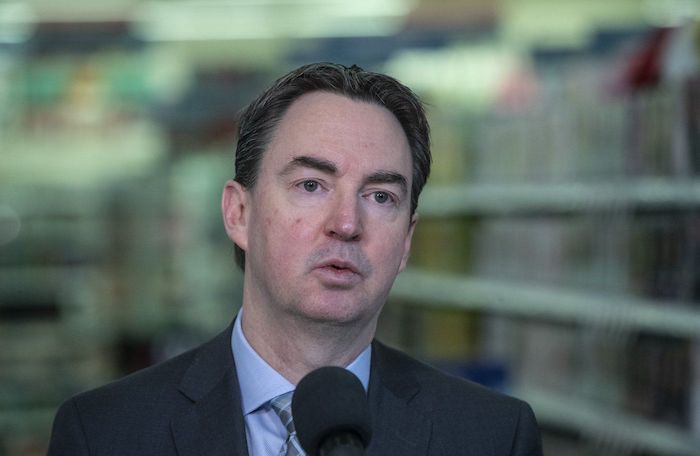 Edmonton – Alberta's two deputy chief medical officers of health are leaving their roles — less than a month after Dr. Deena Hinshaw was removed as the province's top doctor.
Health Minister Jason Copping confirmed during question period Wednesday that both of the doctors have submitted letters of resignation.
"They are still continuing to work at this point in time," he said in the legislature. "We are in the process of actually looking to fill those roles."
A statement from Alberta Health said Dr. Rosana Salvaterra and Dr. Jing Hu, who are listed as public health physicians on the department's website, have given notice.
When reached by her department email, Salvaterra responded: "Unfortunately, we are not able to comment."
She later added that she respects and admires both Dr. Hinshaw and Dr. Hu.
"They are brilliant, hard-working, and compassionate public health physicians and I consider myself fortunate to have had the opportunity to work alongside them for these past 14 months."
Salvaterra, who has extensive public health experience including as the medical officer of health for Peterborough, Ont., joined the office in October 2021.
Her career in public health includes work in "the COVID-19 response, mental health, the opioid response, women's health, poverty reduction, health equity, community food security and building stronger relationships with First Nations."
Hu's out-of-office message said her "last day at work with Alberta Health was Nov. 18, 2022," and noted she wouldn't have access to the department email after that date.
She got extensive training in China and at the University of Calgary before joining the health department in January 2020.
Their resignations came within a month of Hinshaw, who became the face of Alberta's public health response to the COVID-19 pandemic, being removed from her position.
Hinshaw was replaced by Dr. Mark Joffe, a senior executive member of Alberta Health Services, on an interim basis.
"Dr. Joffe will be supported by medical officers of health within AHS, by other staff in the Office of the Chief Medical Officer of Health, and by the Public Health Division," said the statement from Alberta Health late Wednesday.
"We expect these changes to have no impact on the department's and Dr. Joffe's ability to meet the requirements of the Public Health Act."
Hinshaw's dismissal didn't come as a surprise.
Premier Danielle Smith announced on her first day in office in October that she would be replaced.
Smith has made it clear that she blames both Hinshaw and Alberta Health Services for failing to deliver the best advice and care for Albertans as the hospital system came close to buckling in successive waves of the COVID-19 pandemic.
"A lot of the bad decisions were made by Alberta Health Services on the basis of bad advice from the chief medical officer of health," Smith told reporters on Oct. 22.
Smith has not placed the blame on front-line doctors and nurses but broadly on AHS senior management. Joffe, while serving as chief medical officer of health, retains his role in AHS senior management as a vice-president responsible for areas in cancer and clinical care.
Hinshaw, an Alberta-trained public health specialist, became a celebrity of sorts in the first wave of the pandemic in the spring of 2020, as she delivered regular, sometimes daily, updates to Albertans on the virus, its spread and methods to contain it.
This report by The Canadian Press was first published Dec. 7, 2022.
— By Colette Derworiz in Calgary.