Ship carrying grain for hungry Ethiopia leaves Ukraine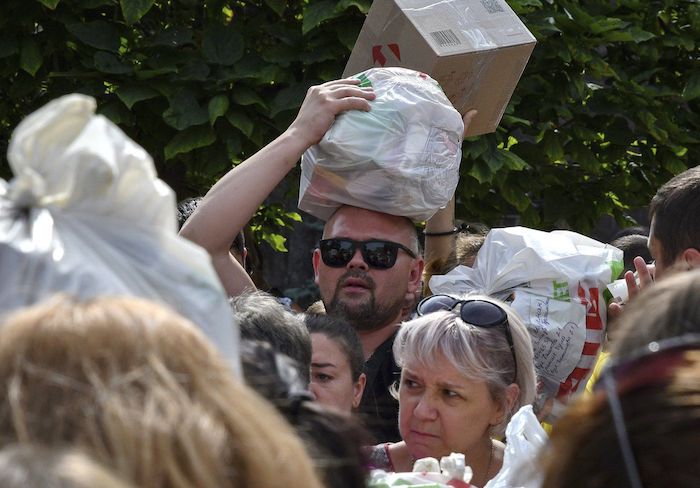 By Derek Gatopoulous in Kyiv
KYIV, Ukraine (AP) — A United Nations-chartered ship loaded with 23,000 metric tons of Ukrainian grain destined for Ethiopia set sail Sunday from a Black Sea port, the first shipment of its kind in a program to assist countries facing famine.
The Liberia-flagged Brave Commander departed from the Ukrainian port of Yuzhne, east of Odesa, according to regional governor Maksym Marchenko. It plans to sail to Djibouti, where the grain will be unloaded and transferred to Ethiopia under the World Food Program initiative.
Ukraine and Russia reached a deal with Turkey on July 22 to restart Black Sea grain deliveries, addressing the major export disruption that has occurred since Russia invaded Ukraine in February.
Ethiopia is one of five countries that the UN considers at risk of starvation.
"The capacity is there. The grain is there. The demand is there across the world and in particular, these countries," WFP Ukraine coordinator Denise Brown told The Associated Press. "So if the stars are aligned, we are very, very hopeful that all the actors around this agreement will come together on what is really an issue for humanity. So today was very positive."
On the front line, Russian forces on Sunday fired rockets on the Mykolaiv region in southern Ukraine, killing at least one person. That region is just north of the Russian-occupied city of Kherson, which Ukrainian forces have vowed to retake. The Ukrainian emergency service said one person was killed in shelling early Sunday settlement of Bereznehuvate in Mykolaiv.
A Russian diplomat, meanwhile, called on Ukraine to offer security assurances so that international inspectors could visit a nuclear power station that has come under fire.
As fighting steps up in southern Ukraine as Russia's war closes in on six months, concern has grown sharply about the Zaporizhzhia nuclear power plant, which is held by Russian forces and has been hit by sporadic shelling. Both Ukraine and Russia blame each other for the shelling, which officials say has damaged monitoring equipment and could lead to a nuclear catastrophe.
The Zaporizhzhia facility is Europe's largest nuclear power plant.
Russia's envoy to international organizations based in Vienna, Mikhail Ulyanov, called on Ukraine to stop attacking the plant in order to allow an inspection mission from the International Atomic Energy Agency.
"It is important that the Ukrainians stop their shelling of the station and provide security guarantees to members of the mission. An international team cannot be sent to work under continuous artillery shelling," he was quoted as saying Sunday by Russian state news agency Tass.
Ukraine says Russia is shelling nearby regions from the plant and storing weapons there.
___
Follow the AP's coverage of the war at https://apnews.com/hub/russia-ukraine
Russians rush for flights out amid partial reservist call-up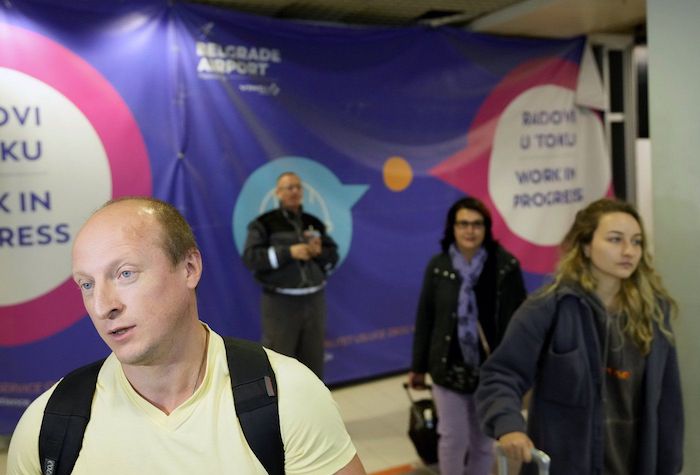 By Dusan Stojanovic in Belgrade
BELGRADE, Serbia (AP) — Large numbers of Russians rushed to book one-way tickets out of the country while they still could Wednesday after Russian President Vladimir Putin announced a partial mobilization of military reservists for the war in Ukraine.
Flights filled up quickly and the prices of tickets for remaining connections sky-rocketed, apparently driven by fears that Russia's borders could soon close or of a broader call-up that might send many Russian men of fighting age to the war's front lines.
Tickets for the Moscow-Belgrade flights operated by Air Serbia, the only European carrier besides Turkish Airlines to maintain flights to Russia despite a European Union flight embargo, sold out for the next several days. The price for flights from Moscow to Istanbul or Dubai increased within minutes before jumping again, reaching as high as 9,200 euros ($9,119) for a one-way economy class fare.
Putin's decree stipulates that the amount of people called to active duty will be determined by the Defense Ministry. Defense Minister Sergei Shoigu said in a televised interview that 300,000 reservists with relevant combat and service experience initially would be mobilized.
Russia has seen a marked exodus of citizens since Putin ordered his troops to invade Ukraine almost seven months ago. During the early morning address to the nation in which the president announced the partial mobilization of reservists, he also issued a veiled nuclear threat to Russia's enemies in the West.
Reports of panic spreading among Russians soon flooded social networks. Anti-war groups said the limited airplane tickets out of Russia reached enormous prices due to high demand and swiftly became unavailable.
Some postings alleged people already had been turned back from Russia's land border with Georgia and that the website of the state Russian railway company collapsed because too many people were checking for ways out of the country.
Social networks in Russian also surged with advice on how to avoid the mobilization or leave the country.
Russian officials sought to calm the public, stressing that the call-up would affect a limited number of people fitting certain criteria. However, conflicting statements and a lack of details helped fuel the panic.
The head of the Duma defense committee, Andrei Kartapolov, said there would be no additional restrictions on reservists leaving Russia based on this mobilization. But he also advised individuals who could be eligible for the call-up against "traveling to resorts in Turkey."
"Spend your vacation at the resorts of Crimea or (Russia's southern) Krasnodar region," Russian media quoted Kartapolov as saying.
Avtozak, a Russian group that monitors political demonstrations and detentions, reported that some participants were detained at anti-mobilization demonstrations in several cities.
A group based in Serbia, called Russians, Belarussians, Ukrainians and Serbs Together Against War, tweeted that there were no available flights to Belgrade from Russia until mid-October. Flights to Turkey, Georgia or Armenia also sold out, according to the Belgrade-based group.
"All the Russians who wanted to go to war already went," the group said. "No one else wants to go there!"
Serbia's capital, Belgrade, has become a popular destination for Russians during the war. Up to 50,000 Russians have fled to Serbia since Russia invaded Ukraine and many opened businesses, especially in the IT sector.
Russians don't need visas to enter Serbia, which is the only European country which has not joined Western sanctions against Russia for its aggression in Ukraine.
___
AP Writers Jovana Gec and Daria Litvinova contributed to this story.
Putin sets partial mobilization in Russia, threatens enemies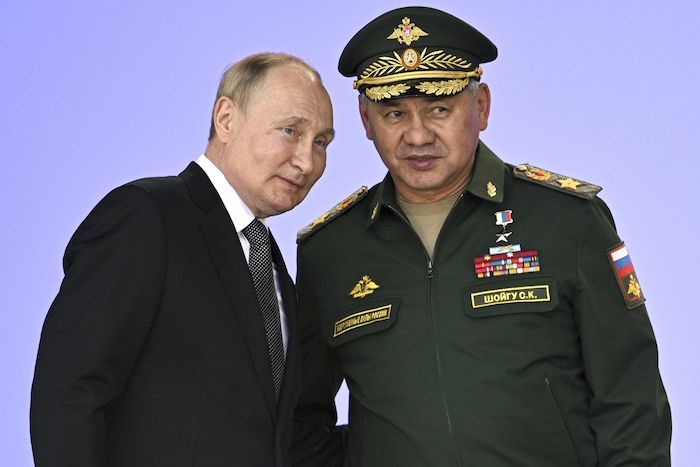 By Karl Ritter in Kyiv
KYIV, Ukraine (AP) — Russian President Vladimir Putin announced a partial mobilization in Russia as the war in Ukrainereaches nearly seven months and Moscow loses ground on the battlefield. Putin also warned the West that "it's not a bluff" that Russia would use all the means at its disposal to protect its territory.
The total number of reservists to be called up is 300,000, officials said.
The Russian leader's televised address to the nation released Wednesday came a day after Russian-controlled regions in eastern and southern Ukraine announced plans to hold votes on becoming integral parts of Russia. Putin's remarks also come against the backdrop of the U.N. General Assembly in New York at which Moscow was warned about its referendum plans.
The Kremlin-backed efforts to swallow up four regions could set the stage for Moscow to escalate the war following Ukrainian successes. The referendums, which have been expected to take place since the first months of the war, will start Friday in the Luhansk, Kherson and partly Russian-controlled Zaporizhzhia and Donetsk regions.
Putin accused the West in engaging in "nuclear blackmail" and noted "statements of some high-ranking representatives of the leading NATO states about the possibility of using nuclear weapons of mass destruction against Russia."
"To those who allow themselves such statements regarding Russia, I want to remind you that our country also has various means of destruction, and for separate components and more modern than those of NATO countries and when the territorial integrity of our country is threatened, to protect Russia and our people, we will certainly use all the means at our disposal," Putin said.
He added: "It's not a bluff."
Putin said he has signed a decree on the partial mobilization, which is due to start on Wednesday.
"We are talking about partial mobilization, that is, only citizens who are currently in the reserve will be subject to conscription, and above all, those who served in the armed forces have a certain military specialty and relevant experience," Putin said.
Russian Defense Minister Sergei Shoigu said in a televised interview Wednesday that only those with relevant combat and service experience will be mobilized.
Shoigu also said that 5,937 Russian soldiers have died in the Ukraine conflict, far lower than Western estimates that Russia has lost tens of thousands.
Putin said the decision to partially mobilize was "fully adequate to the threats we face, namely to protect our homeland, its sovereignty and territorial integrity, to ensure the security of our people and people in the liberated territories."
Earlier Wednesday, Ukrainian President Volodymyr Zelenskyy dismissed the referendum plans as "noise" and thanked Ukraine's allies for condemning the votes scheduled to start Friday.
In his nightly address Zelenskyy said there were lots of questions surrounding the announcements but stressed that they would not change Ukraine's commitment to retake areas occupied by Russian forces.
"The situation on the front line clearly indicates that the initiative belongs to Ukraine," he said. "Our positions do not change because of the noise or any announcements somewhere. And we enjoy the full support of our partners in this."
Even a partial mobilization is likely to increase dismay among Russians about the war. The Vesna opposition movement called for nationwide protests on Wednesday, saying "Thousands of Russian men — our fathers, brothers and husbands — will be thrown into the meat grinder of the war. What will they be dying for? What will mothers and children be crying for?"
It was unclear how many would dare to protest amid Russia's overall suppression of opposition and harsh laws against discrediting soldiers and the military operation.
The upcoming referendum votes are all but certain to go Moscow's way. They were quickly dismissed as illegitimate by Western leaders who are backing Kyiv with military and other support that has helped its forces seize momentum on battlefields in the east and south.
"I thank all friends and partners of Ukraine for today's mass principled firm condemnation of Russia's attempts to stage new sham referenda," Zelenskyy said.
In another signal that Russia is digging in for a protracted and possibly ramped-up conflict, the Kremlin-controlled lower of house of parliament voted Tuesday to toughen laws against desertion, surrender and looting by Russian troops. Lawmakers also voted to introduce possible 10-year prison terms for soldiers refusing to fight.
If approved, as expected, by the upper house and then signed by Putin, the legislation would strengthen commanders' hands against failing morale reported among soldiers.
In the Russian-occupied city of Enerhodar, shelling continued around Europe's largest nuclear power plant. Ukrainian energy operator Energoatom said Russian shelling again damaged infrastructure at the Zaporizhzhia nuclear power plant and briefly forced workers to start two diesel generators for emergency power to the cooling pumps for one of the reactors.
Such pumps are essential for avoiding a meltdown at a nuclear facility even though all six of the plant's reactors have been shut down. Energoatom said the generators were later switched off as main power weas restored.
The Zaporizhzhia Nuclear Power Plant has been a focus for concern for months because of fears that shelling could lead to a radiation leak. Russia and Ukraine blame each other for the shelling.
___
Follow the AP's coverage of the war at https://apnews.com/hub/russia-ukraine