Share debacle a rare setback for Indian tycoon Adani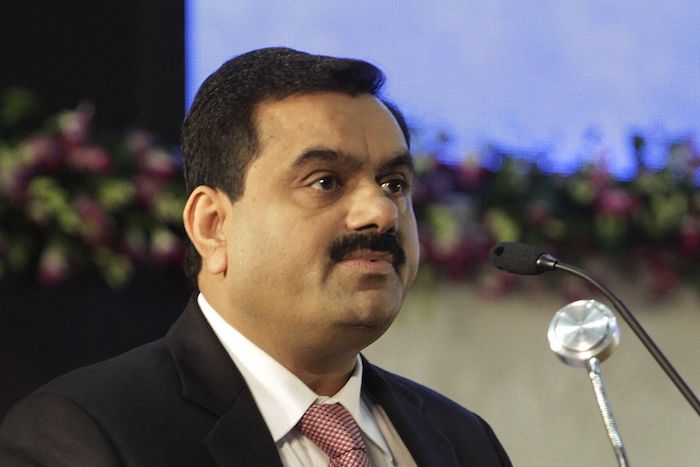 By Krutika Pathi in New Delhi
NEW DELHI (AP) — Indian billionaire Gautam Adani grinned as he posed this week for photos with Israeli leader Benjamin Netanyahu after acquiring one of the country's main ports, in Haifa.
"I promise you that in the years to come, we will transform the skyline we see around us," said Adani, his manner upbeat even as his business empire was losing billions. Investors have been dumping Adani shares for more than a week after U.S. short-selling firm Hindenburg Research put out a report alleging his businesses have engaged in fraud and stock price manipulation. The Adani group has denied this.
Before the debacle, Adani, 60, was Asia's richest man and the third wealthiest in the world, according to Bloomberg's Billionaires Index. Not anymore.
The massive losses are a rare setback for the coal mining tycoon from western India's Gujarat state and raise questions about what lies ahead.
Expansion has been at the heart of Adani's success story. The son of a middle-class family in the Gujarat capital, Ahmedabad, he quit college to become a diamond trader in the country's financial capital, Mumbai. He returned home to join his brother in importing plastics before establishing Adani Enterprises in the 1980s, trading in everything from shoes to buckets.
Adani shifted to investing in ports, construction and coal mining as India opened up its economy in the 1990s. A new middle class emerged and the ambitious businessman placed bets on providing energy to serve them.
Adani's first big project, Mundra Port, is now India's largest commercial port and he is the country's biggest private port operator. Within a decade, he also became India's largest developer and operator of coal mines.
Today, Adani companies also operate airports in major cities, build roads, generate electricity, manufacture defense equipment, develop agricultural drones, sell cooking oil and run a media outlet. He has his eyes set on becoming the world's largest renewable energy player by 2030.
Citing market volatility, late Wednesday his flagship Adani Enterprises scrapped a $2.5 billion share offering that, despite the bloodletting in the group's shares and a 28% plunge that day in its own share price, had been oversubscribed.
In a video address Thursday, Adani said the share offering was canceled to "insulate investors from potential losses."
"For me, the interest of my investors is paramount and everything else is secondary," he said.
The share offering was seen as a test of investor confidence in the self-made industrialist, whose ascent has been celebrated as a symbol of India's economic ambitions. The Adani Group said in a statement that canceling the offering would not "have any impact on our existing operations and future plans."
The Adani Group said its balance sheet was "very healthy" and its history of servicing debt was "impeccable."
Still, Brian Freitas, a New Zealand-based analyst with Periscope Analytics who has researched the Adani Group, said the collapse in share prices for India's second-largest conglomerate may hinder its future plans for expansion.
"It's going to be difficult for them to raise new money," he said.
Adani shares are still losing value. Shares in Adani Enterprises tumbled 27% Thursday, while stock in six other Adani companies fell 5%-10%.
The tycoon, who favors a plain white shirt and dark trousers over fancy dress and is said to be affable and quiet spoken, slid from being the world's third richest man to the 13th as his fortune sank to $72 billion, according to Bloomberg's Billionaire Index. Prior to the Hindenburg report, his net worth was about $120 billion.
More vitally, the company is now without the funds it had hoped to raise in this week's offering. Companies often launch such share offerings to finance growth while reducing debt.
"Thanks to the short-seller, Adani's plans will get slowed down significantly," said R.N. Bhaskar, a journalist who wrote a biography on Adani.
Analysts say that rapid expansion has largely been fueled by borrowing. The group's debt stands at $30 billion, out of which $9 billion is from Indian banks, the group's chief financial officer said recently.
After the stock rout of the past week, lenders may deem his group high risk and toughen their criteria for borrowing, like demanding higher interest rates or more collateral, said Freitas.
"Equity investors are going to be wary because the stock isn't doing well — if they can't raise equity, they will have to go to the debt market," he added. "Given the situation, foreign lenders will think twice before lending any new money to Adani."
Despite Adani's longstanding ties with Prime Minister Narendra Modi, a fellow Gujarati, and other powerful politicians, the government has so far remained silent on his recent troubles even as pressure from the political opposition for an investigation into Adani's situation grows.
In recent years, Adani has pumped money into sectors like agriculture, defense and renewable energy — all seen as high priorities for the Indian government.
Like Adani's commitment to the port in Israel's Haifa, many of the group's overseas infrastructure projects, in countries such as Sri Lanka and Tanzania, have served as an Indian counterweight to rival China's holdings.
The Haifa deal was a coup for India, located close to another port managed by the Shanghai International Port Group.
"India is working with great fervor with Israel on defense and technology, and Adani now has a port there. You think the Indian government can sniff at that?" said Bhaskar. "The thing is, you can't wish away Adani — because he is indispensable at this point."
He expects Adani to remain undaunted.
"The more challenging a situation gets, the more defiant and creative he becomes to overcome it," Bhaskar said.
Why TikTok's security risks keep raising fears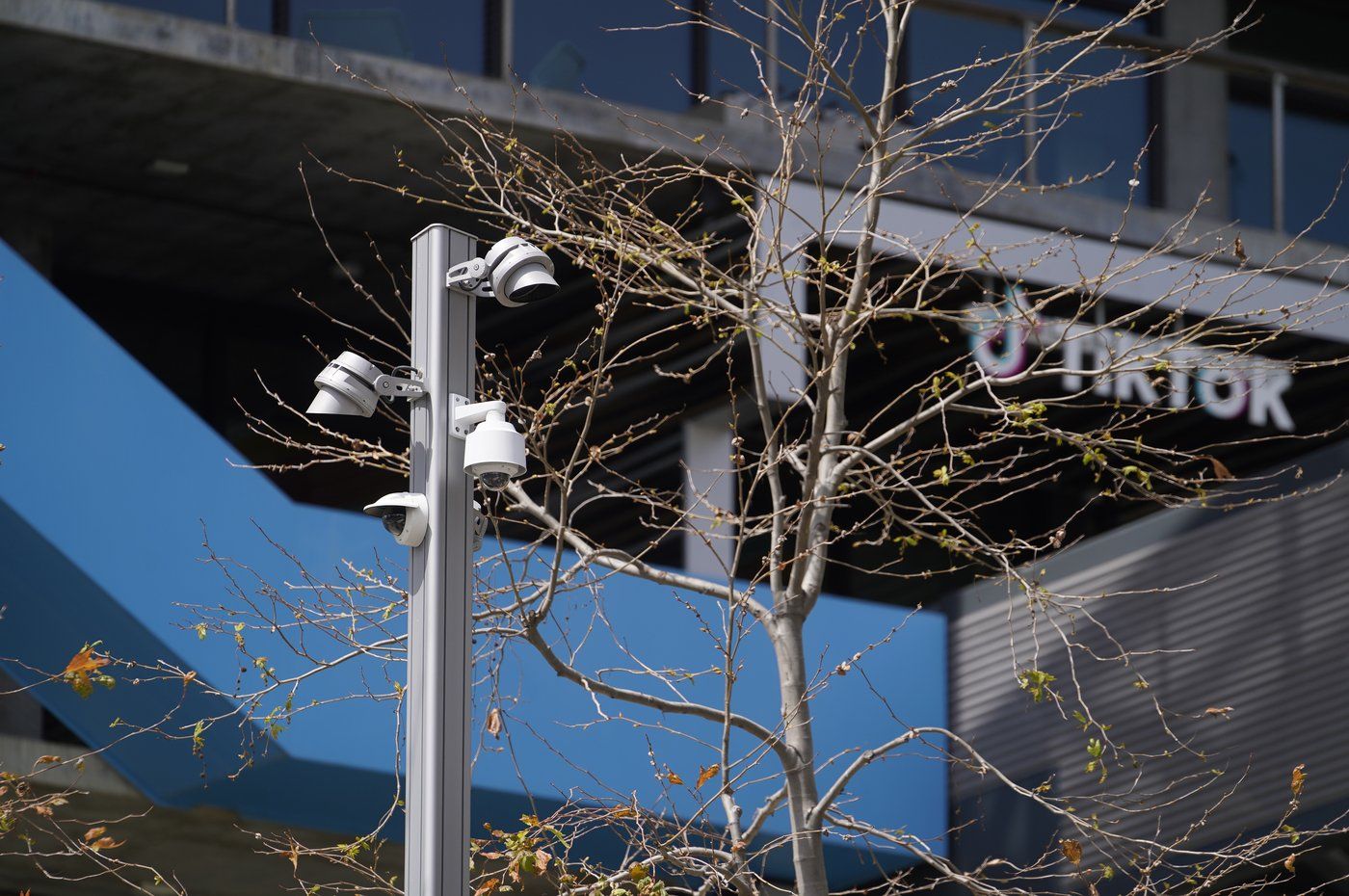 Security cameras are seen at the TikTok Inc. building in Culver City, Calif., Friday, March 17, 2023. The battle between the U.S. and China over TikTok comes to a head on Thursday when the social media platform's CEO testifies before Congressional lawmakers. (AP Photo/Damian Dovarganes, File)
By Kelvin Chan And Haleluya Hadero
The battle between the U.S. and China over TikTok comes into full view on Thursday when the social media platform's CEO testifies before Congressional lawmakers.
Shou Zi Chew's hearing is happening at what he's called a "pivotal moment" for the hugely popular short video sharing app. TikTok is owned by parent company ByteDance, which has offices in Beijing. The platform has 150 million American users but it's been dogged by persistent claims that it threatens national security and user privacy, or could be used to promote pro-Beijing propaganda and misinformation.
Chew will attempt to persuade lawmakers not to pursue a ban on the app or force its sale to new owners.
So are the data security risks real? And should users be worried that the TikTok app will be wiped off their phones?
Here's what to know:
WHAT ARE THE CONCERNS ABOUT TIKTOK?
Both the FBI and officials at the Federal Communications Commission have warned that ByteDance could share TikTok user data — such as browsing history, location and biometric identifiers — with China's authoritarian government.
Officials fear that TikTok, which like many other social media platforms collects vast amounts of data on its users, would be forced to give it to Beijing under a 2017 law that compels companies to turn over any personal data relevant to China's national security.
Concerns around TikTok were heightened in December when ByteDance said it fired four employees who accessed data on journalists from Buzzfeed News and The Financial Times while attempting to track down the source of a leaked report about the company.
HOW IS THE U.S. RESPONDING?
The Committee on Foreign Investment in the U.S. — known as CFIUS and part of the Treasury Department — is carrying out a review, and has reportedly threatened a U.S. ban on the app unless its Chinese owners divest their stake. China's Foreign Ministry in turn accused the United States itself of spreading disinformation about TikTok's potential security risks.
White House officials have said there are "legitimate national security concerns with respect to data integrity."
Some U.S. senators urged CFIUS last year to quickly wrap up its investigation and "impose strict structural restrictions" between TikTok's American operations and ByteDance, including potentially separating the companies.
At the same time, lawmakers have introduced measures that would expand the Biden administration's authority to enact a national ban on TikTok. The White House has already backed a Senate proposal that has bipartisan support.
HOW HAS TIKTOK ALREADY BEEN RESTRICTED?
Authorities in North America, Europe and Asia-Pacific have banned the TikTok app, mostly on government-issued phones or devices used for official business, citing cybersecurity concerns. Last week Britain imposed a government phone ban while New Zealand restricted lawmakers and other workers in its Parliament from having it on their phones.
The European Union's three main institutions, the executive Commission, Parliament and Council, have ordered staffers to remove it from their work phones. So has Denmark's defense ministry. The Canadian government said its ban includes blocking civil servants from downloading the app in the future. Norway and Netherlands warned this week against installing TikTok on government devices.
The White House ordered U.S. federal agencies to delete TikTok from all government-issued mobile devices. Congress, the U.S. armed forces and more than half of U.S. states had already banned the app.
WHAT DOES TIKTOK SAY?
In a TikTok video this week, Chew appealed against a ban, saying it could take the app away from 150 million American users.
In his testimony, he plans to outline how the company's data protection and security efforts go "above and beyond" anything that its social media and online entertainment rivals do.
Under a $1.5 billion project dubbed Project Texas that's underway, data from U.S. users is being routed through servers controlled by Oracle, the Silicon Valley company it partnered with in an effort to avoid a nationwide ban.
Older U.S. user data stored on non-Oracle servers will be deleted this year. Under this arrangement, there's no way for Beijing to access the data, Chew said in prepared remarks released ahead of the hearing.
TikTok has also sought to portray ByteDance as a global company, not a Chinese one. Executives have been pointing out that ByteDance's ownership consists of 60% big global investors, 20% employees and 20% Chinese entrepreneurs who founded the company. TikTok itself is headquartered in Singapore.
ARE THE SECURITY RISKS LEGITIMATE?
It depends on who you ask.
Some tech privacy advocates say while the potential abuse of privacy by the Chinese government is concerning, other tech companies have data-harvesting business practices that also exploit user information.
"If policy makers want to protect Americans from surveillance, they should advocate for a basic privacy law that bans all companies from collecting so much sensitive data about us in the first place, rather than engaging in what amounts to xenophobic showboating that does exactly nothing to protect anyone," said Evan Greer, director of the nonprofit advocacy group Fight for the Future.
Karim Farhat, a researcher with the Internet Governance Project at Georgia Tech, said a TikTok sale would be "completely irrelevant to any of the alleged 'national security' threats" and go against "every free market principle and norm" of the state department's internet freedom principles.
Others say there is legitimate reason for concern.
People who use TikTok might think they're not doing anything that would be of interest to a foreign government, but that's not always the case, said Anton Dahbura, executive director of the Johns Hopkins University Information Security Institute. Important information about the United States is not strictly limited to nuclear power plants or military facilities; it extends to other sectors, such as food processing, the finance industry and universities, Dahbura said.
IS THERE PRECEDENCE FOR BANNING TECH COMPANIES?
The U.S. has banned the communications equipment sold by Chinese companies Huawei and ZTE, citing national security risks. But banning the sale of items is easier than banning a free app.
Such a move might also wind up in courts on grounds that it could violate the First Amendment, as some civil liberties groups have argued.
Another possibility, albeit remote, is forcing a sale. That's what happened in 2020 when Beijing Kunlun, a Chinese mobile video game company, agreed to sell gay dating app Grindr after an order from CFIUS.
Beijing Kunlun said it signed a "national security agreement" with CFIUS to sell Grindr to San Vicente Acquisition for $608.5 million, promising not to send sensitive user data to China, cease its operations there and maintain its headquarters in the U.S.
Canada needs 300,000 new rental units to avoid gap quadrupling by 2026: report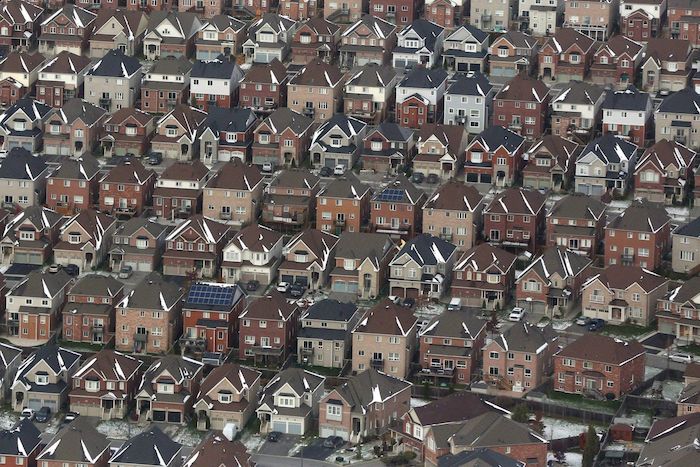 An aerial view of houses in Oshawa, Ont. is shown on Saturday, Nov. 11, 2017. A Royal Bank of Canada report predicts Canada's rental housing shortage will quadruple to 120,000 units by 2026 without a significant boost in rental stock. THE CANADIAN PRESS/Lars Hagberg
By Sammy Hudes in Toronto
Canada's rental housing shortage will quadruple to 120,000 units by 2026 without a significant boost in stock, Royal Bank of Canada said in a report Wednesday.
In order to reach the optimal vacancy rate of three per cent, the report suggested Canada would need to add 332,000 rental units over the next three years, which would mark an annual increase of 20 per cent compared with the 70,000 units built last year.
The research analyzed vacancy rate data released in January by the Canada Mortgage and Housing Corporation (CMHC).
Canada's vacancy rate fell to 1.9 per cent in 2022, its lowest point in 21 years, from 3.1 per cent in 2021.
Competition for units also drove the highest annual increase in rent growth on record, by 5.6 per cent for a two-bedroom unit.
Canada's rental housing stock grew by 2.4 per cent in 2022, led by Calgary at 7.4 per cent and Ottawa-Gatineau at 5.5 per cent, while Toronto and Montreal saw the smallest percentage increases at 2.1 per cent and 1.4 per cent, respectively.
"We haven't seen that many additions to the purpose-built inventory in almost a decade, so you would think that added supply of units would ease some of the competition, but what the CMHC rental market data revealed to us was that it didn't," said RBC economist Rachel Battaglia.
Slow growth in Canada's two most populous cities has been outpaced by rapidly increasing demand, partly fuelled by high immigration levels, she said. Annual federal immigration targets are set to grow eight per cent by 2025, meaning demand is unlikely to let up.
Battaglia also pointed to affordability and behavioural preferences for the influx of rentals sought. She said more Canadians are choosing to live alone, meaning fewer incomes per household.
"You have a lot of people being funnelled into the rental market who maybe would have liked to own something but it's just not financially in the books for them right now," said Battaglia.
The report estimated an existing deficit of 25,000 to 30,000 units of rental stock across Canada. In addition to building more supply, it recommended turning condo units into rentals, converting commercial buildings and adding rental suites to existing homes to help ease the pressure.
Without such measures, Battaglia said the market could "become infinitely more competitive."
"Which is not something that we want to realize given the competition we're already seeing," she said.
"You're already seeing rents increase dramatically."
This report by The Canadian Press was first published March 22, 2023.