Saskatchewan to continue using 'birth alerts' despite calls by inquiry to stop
REGINA — The Saskatchewan government says it will continue to track or seize babies born to Indigenous mothers despite a call to stop from the inquiry into missing and murdered Indigenous women and girls.
The inquiry's final report recommends governments and child-welfare agencies immediately abandon what are known as birth or hospital alerts.
Saskatchewan's Social Services Ministry says the alerts are registered if there is a concern about a mother and the potential safety of her baby.
It says social workers or health professionals can make the reports.
The alerts allow government officials to be informed when a baby is born so a report can be investigated, which can result in a newborn being seized.
The ministry says 153 newborns were apprehended in Saskatchewan for their own safety as a result of 588 alerts issued from 2015 to 2018.
"We only do that in extreme circumstances," Social Services Minister Paul Merriman said.
"At the end of the day, if a child is temporarily taken into care — no matter what age they are — our end goal is always reunification with the family to make sure that they have the opportunity to be a family as a whole."
The ministry says more than 60 per cent of babies taken into care were placed with their extended family while staff worked with the parents.
The Federation of Sovereign Indigenous Nations said the government is unwilling to change its policies when it comes to delivering child welfare.
"When mother and baby are separated, obviously the mother is very distraught. She's overwhelmed. She's heartbroken," said Morley Watson, first vice-chief of the federation, which represents Saskatchewan's 74 First Nations.
In Manitoba, figures for birth alerts are much higher. A government spokeswoman said that in 2017-18, Manitoba child-welfare agencies issued 558 birth alerts for high-risk mothers, but did not have figures on how many of those resulted in apprehensions.
Cora Morgan, a family advocate for the Assembly of Manitoba Chiefs, has said, on average, a newborn is apprehended every day
In January, social media videos surfaced showing a newborn baby girl being taken from the arms of her Indigenous mother by Manitoba social workers and police. The move prompted outrage and renewed calls for changes to child welfare in the province.
A judge granted guardianship of the baby to the mother's aunt in March.
Morgan said the Assembly of Manitoba Chiefs lobbied the MMIW inquiry to look at child welfare.
"Our elders have said that the most violent act you can commit to a women is to steal or take her children away," said Morgan.
"It's torturous for the mother."
Stephanie Taylor, The Canadian Press
Alberta production Pipe Nation seeking to tap musical talent for soundtrack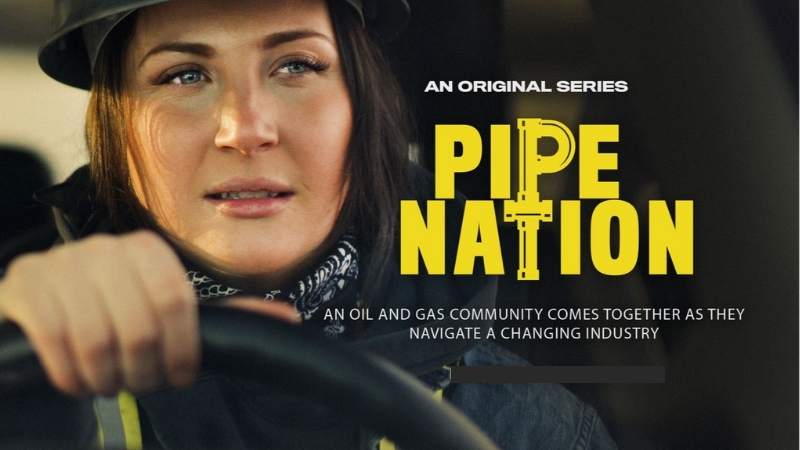 Here are the details.
January 13, 2021
Edmonton-AB, CANADA-​One of the largest independently funded tv-series in Canada, Pipe Nation, is seeking talented musicians to round out its soundtrack as the pilot episode nears completion.
The director, Raoul Bhatt, and executive producer, Dan Svedberg, are seeking submissions from Canadian and American artists to collaborate on the show's soundtrack.
The dramatic series is told through the experiences of a single mother working in the male-dominated, oil and energy industry. The pilot was filmed in August and September of 2020 in the picturesque mountains of Canada and the Edmonton area. 18 scenes and 180 takes were captured in Sundre, Alberta, which was transformed into the fictitious town of Hardwell. A great deal of effort has been put into this pilot including a $300,000 built for the show pipeline, a medical helicopter, and a long list of heavy equipment worth $180 million.
The scenes are now in editing, where the crucial process of pairing beautiful scenes with dramatic music is underway. Several genres of music including, rock, blues, country, electronic dance music, and classical will be used in the series. The show's soundtrack will be released on Apple Music, Amazon, Spotify and Google Play Music in the coming months. Director, Raoul Bhatt and his team have been in post-production for the last three months​. ​The pilot tv-series is expected to be complete by February 2021.
Musicians, labels, bands looking to collaborate or submit their work, please contact Executive Producer & Sound Designer, Daniel Svedberg, and Director, [email protected]
Read more on Todayville.
The Challenge Of A Diversified Economy
The Challenge Of A Diversified Economy:
Harrie Vredenburg   Professor U of C, Suncor Energy Chair
HARRIE VREDENBURG: "…Alberta and a diversified economy is always a question that comes up, and it's come up time and again throughout the history of Western Canada or the history of Alberta.  And the challenge is, of course, that our oil and gas or natural resources here in Alberta are the biggest thing that we have going here.
And so the commodity industries that we're involved in here do have ups and downs; they are cyclical.  And when things are on an up cycle, everything gets sucked over to the commodities industry, and that's where the wages are highest, that's where the returns are the best, and everything goes there, and it's hard to keep anything else going.
And governments over the years have said, oh, we have to diversify, we have to diversify, and attempts to diversify always fall on the rocks when we get an upswing in the commodities economy, so it's a challenge.
But having said that, it is important to now not only diversify, but to transition the Alberta economy and the Western Canadian economy to a lower carbon economy…"
Producer's note: What a beautiful shot around 30 seconds into that video of the oil derricks with the orange sunset. It's such a beautiful sight to see industry. At work, no people, just these solid No people just oil derricks and solidarity pumping away like one of those little toy cranes that you have on your desk that dips its beak in there in your glass of water is just such a beautiful thing to see.
See more stories from WeMaple.