Russian, Ukrainian militaries discuss freeing grain exports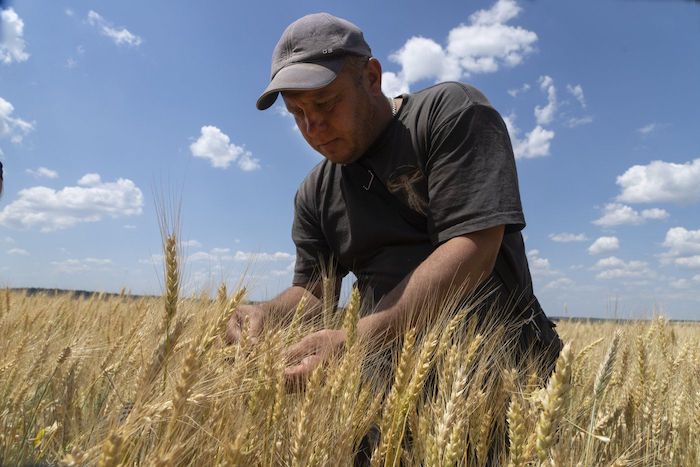 By Ayse Wieting And Suzan Fraser in Istanbul
ISTANBUL (AP) — Military delegations from Russia and Ukraine held their governments' first face-to-face talks in months Wednesday as they tried to reach an agreement on a United Nations plan to export blocked Ukrainian grain to world markets through the Black Sea.
Turkish military officials and U.N. representatives were also taking part in the meeting in Istanbul focused on finding a way to get millions of tons of grain sitting in silos amid the war in Ukraine shipped out of the country's ports toward the Mediterranean.
The Russian and Ukrainian officials, dressed in civilian clothes, faced each other as the delegations were seated around a large square table, photographs of the meeting showed.
Ukraine is one of the world's largest exporters of wheat, corn and sunflower oil, but Russia's invasion and war disrupted production and halted shipments, endangering food supplies in many developing countries, especially in Africa, and contributing to higher prices.
Turkey has offered to provide safe Black Sea corridors and worked with the U.N., Russia and Ukraine to reach an agreement. The U.N. would establish a center in Istanbul to control the shipments, Turkish officials have said.
Russian and Ukrainian officials have traded accusations over the stuck grain shipments, Moscow has said Ukraine's heavily mined ports are causing the delay. Russian President Vladimir Putin has pledged that Moscow wouldn't use the corridors to launch an attack, if the sea mines were removed.
Ukrainian officials have blamed a Russian naval blockade for holding up exports and causing a global food crisis. They remained skeptical of Putin's pledge not to take advantage of cleared Black Sea corridors to mount an attack, noting that he insisted at the beginning of the year he had no plans to invade Ukraine.
Ahead of the talks in Istanbul, a senior Russian diplomat said Moscow was willing to ensure safe navigation for ships to carry grain from Ukrainian ports but would press for its right to check the vessels for weapons.
Pyotr Ilyichev, the head of the Russian Foreign Ministry's department for ties with international organizations, said Russia's military had repeatedly declared its willingness to allow for safe shipping corridors in the Black Sea.
Seventy vessels from 16 countries have remained stuck in Ukrainian ports, Ilyichev said, alleging that Ukrainian authorities had barred them from departing.
"Our conditions are clear: We need to have a possibility to control and check the ships to prevent any attempts to smuggle weapons in, and Kyiv must refrain from any provocations," Russia's Interfax news agency quoted Ilyichev as saying.
U.N. Secretary-General Antonio Guterres has worked for months to secure a deal that would allow Ukraine to export wheat and other commodities from Odesa, the country's largest port, and also enable Russia to export grain and fertilizer to global markets.
Asked about Wednesday's talks, Guterres said Tuesday: "We are working hard, indeed, but there is still a way to go."
The war has trapped about 22 million tons of grain inside Ukraine, according to Ukrainian President Volodymyr Zelenskyy. U.N., Turkish and other officials are scrambling for a solution that would empty the silos in time for upcoming harvest in Ukraine.
The U.N. Food and Agriculture Organization says the war is endangering food supplies for many developing nations and could worsen hunger for up to 181 million people.
Some grain is being transported through Europe by rail, road and river, but the amount is small compared with sea routes.
Russia isn't able to transport its grain either. Moscow argues that Western sanctions on its banking and shipping industries make it impossible for Russia to export food and fertilizer and are scaring off foreign shipping companies from carrying it.
Complicating the negotiations are accusations that Russia is shipping grain that was stolen from Ukraine.
Ukraine's Foreign Ministry summoned the Turkish ambassador last week after Turkish authorities briefly detained a Russian ship suspected of transporting stolen grain but allowed it to leave and return to a Russian port. A Turkish official said authorities were not able to determine the ship carried stolen grain.
NATO-member Turkey has retained its close ties to both Moscow and Ukraine. Since the war started, it has hosted a meeting between the Russian and Ukrainian foreign ministers, as well as talks between the two countries' negotiating teams.
USAID head urges crisis-hit Sri Lanka to tackle corruption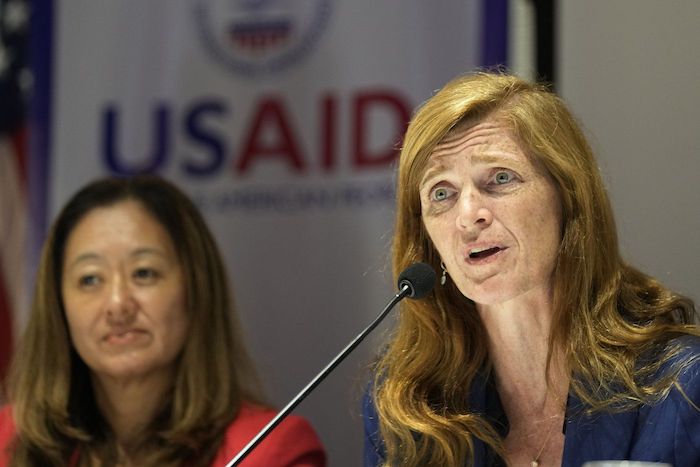 By Krishan Francis in Colombo
COLOMBO, Sri Lanka (AP) — A visiting U.S. diplomat on Sunday urged Sri Lankan authorities to tackle corruption and introduce governance reforms alongside efforts to uplift the country's economy as a way out of its worst crisis in recent memory.
USAID Administrator Samantha Power told reporters that such moves will increase international and local trust in the government's intentions.
"Assistance alone would not put an end to this country's woes," Power said. "I stressed to the Sri Lankan president in my meeting earlier today that political reforms and political accountability must go hand in hand with economic reforms and economic accountability."
She said that international investor confidence will increase as the government tackles corruption and proceeds with long sought governance reforms. "As citizens see the government visibly following through on the commitment to bring about meaningful change, that in turn increases societal support for the tough economic reforms ahead," she said.
During her two-day visit, Power announced a total of $60 million in aid to Sri Lanka. After meetings with farmers' representatives at a rice field in Ja-Ela, outside of the capital Colombo on Saturday, she announced $40 million to buy agrochemicals in time for the next cultivation season.
Agricultural yields dropped by more than half for the past two cultivation seasons because authorities had banned the imports of chemical fertilizers ostensibly to promote organic farming. She said that according to the World Food Program, more than 6 million people — nearly 30% of Sri Lanka's population — are currently facing food insecurity and require humanitarian assistance.
On Sunday, she said an additional $20 million will be given to provide emergency humanitarian assistance to vulnerable families.
Sri Lanka has faced its worst crisis after it defaulted on foreign loans, causing shortages of essentials like fuel, medicines and some food items.
It has reached a preliminary agreement with the International Monetary Fund for a $2.9 billion package to be disbursed over four years. However, the program hinges on Sri Lanka's international creditors giving assurances on loan restructuring. Sri Lanka's total foreign debt is more than $51 billion of which $28 billion must be repaid by 2027.
Power said that the U.S. stands ready to assist with debt restructuring and reiterated that it is imperative that China, one of the island nation's bigger creditors, cooperate in this endeavor.
Infrastructure like a seaport, airport and a network of highways built with Chinese funding did not earn revenue and are partly blamed for the country's woes.
Saskatchewan warns that federal employees testing farmers' dugouts for nitrogen levels could be arrested for trespassing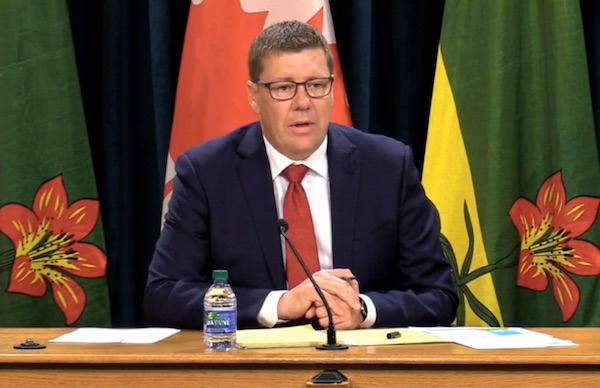 An escalating battle between Western Premiers and the federal government over restricting the use of nitrogen fertilizer has reached a new level of tension.
Premier Scott Moe
is demanding to know why federal employees of Environment Minister Steven Guilbeault are "trespassing" on private land in Saskatchewan. Moe signed a strongly worded letter (below) from Jeremy Cockrill, the Minister in charge of Saskatchewan's Water Security Agency.
The letter dated Sunday, August 21st states farmers from at least 3 different communities in southern Saskatchewan have reported Government of Canada employees in marked vehicles have been trespassing on their private land. When confronted, the agents have admitted to testing dugouts for nitrogen levels.
On his official Facebook page Moe says
"We are demanding an explanation from federal Minister Guilbeault on why his department is trespassing on private land without the owners' permission to take water samples from dugouts."
We are demanding an explanation from federal Minister
Steven Guilbeault
on why his department is trespassing on private land without the owners' permission to take water samples from dugouts. We have received reports of this occurring in several places throughout our province.
We have advised the federal government that this should cease immediately and if it does not, it will be considered a violation of the province's Trespass Act.
Violating this Act is serious, including a maximum penalty of $25,000 for repeat offenders, up to six months imprisonment following a conviction for a first or subsequent trespass offence, and a $200,000 maximum penalty for any corporation that counsels and/or aids in the commission of that offence.
Anyone wishing to report an incident of trespassing on private land can call 1-855-559-5502
Saskatchewan Premier Scott Moe has already
flatly said no thanks
to a federal initiative to restrict the use of fertilizer by up to 30%.
Premier Moe is not alone in this battle with Ottawa. Alberta's Premier Jason Kenney has already weighed in on the nitrogen restrictions in this strongly worded video shared two weeks ago.
Ottawa's planned attack on fertilizer will hurt our farmers.

It needs to stop.

Less fertilizer means less food.

Europe shut in about 50% of its fertilizer production.

Canada should not repeat the same mistake. pic.twitter.com/BztOiC1CPd

— Jason Kenney 🇺🇦 (@jkenney) July 27, 2022
The letter from Saskatchewan comes on the heals of another strongly worded letter from Manitoba's Agriculture Minister Heather Stefanson. In Stephanson's letter to Prime Minister Trudeau, she says this is no time to cut food supply and raise the price of groceries.