Russian oil price cap, EU ban aim to limit Kremlin war chest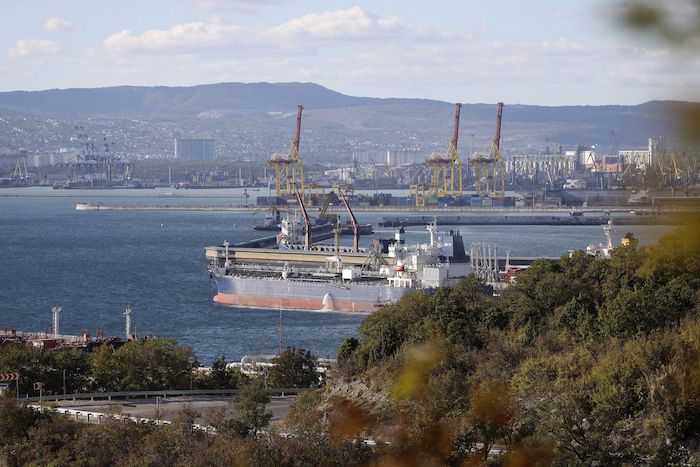 By David Mchugh in Frankfurt
FRANKFURT, Germany (AP) — Major Western measures to limit Russia's oil profits over the war in Ukraine took effect Monday, bringing with them uncertainty about how much crude could be lost to the world and whether they will unleash the hoped-for hit to a Russian economy that has held up better than many expected under sanctions.
In the most far-reaching efforts so far to target one of Moscow's main sources of income, the European Union is banning most Russian oil and the Group of Seven democracies has imposed a price cap of $60 per barrel on Russian exports to other countries.
The impact of both measures, however, may be blunted because the world's No. 2 oil producer has so far been able reroute much of its European seaborne shipments to China, India and Turkey, although at steep discounts, and the price cap is near what Russian oil already cost.
As it stands, Russia will likely have enough money to not only fund its military but support key industries and social programs, said Chris Weafer, CEO and Russian economy analyst at consulting firm Macro-Advisory.
"At this price level, that outlook really doesn't change much. But what is key is how much volume Russia would be able to sell," he said. "And that depends not only on the willingness of Asian buyers to continue buying Russian oil, but also what is the physical ability of Russia to shift that oil."
Western leaders are walking a fine line between trying to cut Russia's oil income and preventing an oil shortage that would cause a price spike and worsen the inflation plaguing economiesand hurting consumers worldwide. They could later agree to lower the price cap to increase pressure on Russia, which says it will not sell to countries that observe the limit.
That could take oil off global markets and raise energy costs, including for gasoline at the pump. International benchmark Brent crude rose before falling 2.5% to $83.40 a barrel Monday.
To seriously cut Russian revenue, the cap must be lowered "quickly and progressively," said Lauri Myllyvirta, lead analyst at the Finland-based Centre for Research on Energy and Clean Air.
Even the $60 cap, if enforced, would already push Russia to lower per-barrel tax, he said, calling it "by far the biggest step to date to cut off the fossil fuel export revenue that is funding and enabling Russia's barbaric invasion of Ukraine."
Russia has been living off the huge windfall from higher oil pricesearlier this year and will be more vulnerable in the next several months when that money is spent, Myllyvirta said.
Kremlin spokesman Dmitry Peskov, asked in a conference call how the oil price cap might affect the war, said, "The economy of the Russian Federation has the necessary potential to fully meet all needs and requirements within the framework of the special military operation, and such measures will not affect this."
The U.S., EU and allied countries have hit Russia with a slew of sanctions aimed at bank and financial transactions, technology imports and regime-connected individuals. But until now, those sanctions have for the most part not directly gone after the Kremlin's biggest moneymaker, oil and natural gas.
Europe was heavily dependent on Russian oil and natural gasbefore the war and has had to scramble to find new supplies. Previously, the EU banned imports of Russian coal, and the U.S. and the U.K. halted their limited imports of Russian oil, but those steps had a much smaller economic impact.
Even as Western customers shunned Russian oil, the higher prices driven by fears of energy shortages helped offset lost oil sales, and Russian exporters have shipped more oil to Asian countries and Turkey in a major reshuffling of global oil flows. Russia's economy has shrunk — but not by as much as many expected at the start of the war almost 10 months ago.
One unknown is how much of the oil formerly sold to Europe can be rerouted. Analysts think many, but not all, of the roughly 1 million barrels covered by the embargo will find new homes, tightening supply and raising prices in coming months.
The Biden administration doesn't expect that Russia's threats to cut off countries observing the cap and slow production would "have any impact long term on global oil prices," National Security Council spokesman John Kirby said.
He said "this cap will lock in the discount on Russian oil" and countries like China and India would be able to bargain for steep price reductions.
Indian Foreign Minister Subrahmanyam Jaishankar indicated Monday that the country would keep buying oil from Russia to prioritize its energy needs. India so far hasn't committed to the price cap.
The cap has a grace period for oil that was loaded before Monday and arrives at its destination before Jan. 19 to minimize disruption on oil markets.
The measure bars insurers or ship owners — most of them located in the EU or U.K. — from helping move Russian oil to non-Western countries unless that oil was priced at or below the cap.
The idea is to keep Russian oil flowing while reducing the Kremlin's income. The U.S. and Europe leaned more toward preventing a price spike than provoking financial distress in Russia.
French Finance Minister Bruno Le Maire said the cap was "worth trying," adding that "we will make an assessment of the efficiency of the old cap at the beginning of 2023."
Ukraine's President Volodymyr Zelenskyy had called for a price ceiling of around $30 per barrel. That would be near Russia's cost of production, letting Russian oil companies earn enough only to avoid capping wells that can be hard to restart. Russia needs some $60 to $70 per barrel to balance its budget.
Russia could use methods to evade the sanctions such as those employed by Iran and Venezuela, including using "dark fleet" tankers with obscure ownership and ship-to-ship transfers of oil to tankers with oil of similar quality to hide its origin. Russia or China could also organize their own insurance. Sanctions experts say that those steps will impose higher costs on Russia.
The new EU sanctions led the Italian government to take temporary control of the Russian-owned ISAB refinery in Sicily last week. The government stopped short of nationalization but put the facility, where about 20% of Italy's oil is refined, under receivership to protect 10,000 jobs linked to the refinery and its suppliers.
___
AP reporters Raf Casert in Brussels, Aamer Madhani in Washington, Sheikh Saaliq in New Delhi and Colleen Barry in Milan contributed
Coastal GasLink fined again for sediment, erosion in pipeline work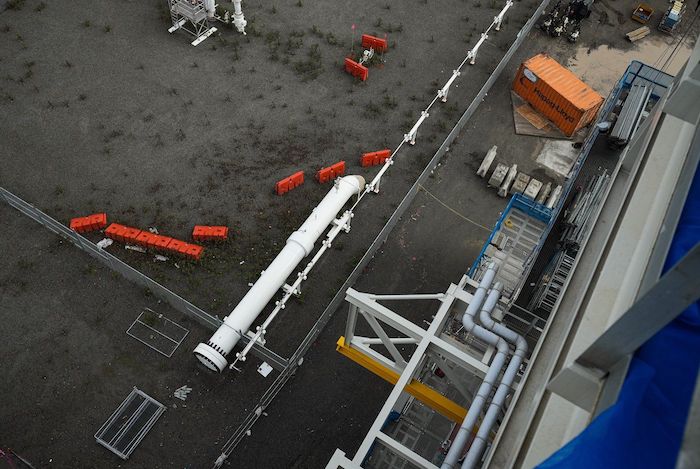 Victoria – The company that is building a natural gas pipeline across northern British Columbia has been fined for a third time as a result of failure to comply with the requirements of its environmental assessment certificate.
The B.C. government issued a bulletin saying Coastal GasLink has been fined $213,600 for "continued deficiencies with erosion and sediment control measures."
The bulletin issued Wednesday says recurring issues with erosion and sediment control have resulted in ongoing compliance and enforcement action, though more recent inspections have shown improvement.
The Environmental Assessment Office says more than 50 inspections have been done along the pipeline construction route since the project started in 2019, resulting in 37 warnings and two other financial penalties imposed last year: $72,500 in February and $170,100 in May.
The office says it entered into a compliance agreement with Coastal GasLink last July that takes a more proactive approach to erosion for about 100 kilometres of the 670-kilometre pipeline route where ground had yet to be broken.
The pipeline, which is in its final scheduled year of construction, is to connect natural gas facilities in northeastern B.C. to the LNG Canada terminal in Kitimat, on the northern coast.
Coastal GasLink says the penalty reflects concerns about erosion and sediment control from inspections by the Environmental Assessment Office in February 2022, and the determination is "a reminder of how far we've come in a year."
"We continue to work closely with our regulators to look for ways where we can do better across our project, especially with erosion and sediment control," the company said in a statement.
This report by The Canadian Press was first published Jan. 25, 2023.
Oilsands execs say they can't invest in decarbonization any faster, despite profits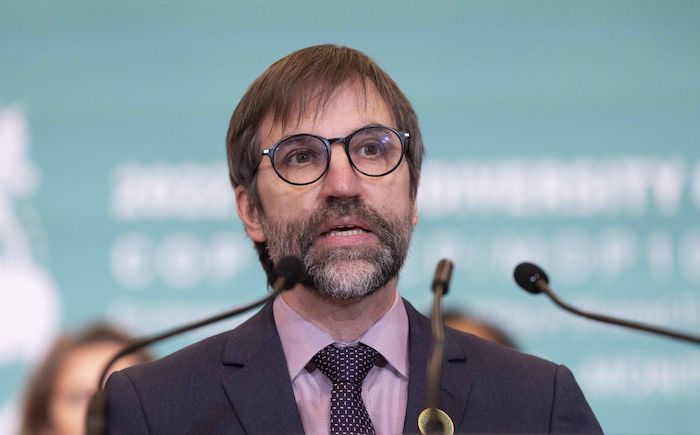 By Nojoud Al Mallees in Ottawa
Oilsands executives insist they are all in on cutting emissions and will make big investments in green technology, but they maintain there isn't a place to invest that money yet.
Many companies are coming off a year of windfall profits not because they pumped out more product, but because the war in Ukraine and global supply chain crunches pushed world oil prices way up.
Environment Minister Steven Guilbeault has said repeatedly over the last year that the companies need to prove their commitment by putting some of that cold hard cash into climate initiatives.
But in an interview with The Canadian Press, Cenovus CEO Alex Pourbaix said the companies are moving "as aggressively as (they) can."
"We're not yet at the point where we can invest billions in these projects," Pourbaix said.
Cenovus is one of six oilsands companies in the Pathways Alliance, a consortium created to work together to decarbonize their production entirely by 2050. The companies are looking to spend $24 billion by 2030 on emissions cutting, including two-thirds of that on carbon capture and storage systems.
However, who will pay for those investments is a point of contention.
So far, the consortium has spent half a billion dollars on Phase 1 of these projects, according to the alliance's president Kendall Dilling.
The industry is hoping to see the federal government do more to match the funding being offered by the U.S. government to incentivize the development of clean energy in that country.
The Liberal government has argued it has already created incentives for the industry, including an investment tax credit for carbon capture and storage projects, and that it's now time for the industry to step up.
"If they don't make those investments while they're making record-level profits, then when would it be a good time for them to make those investments?" Guilbeault said in an interview last September.
"If not now, then I don't know when."
Oil and gas companies have enjoyed record profits in the last couple of years thanks to skyrocketing energy prices. At a time when inflation is at decades-high levels, the growth of corporate profits has come under intense scrutiny, with some calling for windfall taxes to capture the excess profits.
In a new report from the Canadian Centre for Policy Alternatives, senior economist David Macdonald found that for every dollar Canadians spent on rising prices over the last two years, 25 cents went toward oil and gas sector profits.
However, Pourbaix rejected the notion that the industry needs to contribute more to government coffers.
"I think we are already contributing significantly," he said, estimating the industry will pay somewhere between $10 billion and $12 billion in federal taxes this year.
Pourbaix said countries that have opted for windfall taxes on the oil and gas sector have far less progressive tax systems than Canada.
However, Andrew Leach, an economics professor at the University of Calgary, said it's difficult to make comparisons across countries because in Canada the industry pays both royalties and taxes.
And while there is much debate about the appropriateness of windfall taxes, the federal government and some experts are concerned about the industry choosing not to invest these profits in carbon capture projects that would help decarbonize the oilsands.
"I would worry that their strategy here is, 'We can get Canadians excited about this and that will push the federal government to put more dollars in to defray some of the investment costs,'" said Leach.
He warned that strategy could backfire as Canadians watch the industry rake record profits and send cash to shareholders.
"If Canadian started asking, 'Well, if the owners of the oilsands companies aren't willing to make this bet, why should we?' then I think that becomes problematic for them."
Pourbaix said the spending will come in later phases of these projects and that in the meantime, shareholders need to be rewarded.
Many of the Canadian oil and gas giants have opted to do that through corporate share buybacks.
That prompted the federal government to introduce a two per cent corporate stock buyback tax to incentivize companies to reinvest profits rather than reward shareholders.
But some advocates want to see the federal government go further.
Keith Stewart, senior energy strategist with Greenpeace Canada, said the fact that the industry won't actually put money behind their rhetoric on climate change is a good reason to implement a windfall tax.
"They're still waiting for the government to come and pay for them," he said.
This report by The Canadian Press was first published Jan. 25, 2023.