Russia stops sharing missile test info with US, opens drills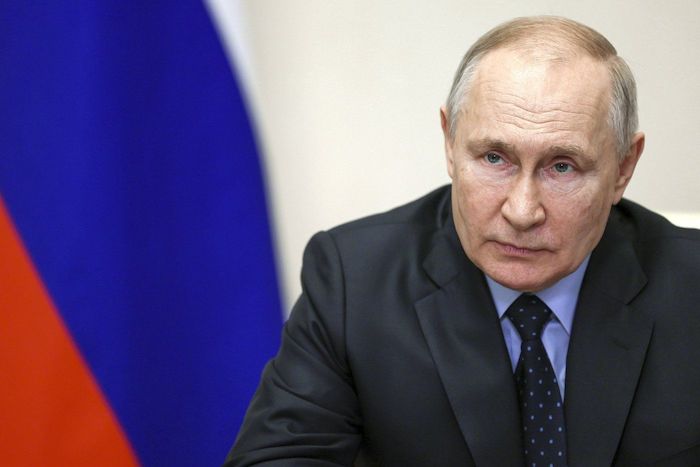 Russian President Vladimir Putin attends a cabinet meeting via videoconference at the Novo-Ogaryovo residence outside Moscow, Russia, Wednesday, March 29, 2023. (Gavriil Grigorov, Sputnik, Kremlin Pool Photo via AP)
By Vladimir Isachenkov in Moscow
MOSCOW (AP) — Russia will no longer give the U.S. advance notice about its missile tests, a senior Moscow diplomat said Wednesday, as its military deployed mobile launchers in Siberia in a show of the country's massive nuclear capability amid fighting in Ukraine.
Deputy Foreign Minister Sergei Ryabkov said in remarks carried by Russian news agencies that Moscow has halted all information exchanges with Washington after previously suspending its participation in the last remaining nuclear arms pact with the U.S.
Along with the data about the current state of the countries' nuclear forces routinely released every six months in compliance with the treaty, the parties also have exchanged advance warnings about test launches. Such notices have been an essential element of strategic stability for decades, allowing Russia and the United States to correctly interpret each other's moves and make sure that neither country mistakes a test launch for a missile attack.
The termination of missile test warnings marks yet another attempt by Moscow to discourage the West from ramping up its support for Ukraine by pointing to Russia's massive nuclear arsenal. In recent days, President Vladimir Putin announced the deployment of tactical nuclear weapons to the territory of Moscow's ally Belarus.
Last month, Putin suspended the New START treaty, saying Russia can't accept U.S. inspections of its nuclear sites under the agreement at a time when Washington and its NATO allies have openly declared Moscow's defeat in Ukraine as their goal. Moscow emphasized that it wasn't withdrawing from the pact altogether and would continue to respect the caps on nuclear weapons the treaty set.
The Foreign Ministry initially said Moscow would keep notifying the U.S. about planned test launches of its ballistic missiles, but Ryabkov's statement reflected an abrupt change of course.
"There will be no notifications at all," he said in remarks reported by Russian news agencies when asked if Moscow would also stop issuing notices about planned missile tests. "All notifications, all kinds of notifications, all activities under the treaty. will be suspended and will not be conducted regardless of what position the U.S. may take."
Ryabkov's announcement followed U.S. officials' statement that Moscow and Washington have stopped sharing biannual nuclear weapons data that were envisioned by the New START treaty. Officials at the White House, Pentagon and State Department said the U.S. had offered to continue providing this information to Russia even after Putin suspended its participation in the treaty, but Moscow told Washington it would not be sharing its own data.
The New START, signed in 2010 by then-Presidents Barack Obama and Dmitry Medvedev, limits each country to no more than 1,550 deployed nuclear warheads and 700 deployed missiles and bombers. The agreement envisages sweeping on-site inspections to verify compliance.
The inspections have been put on hold since 2020 because of the COVID-19 pandemic. Discussions on resuming them were supposed to have taken place in November 2022, but Russia abruptly called them off, citing U.S. support for Ukraine.
As part of the Russian drills that began Wednesday, Yars mobile missile launchers will maneuver across three regions of Siberia, Russia's Defense Ministry said. The movements will involve measures to conceal the deployment from foreign satellites and other intelligence assets, the ministry said.
The Defense Ministry didn't say how long the drills would last or mention plans for any practice launches. The Yars is a nuclear-tipped intercontinental ballistic missile with a range of about 11,000 kilometers (over 6,800 miles). It forms the backbone of Russia's strategic missile forces.
A Defense Ministry video shows trucks carrying the missiles driving from a base to go on patrol. The maneuvers involve about 300 vehicles and 3,000 troops in eastern Siberia, according to the ministry.
The exercise took place days after Putin announced a plan to deploy the tactical nuclear weapons in Belarus, Russia's neighbor and ally. Such weapons are intended for use on the battlefield and have a relatively short range and a much lower yield compared with the long-range strategic missiles fitted with nuclear warheads that are capable of obliterating whole cities.
Putin's decision on the tactical weapons followed his repeated warnings that Moscow was ready to use "all available means" — a reference to its nuclear arsenal — to fend off attacks on Russian territory.
Ryabkov said Wednesday that Putin's move followed the failure by Kyiv's allies to heed previous "serious signals" from Moscow because of what he described as the "fundamental irresponsibility of Western elites before their people and international security."
"Now they will have to deal with changing realities," he said, adding: "We hope that NATO officials will adequately assess the seriousness of the situation."
Russian officials have issued a barrage of hawkish statements since their troops entered Ukraine, warning that the continuing Western support for Kyiv raised the threat of a nuclear conflict.
In remarks published Tuesday, Nikolai Patrushev, the secretary of Russia's Security Council, which Putin chairs, sternly warned the U.S. and its allies against harboring hopes for Russia's defeat in Ukraine.
Patrushev alleged that some American politicians believe the U.S. could launch a preventative missile strike on Russia to which Moscow would be unable to respond, a purported belief that he described as "short-sighted stupidity, which is very dangerous."
"Russia is patient and isn't trying to scare anyone with its military superiority, but it has unique modern weapons capable of destroying any adversary, including the United States, in case of a threat to its existence," Patrushev said.
Europe OKs plan to tally cost of Moscow's war in Ukraine with eye toward future reparations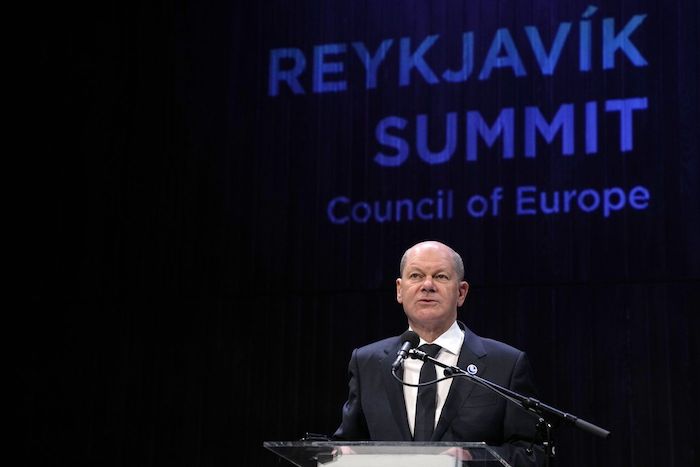 Germany's Chancellor Olaf Scholz speaks during a media conference at the Council of Europe summit in Reykjavik, Iceland, Wednesday, May 17, 2023. Leaders from across Europe were wrapping a two-day summit on Wednesday, putting the final touches on a system to establish the damage Russia is causing during the war in Ukraine, in the hopes it can be forced to compensate victims and help rebuild the nation once the conflict is over. (AP Photo/Alastair Grant)
By Molly Quell in Reykjavik
REYKJAVIK, Iceland (AP) — More than 40 nations agreed Wednesday to set up a system to tally the damage Russia has inflicted on Ukraine in the hope of getting reparations, adding to the international legal challenges the Kremlin is facing.
The register of damages, which will allow Ukrainian victims of war to catalog the harm they have suffered, found a plethora of support among the 46-nation Council of Europe summit in Iceland. Participants also discussed the details of a potential future tribunal where Russia would face charges for waging war.
"This Reykjavik summit shows clearly that Putin has failed with his calculations – he wanted to divide Europe and has achieved the opposite," said German Chancellor Olaf Scholz. "We stand closer together in Europe than ever before."
While leaders were at the waterside venue on the far-flung island nation for two days, the United Nations' top court announced it would hold hearings next month in a case between Russia and Ukraine. Kyiv claims Moscow is discriminating against minority groups in occupied Crimea and is financing terrorism in the region.
But even if Ukraine prevails at The Hague-based International Court of Justice, a ruling wouldn't make whole the millions of Ukrainians whose homes and lives have been torn apart by the conflict.
In theory, victims might have better luck at the Council of Europe's own court, the European Court of Human Rights, where Moscow is facing thousands of complaints of human rights violations, including three brought by Ukraine. The Strasbourg-based court can order countries to pony up restitution, but Russia's neighbor Georgia has been yet unable to collect for damages inflicted by Moscow when it invaded in 2008.
However, Russia was expelled from the council last year, in the wake of the full-scale invasion of Ukraine. And as long ago as 2015, it passed a law allowing it to overrule judgements from the ECHR.
Neither the court, nor the council, now has any channel of communication with the Russian authorities.
The damages register is seen as a first step toward justice in Ukraine. "Accountability is one of the topics that is of crucial importance," Marija Pejcinovic Buric, Secretary General of the Council of Europe, told the AP in an interview.
Compiling a comprehensive register of the destruction may be a first step: it's unclear what else might follow. The Council of Europe has made it clear that it will not assess the credibility of any claims, nor will it fund reparations payments. Those decisions will be left for other potential future institutions to determine.
Little wonder that Ukrainian President Volodymyr Zelenskyy, addressing the summit from Kyiv, reiterated his country's wish for such a court specifically for the prosecution of Russian aggression. In addition to military aid, another conference topic, he said his country needed "100% of justice, as there will be no reliable peace without justice."
While international institutions may be bogged down in overcoming legal hurdles to accountability, a group of squatters in Amsterdam has cut through the red tape – and the locks of the $3.5 million Amsterdam home belonging to one of Russia's sanctioned oligarchs.
A court in the Dutch city ruled on Wednesday that an anarchist group, who took over the Russian tech billionaire Arkady Volozh's house in October, could remain in the five-story, 19th-century mansion so long as they didn't annoy the neighbors.
Putin, Zelenskyy agree to meet with 'African leaders peace mission,' says South Africa president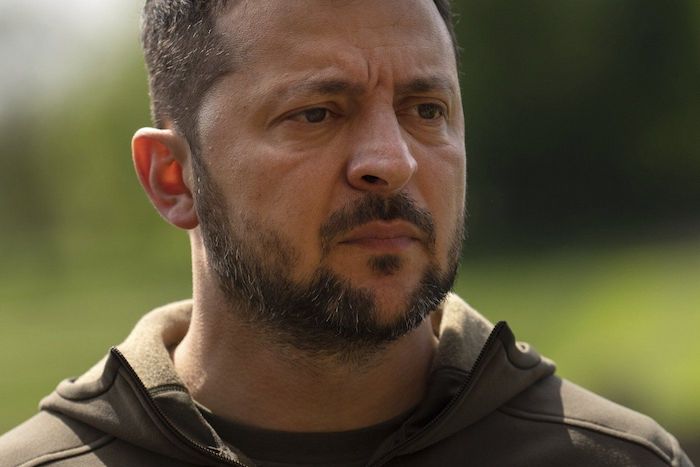 Ukraine's President Volodymyr Zelenskyy listens during a press conference with Britain's Prime Minister Rishi Sunak, in the garden at Chequers, in Aylesbury, England, on May 15, 2023. South African President Cyril Ramaphosa said Tuesday May 16, 2023 that his Russian and Ukrainian counterparts have agreed to separate meetings with a delegation of African heads of state to discuss a possible plan to end the war in Ukraine. (Carl Court/Pool via AP, File)
By Gerald Imray in Cape Town
CAPE TOWN, South Africa (AP) — Russian President Vladimir Putin and Ukrainian President Volodymyr Zelenskyy have agreed to separate meetings with a delegation of leaders from six African countries to discuss a possible plan to end the war in Ukraine, South Africa's president said Tuesday.
South African President Cyril Ramaphosa said he spoke with Putin and Zelenskyy by phone over the weekend and they each agreed to host "an African leaders peace mission" in Moscow and Kyiv, respectively.
"Principal to our discussions are efforts to find a peaceful resolution to the devastating conflict in the Ukraine," Ramaphosa said.
The leaders of Zambia, Senegal, Republic of Congo, Uganda and Egypt would make up the delegation along with Ramaphosa, he said in a statement. Putin and Zelenskyy gave him the go-ahead to "commence the preparations," the South African leader said.
Four of those six African countries — South Africa, Republic of Congo, Senegal and Uganda — abstained from a U.N. vote last year on condemning Russia's invasion. Zambia and Egypt voted in favor of the motion.
Ramaphosa did not give a time frame or outline any parameters for the possible peace talks. Zelenskyy has said he would not consider a peace deal to end the 15-month war until Russian forces withdraw completely from Ukrainian territory.
U.N. Secretary-General António Guterres also was briefed on the African delegation's planned meetings and "welcomed the initiative," Ramaphosa said.
U.N. spokesman Stephane Dujarric confirmed Monday that Ramaphosa spoke to Gutteres Monday afternoon during his visit to Jamaica.
"As we've said before, we are in favor of any initiative that could lead us to a peace in line with the (U.N.) Charter, in line with international law and in line with General Assembly resolutions," Dujarric said.
The announcement of the African-led peace effort came as Russia launched a heavy air attack on Kyiv.
There was no immediate reaction Tuesday from either the Kremlin or Kyiv. A readout from a phone conversation Putin and Ramaphosa had Friday said the Russian leader supported "Cyril Ramaphosa's idea about a group of African leaders participating in the discussion of the prospects of resolving the Ukrainian conflict."
It wasn't clear if that was the phone call Ramaphosa was referring to when he said he spoke with Putin over the weekend.
South Africa's leading position in the African delegation is bound to draw scrutiny. Ramaphosa's announcement came days after the U.S. ambassador accused South Africa of siding with Russia in the war in Ukraine and even providing weapons to help Moscow.
U.S. Ambassador to South Africa Reuben Brigety alleged last week that weapons and ammunition were loaded onto a Russian-flagged cargo ship at a South African naval base in December and taken to Russia. The South African government has denied it sent any weapons to Russia.
Ramaphosa has said the matter is under investigation.
South Africa has claimed its position on the war is neutral. The country has strong historical ties with Russia due to the former Soviet Union's support of South Africa's ruling African National Congress party when it was a liberation movement fighting to end the racist apartheid regime.
South Africa also hosted Russian and Chinese warships for joint naval exercises off its coast in February and which coincided with the one-year anniversary of Russia's invasion of Ukraine. South Africa's top army general traveled to Moscow and met with the commander of the Russian ground forces on Monday.
South Africa maintains it also retains a strong relationship with the United States and other Western supporters of Ukraine. Ramaphosa met with U.S. President Joe Biden at the White House late last year.
Zambia also has historical ties with Russia. Uganda is a U.S. ally on regional security in East Africa, but Ugandan President Yoweri Museveni has spoken of his country's friendship with Russia and its neutral position in the war in Ukraine.
Sipho Mantula, an analyst at South Africa's Thabo Mbeki African School of Public and International Affairs, said the neutrality of some of those African countries would help any talks.
"You don't need people who will take sides and become proxy mediators," Mantula said.
Russia and Ukraine are far apart in terms of an agreement to end the war.
The Kremlin wants Kyiv to acknowledge Russia's annexation of the Crimean Peninsula and the Ukrainian provinces of Donetsk, Kherson, Luhansk and Zaporizhzhia, which most nations have denounced as illegal. Ukraine has rejected the demands and ruled out any talks with Russia until its troops pull back from all occupied territories.
Ukraine is determined to recover all Russian-occupied areas.
Zelenskyy's 10-point peace plan also includes a tribunal to prosecute crimes of aggression, which would enable Russia to be held accountable for its invasion. Zelenskyy had private talks with Pope Francis at the Vatican on Saturday, later saying he sought support for Ukraine's peace plan from the pontiff.
China has been the only other country so far offering to mediate possible peace talks, an offer clouded by its show of political support for Moscow.
Beijing released a proposed peace plan in February, and a Chinese envoy is preparing to visit Russia and Ukraine.
But there appeared to be little chance of an imminent breakthrough to end the war since Ukraine and its Western allies largely dismissed the Beijing's proposal.
___
AP correspondent Hanna Arhirova contributed to this story from Kyiv, Ukraine. AP writers Dasha Litvinova in Talinn, Estonia, Rodney Muhumuza in Kampala, Uganda, and Mogomotsi Magome in Johannesburg also contributed.
___
Follow AP's coverage of the war in Ukraine at https://apnews.com/hub/russia-ukraine