Russia arrests Wall Street Journal reporter on spying charge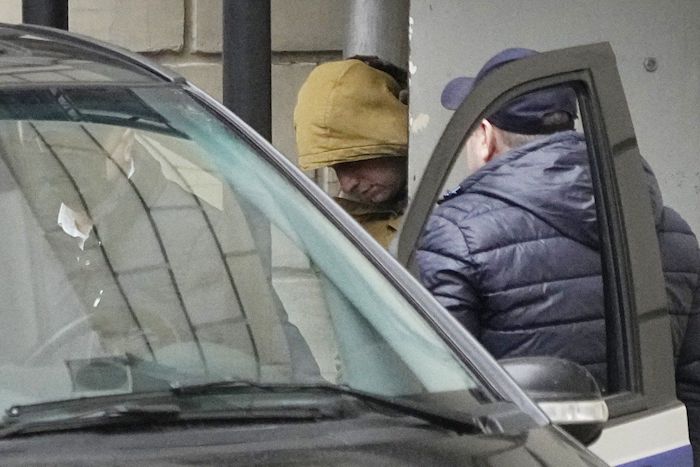 Wall Street Journal reporter Evan Gershkovich is escorted by officers from the Lefortovsky court to a bus, in Moscow, Russia, Thursday, March 30, 2023. Russia's top security agency says an American reporter for the Wall Street Journal has been arrested on espionage charges. The Federal Security Service said Thursday that Evan Gershkovich was detained in the Ural Mountains city of Yekaterinburg while allegedly trying to obtain classified information. (AP Photo/Alexander Zemlianichenko)
Moscow (AP) – Russia's security service arrested an American reporter for The Wall Street Journal on espionage charges, the first time a U.S. correspondent has been detained on spying accusations since the Cold War. The newspaper denied the allegations.
Evan Gershkovich was detained in the Ural Mountains city of Yekaterinburg while allegedly trying to obtain classified information, the Federal Security Service, known by the acronym FSB, said Thursday.
The service, which is the top domestic security agency and main successor to the Soviet-era KGB, alleged that Gershkovich "was acting on the U.S. orders to collect information about the activities of one of the enterprises of the Russian military-industrial complex that constitutes a state secret."
Kremlin spokesman Dmitry Peskov told reporters Wednesday: "It is not about a suspicion, is it about the fact that he was caught red-handed."
"The Wall Street Journal vehemently denies the allegations from the FSB and seeks the immediate release of our trusted and dedicated reporter, Evan Gershkovich," the newspaper said. "We stand in solidarity with Evan and his family."
The arrest comes at a moment of bitter tensions between the West and Moscow over its war in Ukraine and as the Kremlin intensifies a crackdown on opposition activists, independent journalists and civil society groups. The sweeping campaign of repression is unprecedented since the Soviet era.
Earlier this week, a Russian court convicted a father over social media posts critical of the war and sentenced him to two years in prison while his 13-year-old daughter was sent to an orphanage.
Gershkovich is the first American reporter to be arrested on espionage charges in Russia since September 1986, when Nicholas Daniloff, a Moscow correspondent for U.S. News and World Report, was arrested by the KGB. Daniloff was released without charge 20 days later in a swap for an employee of the Soviet Union's United Nations mission who was arrested by the FBI, also on spying charges.
At a hearing Thursday, a Moscow court quickly ruled to keep Gershkovich behind bars pending the investigation, according to the official Telegram channel of the capital's courts.
While previous American detainees have been freed in prisoner swaps, a top Russian official said it was way too early to talk about any such deal.
There was no immediate public comment from Washington, although a U.S. official indicated the U.S. government was aware of the situation and awaiting more information from Russia.
Gershkovich, who covers Russia, Ukraine and other ex-Soviet nations as a correspondent in The Wall Street Journal's Moscow bureau, could face up to 20 years in prison if convicted of espionage. Prominent lawyers noted that past investigations into espionage cases in the past took a year to 18 months during which time he may be held with little contact with the outside world.
The FSB noted that Gershkovich had accreditation from the Russian Foreign Ministry to work as a journalist, but ministry spokeswoman Maria Zakharova said Gershkovich was using his journalistic credentials as a cover for "activities that have nothing to do with journalism."
Gershkovich speaks fluent Russian and had previously worked for the French agency Agence France-Presse and The New York Times. His last report from Moscow, published earlier this week, focused on the Russian economy's slowdown amid Western sanctions imposed when Russian troops invaded Ukraine last year.
Ivan Pavlov, a prominent Russian defense attorney who has worked on many espionage and treason cases, said Gershkovich is the first criminal case on espionage charges against a foreign journalist in post-Soviet Russia.
"That unwritten rule not to touch accredited foreign journalists, has stopped working," said Pavlov, a member of the First Department legal aid group.
Pavlov said the case against Gershkovich was built in order for Russia to have "trump cards" for a future prisoner exchange and will likely be resolved "not by the means of the law, but by political, diplomatic means."
Russian Deputy Foreign Minister Sergei Ryabkov ruled out any quick swap.
"I wouldn't even consider this issue now because people who were previously swapped had already served their sentences," Ryabkov said, according to Russian news agencies.
Ryabkov added that the U.S. citizens swapped in the past were behind bars on "quite serious charges" while the Russians in the American custody had found themselves in "the millstones of the American system of persecution."
Gershkovich's arrest follows a swap in December, in which WNBA star Brittney Griner was freed after 10 months behind bars in exchange for Russian arms dealer Viktor Bout.
Another American, Paul Whelan, a Michigan corporate security executive, has been imprisoned in Russia since December 2018 on espionage charges that his family and the U.S. government have said are baseless.
Jeanne Cavelier, of press freedom group Reporters Without Borders, said Gershkovich's arrest "looks like a retaliation measure of Russia against the United States."
"We are very alarmed because it is probably a way to intimidate all Western journalists that are trying to investigate aspects of the war on the ground in Russia," said Cavelier, head of Eastern Europe and Central Asia desk at the Paris-based group. "The Western powers should immediately ask for clarifications on the charges, because as far as we know he was just doing his job as a journalist."
Russian journalist Dmitry Kolezev said on the messaging app Telegram that he spoke to Gershkovich before his trip to Yekaterinburg.
"He was preparing for the usual, albeit rather dangerous in current conditions, journalist work," Kolezev wrote. He said Gershkovich asked him for the contacts of local journalists and officials in the area as he prepared to arrange interviews.
Another prominent lawyer with the First Department group, Yevgeny Smirnov, said that those arrested on espionage and treason charges are usually held at the FSB's Lefortovo prison in Moscow, known for its stringent conditions. It was Moscow's Lefortovo District Court that ruled behind closed doors to keep Gershkovich in custody.
Smirnov said espionage suspects are usually held in a total isolation, without phone calls, visitors or even access to newspapers. At most, they can receive letters, often delayed by weeks. Smirnov called these conditions "tools of suppression."
Smirnov and Pavlov both said that the investigation could last for 12 to 18 months, and the trial would be held behind closed doors.
According to Pavlov, there have been no acquittals in treason and espionage cases in Russia since 1999.
Most recently, Smirnov and Pavlov defended Ivan Safronov, a former Russian journalist turned an official with the federal space corporation Roscosmos who was convicted of treason.
Europe OKs plan to tally cost of Moscow's war in Ukraine with eye toward future reparations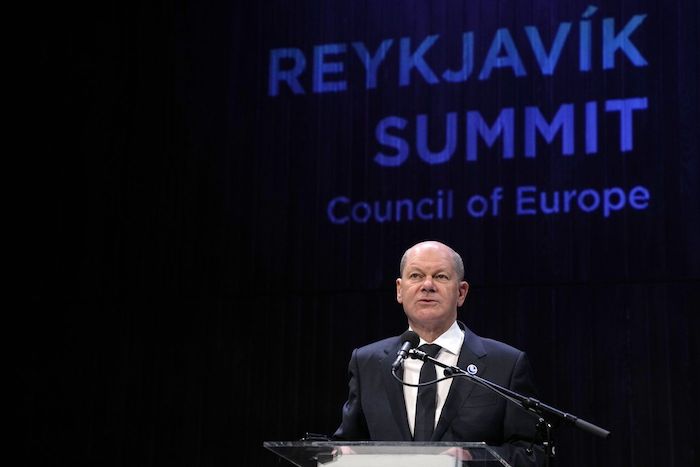 Germany's Chancellor Olaf Scholz speaks during a media conference at the Council of Europe summit in Reykjavik, Iceland, Wednesday, May 17, 2023. Leaders from across Europe were wrapping a two-day summit on Wednesday, putting the final touches on a system to establish the damage Russia is causing during the war in Ukraine, in the hopes it can be forced to compensate victims and help rebuild the nation once the conflict is over. (AP Photo/Alastair Grant)
By Molly Quell in Reykjavik
REYKJAVIK, Iceland (AP) — More than 40 nations agreed Wednesday to set up a system to tally the damage Russia has inflicted on Ukraine in the hope of getting reparations, adding to the international legal challenges the Kremlin is facing.
The register of damages, which will allow Ukrainian victims of war to catalog the harm they have suffered, found a plethora of support among the 46-nation Council of Europe summit in Iceland. Participants also discussed the details of a potential future tribunal where Russia would face charges for waging war.
"This Reykjavik summit shows clearly that Putin has failed with his calculations – he wanted to divide Europe and has achieved the opposite," said German Chancellor Olaf Scholz. "We stand closer together in Europe than ever before."
While leaders were at the waterside venue on the far-flung island nation for two days, the United Nations' top court announced it would hold hearings next month in a case between Russia and Ukraine. Kyiv claims Moscow is discriminating against minority groups in occupied Crimea and is financing terrorism in the region.
But even if Ukraine prevails at The Hague-based International Court of Justice, a ruling wouldn't make whole the millions of Ukrainians whose homes and lives have been torn apart by the conflict.
In theory, victims might have better luck at the Council of Europe's own court, the European Court of Human Rights, where Moscow is facing thousands of complaints of human rights violations, including three brought by Ukraine. The Strasbourg-based court can order countries to pony up restitution, but Russia's neighbor Georgia has been yet unable to collect for damages inflicted by Moscow when it invaded in 2008.
However, Russia was expelled from the council last year, in the wake of the full-scale invasion of Ukraine. And as long ago as 2015, it passed a law allowing it to overrule judgements from the ECHR.
Neither the court, nor the council, now has any channel of communication with the Russian authorities.
The damages register is seen as a first step toward justice in Ukraine. "Accountability is one of the topics that is of crucial importance," Marija Pejcinovic Buric, Secretary General of the Council of Europe, told the AP in an interview.
Compiling a comprehensive register of the destruction may be a first step: it's unclear what else might follow. The Council of Europe has made it clear that it will not assess the credibility of any claims, nor will it fund reparations payments. Those decisions will be left for other potential future institutions to determine.
Little wonder that Ukrainian President Volodymyr Zelenskyy, addressing the summit from Kyiv, reiterated his country's wish for such a court specifically for the prosecution of Russian aggression. In addition to military aid, another conference topic, he said his country needed "100% of justice, as there will be no reliable peace without justice."
While international institutions may be bogged down in overcoming legal hurdles to accountability, a group of squatters in Amsterdam has cut through the red tape – and the locks of the $3.5 million Amsterdam home belonging to one of Russia's sanctioned oligarchs.
A court in the Dutch city ruled on Wednesday that an anarchist group, who took over the Russian tech billionaire Arkady Volozh's house in October, could remain in the five-story, 19th-century mansion so long as they didn't annoy the neighbors.
Putin, Zelenskyy agree to meet with 'African leaders peace mission,' says South Africa president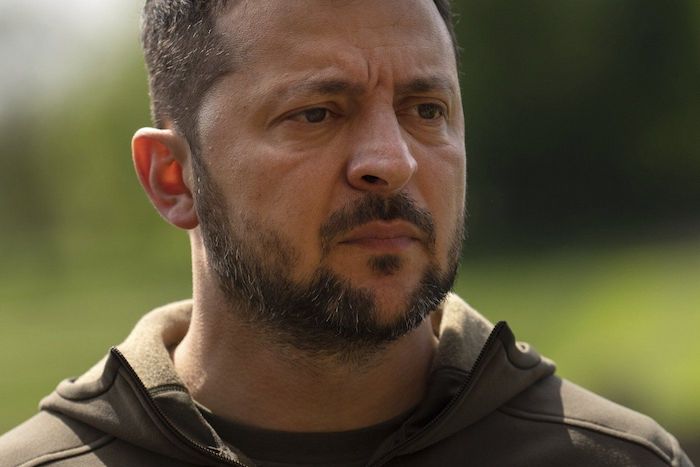 Ukraine's President Volodymyr Zelenskyy listens during a press conference with Britain's Prime Minister Rishi Sunak, in the garden at Chequers, in Aylesbury, England, on May 15, 2023. South African President Cyril Ramaphosa said Tuesday May 16, 2023 that his Russian and Ukrainian counterparts have agreed to separate meetings with a delegation of African heads of state to discuss a possible plan to end the war in Ukraine. (Carl Court/Pool via AP, File)
By Gerald Imray in Cape Town
CAPE TOWN, South Africa (AP) — Russian President Vladimir Putin and Ukrainian President Volodymyr Zelenskyy have agreed to separate meetings with a delegation of leaders from six African countries to discuss a possible plan to end the war in Ukraine, South Africa's president said Tuesday.
South African President Cyril Ramaphosa said he spoke with Putin and Zelenskyy by phone over the weekend and they each agreed to host "an African leaders peace mission" in Moscow and Kyiv, respectively.
"Principal to our discussions are efforts to find a peaceful resolution to the devastating conflict in the Ukraine," Ramaphosa said.
The leaders of Zambia, Senegal, Republic of Congo, Uganda and Egypt would make up the delegation along with Ramaphosa, he said in a statement. Putin and Zelenskyy gave him the go-ahead to "commence the preparations," the South African leader said.
Four of those six African countries — South Africa, Republic of Congo, Senegal and Uganda — abstained from a U.N. vote last year on condemning Russia's invasion. Zambia and Egypt voted in favor of the motion.
Ramaphosa did not give a time frame or outline any parameters for the possible peace talks. Zelenskyy has said he would not consider a peace deal to end the 15-month war until Russian forces withdraw completely from Ukrainian territory.
U.N. Secretary-General António Guterres also was briefed on the African delegation's planned meetings and "welcomed the initiative," Ramaphosa said.
U.N. spokesman Stephane Dujarric confirmed Monday that Ramaphosa spoke to Gutteres Monday afternoon during his visit to Jamaica.
"As we've said before, we are in favor of any initiative that could lead us to a peace in line with the (U.N.) Charter, in line with international law and in line with General Assembly resolutions," Dujarric said.
The announcement of the African-led peace effort came as Russia launched a heavy air attack on Kyiv.
There was no immediate reaction Tuesday from either the Kremlin or Kyiv. A readout from a phone conversation Putin and Ramaphosa had Friday said the Russian leader supported "Cyril Ramaphosa's idea about a group of African leaders participating in the discussion of the prospects of resolving the Ukrainian conflict."
It wasn't clear if that was the phone call Ramaphosa was referring to when he said he spoke with Putin over the weekend.
South Africa's leading position in the African delegation is bound to draw scrutiny. Ramaphosa's announcement came days after the U.S. ambassador accused South Africa of siding with Russia in the war in Ukraine and even providing weapons to help Moscow.
U.S. Ambassador to South Africa Reuben Brigety alleged last week that weapons and ammunition were loaded onto a Russian-flagged cargo ship at a South African naval base in December and taken to Russia. The South African government has denied it sent any weapons to Russia.
Ramaphosa has said the matter is under investigation.
South Africa has claimed its position on the war is neutral. The country has strong historical ties with Russia due to the former Soviet Union's support of South Africa's ruling African National Congress party when it was a liberation movement fighting to end the racist apartheid regime.
South Africa also hosted Russian and Chinese warships for joint naval exercises off its coast in February and which coincided with the one-year anniversary of Russia's invasion of Ukraine. South Africa's top army general traveled to Moscow and met with the commander of the Russian ground forces on Monday.
South Africa maintains it also retains a strong relationship with the United States and other Western supporters of Ukraine. Ramaphosa met with U.S. President Joe Biden at the White House late last year.
Zambia also has historical ties with Russia. Uganda is a U.S. ally on regional security in East Africa, but Ugandan President Yoweri Museveni has spoken of his country's friendship with Russia and its neutral position in the war in Ukraine.
Sipho Mantula, an analyst at South Africa's Thabo Mbeki African School of Public and International Affairs, said the neutrality of some of those African countries would help any talks.
"You don't need people who will take sides and become proxy mediators," Mantula said.
Russia and Ukraine are far apart in terms of an agreement to end the war.
The Kremlin wants Kyiv to acknowledge Russia's annexation of the Crimean Peninsula and the Ukrainian provinces of Donetsk, Kherson, Luhansk and Zaporizhzhia, which most nations have denounced as illegal. Ukraine has rejected the demands and ruled out any talks with Russia until its troops pull back from all occupied territories.
Ukraine is determined to recover all Russian-occupied areas.
Zelenskyy's 10-point peace plan also includes a tribunal to prosecute crimes of aggression, which would enable Russia to be held accountable for its invasion. Zelenskyy had private talks with Pope Francis at the Vatican on Saturday, later saying he sought support for Ukraine's peace plan from the pontiff.
China has been the only other country so far offering to mediate possible peace talks, an offer clouded by its show of political support for Moscow.
Beijing released a proposed peace plan in February, and a Chinese envoy is preparing to visit Russia and Ukraine.
But there appeared to be little chance of an imminent breakthrough to end the war since Ukraine and its Western allies largely dismissed the Beijing's proposal.
___
AP correspondent Hanna Arhirova contributed to this story from Kyiv, Ukraine. AP writers Dasha Litvinova in Talinn, Estonia, Rodney Muhumuza in Kampala, Uganda, and Mogomotsi Magome in Johannesburg also contributed.
___
Follow AP's coverage of the war in Ukraine at https://apnews.com/hub/russia-ukraine