Russell was a champion of activism before winning NBA titles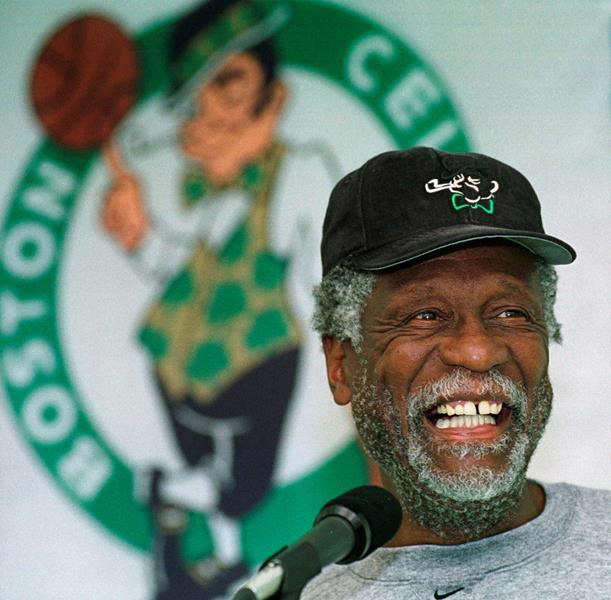 By Kyle Hightower in Boston
BOSTON (AP) — Bill Russell never had to find his voice as an activist. He didn't know any other way but to speak his mind.
It's what made the winningest athlete in team sports one of the greatest champions of activism. His belief in equality and the stances he took helped create a pathway that athletes today continue to walk in.
Len Elmore, who played 10 seasons in the NBA and is a senior lecturer at Columbia University where he's taught on athlete activism and social justice in sports, called Russell's social contributions "immortal."
"He showed many of us in the game how to be," Elmore said.
Before Russell, who died Sunday at age 88, developed the skills that would make him an 11-time NBA champion with the Boston Celtics, two-time Hall of Famer and an Olympic gold medalist, he had a front row view of the racial indignities endured by his parents as he grew up in segregated Monroe, Louisiana.
In a time when Jim Crow laws in the South existed to silence the views of Black people, he was groomed to be an unapologetic thinker.
"I have never worked to be well-liked or well-loved, but only to be respected," Russell wrote in his 1966 book "Go Up For Glory." "I believe I can contribute something far more important than mere basketball."
That conviction was rooted in what he observed as a child in the late 1930s and early 1940s in Louisiana, where his father, Charles, worked at a paper bag company.
Russell was with him at a gas station one day when the attendant ignored them as he talked to a white man and then proceeded to provide service to other cars that had arrived after them.
Charles was about to drive off when the attendant pulled a gun and said, "Don't you try that, boy, unless you want to get shot," Russell recalled in his book.
His father responded by grabbing a tire iron and chasing the man away.
Decades before Colin Kaepernick's national anthem demonstrations to raise awareness about police brutality, or the collective sports world advocating for justice following the 2020 death of George Floyd and others, Russell used his platform to hasten civil rights.
It's why when Russell later faced his own forms of discrimination decades later, he didn't hesitate to challenge the status quo.
One of the first examples was 1961 when the Celtics were in Lexington, Kentucky for an exhibition game.
The team was in their hotel when teammates Sam Jones asked Satch Sanders to go to the lobby to get some food. They were refused service.
Later they were met by Russell and K.C. Jones. After Sam told them what had happened, Russell suggested none of the Black players should participate in the game and informed Celtics coach Red Auerbach.
The game would be called off after two more players from the St. Louis Hawks joined the protest.
When former President Barack Obama presented Russell with the Presidential Medial of Freedom in 2011, he called it an example of how he "stood up for rights and dignity of all men."
Russell didn't just risk sullying his reputation, he put his life at risk in the wake of the 1963 assassination of civil rights activist Medgar Evers in Jackson, Mississippi. Just days after Evers was slain, Russell reached out to the leader's brother, Charles Evers. He wanted to inquire about what he could do to help.
Charles Evers asked him if he'd be willing to visit the state and stage its first integrated basketball camp. It was a huge ask considering the very real peril Russell would be putting himself in by visiting a city riddled members of the Ku Klux Klan. Still, Russell accepted the invitation.
"I didn't want to go to Mississippi. I was like anyone else. I was afraid I might get killed," Russell would later write. "My wife asked me not to go. Some friends said the same thing. A man must do what he thinks is right. I called Eastern Airlines and ordered my ticket."
Despite coming off his third MVP award and fifth NBA title, Russell said "without hesitation" he'd have left the Celtics that season if his continued presence in Mississippi or anywhere else could have advanced civil rights push.
"If my popularity depends on a thing like this, I don't give a damn," he said at the time.
A star of Russell's stature to show a willingness to put his convictions ahead of his athletic career put him in a small group during that time like Muhammad Ali, Lew Alcindor (now Kareem Abdul-Jabbar) and Jim Brown.
And it was Russell, Alcindor and Brown sitting beside Ali in Cleveland in 1967 when the boxer announced he was refusing induction into the U.S. military to fight in the Vietnam War.
Current Celtics star Jaylen Brown, one of several young NBA players who have used their own platforms to raise awareness and engage in social justice protests, said it was Russell who first taught him "it is OK to be more than just a basketball player."
It echoed what Russell wrote in 1966 about how he wished to be remembered.
"In the end, I live with the hopes that when I die it will be inscribed for me: Bill Russell. He was a man."
___
More AP NBA: https://apnews.com/hub/NBA and https://twitter.com/AP_Sports
Captain Atiba Hutchinson set to mark 100th appearance for Canada against Croatia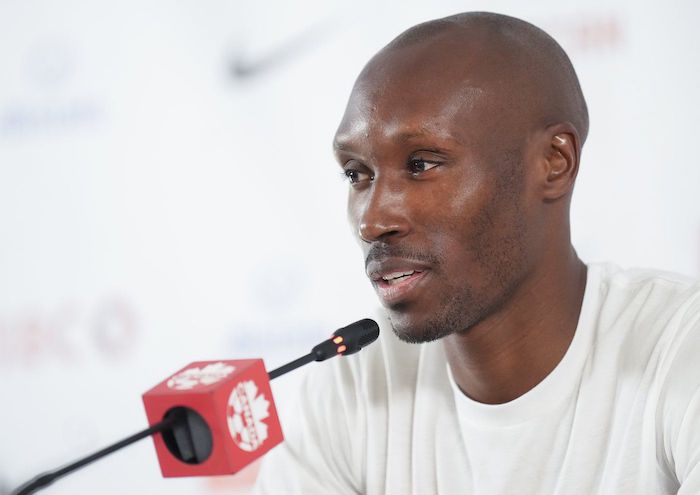 By Neil Davidson in Doha
Spare a moment for captain Atiba Hutchinson on Sunday when Canada takes on Croatia at the World Cup.
Nineteen years after pulling on the Canadian jersey for the first time at the senior level, the 39-year-old from Brampton, Ont., is in line to win his 100th cap, adding to his men's national team record.
That's 19 years of hard graft and criss-crossing the globe. Leaving the family. Turning out for his country when it ranked 122nd in the world, sandwiched between Niger and Liberia (in October 2014).
Hutchinson has done it with grace and style.
"He's been someone that's been with this program through thick and thin. He's been here through a lot of really tough times and he keeps coming back," said Canadian defender Alistair Johnston.
"He's a role model," added winger Tajon Buchanan. "He's been doing it for a very long time. He's been through it all, the highs and lows."
If anyone makes a fuss over the 100-cap milestone, it won't be Hutchinson. The veteran midfielder is a serene presence, comfortable in his own skin.
But he casts a big shadow.
"He's got such a presence to him and an aura," said Johnston. "If you're lucky enough to ever be around him, when he walks into a room, he's got a smile that lights up the room. You can just sense that the temperature changes."
At 24, Johnston is 15 years younger than his skipper.
Alphonso Davies was two when Hutchinson made his debut in January 2003 against the U.S. Midfielder Ismael Kone was six months old.
They are not alone. Hutchinson is the oldest outfield player at the World Cup and in taking the field against Belgium, at 39 years 288 days, became the second-oldest outfield player to make an appearance in the World Cup behind Cameroon's Roger Milla (42 years 39 days).
"He's just a really special man," Canada coach John Herdman said on the eve of Sunday's game. "I think all of us are in a moment where we'll be doing this as much for Atiba as we are to get our three points. He's a legend.
"I've had the privilege of being with (Canada women's captain Christine) Sinclair in key moments and now Atiba Hutchinson. And these are the moments you work hard to be part of. We'll do everything we can to give him a great day."
In recent years, Hutchinson's participation has been restricted to Canada games that matter.
Since September 2015, he has played for Canada 30 times. During that stretch he featured in 19 World Cup qualifiers, plus the World Cup opener against Belgium, five Nations League games, three Gold Cup outings and just two friendlies.
Injuries have played a part in that. But Hutchinson, who captains Besiktas in Turkey, is a valuable resource, not to be wasted.
There's more to the six foot one Hutchinson than meets the eyes on the pitch, with a pair of spindly pipe-cleaner legs deceiving at first notice.
Besiktas fans call him the Octopus for his long legs and reach. He's hard to dispossess with the ball and tough to fend off when he's looking for it.
Those in the know have always valued Hutchinson.
"Atiba is our best player," then-Canadian coach Benito Floro said in 2014. "He is the best player in Besiktas."
That same year, then-Arsenal manager Arsene Wenger singled out the Canadian after the Gunners beat Besiktas in a Champions League playoff.
"The best player on Besiktas?" Wenger said during the post-game news conference. "I was impressed by Hutchinson."
Former Canada coach Holger Osieck saw Hutchinson's potential at the CONCACAF under-20 championship back in 2002.
"I am actually convinced — and you know that I'm always pretty cautious in my predictions — that he has the tools to play first division football in Europe," said Osieck.
Hutchinson built his career carefully, starting in Scandinavia with Osters and Helsingborg in Sweden and FC Copenhagen in Denmark. Rather than moving to a big league or club where he might languish on the bench, Hutchinson moved to clubs that would use him.
"That helped me a lot, just learning the game really, playing with the first team and getting a lot of games," he told The Canadian Press in 2014. "I kind of look at it like climbing the ladder. That's exactly what I did. Every club I went to was a bit bigger and better than the previous club."
Hutchinson's next move was to the Netherlands and PSV Eindhoven in 2010, a stint that was interrupted by three surgeries to his left knee.
When his contract ran out, he hoped a move to England might follow. What nothing suitable came up, he asked his agent to look at Turkey after hearing positive reports from teammates who had played there.
"They only had good things to say," he said. "Especially about Istanbul."
Hutchinson now calls it home, with his wife and three boys.
The fans are more than passionate, backing the team wherever it plays.
"The support is amazing," Hutchinson said in the 2014 interview. "Even just being out on the streets, the way that they recognize you everywhere you go and the love that they give you. It's really amazing."
Hutchinson is beloved by his Canadian teammates, who value his experience, exploits and manner.
"An unbelievably kind guy," said Johnston. "And it's really special, especially being a young guy, coming into that group where you can be a little star-struck potentially seeing him.
"He's one of the first ones to break down those barriers. He brings over all the young guys, makes it very obvious and well-known that you can talk to him about anything, not just football. And that's one of the best parts about him. He's just a great human being. He's the ultimate representation of what it is to be Canadian and he's a perfect leader of this group.
"He's the main driving reason why this group's done something that's been so special over the past couple of years."
Hutchinson's journey to the World Cup this year was interrupted by a bone bruise sustained in the pre-season with Besiktas. He didn't see action until Nov. 9 when he started a Turkish Cup game, his first outing since June. Eight days later he started for Canada in a 2-1 win over Japan in a World Cup warmup.
Herdman, who said his captain was "brilliant" in the final tournament tuneup, has a good handle on Hutchinson.
"We've had conversations about where there was a decay physically and when that was impacting his mindset," he said before Canada's opener against Belgium. "And at that point that's where I've got to know enough's enough for him.
"He's got to be used with real precision, I think, in this World Cup. So there's a point where he can still compete. But if you know Atiba, once mentally he feels the body's giving up, there's a moment where we've got to be ready to change him."
But Herdman, who is Hutchinson's 10th Canadian manager, liked what he has seen of his captain in Doha.
"He's in a good place."
—
Follow @NeilMDavidson on Twitter
This report by The Canadian Press was first published Nov. 26, 2022.
Croatia coach sends Canada a stern message ahead of World Cup showdown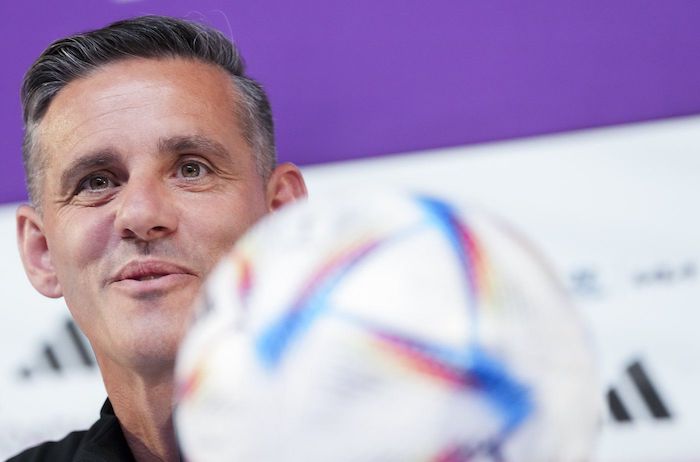 By Neil Davidson in Doha
Croatia coach Zlatko Dalic sent Canada a message Saturday at the World Cup. And he didn't need the F-word to deliver it.
Dalic offered up a stern statement when asked about John Herdman's emotional words after Canada's 1-0 loss to Belgium on Wednesday.
Asked in a pitchside interview what he had said to his team in a post-game huddle, the Canada coach replied: "I told them they belong here and we're going to go and eff— Croatia. That's as simple as it gets."
While Herdman delivered the last line with a smile, Dalic clearly did not see the humour.
When a Canadian reporter at Saturday's pre-game news conference asked Dalic for his team's response to Herdman's heat, the Croatia coach lectured his opposition ahead of Sunday's showdown at Khlalifa International Stadium.
Dalic used the word "respect" 12 times in his answer.
"The Croatian team deserves respect from everyone … We respect everyone, equally so," he said through an interpreter. "We expect our opposing teams to respect us. We are worthy of their respect. The Canadians must also have respect for us. This way of putting words together is not a sign of respect. We are the (2018 World Cup runners-up), not Brazil, Spain or other countries."
"I shall not focus or comment on any other people's comments," he added. "We will be prepared (Sunday), we will be fit and we will demonstrate respect for Canada … and for everyone else. We expect respect just as we exercise this view"
Croatian forward Ivan Perisic then backed up his coach, saying simply: "I second the head coach and I cannot wait for the match to begin."
Sunday may prove otherwise but it seems, motivationally speaking, Canada has taken a knife to a gunfight.
Both the 41st-ranked Canadians and No. 12 Croatia need to get points out of the match. Belgium tops Group F with three points while Croatia and Morocco both have one point after their scoreless draw.
Canada needs to secure at least a point if it hopes to have any chance of reaching the knockout round. A loss Sunday and the Canadians can finish with no more than three points while Croatia ups its total to four. And no matter what happens in Sunday's match between No. 2 Belgium and No. 22 Morocco, one of those teams will have at least four points.
With only two teams advancing out of the group, that would render Canada's final group game next Thursday with Morocco meaningless in terms of tournament progression.
"At the end of the day, both teams really have to win this game," said Herdman.
Croatian reporters didn't bother engaging Zlatko on Herdman's inflammatory words. They had already done so, with tabloids back home having a field day.
In contrast, three of the first four questions in Herdman's availability were about his post-game hot take. Another came later.
The Canada coach, who had already addressed the issue on Thursday, tried to laugh off the reaction he had sparked in the Croatia camp.
He insisted he was on task "and loving the experience." And he rejected the assertion that his words were just another motivational tool.
"We've been waiting 36 years to get here. I've used all my motivation tactics in the 20-odd games it took to get here," he said in self-deprecating fashion.
But he maintained his words to his players in the post-game huddle after Belgium were simply "to remind them that there's another task ahead."
And he was quick to compliment Croatia, calling it a "top top top top football team."
"(A) hell of a test. Hell of a test for this team," he added. "But we're excited."
Herdman called Sunday's match a "defining moment for Canada in this World Cup. It's one of those do-or-die games now that we have to be perform in to stay at a World Cup."
Dalic, meanwhile, called Canada "a tough team full of self-confidence."
The two sides have never met before.
The Croatian roster features the likes of Luka Modric (Real Madrid), Perisic (Tottenham), Marcelo Brozovic (Inter Milan), Mateo Kovacic (Chelsea) and Mario Pasalic (Atalanta). Only six of its 26-man roster play at home in Croatia, with four of those at Dinamo Zagreb.
Despite that talent, Croatia had its hands full with No. 22 Morocco in its tournament opener, playing to a scoreless draw in a game that saw each team put just two shots on target.
Croatia goes into Sunday's match riding a seven-game unbeaten streak (5-0-2) dating back to a 3-0 loss to Austria in June in UEFA Nations League play. Croatia avenged that defeat with a 3-1 decision over the Austrians in September.
Croatia has outscored the opposition 9-3 over that run, which includes a win and tie against No. 4 France.
"With all due respect to Croatia, they have a very very good team. It's going to be tough for us," said Canadian midfielder Stephen Eustaquio. "But it's going to be tough for them as well."
The Canadians, who blamed traffic for showing up 41 minutes late for their news conference before the Belgium game, arrived two minutes early Saturday.
—
Follow @NeilMDavidson on Twitter
This report by The Canadian Press was first published Nov. 26, 2022.