Ritchie, Rehkopf lift White to win in CHL's top prospects game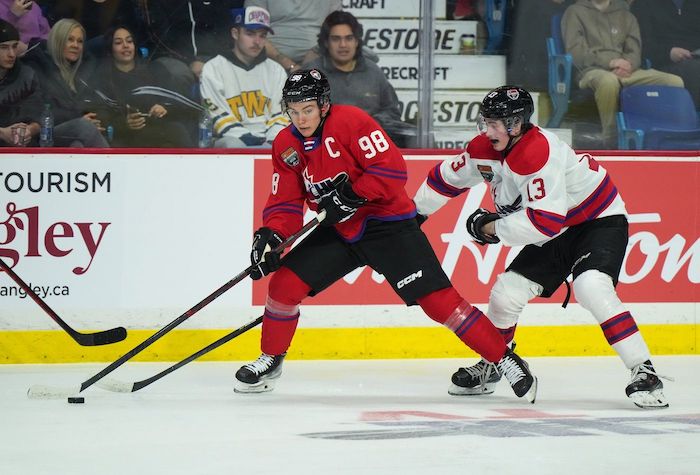 Kalan Lind (in white) of the Red Deer Rebels checks Connor Bedard (in red) of the Regina Pats
By Gemma Karstens-Smith in Langley
Carson Rehkopft had a goal and an assist and Team White took a 4-2 win over Team Red at the Kubota CHL/NHL top prospects game in Langley, B.C.
Callum Ritchie (Ontario Hockey League's Oshawa Generals) scored into an empty net and contributed a helper, while Colby Barlow (OHL's Owen Sound Attack) and Luca Pinelli (OHL's Ottawa 67's) also scored for White in the annual showcase of 40 of the Canadian Hockey League's top draft-eligible talents.
The game was played at Langley Events Centre, which is the home of the Western Hockey League's Vancouver Giants.
Red's goals came from Mathieu Cataford (Quebec Major Junior Hockey League's Halifax Mooseheads) early in the first period and Zach Benson (WHL's Winnipeg ICE) with 36 seconds left on the clock.
White's Scott Ratzlaff (WHL's Seattle Thunderbirds) made 24 saves before being replaced by Jackson Unger (WHL's Moose Jaw Warriors) midway through the second period. Unger stopped 21 shots in relief.
Carson Bjarnson (WHL's Brandon Wheat Kings) started for Red before coming off halfway through the game. Charlie Robertson (OHL's North Bay Battalion) took over in net and stopped 11-of-13 shots.
In a surprising turn, Red captain Connor Bedard was held off the scoresheet. The 17-year-old star centre of the Regina Pats leads the WHL in points and is widely expected to go first overall at the NHL Entry Draft this summer.
Benson bit into White's lead 19:24 into the game, blasting a shot past Unger.
Red pulled Robertson with 3:52 left on the clock in favour of an extra attacker and moments later Ritchie guided Rehkopf's shot into the yawning net to make it 4-1.
Bedard appeared to get in the middle of the White celebration and was mobbed by his opponents, with fists flying.
Bedard was sent to the box for cross-checking.
Nate Danielson (Wheat Kings) set up White's final goal midway through the third period, digging a puck out of the corner and tossed it to the slot, where Pinelli ripped a shot past the Red goalie to put his side up 3-1.
Rehkopf (OHL's Kitchener Rangers) gave White the lead 3:53 into the final frame, streaking into Red territory through a pair of defenders and snapping a shot past Robertson.
Tempers flared just 29 seconds into the third when White's Kalan Lind (WHL's Red Deer Rebels) and Red's Alex Pharand (OHL's Sudbury Wolves) dropped the gloves. The pair exchanged blows over several moments before being separated by officials and sent to the box with fighting majors.
White nearly took the lead 14:32 into the second but a blistering shot from Brayden Yager (Moose Jaw Warriors) clanked off the post.
Earlier in the period, Red's Riley Heidt (WHL's Prince George Cougars) went for a highlight reel play, taking the puck around the back of the net and lifting it up on his stick in an attempt at "the Michigan." Ratzlaf kept tight to his post, however, and the ensuing shot bounced off the goalie's shoulder.
Barlow drew Team White even with a power-play goal 6:25 into the game after Red's Coulson Pitre was sent to the box for holding.
Bjarnson stopped Barlow's initial attempt but the rebound popped out to the left-winger and he fired another shot in over the goalie's shoulder to tie the game 1-1.
Cataford opened the scoring for Red 3:22 into the opening frame. The centre unleashed a backhanded shot from the middle of the slot that snuck through traffic and past Ratzlaf stick side.
A strange moment before puck drop drew gasps from the crowd at the Langley Events Centre.
Team White was first to hit the ice and as they sprinted out of the tunnel, Dylan MacKinnon (Halifax Mooseheads) and Ethan Gauthier (QMJHL's Sherbrooke Phoenix) tripped over a dark carpet stationed over a dark logo at centre ice and went flying face first down the rink. Teammate Callum Ritchie (OHL's Oshawa Generals) followed suit moments later.
All three quickly bounced up, apparently uninjured, and went on to play the game.
This report by The Canadian Press was first published Jan. 25, 2023.
Hockey Tolerance Is A Two-Way Street, Not A One-Way Road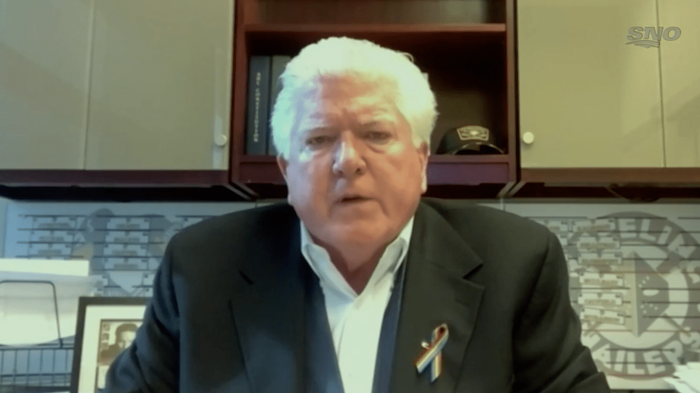 The problem with liberal tolerance in Canada is that it's not particularly liberal and it's certainly not tolerant. For instance, the "everyone must wear an LGBTQ-2 jersey" controversy we highlighted last week. The reverberations from goalie James Reimer declining to wear a San Jose Sharks rainbow jersey have continued all week.
It seems to have escaped many people's tolerance that refusing to march in a parade does not mean you hate the people in the parade. It is to say that you have a different opinion. One your employer can't compel you to abandon. An opinion guaranteed to you by generations of free speech and religious freedom.
It is why we have halal and kosher foods. Live and let live. But the hysteria is not stopping with Reimer. The radical blood hounds have tracked down new targets to mount on their gibbet of 100 percent conformity to Woke causes.
The latest NHLers caught up in this fundamental failure to communicate are the Staal brothers in Florida who followed Reimer's path to say that they haven't and won't wear symbols with which they disagree. Immediately the SJW sports media attacked them. When they said they wouldn't Pride jerseys it was shown by the gotchas ' that they had worn subtle LGBTQ jerseys in the past. As if this makes them hypocrites.
My friend Mark Hebscher asked if the NHL should suspend them. Really? What would Mark say if Edmonton's Zach Hyman, a Jew, declined to wear Muslim symbols on an Islamic Pride night? Would Mark demand Hyman be suspended?
What would he say if secular players in the league declined to wear the cross on their jersey for a Christian appreciation night? Should they be punished as haters? What if a pro sports team has a Mormon appreciation night. Does refusing to wear an LDS badge make people haters?
Of course these examples are moot. There are no progressive DEI laurels for creating political trip wires over Muslims or secularists to advance Woke influence. The only targets that matter here are conservative whites. Sports teams these days would only entertain the most provocative causes to create "a crisis that shouldn't go to waste" (in the words of Saul Alinsky in his Rules for Radicals).
So Brian Burke was imported by Rogers Hockey Night in Canada on Saturday to further whip the herd into 100-percent compliance on Pride jerseys— and to push Rogers corporate bonafides as a Woke organization. Burke has become a fervent LGBTQ-2 spokesman since his son Brendan came out (and was tragically killed in a car crash). Good on him as a parent.
But he's also a high-profile NHL figure, who was, in a major way, responsible for perpetuating the "boys-only" culture in the sport when he handled NHL discipline. He was his usual truculent self on HNIC as he conflated free speech with prejudice. He saw no room for tolerance on anything but the Pride agenda, insisting against all evidence that wearing the Pride jersey isn't a political statement. "I was born and raised a Catholic, I don't see any conflict between my religious beliefs and my ability to say to the LGBTQ+ community 'you're welcome here."
That's not what he's saying, but play along. Host Ron Maclean— with whom we have had our disagreements in the past— did his job, gamely asking why wasn't there a middle ground between hating and enforced 100 percent compliance to the cause? Burke shooed him away.
Naturally, radical social-media trolls pounced, asking for Maclean's scalp for doing his job. There can be no exceptions! Reason is not a long suit for these Maoist shills. They want to be in Pol Pot's Cambodia while their fellow citizens would prefer to remain in what used to be Canada before Justin Trudeau turned it into a postmodern state that stands for everything— and nothing.
The point that needs debate on HNIC is whether a few rich hockey players, who make so much money that they don't have to give a flip, are going to make the league more inclusive by wearing a Pride jersey for one night. Likely not.
As we've contended over decades, the key to acceptance of gays in hockey will be the coming-out of a prominent NHL star(s). They are out there. It wasn't high rhetoric from Brooklyn Dodgers GM Branch Rickey that changed the colour line in baseball. It was Jackie Robinson's forbearance. It wasn't slogans that slowly changed the skin colour of golf. It was Tiger Woods' utter dominance.
It was also the hyper-macho world that Brian Burke nurtured through the years before his son came out — not colourful jerseys— that has repressed gay participation in the NHL. The weeding-out of gay youth in the development process comes from the grass roots. (To his credit a penitent Burke now owns some of this.)
While it is commendable that Burke now supports his son's memory, flailing Christians for refusing to wear Pride jerseys is not the way to achieve understanding. Worshipping symbols is a divisive, not a unifying action that plays into the hands of forces Burke clearly does not acknowledge or understand. Radicals who use terms like white settler and cis-gender-entitlement to baffle the vulnerable. And who will discard him when he's no longer of use to them.
Those would be the people who applaud the current PM and his caucus for having equal numbers of women in their ranks— the same PM who fired his prominent female/ indigenous justice minister for insubordination when the RCMP dug too deep. And the same "feminist" women MPs who stood by silently as Trudeau publicly destroyed one of their own to save himself from RCMP scrutiny. Those are the cowards who back the destruction of free speech.
Churchill was prescient about appeasing today's virtue warriors when he long ago said that appeasers "are like people who feed the crocodile in hopes that the crocodile eats them last." Chomp.Chomp. Their day is coming.
Sign up today for Not The Public Broadcaster newsletters. Hot takes/ cool slants on sports and current affairs. Have the latest columns delivered to your mail box. Tell your friends to join, too. Always provocative, always independent. https://share.hsforms.com/16edbhhC3TTKg6jAaRyP7rActsj5
Bruce Dowbiggin @dowbboy is the editor of Not The Public Broadcaster A two-time winner of the Gemini Award as Canada's top television sports broadcaster, he's a regular contributor to Sirius XM Canada Talks Ch. 167. Inexact Science: The Six Most Compelling Draft Years In NHL History, his new book with his son Evan, was voted the seventh-best professional hockey book of all time by bookauthority.org . His 2004 book Money Players was voted sixth best on the same list, and is available via http://brucedowbigginbooks.ca/book-personalaccount.aspx
Roy scores OT winner as Golden Knights tip Oilers 4-3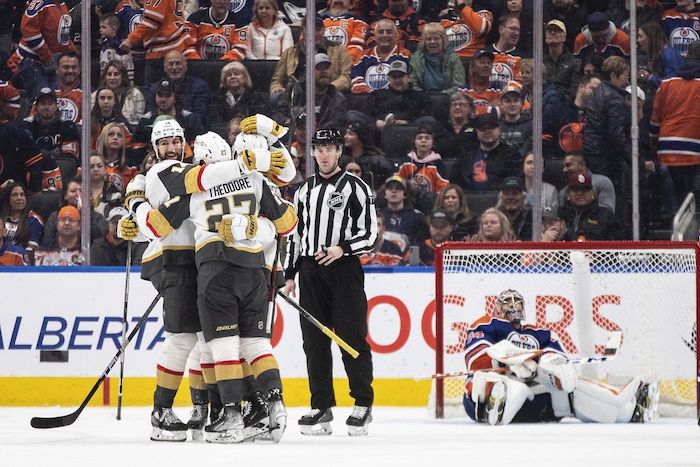 Vegas Golden Knights celebrate the winning goal on Edmonton Oilers goalie Stuart Skinner (74) during overtime NHL action in Edmonton on Saturday March 25, 2023.THE CANADIAN PRESS/Jason Franson
By Shane Jones in Edmonton
The Vegas Golden Knights made sure to keep the Edmonton Oilers at arm's length in the Pacific Division race.
Nicolas Roy scored the overtime winner and Jack Eichel had a goal and two assists as the Golden Knights won their fourth consecutive game, knocking off the Oilers 4-3 on Saturday night to give themselves a seven-point cushion atop the Pacific Division standings over third-place Edmonton with nine games to play.
Roy was left alone in front of the Edmonton net and deposited his own rebound past Oilers goalie Stuart Skinner 2:26 into OT.
"It's a big win, big road trip," said Knights defenceman Brayden McNabb. "They were sneaking up on us and we were able to get an extra point out of this game.
"We have that next-man-up mentality, it's been that way all year. We've had injuries throughout the year, the guys are prepared, we have great depth, we have great goaltending and it showed tonight. It felt a little bit like a playoff game, for sure."
Pavel Dorofeyev and Jonathan Marchessault also scored for the Knights (46-21-6) who have won eight of their last nine and sport a league-best 17-3-2 record since the NHL All-Star break.
"Gutsy win for us, it's a divisional game and I thought we played well," Eichel said. "It's a really good team over there, they generate a lot of offence and I thought we did a really good job limiting them."
Zach Hyman, Leon Draisaitl and Warren Foegele replied for the Oilers (41-23-9) who had a five-game winning streak snapped.
"It was a tight game. It was what you expect in the playoffs," Draisaitl said. "It is obviously a team that we could face. I think we know how to handle these types of games. Obviously tonight didn't go our way, but we will take the point."
Vegas scored on the first shot of the game 61 seconds in as Eichel took a feed on a two-on-one from Ivan Barbashev and beat the Oilers' starter stick-side for his 27th goal of the season.
Not to be outdone, the Oilers also scored on their first shot on Knights goalie Laurent Brossoit 3:28 into the opening frame, as Draisaitl put it right on the tape of Zach Hyman's stick in front of the net and he redirected in his 31st. Draisaitl set a new career high for points on the play, hitting 111 after capping out at 110 points two previous seasons.
The Golden Knights regained the lead on the power play with 3:33 to play in the first period when the puck came to Dorofeyev on a broken play and he wired home his fifth of the campaign to the top right corner.
Edmonton's lethal power play allowed them to knot the game up midway through the middle period as Connor McDavid sent it to Draisaitl in the slot and he took it on the backhand before spinning around and scoring his 45th goal of the season. It was also Draisaitl's 28th power-play goal, the most by any player in a season since Mario Lemieux in 1995-1996.
Vegas found another gear to start the third and went ahead 3-2 almost seven minutes into the final frame as Eichel dropped a pass back in the lane to Marchessault, who beat Skinner with a one-timer.
Brossoit followed that up with a massive save on Mattias Ekholm.
Edmonton tied the game once again with 8:41 to play in the third as Foegele tied his career high by scoring his 13th on a long wrist shot to eventually send the game to extra time.
"It's disappointing we didn't get the two points," said Oilers head coach Jay Woodcroft. "Some of the goals we gave up were preventable. We're going to take the lessons from tonight and learn from it."
NOTES
Edmonton won both previous meetings between the two teams this season, both by 4-3 scores. … Vegas was missing a bunch of bodies in Mark Stone (back), William Carrier (lower body), Adin Hill (lower body), Logan Thompson (undisclosed), Reilly Smith (lower body) and Alec Martinez (personal). As a result, defenceman Ben Hutton returned to the lineup after being a healthy scratch the past 21 games. Forward Keegan Kolesar also returned after missing six games with an upper-body injury. In net, Brossoit made his first start since Feb. 25. … Edmonton was without the services of Ryan Murray (back) and Ryan McLeod (upper body). … The Golden Knights and Oilers both boast 11 skaters with 10-plus goals — tied for second in the NHL in that category. … Oilers defender Cody Ceci played in his 700th career NHL game.
UP NEXT
The Knights are off until Tuesday, when they will play the Oilers in a rematch in Vegas.
The Oilers make a quick trip to Arizona to face the Coyotes on Monday before playing the Knights on Tuesday in the final regular-season matchup between the two teams.
This report by The Canadian Press was first published March 25, 2023.