'Risky gamble:' NDP urges Alberta government to end fixation with pulling out of CPP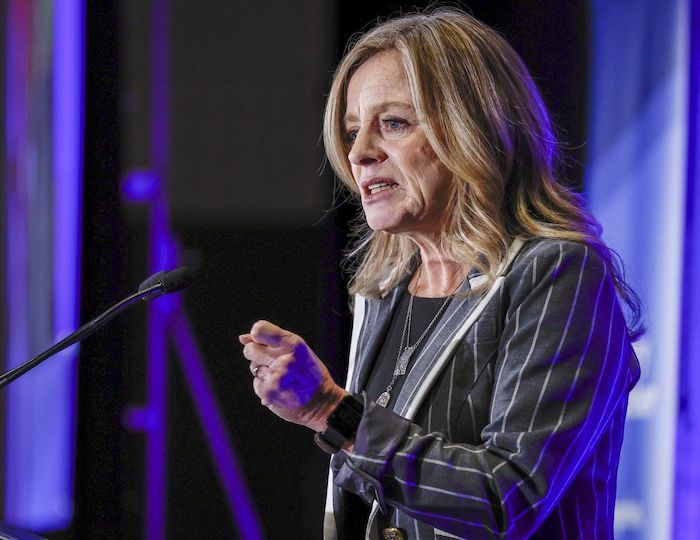 By Dean Bennett in Edmonton
Alberta's Opposition leader says Premier Danielle Smith's government needs to end its fixation with pulling the province out of the Canada Pension Plan.
NDP Leader Rachel Notley says her party would not pursue an Alberta Pension Plan, which the United Conservative government has been studying for almost three years without resolution.
Notley says the idea does not make economic sense and is opposed by a majority of Albertans, adding the government needs to release its long-promised report into the pros and cons of Alberta going it alone on pensions.
"We are very concerned that this UCP government is sitting on a self-interested report that they are hiding from Albertans because they don't want this to be an election issue, but they still plan to go ahead with it should they get elected," Notley told reporters Thursday.
"If this UCP government is continuing to toy with this risky gamble to undermine the security of Albertans' pensions, then they have an obligation to come clean on that."
Alberta voters head to the polls May 29.
Smith's office said work continues on a third-party analysis of an Alberta pension plan.
"While the initial analysis looks favourable, the Office of the Chief Actuary of Canada recently tabled updated asset figures for the CPP, and the third-party expert authoring the report requires additional time to update its findings," spokeswoman Becca Polak said in a statement.
"When the expert informs us the final report is ready, it will be released publicly thereafter."
Polak stressed the report would only be the first step and Albertans would have the final say.
"The government of Alberta will not replace the CPP with an Alberta Pension Plan unless Albertans first vote to do so in a provincewide referendum," she said. "It's Albertans' pension — it must be Albertans' choice."
The report stems from a May 2020 Fair Deal panel report urging Alberta explore the idea as a way to help assert itself more within Confederation.
The panel reported that given Alberta's young population, a separate pension plan could be a multibillion-dollar net benefit. The panel recommended the idea be explored even though 42 per cent of the respondents in its survey thought it was a good idea.
In response, then-premier Jason Kenney ordered a review into the feasibility of such a plan. In March 2021, Kenney said work on the report was almost done and his government was just weeks away from announcing next steps.
Smith, taking over from Kenney in October, asked Toews to continue with the pension report. In December she said she hoped a referendum might be possible with the May election, but has since said that likely won't happen.
She has said Albertans are over-contributers to CPP and need to explore an alternative that could leave more money in the hands of Alberta seniors.
The Alberta pension plan is among a suite of measures being explored by Smith's government as a way to carve out more independence for Alberta within Confederation.
The province is also researching its own provincial police force to replace the RCMP and tax revenue collecting agency.
In December, the Alberta Chambers of Commerce conducted a survey that suggested a majority of business owners believe leaving CPP for an Alberta plan would disadvantage them over the next three to five years.
This report by The Canadian Press was first published Feb. 2, 2023
Police investigating how shooter got firearm after autopsy and balistic analysis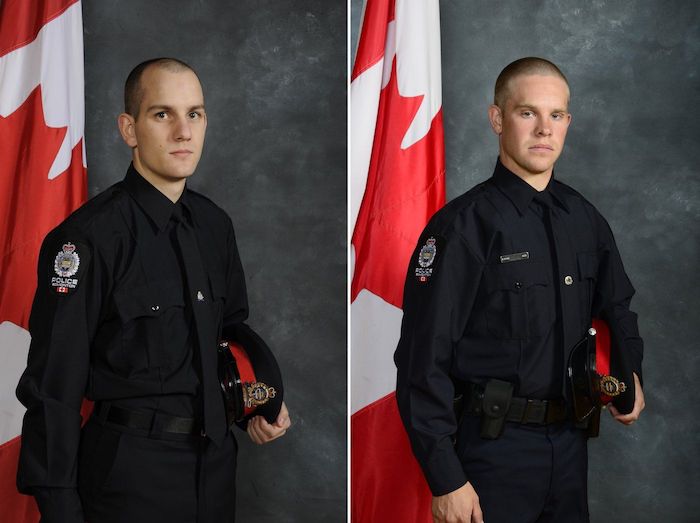 News release from the Edmonton Police Service
Autopsy on shooter, ballistic analysis complete in line of duty deaths
An autopsy on the shooter and ballistic analysis of the firearm have been completed in the Mar. 16, 2023 EPS line of duty deaths.
The Edmonton Medical Examiner conducted an autopsy on Mar. 22, 2023, and confirmed that the 16-year-old male shooter's cause of death was a single gunshot wound to the head consistent with being self-inflicted.
"We recognize that there is intense public interest in this investigation," says EPS Deputy Chief Devin Laforce. "At this time, our priorities need to be the integrity of ongoing investigations, including the origin of the firearm, as well as the safety and privacy of all the families affected by this tragedy. For these reasons, we are not releasing or confirming the name of the deceased."
A bullet casing recovered from the scene of a Mar. 12, 2023 shooting at a nearby restaurant in the area of 133 Street and 114 Avenue has been forensically matched to the firearm that was recovered at the 132 Street and 114 Avenue apartment, where Constable Brett Ryan and Constable Travis Jordan were fatally shot on Mar. 16, 2023.
Investigators believe the suspect in the Mar. 12 shooting to be the same 16-year-old male responsible for the deaths of the two EPS members, although this has yet to be confirmed. Detectives are also working to trace the origins of the firearm and how it came to be in the youth's possession.
At this time, investigators continue to believe that the youth's parents, police dispatch and Constables Ryan and Jordan had no information to suggest there was a firearm in the home when the family dispute call for service was made on Mar. 16.
"Both events have been served by robust investigations that have followed all lines of inquiry," says Deputy Chief Devin Laforce. "All tips and other investigative avenues were pursued exhaustively by the investigating teams."
The male shot on Mar. 12 in the restaurant remains in hospital in critical but stable condition, and the youth's mother who was shot on Mar. 16 remains in hospital in serious but stable condition.
Search of four Edmonton homes results in Cocaine and Meth bust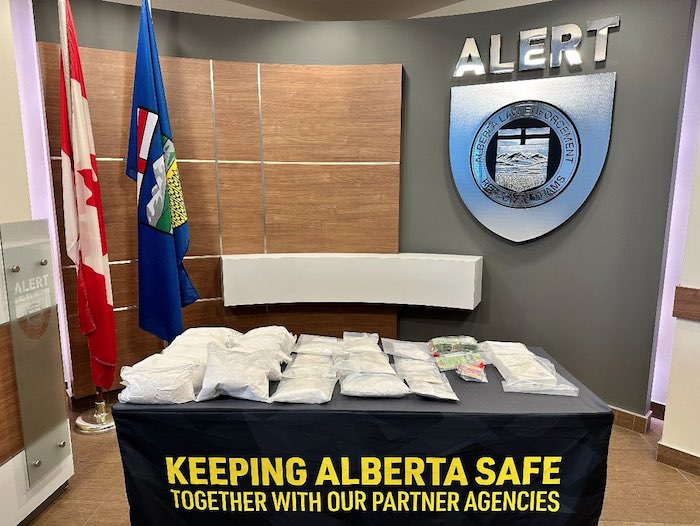 News release from the Alberta Law Enforcement Response Team (ALERT)
Cocaine seized after four Edmonton homes searched
More than two kilograms of cocaine, cash, and four vehicles have been seized following an ALERT Edmonton investigation into cocaine trafficking.
The investigation began in October 2022. Police were able to identify four homes and four vehicles linked to the drug trafficking operation.
"Through the course of this five-month investigation, officers were able to identify several suspects, and seized several pieces of equipment which were being used to produce large, commercial-sized quantities of product. This tells us that this was a much bigger, sophisticated operation," said Sgt. Jeff Woodliffe, ALERT Edmonton.
On February 23, 2023, police searched four homes and seized the following items as evidence:
2.6 kgs of cocaine;
28 grams of methamphetamine;
10 kgs of a cocaine buffing agent; and
$11,000 in cash.
The investigation remains ongoing as investigators prepare reports and disclosure for Crown Counsel.
The Edmonton Police Service assisted throughout the investigation.
Members of the public who suspect drug or gang activity in their community can call local police, or contact Crime Stoppers at 1-800-222-TIPS (8477). Crime Stoppers is always anonymous.
ALERT was established and is funded by the Alberta Government and is a compilation of the province's most sophisticated law enforcement resources committed to tackling serious and organized crime.