RIP Rob Bennett: The Promoter, The Pirate, My Pal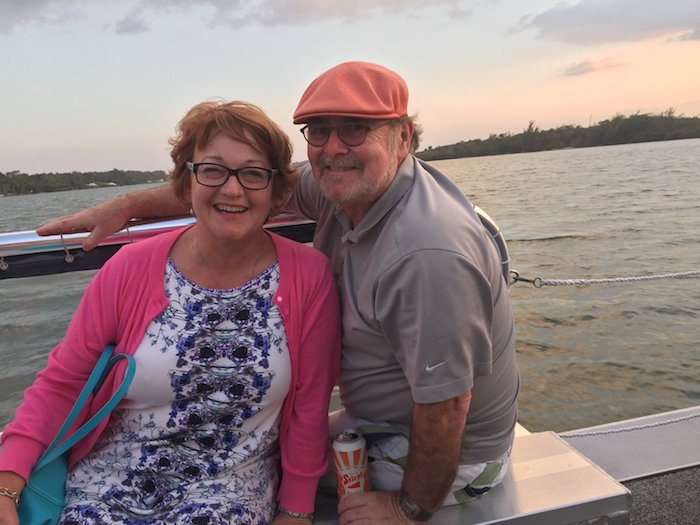 Robert Bennett: 1952-2023
This is a column I hoped I'd never have to write. But my best friend Rob Bennett has lost his fight with ALS. And my life has a void that can't be filled. Most people know Rob as one of the country's top music promoters for more than 35 years. From James Taylor to Robin Williams to Raffi my pal knew them all. One night he even threw snowballs with Bruce Springsteen atop Mount Royal .
My own memories of the man are more personal. We met as U of Toronto students working the 1974 Christmas season at the LCBO on Dupont at Huron. These were the days where patrons filled out a coupon and we runners fetched their order in the back of the store. This gave us lots of time to chat about sports, music, politics and wine. If there's anyone who was more of a cultural clutter box than me it was Rob.
He told me he was working at the Victoria College coffeehouse Wymilwood, doing gopher work for The Bernies— Fiedler & Finkelstein— who owned True North Records and managed the iconic Riverboat in Yorkville. They also managed, among others, Bruce Cockburn and Murray McLauchlan. It all seemed like exciting stuff.
Xmas ended, and we went separate ways. When we next ran into each other I was at the U of T Student Housing service looking for a place for me and my girlfriend at the time. As I pursued the board I saw this guy posting an opening for a place on Albany Avenue. It was Rob. In no time flat I was installed as the third occupant of Mr. Rosen's walkup rental. It became pizza boxes, newspapers and rotating Dowbiggin roommates for several years.
By this point Rob was getting more and more work from the Bernies. And more releases from the record companies. One day I remember him dashing into the living room, insisting I listen to this hot new record. It was "You Make Me Want To Be" by Dan Hill, who'd been a waiter at The Riverboat. As ever, Rob's enthusiasm was infectious, and he played the 45 over and over. Another night in 1977 it was Fleetwood Mac's game-changing Rumors, as we were awed by the new clean, crisp California production sound it represented.
When living in the Albany walkup got to be old, Rob and I took off to his grandmother's now-vacant bungalow across from Taylor Creek Park in East York. My girlfriend was gone, but Rob was now installed with Lesley, his longstanding girlfriend at the time, and my two cats in our Three's Company takeoff. For some strange reason he objected to the half-eaten rabbits, birds, snakes and critters my cats brought in each morning.
Having moved from the downtown Rob bought himself a used Renault to get around town. Typically he did zero maintenance on the car as he travelled on tour. One day I heard noises coming from under the hood. I propped it open. Squirrels had moved in. Another time an open basement window allowed a skunk to vaporize our basement for two weeks. It was pure bachelor stuff.
We were also political junkies. I recall us watching the provincial Liberal convention that elected unknown Stuart Smith as (star-crossed) leader in 1976. We saw Smith's election as transformative. We were wrong. A born and bred Ontarian— Rob never lived outside the GTA— he liked to colour inside the political lines. I was more inclined to contrarian views— which became more pronounced as I settled into Alberta. His political bent made him conversant with the young student politicians at U of T Student Council (SAC). Rob was a mentor and a friend who gave them a touch of the big time.
I finished my degree, edited the student paper at what was then Erindale U of T campus, and had a play produced at Tarragon Theatre's writer's workshop. Then I headed off to travel around the world in 1976-77. Rob, meanwhile was getting more independence from The Bernies. He'd worked a deal with SAC to promote shows at Convocation Hall. I'll never forget his fledgling show with the late Steve Goodman. We were so excited for him. After the show we were invited to Gordon Lightfoot's place where I ended up at Gordon's dining room table examining blueprints for his new yacht with him. It was great to be young and alive, and Rob was bringing us along for the ride.
The unique thing about Rob was his eclectic taste. He loved the music as much as the action of betting on which acts would sell. While CPI did the megastar arena shows at Maple Leaf Gardens, Rob stuck to more intimate venues like Con Hall and Massey Hall. His roster of acts was so diverse. John Prine, Pat Metheny, Tom Waits, Lyle Lovett, J.J. Cale, John Hiatt, Ry Cooder, Maria Muldaur, the McGarrigles, Leon Redbone, Levon Helm, Steeleye Span, George Thorogood, Peter Tosh, Jesse Cook, the Gypsy Kings and so many more were on the bill. Fans knew it was more than a payday when Rob presented. It was always a musical event of acts Rob wanted the public to know.
His onstage intros for the acts— the bearded guy in the beret— and his chiding customers about smoking in the bathrooms were vintage Rob. (Once he let me introduce Jay Leno who rode his motorcycle onto the stage!) So was the affection from the young people at SAC who worked with Rob and got the frisson of showbiz in addition to running student government. (I know this sad news will touch a community of SAC hacks who still revere him.)
In 1983 he stood up as best man at my wedding in the backyard of my parents' home in Burlington. He was the sound recorder, but 30 seconds in the technical demons switched everything off, committing the ceremony to the "oral tradition". We thought it might convince him to tie the knot himself, but he somehow managed to avoid matrimony till Mary got him to do the deed last year. I guess we shouldn't have been surprised as Mary also got him to ski in his 60s.
Eventually he rose the ladder of concert promoters in the country, taking tours across North America with the superstars. For a time he promoted the big summer shows at Molson Amphitheatre. In the winter, it was the O'Keefe Centre/ whatever-its-name-is-now. He'd bring you backstage to meet Robin Williams, Paul Simon, James Taylor, Mick Jagger, KD Lang, Stephen Page, Lucinda Williams. One Sunday night he called me up late to join him for dinner with a guest— who he couldn't identify. I protested it was too late, and I was tired after doing two shows a day for CBC Toronto. I passed. Missing dinner with Bruce Springsteen.
After years of rubbing shoulders backstage with the stars Rob's real joy seemed to come from the fine wines he brought backstage after the concert. Many a night as fans and hangers-on mobbed the act, Rob and I sipped a Mollydooker or a Lewis Cab in the corner of the dressing rooms. We were always comparing notes on our latest purchases. Me with U.S. futures, Rob with the latest LCBO treasures. In his spare time Rob began hosting dinner parties at home in Orangeville where he would lead tastings while his beloved partner Mary produced the food.
We also shared a passion for golf. I joined Weston G&CC while he became a ClubLink member at Grandview near his second home, the cottage on Bigwin Island. Despite his short stature, Rob could smash his driver through the many rocky outcrops at Grandview. He also became legendary among the members at the club for his explosive laugh that reverberated around the entire course.
They nicknamed him The Pirate for his booming Robert Newton laugh and even created an annual tournament in honour of his signature braying. Players wore eye patches in tribute. We liked to call him the hedgehog after his adventures in the rough during our Florida trips.
After golf we'd retire to the cottage to sip wine and debate politics. Unlike so many people these days, political or cultural differences never interfered with Rob's friendships. He was the most loyal friend to my family, which designated him the sixth Dowbiggin brother. At my father's memorial service he brought a vintage Cheateau Beaucastel, because my father and mother had visited the winery. You could tell him anything knowing it would (almost) never be repeated. That's why the acts respected him. What happened backstage stayed backstage.
In our earlier days it was the girls and women we dated, as he teased me about my first-date playlists of Hall & Oates or Boz Skaggs. After I met Meredith in Montreal, we'd compare golf handicaps. As our careers flourished we'd share our satisfaction over his celebrated sell-out concerts, my Gemini Awards and the compelling people we'd met.
As Meredith and I started our family in 1985 with the arrival of our son Evan, Rob became Uncle Rob to our three kids in a five-year window. Not the most paternal fellow himself, he was a great uncle to the kids. In his Raffi days he was godlike. For Evan, our eldest, the pinnace was a backstage meeting in Calgary with John Prime, who autographed Bruised Orange for him.
We were so pleased how Mary's children Robin and Will came to accept Rob in their lives. And he (belatedly) adopted a parental streak. He was as proud as anyone when Robin was married beside the Ottawa river in Hudson, Quebec. And he played the annoyed parent whenever Will acted like a teenager. It was precious. Lately he became a doting step-grandfather even as ALS took its hold on him.
One of Rob's signatures was to arrive just in time for dinner. Since our moving west in 1999, getting together with Rob and Mary was less frequent. He often lamented that we couldn't drop by each other's homes on a whim or tee up a weekly golf game at Weston or a ClubLink course. But we made time for winter golf in Florida, where during one round Rob absent-mindedly twice stepped over what he thought were logs on a golf course looking to find some Titleist Pro Vs. The logs turned out to be alligators. He still couldn't see what the fuss was about.
In spite of the great venues and great acts he staged Rob might have been most at home on Bigwin Island in the rocky cliffside cottage he'd purchased. Riding back and forth to the shore in his pontoon boat he felt himself the quintessential Ontario gentleman as he pointed out Shania Twain's compound or the home of the GolfTown co-founder or the stately Bigwig resort. For an adopted kid who procrastinated about so much, the cottage was a definitive statement about how far he'd come since Norm and Glenna brought him to their home in Willowdale in 1952.
It's hard to put value on a friendship, but if I was asked to capture our own bond it would be how it helped us grow as men. I can remember us walking one perfect Florida night near my parents' winter home and saying in astonishment, "Who ever thought we'd get this far when we met at the LCBO in 1974?" As we all reflect on his impact, that is how I'll remember Rob, a vital life force with his big laugh and a corkscrew in hand. And a man we can never replace. Good night, my friend. Take a bow in heaven with John Prine.
"Our revels now are ended. These our actors, As I foretold you, were all spirits and Are melted into air, into thin air:"
Should Poilievre Go Around The Legacy Media With His Message?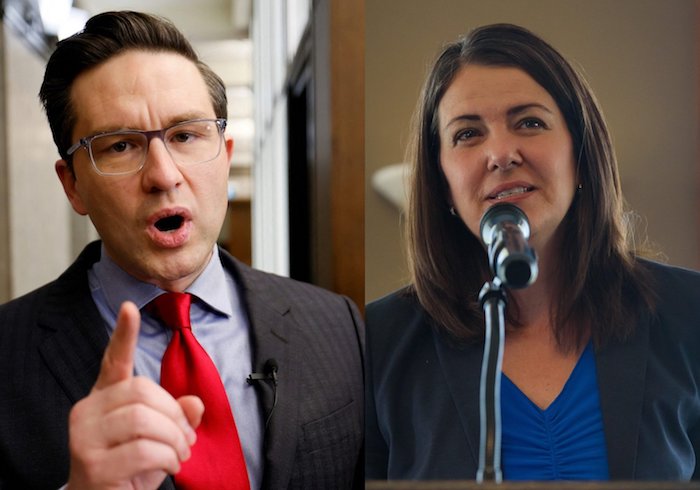 "It's amazing that we have an entire industry dedicated to making sure voters don't know what the government is up to. It's called Legacy Media."— Scott Adams
Is Pierre Poilievre's lesson from the 2023 Alberta election campaign that he simply go around the Media Party when he finally faces off against Justin Trudeau and/or the Liberals? To pass on their debates and town halls, sticking to his own carefully scripted events? The Alberta vote says maybe.
Despite 18 months of intense, bitter strafing from the chattering class, premier Danielle Smith emerged with a majority government on Monday. With 52.4 percent of the vote, she has an eleven-seat buffer in which to operate. (Although in Alberta politics that's still a narrow gangplank.)
Certainly it would be hard to get worse press than Smith got from the provincial and national media. Like Hansel and Gretel, the arbiters of #samethink laid a trail for the voters to follow. Using every flip and flop in Smith's tumultuous political journey they sought to create a narrative path. As happened when they conflated the Trucker Convoy into Three Weeks That Shook The World, the Media Party expected dutiful adherence to the taste makers with pleas like this.
"Dr. Lynora Saxinger MD FRCPC Infectious Diseases @AntibioticDoc May 27 I'm in a social media group with 1000s of AB doctors discussing exit plans if there's a Smith UCP win…"
Of course, none of them are going anywhere, because, contrary to media, every province in Canada (and many U.S. states) are afflicted the same way. Even when Smith staved off NDP lifer Notley in the televised debate the believers stayed fixed on this trail. One of their most beloved notions is that every group disparity can be explained by some form of bigotry. So Smith's backers had to be far-right, gun-toting, God-obsessed goobers that you wouldn't want at your Scotch nosing.
Bolstered by some polls that showed a dead heat, those ridings that want tunas with good taste, not tunas that taste good, knocked off Calgary-based UPC cabinet members and others without tattoos and nose rings.
Yet, with everything going for them— a photogenic NDP leader in Notley an unpredictable UPC leader, the Covid hangover— the media couldn't get their woman over the finish line. The (spare me) "donut ridings", smaller communities and the farming country checked out months before when the NDP started hinting at a 38 percent rise in corporate taxes ("still lowest run the nation") and adopting Justin Trudeau's Transition Program for gas and oil.
They weren't buying the absurd notion of the NDP and its unionized pals as the voice of the common person the in the province. They passed on people who believe men can have babies, who believe government controls the weather, who believe politicians create jobs? All this passed without comment from media slappies. Not so for the people who don't spend 18 hours a day on Twitter and Tik Tok.
You wouldn't have seen this demographic by watching CBC, CTV, Global and the predictable media snobs. Earnestly trying to play the results down the middle (sure) on Monday they served up disaffected UPC ex-cabinet whingers, "unbiased" professors wearing NDP buttons and reporters 10 minutes out of J School to craft the narrative.
Sample a) Hapless @CBCNews talking head announced a UPC candidate winning his riding by over 5,000 votes. "Clearly a big win by NDP there," she bubbled. (Some habits die hard at the Corp). Sample b): After the vote CBC's The National seemed to boast that Notley had finished a close second while Smith had finished second from the bottom.
The over/under on the word "unions" being mentioned by "independent" panelists in a sentence with NDP was about 1. And the under cashed. Odd, seeing as how so many producing the broadcasts and writing for legacy papers are union members. The best news for @Alberta_UCP was lifer socialist Notley vowing to defend the rights of Alberta's unions for another four years. Andrea Horvath, here she comes!
So how should Poilievre handle the lurking beast that awaits his campaign with open notebooks and closed minds? Put a different way, what would he and the Conservatives have to lose by doing what Governor Glenn Youngkin did in the state of Virginia when he upset the Democratic machine in 2021?
Faced with the overwhelming Democratic financial pump next door in DC and the Trump Noise Machine on his other flank, Youngkin decided it was better to use social media to find his voters and craft his message. Wielding a family-based conservative message on education he knew he'd be wasting his time doing the dog-and-pony farce of legacy media with its union shills and their gotcha' questions.
So the Virginia state GOP avoided the Media Party as much as possible, submitting only to limited exposure. "Experts" predicted doom by going the social-media route. Youngkin was accused of banning books. But on election night the multi millionaire scored a massive win over "those who must be obeyed". The triumph carried from the governor's chair down to the school-board level. (Youngkin is now being mentioned as a GOP presidential candidate.)
Poilievre îs going to change zero minds in sit-downs with the Toronto Star editorial board. Worse, they'll contort his message, further convincing the Wine Moms of Toronto that PP is a Trump disciple (the ultimate Family Compact sneer). CBC and CTV panels will furrow their brows about right-wing extremism. The Toronto media community will dig up fundamentalist Christians— as if they're more extreme than full-term abortion supporters.
It's a loser's game to always play in then other team's end of the field. Maybe Poilievre and his comms team can come up with something that changes the game. Like going directly to the electorate with their message. And leaving the bought-and-paid-for national media outside the door.
Sign up today for Not The Public Broadcaster newsletters. Hot takes/ cool slants on sports and current affairs. Have the latest columns delivered to your mail box. Tell your friends to join, too. Always provocative, always independent. https://share.hsforms.com/16edbhhC3TTKg6jAaRyP7rActsj5
Bruce Dowbiggin @dowbboy is the editor of Not The Public Broadcaster A two-time winner of the Gemini Award as Canada's top television sports broadcaster, he's a regular contributor to Sirius XM Canada Talks Ch. 167. Inexact Science: The Six Most Compelling Draft Years In NHL History, his new book with his son Evan, was voted the seventh-best professional hockey book of all time by bookauthority.org . His 2004 book Money Players was voted sixth best on the same list, and is available via http://brucedowbigginbooks.ca/book-personalaccount.aspx
Succession Planning: Justin's Excellent Chinese Adventure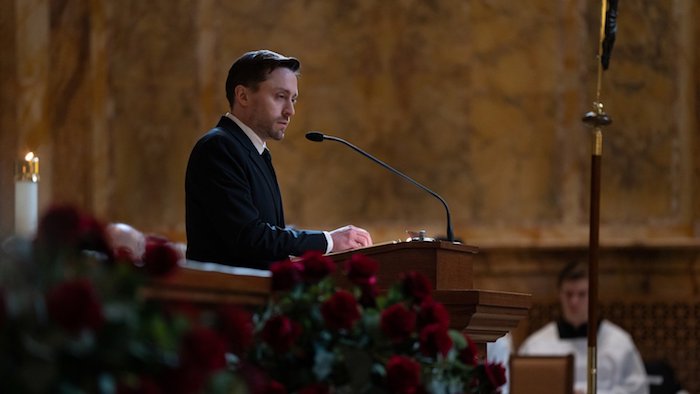 These are sad days. After this weekend we won't have Roman Roy to kick around any longer. In case your Sunday nights have been spent in quiet contemplation the past few years you'll know that Roy (played with Quisling-like glee by Kieran Culkin) is the obsequious youngest child of communications titan Logan Roy in the binge-worthy HBO series Succession.
When last we saw this quivering mass of sarcasm and sexual confusion Roman was trying to deliver a eulogy beside his dead father's casket. It did not go well. No matter. After this Sunday, he'll be living in rerun heaven. That we could only say the same for another, similar privileged dramatic persona, Justin Trudeau.
To those with keen memories the comparison between the blubbering, inconsolable Roman Roy and Canada's current PM Justin Trudeau is inescapable. Skippy, too, was delegated to eulogize his real father, Pierre in 2000. The result was a lachrymose cascade to rival the Lachine Rapids. Still in his Lord Fautleroy phase, Justin was seen by onlookers as the doting eldest son, a man too sensitive for this life. Little did we know that the performance at Notre Dame Cathedral that day was in fact an audition for higher office.
While Roman Roy's breakdown seems to have scuttled his hopes of grasping the brass ring in the family business Waystar, Trudeau's bathetic performance cemented him in the Liberal party as a man they could sell to the gormless hordes of voters in the key 416/613/514 hotbeds.
Soon he was spreading his lugubrious charm on global fronts, touting his sleeves-rolled-up vision while herding "billions" of disobedient children like Italian prime minister Georgia Meloni or these hapless boobs.
And so "Roman" Trudeau has worked this highwire act through every sort of catastrophe since 2015. The PM may have done enough to sink many careers. Remember the Aga Khan? Bollywood? Blackface? SNC Lavalin? WE Charity? How he has escaped cancellation when Culkin's character is headed to the Crave TV boneyard is one of the mysteries of the age.
This week past has rendered another episode that not even the skilled writers of Succession would dare pull off. Having somehow missed the fact that the Chinese government has been actively stirring up trouble in Canada's elections— elections in which he has personally eked out victory— Trudeau decided to calm Canadians by producing a report on the extent to which his pals in Beijing have been playing for him.
But here— screen writers take note— is the master stroke. The man in the funny socks decided that the ideal rapporteur for the job of reassuring the nation of his purity was old family friend, onetime board apparatchik in the Trudeau Foundation whose children are reported to have gone to university in China, and governor-general who'll do what he's told, David Johnston. Talk about deus ex machina!
Why the octogenarian Johnston accepted this poisoned chalice is anyone's guess— writers would call it implausible, unethical for a China hand to be arbitrating this. But accept he did. And Tuesday he disgorged his findings which say, in effect, a public inquiry might unearth too many state secrets. So let's not go there. Trust me.
Hinting at the utter dysfunction of the PM's office, the petrified bureaucracy beneath Justin and the epic incuriosity of Trudeau's cabinet chums, Johnston admitted that the PM's claims of being ignorant of warnings from CSIS about this problem dating back years might actually have merit.
A fig leaf! Yes, a fig leaf that the ethically bereft PM grasped with both hands, saying in effect that it's a wonder he can even get the RCMP to do a musical ride into the Trucker Convoy. But to sit atop a chain of command this moribund? Canada is lucky he's there to hold it all together.
Even Johnston's many friends in the Family Compact were befuddled. Which was the greater lapse? The former McGill U. Principal (President) accepting to work as Trudeau's get-out-of-jail-free card or the slap-dash scholarship of the piece? Former Conservative leader Erin O'Toole— the man defeated by Trudeau in 2020— wrote that Johnston only interviewed him on this Sino Scandal after he'd sent the opus off for translation.
We'd say that, this time, Trudeau has exceeded even the plausibility of a Succession script. His scolding by an irate Meloni, followed by this Chinese codswallop must surely mean the end of his character on the long-running PMO show. How can he continue to erode confidence in government— especially his own government— with this carnival of chaos?
Being a betting type we'd say Succession is not coming back after Sunday. But we think the show runners for Trudeau's long-running show still have at least one remaining season left for more Justin antics. Unless the Chinese say no, of course.
Sign up today for Not The Public Broadcaster newsletters. Hot takes/ cool slants on sports and current affairs. Have the latest columns delivered to your mail box. Tell your friends to join, too. Always provocative, always independent. https://share.hsforms.com/16edbhhC3TTKg6jAaRyP7rActsj5
Bruce Dowbiggin @dowbboy is the editor of Not The Public Broadcaster A two-time winner of the Gemini Award as Canada's top television sports broadcaster, he's a regular contributor to Sirius XM Canada Talks Ch. 167. Inexact Science: The Six Most Compelling Draft Years In NHL History, his new book with his son Evan, was voted the seventh-best professional hockey book of all time by bookauthority.org . His 2004 book Money Players was voted sixth best on the same list, and is available via http://brucedowbigginbooks.ca/book-personalaccount.aspx