Rights groups dismayed at lack of criticism for Peru abuses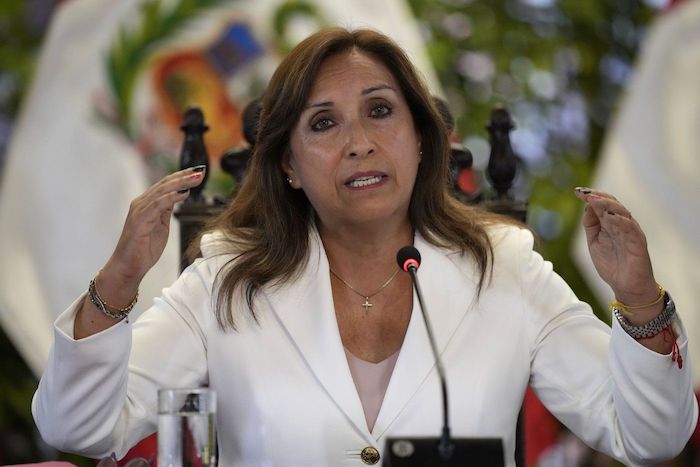 By Daniel Politi in Lima
LIMA, Peru (AP) — More than 50 people have died in street protests in the weeks since Peru's elected leader was jailed, mostly demonstrators at the hands of police officers, but only a few international voices of concern have emerged.
The relative silence of much of the regional and global community has dismayed human rights advocates, who are calling for condemnation of the state violence unleashed since Pedro Castillo was impeached and imprisoned for trying to dissolve Congress.
"The feeling is we're alone," said Jennie Dador, executive secretary of Peru's National Human Rights Coordinator. "None of the states in the region have done anything concrete."
Peru's new President Dina Boluarte was notably absent from a meeting of regional leaders Tuesday in Argentina's capital, where most avoided mention of the civilian deaths in Peru.
In a defiant news conference on Tuesday, Boluarte called for a "national truce." She blamed protesters for the political violence that has engulfed the country, claiming illegal miners, drug traffickers and smugglers formed a "paramilitary force" to seek chaos for political gain. She said numerous road blockades across the country and damage to infrastructure have cost the country more than $1 billion in lost production.
She suggested that the protesters who died with bullet wounds were shot by other demonstrators, claiming investigations will show their injuries are incompatible with the weapons officers carry. And meanwhile, some 90 police officers are hospitalized with bruises, she said: "What about their human rights?" the president asked.
The government has not presented evidence that any of the injured officers were struck by gunfire.
Human rights activists have acknowledged acts of violence by some protesters — including efforts to take over airports and burn police stations — but say the demonstrations have largely been peaceful.
Some of the leaders at the summit of the Community of Latin American and Caribbean States did blame Peru's government for the violence.
Chile's President Gabriel Boric said there's "an urgent need for a change in Peru because the result of the path of violence and repression is unacceptable." Mexico's president, Andrés Manuel López Obrador, a staunch supporter of Castillo, demanded an "end to the repression."
Activists say this attention is far less than what they would expect considering 56 people have died since Castillo's vice-president was sworn in to replace him on Dec. 7. Forty-five died in direct clashes with security forces, according to Peru's ombudsman.
"The international community has expressed concern, but really I think it could be more forceful," said César Muñoz, associate director of the Americas division at Human Rights Watch. Regional leaders could emphasize "that the rule of law means there must be independent investigations of all the deaths."
In downtown Lima, protesters were starting to gather for the latest in a series of street demonstrations that began last week when thousands, many from remote Andean regions, descended on the capital to demand Boluarte's resignation, immediate elections and the dissolution of Congress. Most of the large anti-government protests that took place before then were in remote regions of Peru, exposing deep divisions between residents of the capital and the long-neglected countryside.
In Lima, protesters have been met with volleys of tear gas but no live rounds.
"Peru has managed to fly under the radar," said Marina Navarro, executive director of Amnesty International Peru. "Given the gravity of the situation, with this number of people who have died, we don't see as much said about it as there could be."
Closed-door discussions on the issue continued in Buenos Aires, according to an official in Argentina's Foreign Ministry, speaking on condition of anonymity for lack of authority to discuss policy. "Peru is a prickly issue," but pressure from some leaders has led to last-minute negotiations, they said.
The crisis that has sparked Peru's worst political violence in more than two decades began when Castillo, Peru's first leader from a rural Andean background, tried to short-circuit the third impeachment proceeding of his young administration by ordering Congress dissolved. Lawmakers impeached him instead, and the national police arrested him before he could find sanctuary.
Boluarte said Tuesday that Castillo had only himself to blame for trying to avoid the numerous corruption investigations he was facing, and suggested that he was trying "to make himself into a victim of a coup when he was the perpetrator of his own coup."
Questions about Boluarte's sudden rise to power should not impede criticism over police abuses, human rights organizations say.
"There must be international pressure for this government to cease all types of repressive attitudes and that has nothing to do with emitting an opinion about the government's legitimacy," said Manuel Tufró, who leads the justice and security division at the Center for Legal and Social Studies, an Argentine human rights organization.
Boluarte's government has made clear it won't take any criticism lightly. After law enforcement raided a university in Lima where some of the protesters were taking shelter on Saturday, Colombian President Gustavo Petro tweeted that the Organization of American States must "examine Peru's case."
Prime Minister Alberto Otarola fired back, telling Petro to "worry about your own affairs." Peru's Foreign Ministry issued formal notes of protest against Petro and Bolivian President Luis Arce, who expressed support for the protests.
The European Union made one of the strongest statements, saying Monday that it "deplores the very large number of casualties since the start of the protests" and reiterates "its condemnation of the widespread acts of violence as well as the disproportionate use of force by security forces."
The U.S. ambassador in Lima, Lisa Kenna, also surprised many observers earlier this month when she said it is "fundamental for law enforcement to respect human rights, the right to protest and protect the citizenry."
Some analysts said the tepid regional response points to how Peru has lost prominence due to its political crises, with six presidents over the past six years.
"Peru as a country has lost presence," said Oscar Vidarte, an international relations professor at the Catholic University of Peru. "It's a chaotic country, a country that has become ungovernable, questioned in terms of democracy and respect for human life."
"Countries in the region have clearly turned their backs," Vidarte said.
___
Associated Press writer Almudena Calatrava in Buenos Aires, Argentina, contributed to this report.
Venezuela oil czar in surprise resignation amid graft probes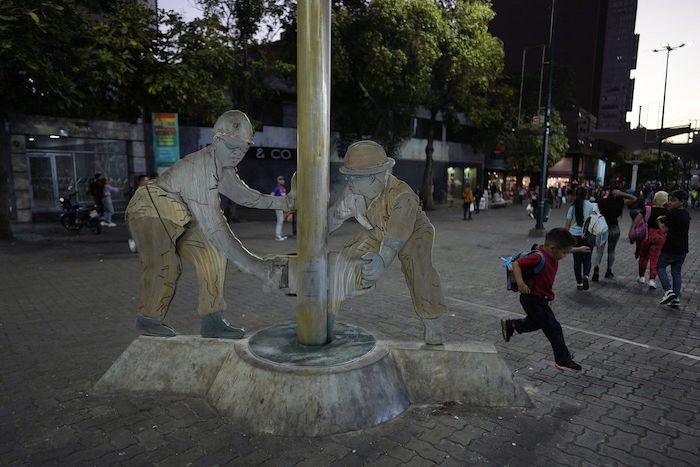 A boy jumps near the "Los Petroleros" sculpture that shows two men working on an oil drill of Petroleos de Venezuela, S.A, PDVSA, on the Sabana Grande boulevard, in Caracas, Venezuela, March 20, 2023. Venezuela's oil czar, Tareck El Aissami announced his resignation on Twitter and pledged to help investigate any allegations involving PDVSA. (AP Photo/Ariana Cubillos)
By Regina Garcia Cano in Caracas
CARACAS, Venezuela (AP) — The man responsible for running Venezuela's oil industry — the one that pays for virtually everything in the troubled country, from subsidized food to ridiculously cheap gas — has quit amid investigations into alleged corruption among officials in various parts of the government.
Tareck El Aissami's announcement Monday was shocking on multiple counts. He was seen as a loyal ruling party member and considered a key figure in the government's efforts to evade punishing international economic sanctions.
And he led the state oil company PDVSA in a Venezuelan business sector widely considered to be corrupt — in a country where embezzelment, bribery, money laundering and other wrongdoing are a lifestyle.
"Obviously, they are giving it the patina of an anti-corruption probe," said Ryan Berg, director of the Americas program at the Center for Strategic and International Studies, a Washington-based think tank.
"Rule of law is not being advanced here," Berg added. "This is really a chance for the regime to sideline someone that it felt for some reason was a danger to it in the moment and to continue perpetuating acts of corruption once particular individuals have been forced out of the political scene."
Hours after El Aissami revealed his resignation on Twitter, President Nicolás Maduro called his government's fight against corruption "bitter" and "painful." He said he accepted the resignation "to facilitate all the investigations that should result in the establishment of the truth, the punishment of the culprits, and justice in all these cases."
Venezuela's National Anti-Corruption Police last week announced an investigation into unidentified public officials in the oil industry, the justice system and some local governments. Attorney General Tarek William Saab in a radio interview Monday said that at least a half dozen officials, including people affiliated with PDVSA, had been arrested, and he expected more to be detained.
Among those arrested is Joselit Ramirez, a cryptocurrency regulator who was indicted in the U.S. along with El Aissami on money laundering charges in 2020.
Corruption has long been rampant in Venezuela, which sits atop the world's largest petroleum reserves. But officials are rarely held accountable — a major irritant to citizens, the majority of whom live on $1.90 a day, the international benchmark of extreme poverty.
"I assure you, even more so at this moment, when the country calls not only for justice but also for the strengthening of the institutions, we will apply the full weight of the law against these individuals," Saab said.
Oil is Venezuela's most important industry. A windfall of hundreds of billions in oil dollars thanks to record-high global prices allowed the late President Hugo Chávez to launch numerous initiatives, including state-run food markets, new public housing, free health clinics and education programs.
But a subsequent drop in prices and government mismanagement, first under Chávez's government and then Maduro's, ended the lavish spending. And so began a complex crisis that has pushed millions into poverty and driven more than 7 million Venezuela to migrate.
PDVSA's mismanagement, and more recently economic sanctions imposed by the U.S., caused a steady production decline, going from the 3.5 million barrels a day when Chávez rose to power in 1999 to roughly 700,000 barrels a day last year.
David Smilde, a Tulane University professor who has conducted extensive research on Venezuela, said the moves by Maduro's government are more than just an effort to clean its image.
"Arresting important figures and accepting the resignation of one of the most powerful ministers in a case that involves $3 billion does not improve your image," he said. "It is probably because the missing money actually has an important impact on a government with serious budgetary problems."
The Biden administration recently loosened some sanctions, even allowing oil giant Chevron for the first time in more than three years to resume production. Maduro's government has been negotiating with its U.S.-backed political opponents primarily to get the sanctions lifted.
U.S. congressional researchers saw El Aissami as an impediment to Maduro's goals.
"Should Al Aissami remain in that position, it could complicate efforts to lift oil sanctions," a November report from the Congressional Research Center said.
The U.S. government designated El Aissami, a powerful Maduro ally, as a narcotics kingpin in 2017 in connection with activities in his previous positions as interior minister and a state governor. The Treasury Department alleged that "he oversaw or partially owned narcotics shipments of over 1,000 kilograms from Venezuela on multiple occasions, including those with the final destinations of Mexico and the United States."
Under the government of Chávez, El Aissami headed the Ministry of Internal Affairs. He was appointed minister of oil in April 2020.
"El Aissami was a key player in the Maduro government's sanctions evasion strategy. We're talking about someone who knows where all the bodies are buried, so it will be key to watch where he ends up," said Geoff Ramsey, a senior fellow at the Atlantic Council focused on Colombia and Venezuela. "If El Aissami ends up being implicated himself, it could have serious implications for the entire power structure."
In September, Maduro's government renewed wrongdoing accusations against another former oil minister, Rafael Ramírez, alleging he was involved in a multibillion-dollar embezzlement operation during the early 2010s that took advantage of a dual currency exchange system. Ramírez, who oversaw the OPEC nation's oil industry for a decade, denied the accusations.
In 2016, Venezuela's then opposition-led National Assembly said $11 billion went missing at PDVSA in the 2004-2014 period when Ramirez was in charge of the company. In 2015, the U.S. Treasury Department accused a bank in Andorra of laundering some $2 billion stolen from PDVSA.
Liberals float possibility of making motion on foreign interference a confidence vote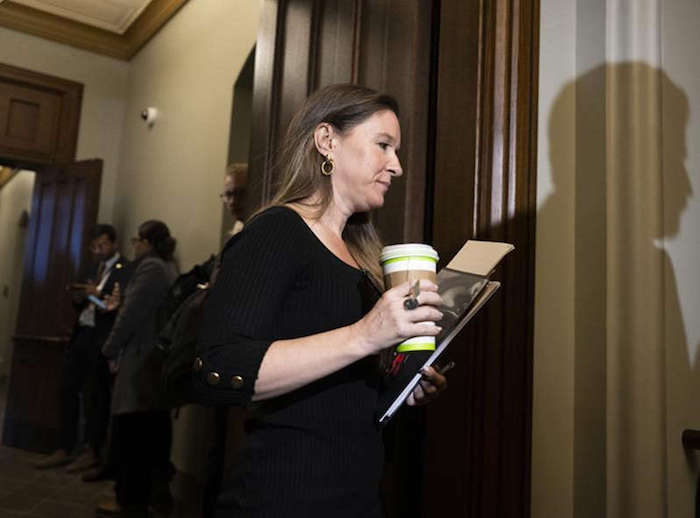 Katie Telford, Chief of Staff to Prime Minister Justin Trudeau, leaves after a meeting of the Liberal Caucus on Parliament Hill in Ottawa, on Wednesday, March 8, 2023. The federal Conservatives are trying to force Prime Minister Justin Trudeau's top aide to answer questions about allegations the Chinese government interfered in Canada's last two federal elections. THE CANADIAN PRESS/Justin Tang
By Mia Rabson in Ottawa
Liberal House leader Mark Holland isn't ruling out turning a Conservative motion on foreign interference into a confidence vote that could topple the government and would test the strength of the supply-and-confidence deal between the Liberals and the NDP.
The Conservatives tabled the motion in the House of Commons Monday demanding that Prime Minister Justin Trudeau's chief of staff, Katie Telford, appear at the House ethics committee before the middle of April. They want her, along with more than a dozen other witnesses, to answer questions about allegations that the Chinese government interfered in Canada's last two federal elections.
The move follows weeks of filibustering by the Liberals to prevent Telford from being summoned to appear at the House procedure committee on the same topic.
Alberta MP Michael Cooper said Telford is "a critical witness to get to the heart of the scandal." He said she should be able to answer what Trudeau knows about Beijing's attempts at meddling, when he learned about it and what he did about it.
The Conservatives and the Bloc Québécois both seem prepared to vote in favour of the motion. The NDP has yet to say where it stands on this specific motion, but intends to push its own motion demanding a full public inquiry be called on the issue of foreign interference.
NDP House leader Peter Julien reiterated Monday that his party wants an inquiry to look at the issue as a whole, rather than focus only on China. But the Conservatives have rejected calls to expand the probe to include meddling by other governments, such as Russia and Iran.
The Tories challenged the NDP to side with them instead of the "corrupt government."
"While this motion is a test for this government, it is also a test for the NDP," said Cooper.
It certainly could be the first real test of the supply-and-confidence arrangement the NDP and Liberals agreed to a year ago. Under that deal, the NDP is supporting the government on budgets and other votes that are automatically viewed as confidence matters, in exchange for the government moving on key NDP priorities such as dental care.
A confidence vote is one that the government must win — or be forced to resign.
The agreement, reached in early March 2022, does address situations in which the government declares a confidence vote on other matters. It requires the Liberals to inform the NDP of a confidence vote as soon as possible, and the NDP to discuss with the Liberals how its MPs intend to vote before announcing so publicly, "to permit discussions" to take place.
Holland hinted those talks are underway now, when asked specifically if the government would move to declare the Conservative motion a confidence matter.
"I think it's not helpful to jump to the end of a process when we are still having conversations in a contemporaneous circumstance," Holland said in a scrum with reporters outside the House Monday afternoon.
The Liberals are on the same page with the NDP about wanting to look at foreign interference from all other countries, not just China. However, thus far, Trudeau has rejected calls for a public inquiry, choosing instead to appoint a "special rapporteur" to oversee an investigation on the issue.
Trudeau named former governor general David Johnston for the role. The prime minister has committed to abiding by his advice, including any recommendation to hold a full public inquiry.
Holland accused the Conservatives of playing partisan games with the very serious issue of foreign interference in Canada's democratic processes. He said the government has offered to bring its national campaign chairs from 2019 and 2021 to the committees to answer questions.
He said the Conservatives won't offer the same, though the Conservative motion Monday includes not just Telford but more than a dozen others, including all the campaign chairs for every official party in the House of Commons for both the 2019 and 2021 elections.
The campaign chairs and co-chairs were briefed during the elections about any signs of foreign interference.
Holland said the decision to focus so intently on Telford is entirely about partisan politics.
Conservative House leader Andrew Scheer said the Tories would support the motion even if the Liberals made it into a confidence motion noting the issue is important enough.
"It's up to Justin Trudeau to make those kinds of decisions. And it's up to the NDP to decide whether or not they're going to allow themselves to be bullied around to cover up Liberal scandals," Scheer told reporters on Parliament Hill.
Scheer rejected Holland's contention that seeking Telford's testimony amounts to partisan games. He argued she is one of the few people in Trudeau's orbit during both elections and regular government work.
"She also would have had incredibly sensitive information as to the Liberal campaign itself, and that's why it's so important."
— With files from Dylan Robertson
This report by The Canadian Press was first published March 20, 2023.