RCMP monitored hostility from anti-vaccine movement against Trudeau since election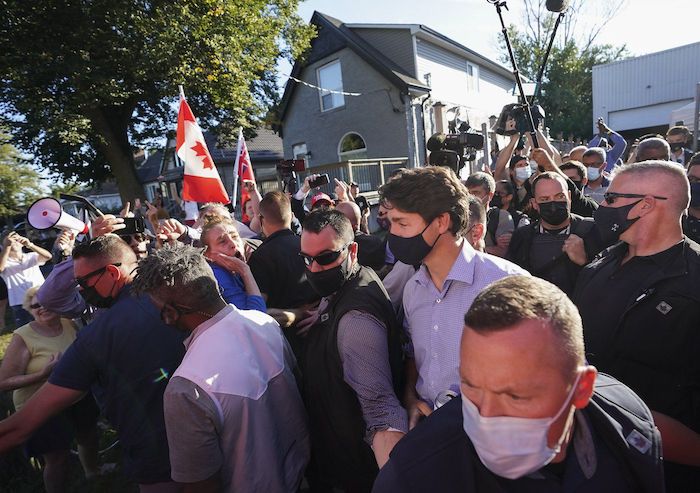 By Stephanie Taylor in Ottawa
The RCMP worried that after arriving in Ottawa, participants in the "Freedom Convoy" would try to pinpoint Prime Minister Justin Trudeau's location, new documents suggest — just as demonstrators had tried to do during last fall's election campaign.
The concerns are outlined in assessments by the force's intelligence unit that were tabled as evidence Monday at a public inquiry probing the Trudeau government's use of the Emergencies Act in response to last winter's protests.
The weeks-long demonstrations, which blockaded downtown Ottawa and several border crossings, were driven by opposition to COVID-19 restrictions such as mask and vaccine requirements. Many participants voiced their opposition to the federal government in general and Trudeau himself.
Flags and signs bearing Trudeau's name alongside an expletive were frequently seen across different protest sites.
At the time, Trudeau said those protesting federal and provincial COVID-19 health rules in Ottawa were a "fringe minority" who held "unacceptable views." He is set to testify at the Public Order Emergency Commission on Friday.
According to a threat assessment prepared Jan. 26 — two days before tens of thousands of protesters, many of them in heavy trucks, descended on downtown Ottawa — the RCMP's intelligence unit warned that Trudeau's residence might be a target for demonstrators.
"It is possible protesters will seek to identify where the prime minister is, based on his itinerary or any open source information posting his location," the document says.
"The potential for some individuals involved in the convoy to attend the prime minister's location, should it be a reasonable distance to travel, is possible should his location be publicized."
On Jan. 27, Trudeau announced he would begin isolating for five days after testing positive for COVID-19.
"This news may increase frustrations of individuals associated with the convoy, fuelling perceptions that the government is ignoring Canadians and may result in an increase of threats directed towards the PM," an RCMP report from the same day said.
"It is also possible this may prolong the protest until the PM emerges from isolation."
By several days later, the reports that Trudeau was isolating due to the virus had "resulted in an increase of conversation attempting to determine his location and claiming that he is at Harrington Lake," read a report Jan. 31, several days into the Ottawa blockade.
Conversations speculating about Trudeau's location "continue to circulate on social media," the report said.
A series of separate reports that RCMP intelligence analysts prepared during the 2021 federal election campaign, which detail threats against Trudeau, have also been tabled before the commission.
This report by The Canadian Press was first published Nov. 12, 2022.
Quebec says only people at risk who haven't had COVID-19 should get booster dose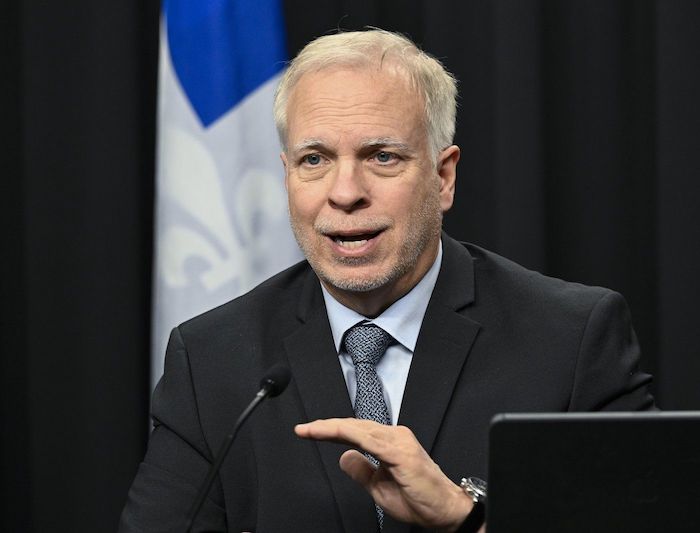 Only people who are considered at risk for severe COVID-19 — and who haven't already been infected — need to get a booster dose, Quebec's public health director said Thursday.
The vast majority of Quebecers have hybrid immunity — protection through vaccination and through a SARS-CoV-2 infection — making regular boosters unnecessary, at least for this winter and spring, Dr. Luc Boileau told reporters.
"People with hybrid immunity … have a very good protection against a severe form of the illness," Boileau said. "And this immunity lasts for a long enough time that we can propose changes."
Those who have been vaccinated but haven't contracted the virus are also protected against severe COVID-19, he said, but their immunity "has a tendency to drop with time."
Quebec's vaccination committee decided to focus the province's immunization policy on preventing hospitalizations and deaths, he said. People who are 60 and older or who have chronic illnesses, health workers, pregnant women and those who live in isolated regions are among the people who should get a booster every six months — but only if they have never caught the virus, Boileau said.
Dr. Caroline Quach-Thanh, chairperson of Quebec immunization committee, said the data shows that people already vaccinated for COVID-19 who have contracted the virus "maintain their protection."
"Adding a dose doesn't add a lot protection for severe (illness)," she said.
Health officials estimate that more than three-quarters of Quebecers under 60 have had COVID-19 over the past three years, while about half of those over 60 have caught the virus.
Boileau said only people who are immunocompromised should continue getting boosters even if they've been infected, "because their immunity could be affected by their condition."
Before Thursday's announcement, boosters were recommended for all people considered at risk of severe COVID-19. Boileau said COVID-19 vaccines will remain available to anyone who wants one. "We won't refuse anyone," he said.
This report by The Canadian Press was first published Feb. 2, 2023.
'The eyes of the world': Trial starts for Calgary pastor charged in border blockade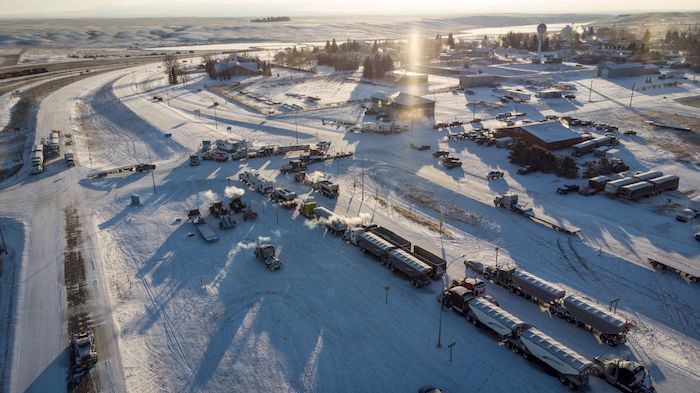 By Bill Graveland in Lethbridge
A court has seen video of a Calgary pastor encouraging truckers to keep blocking the Canada-U.S. border to protest COVID-19 restrictions because the world was watching.
The trial for Artur Pawlowski began Thursday in southern Alberta on charges of breaching a release order and mischief for inciting people to block public property at the border crossing at Coutts, Alta.
He is also charged under the Alberta Critical Infrastructure Defence Act with the wilfully damaging or destroying essential infrastructure.
The blockade that began in late January 2022 paralyzed Alberta's main U.S. border crossing for more than two weeks .
The Crown's case against Pawlowski consists of an agreed statement of facts and the 20-minute video of the speech that the pastor gave to protesters on Feb. 3, 2022.
In it, Pawlowski pleads with truckers to stay the course and not leave the protest, which was aimed at COVID-19 restrictions and vaccine mandates.
Pawlowski visited the group at Smuggler's Saloon, a location that became their headquarters. At the time, protesters were considering whether to leave Coutts for Edmonton to demonstrate in front of the legislature.
"I believe that the eyes of the world are fixed on this place right here. That's right — this little pitiful piece of land," Pawlowski told a cheering crowd in the video played for provincial court Judge Gordon Krinke in Lethbridge, Alta.
"The eyes of the world are fixed right here on you guys. You are the heroes. Don't you dare go breaking the line.
"For the first time in two years, you have the power. You pack your stuff, you go to Edmonton and you will be lost."
The pastor also told the crowd there weren't enough police or a big enough army to deal with the protesters. He was arrested days later.
Pawlowski was greeted by about 300 supporters outside court Thursday before trial. Some held Canadian flags and signs reading "Free Pastor Pawlowski."
Pawlowski told the group he had no regrets.
"I told the people this is a peaceful uprising. No guns. No swords. I stand by what I said a year ago," he said outside of court.
"I am proud that I stood with the people that simply stood for their God and state. Our rights do not belong to the politicians or bureaucrats or even judges or Crown prosecutors. They belong to us, the people."
Prosecutor Steve Johnston said the court must determine whether Pawlowski is guilty because he was a party to the events, and the Crown argues that he was.
The defence said it would not be calling witnesses in the trial, and closing arguments were expected Thursday afternoon.
This report by The Canadian Press was first published Feb. 2, 2023