Race for the next Conservative leader begins as Poilievre announces his bid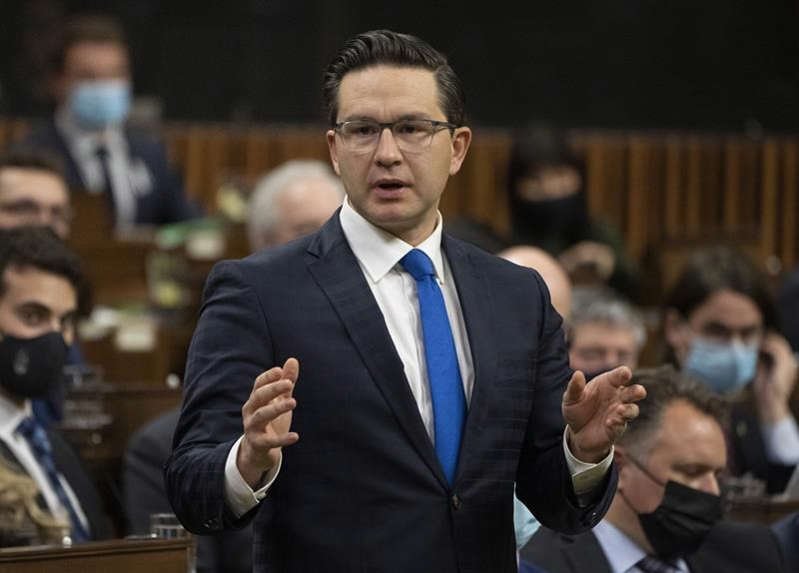 OTTAWA — Pierre Poilievre, the Conservatives' high-profile finance critic, launched his bid Saturday to become the party's next leader, with many fellow members of Parliament already endorsing his run.
He is the first candidate to announce his intention to run for the Conservative Party of Canada's top spot after MPs forced Erin O'Toole out of the position only three days earlier.
In a three minute video released on social media Saturday evening, Poilievre, seated at a desk in front of a bookshelf, doesn't mention the Conservative party by name or the contest, saying only that he wants the job as prime minister.
Despite his reputation as a fiery performer in Parliament, he calmly delivers his message that he believes government spending is out of control and wants to make "Canadians the freest people on earth."
As examples, he lists paying lower taxes, raising a family according to one's own values and "freedom to make your own health and vaccine choices."
He also mentions needing less regulation for businesses and gives a nod to firearms owners, which comprise a sizable chunk of the party's base, saying the federal Liberal government is unfairly targeting law-abiding hunters and farmers.
Poilievre throws his hat into the ring ahead of any other prospective candidate and before the race has officially begun, as the party's election committee doesn't yet exist and no rules have been released.
As such, he can't begin fundraising. A document attached to his launch video released Saturday lists one of the options for supporters to choose to help is by purchasing memberships to vote for him.
Other names being tossed around for potential candidates include Ontario MP Leslyn Lewis, who placed third in the 2020 leadership race as well as Brampton Mayor Patrick Brown and Peter MacKay, former leader of the Progressive Conservative party and cabinet minister, who finished second behind O'Toole.
Poilievre's announcement, which was highly anticipated by those in the party, was quickly followed by many MPs pledging their support.
"I'm with Pierre," tweeted Ontario MP Melissa Lantsman. "No question — Pierre is the right answer to a strong (and) united Conservative Party."
Longtime Conservative Manitoba MP James Bezan also endorsed Poilievre, saying in a tweet that he has the communication skills, work ethic and "strong conservative values" to defeat Trudeau.
Marilyn Gladu, an Ontario MP who only days earlier mused about another possible leadership run herself, also said Saturday Poilievre could count on her endorsement.
Poilievre also secured the support of John Baird, who served as a cabinet minister in former prime minister Stephen Harper's Conservative government along with Poilievre. Together, the pair worked together on the Federal Accountability Act and remain in touch.
Many Conservatives regard Poilievre as a natural front-runner in the race as he is already beloved by many in the grassroots.
At 42, he has spent most of his adult life on Parliament Hill. He ran for his seat at age 24 back in 2004. During Harper's time in government, Poilievre served as Baird's parliamentary secretary and was appointed the minister of democratic reform, becoming the face of the debate around the Fair Elections Act.
More recently, Poilievre has thrown his support behind a convoy of truckers and other protesters who, one week after initially parking in downtown Ottawa, are refusing to leave.
Their decision to settle in has prompted police and city officials to call the situation a crisis, as residents have had to listen to days of constant honking and seen some protesters displaying Nazi symbols, including swastikas. Some local businesses have also decided to shut their doors after reports of harassment by protesters and the flouting of COVID-19 public health rules.
Throughout his time in Parliament, Poilievre has developed a reputation as being deeply steeped in conservatism and loyalty to the party.
He enters the race with a considerable social media following and during last year's election struck out with his own campaign videos and slogan, separate than that of the party's or leader's.
This also isn't the first time he considered a run for party leader.
In 2020, Poilievre began planning to enter the race to replace former leader Andrew Scheer, but decided against doing so, saying at the time campaigning would take away from time spent with his young family.
This report by The Canadian Press was first published Feb. 5, 2022.
Stephanie Taylor, The Canadian Press
Premier Smith asks Prime Minister to halt "Just Transition" legislation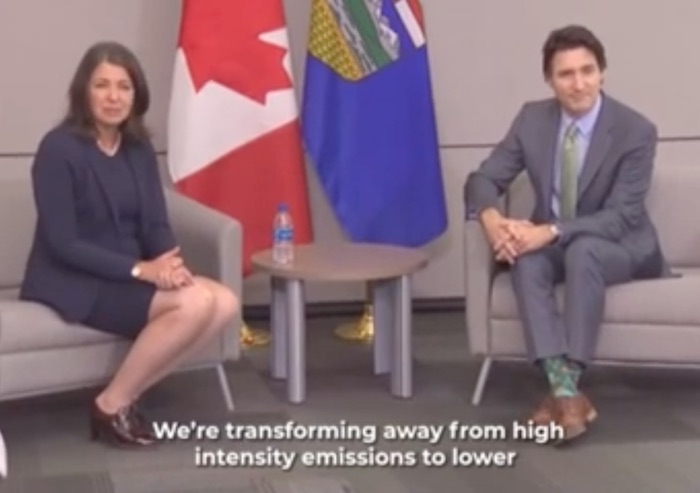 Premier Smith meets with the Prime Minister
Premier Danielle Smith met with the Prime Minister for approximately 30 minutes primarily discussing Alberta's request for the federal government to halt the introduction of its proposed 'Just Transition' legislation and other emission reduction strategies.
The Premier asked the federal government to instead work collaboratively with the Government of Alberta on developing a plan and partnership to attract energy investment and workers into Alberta's conventional, non-conventional and emerging energy sectors while reducing Canada's and Alberta's net emissions.
The Prime Minister expressed a willingness to explore this strategy with the Premier through their respective ministers and the Premier will be following up with further correspondence regarding proposed next steps in the near future.
The Premier used today's discussion to outline Alberta's expectations as to what must and must not be included in any future federal legislation, targets or policies as it relates to Alberta's energy sector. These expectations included:
Abandonment of any references to 'just transition' or any other terminology or policies that signal the phaseout of Alberta's conventional or non-conventional energy sector or workforce.
Increased workforce training and participation in all of the conventional, non-conventional and emerging energy sectors.
The need for formal consultation and collaboration with Alberta before the federal government announces or implements legislation, targets or policies that materially impact Alberta's energy sector.
Substantial increase in LNG exports to Asia through the lens of meeting targets through replacement of higher emitting fuel sources with clean Canadian LNG.
Joint federal-provincial initiatives to facilitate increased private investment in nuclear, hydrogen, bitumen beyond combustion, geothermal, lithium, helium, zero-emission vehicle, CCUS, petrochemical and other emerging technologies and fuels that make Alberta's conventional and non-conventional energy sector increasingly carbon neutral.
What Trudeau has offered to the premiers to fund health care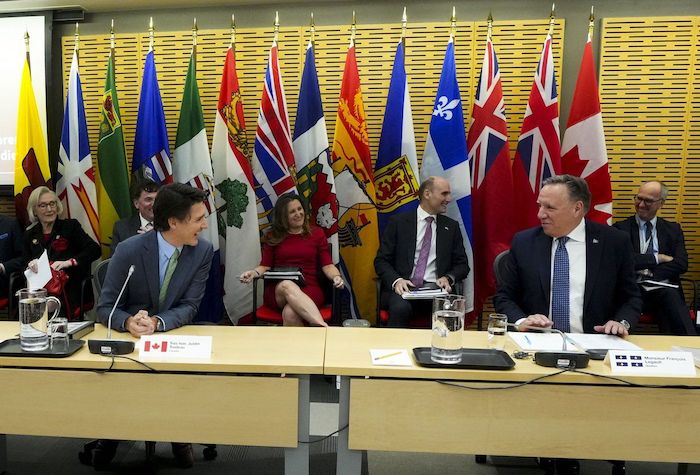 By Laura Osman in Ottawa
Premiers got their fist look at Ottawa's offer to increase long-term health funding Tuesday at a meeting with Prime Minister Justin Trudeau, but the federal proposal falls short of what they were seeking.
The provinces budgeted about $204 billion for health care in this fiscal year and the Canada Health Transfer was set at $45 billion, or about 22 per cent of that. The premiers want the federal share to increase to 35 per cent, which amounts to another $26 billion in this year alone.
Instead, Ottawa put together a 10-year, $196.1 billion deal, of which $46.2 billion is new funding.
Here's what the Liberals are offering:
$2 billion, no questions asked
The federal government plans to table legislation before the end of March to dole out $2 billion to provinces to address immediate health-care needs like surgical backlogs.
There are no strings attached.
Ottawa offered the same amount last year during the Omicron wave of COVID-19.
More money for the Canada Health Transfer
The main source of federal funding for health care comes from the Canada Health Transfer, which is the biggest pot of money the federal government gives to provinces and territories.
It's calculated based on a minimum yearly increase of three per cent or the three-year moving average of nominal gross domestic product (GDP) — whichever is higher.
Ottawa has now offered to step up the minimum yearly increase to five per cent for the next five years.
The total amount after the five years will serve as the new baseline moving toward.
The move is expected to give provinces an extra $17.3 billion over 10 years in new support. The federal Finance Department anticipates the CHT to grow by 33 per cent over the next five years, and 61 per cent over the next 10 years.
It all hinges on better data
The increase to the Canada Health Transfer is contingent on an agreement to share comparable data and digitize the health information of Canadians so it can be more easily accessed and shared between hospitals, clinics and jurisdictions.
Tailored deals with each provinces
Ottawa has also put $25 billion on the table for tailored one-on-one deals with each province to make progress on four major issues: family health services, health worker shortages and backlogs, mental health and substance use, and health-care modernization.
The deals will be highly flexible for each province, but they will have to show their work to get the money.
The government says it wants to see a plan from each province and targeted results they hope to accomplish. The provincial and territorial governments will then need to report on their progress.
Higher wages for personal support workers
Trudeau says he'll give provinces $1.7 billion over five years to increase the pay for personal support workers, who provide the majority of bedside care in long-term care and homecare settings.
No targets have been set yet for how high those wages should be. In the last election, the Liberals pledged to increase personal support worker pay to a minimum of $25 per hour.
Indigenous health
The federal government put forward $2 billion over 10 years specifically for fair and equitable access to appropriate health care for Indigenous Peoples through a health-equity fund.
The spending will come after consultations with Indigenous groups.
Other spending
— $505 million over five years for the Canadian Institute for Health Information Canada Health Infoway, and other federal data agencies to develop new health data indicators, as well as create a "Centre of Excellence" on health worker data, and support other efforts to modernize health data systems.
— $150 million over five years for the Territorial Health Investment Fund for medical travel and to deliver health care in the territories.
This report by The Canadian Press was first published Feb. 7, 2023.