Quebec's Olivier Rioux, world's tallest teen, chasing hoops dream at Canada Games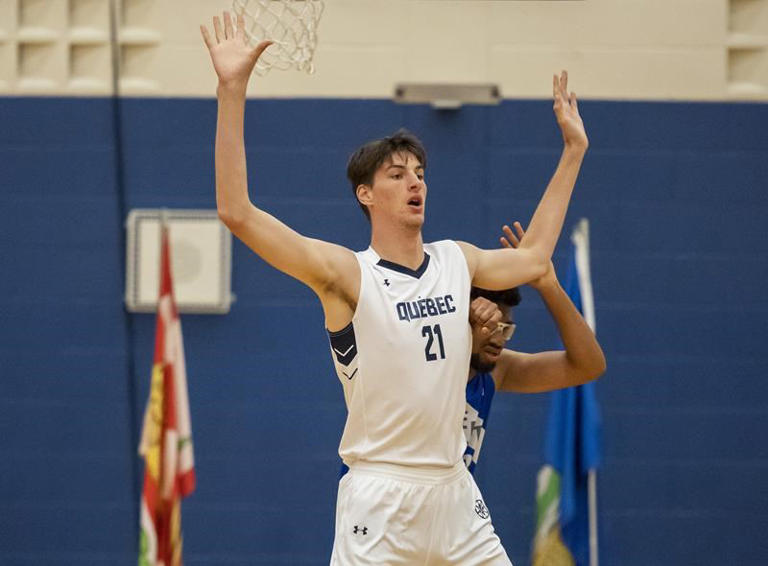 Olivier Rioux landed with a size-large exclamation point on Michael Meeks' radar when the Canada Basketball coach opened a photo in his inbox seven years ago.
Rioux was attending a kids basketball camp in Montreal, and posed for a photo alongside then-Detroit Pistons and Canadian team centre Joel Anthony, who stands a formidable six foot nine.
"Ron Yeung (Canada Basketball's manager of domestic development) sent me this photo of Olivier and Joel, and Olivier is about the same height, give or take an inch. Ron says, 'This kid is nine years old,'" said Meeks.
"I was immediately on the phones, finding out who he was and what was going on and what we can do to help."
In the years since, Rioux has sprouted to a full seven foot six. He can dunk on an NBA hoop while barely leaving his feet.
Guinness World Records recognized him as the world's tallest teenager when he was 15 and seven foot five. If he played in the NBA now, he'd be tied with Cleveland's Tacko Fall as the league's tallest player.
But Rioux is playing for Quebec at the Canada Summer Games this week in Ontario's Niagara Region with kids at least his own age, if nowhere near his size.
Quebec defeated Saskatchewan 115-78 in a consolation game on Friday after dropping a 72-70 decision to Alberta in Thursday night's quarterfinal.
Meeks, who's at the Games to keep an eye on Canada's young players, said he's seen improvement in Rioux even over the past few weeks, but cautions that like any super tall player, he's a long-term work in progress.
"People see his size and their expectations are pretty high," said Meeks. "For me, it's the little things like his mobility and agility, how he's moving, how he conceptualizes the game — how much fun is he having competing and playing?
"This is important because we're in uncharted territories with Olivier, there's never been anybody that big at that age before. So, we're kind of cautiously optimistic that he's definitely moving in the right direction."
Rioux, who's from Anjou, a borough in east Montreal, will begin Grade 10 in the fall in Bradenton, Fla. He moved there to attend IMG Academy — a school that counts superstar tennis sisters Serena and Venus Williams among its alumni — a year ago.
"It was nice," Rioux said of his first year away from home. "I was calling my parents almost every day, and the school year was good, my grades were up.
"Back in Montreal I used to go to school every day for at least eight hours. Now I go to school for three hours and practice in the afternoon, It's different," he added with a deep-voiced laugh.
He's having fun at the Games, he said, and has taken in some of the boxing competition.
Rioux was 5-2 in kindergarten. His dad Jean-Francois is 6-8, his mom Anne is 6-2.
He first became an unsuspecting internet star at age 12, while playing at a tournament in Spain. He stood out like a maypole among the other players on the court. It caught the eye of Golden State star Steph Curry, who tweeted: "So many questions … "
Jamal Murray posed for a photo alongside him that summer. He already towered over the Denver Nuggets star guard from Kitchener, Ont.
Joey Mckitterick, who's coached Rioux at Montreal's AAU program Brookwood Elite since he was 12, echoed Meeks in that he's seen huge improvement in Rioux this year, particularly as his growing has slowed and his co-ordination is catching up.
But perhaps most important is that Rioux is enjoying the game, which is key since huge expectations come with being super tall.
"I think this year you could see that he enjoyed everything about it, the basketball, the travelling, everything like that. He's definitely falling in love with it," Mckitterick said.
Mckitterick said part of his responsibility coaching Rioux was being a buffer between the teen and curious onlookers.
"When we travel, we could be sitting in a hotel lobby and random strangers will come up to him and ask him for a picture. It's challenging even getting through the airport to make a flight on time because people are constantly stopping him: 'Can I take your picture? Can you hold my baby?' Can you do this, can you do that?
"When I met with our players at the end of the year. I told him 'I can't imagine being you. But the best I can do is just kind of guide you and help you and be here for you for anything you need, because I can't put myself in your position.' Nobody could."
That uniqueness makes it difficult to gauge where basketball might take him.
"When you see Olivier, every three to six months he's doing things quicker, faster, stronger, more balanced, he's got more agility, his game is getting better, his understanding of how to impact the game is getting better," Meeks said. "This is important, because usually taller players are a little bit slower (to develop), and he's moving at the right rate in terms of a super tall player.
"Usually guys that stopped growing at about 6-3, 6-4, you could begin to see exactly what they're going to be by the time they're 16 years old. But these tall, tall players, it's 24, 25 before it all starts coming together."
Rioux, who likes to study the games of Giannis Antetokounmpo and Nikola Jokic, who are both 6-11, is well-proportioned for his size and hasn't had any major physical issues such as sore knees that can come with fast growth.
Among other NBA giants, Gheorghe Muresan is listed as the tallest ever at seven foot seven. Yao Ming and Shawn Bradley were 7-6. Canadian Sim Bhullar was 7-5, but his weight — he was listed at 360 pounds — was a limiting factor.
Canada at least has some experience with super tall players. Zach Edey, a 20-year-old from Toronto, is seven foot four. Edey made his debut with Canada's senior men's team in a World Cup qualifier in May. The IMG Academy product is heading into his junior season for the Purdue Boilermakers, who've also expressed early interest in Rioux.
"There are a lot of Division 1 schools that are very familiar with him already," Mckitterick said. "The schools that are really focusing in on him are ones that value the size and want to use it. Because basketball has kind of gone in the direction of smaller (multi-position players), but there's still a lot of programs that still value that size."
This report by The Canadian Press was first published Aug. 12, 2022.
Lori Ewing, The Canadian Press
Alphonso Davies scores Canada's first-ever World Cup goal
AL RAYYAN, Qatar — Alphonso Davies scored against Croatia on Sunday to give Canada its first-ever goal at the men's World Cup.
The goal came 67 seconds into the game.
Canada's goalkeeper Milan Borjan set up the play with a long goal kick that found Cyle Larin down field.
Larin directed the ball to Tajon Buchanan on the right flank.
Buchanan then sent a cross that found Davies flying through the air and the Bayern Munich star headed the ball past Croatian keeper Dominik Livaković to give Canada a 1-0 lead.
Canada failed to score or secure a point in its first trip to the tournament in 1986, exiting after three first-round losses in Mexico.
Consider that 2,548 goals in total were scored at the 21 previous World Cups, with 132 of those scored at the 1986 tournament. Brazil came to Qatar as the all-time goals leader at the World Cup with 229, having competed at every tournament.
At the other end of the list, Congo (competing as Zaire), China, Indonesia (competing as Dutch East Indies) and Trinidad and Tobago have yet to score at the World Cup.
It looked like Davies was going to end the scoring drought in the 11th minute of Canada's opener Wednesday against No. 2 Belgium at Ahmad Bin Al Stadium, but his penalty kick was saved by Belgian 'keeper Thibault Courtois.
The 41st-ranked Canadians ended up losing 1-0 despite outshooting Belgium 21-9 (each team had three shots on target). Forward Jonathan David led Canada with seven attempted shots, none of which hit the mark.
Canada needed to secure at least a point against No. 12 Croatia to keep alive its hopes of making it to the knockout round.
In 1986, the bookmakers laid long odds on Canada getting a goal in Mexico. And they were proved right as the Canadian men lost 1-0 to France and 2-0 to Hungary in their first two outings at the tournament.
Defender Bob Lenarduzzi came close in Canada's final Group C game at Estadio Sergio Leon Chavez in Irapuato, on a corner against the Soviet Union, only to have the ball squib off his foot in the penalty box. Canada was blanked again, losing 2-0 in its tournament finale.
"It was a terrible effort," Lenarduzzi recalled prior to the tournament with a laugh.
"To this day I will have people, older people that is, say 'You cost me a few bucks. If you had scored there, I would have done all right.' Whoever scores that first goal for Canada _ and someone's going to do it in Qatar _ they don't know it, but they should thank me for them having that honour. Because I should have scored."
Canada has offensive weapons in Qatar. Cyle Larin came into the tournament with a Canadian men's record 25 goals while David had 22, Lucas Cavallini 18, Junior Hoilett 14 and Davies 12.
Midfielder Jonathan Osorio, who came into Sunday's matchup with seven Canada goals to his credit, said scoring in Qatar was just a step to a greater goal.
"Of course that will be very special to the country when we get our first goal," he said prior to the tournament. "You're going to be remembered forever really. But I don't think that's really the focus. The focus is getting the first win. That's what we're looking forward to.
"For us it really doesn't matter who scores as long as somebody does it and we're able to win the game. I think people are more looking forward to the first win rather than just the first goal."
The first strike was one of Canada's first team goals in Qatar, however.
Croatia outscored its opposition 14-9 at the 2018 World Cup, losing 4-2 to France in the final. But it was stymied in its Group F opener Wednesday, playing No. 22 Morocco to a 0-0 draw.
—
Follow @NeilMDavidson on Twitter
This report by The Canadian Press was first published Nov. 27, 2022
Canada's top five federal contaminated sites to cost taxpayers billions to clean up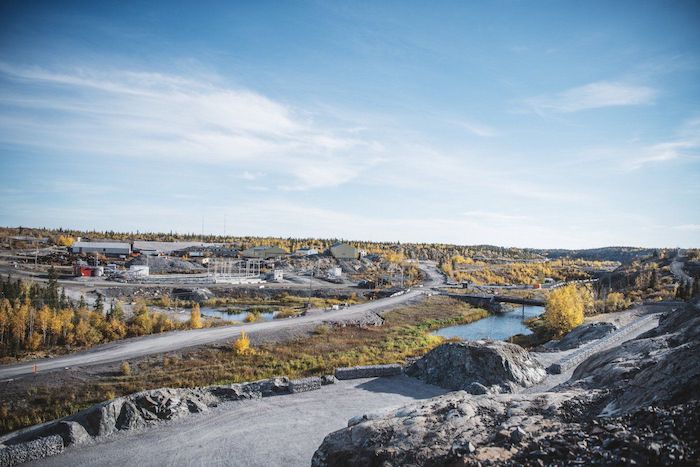 By Emily Blake in Yellowknife
With a cost estimate of $4.38 billion, remediation of the Giant Mine, one of the most contaminated sites in Canada, is also expected to be the most expensive federal environmental cleanup in the country's history.
The figure, recently approved by the Treasury Board of Canada, spans costs from 2005 until 2038, when active remediation at the former Yellowknife gold mine is anticipated to end. That includes $710 million the federal government said has already been spent, but does not include costs for long-term care and maintenance.
"It doesn't bother me so much that it's going to cost $4 billion to clean up Giant Mine. What really bothers me is that the taxpayer is covering that cost," said David Livingstone, chair of the Giant Mine Oversight Board.
It indicates the federal government failed to ensure private developers provided financial security to remediate sites. He said while that has improved over time, there will likely be more issues in the future.
"We as a society need to get a better handle on what it costs us to support mining industry and oil and gas industry," he said. "If the numbers suggest that it's going to cost more to clean up a site than that site generated in revenue to the Crown, we've got a problem."
There are more than 20,000 locations listed in the federal contaminated sites inventory, from dumps and abandoned mines to military operations on federal land.
Environment and Climate Change Canada says that after Giant Mine, the four most expensive cleanups are the Faro Mine in Yukon, the Port Hope Area Initiative in Ontario, Esquimalt Harbour in British Columbia and Yukon's United Keno Hill Mine.
More than $2 billion has been spent on the five sites so far, and it's anticipated they will cost taxpayers billions more in the coming years. Their final price tags are not yet known.
The most recent numbers from the Treasury Board of Canada indicate more than $707 million has been spent on remediation, care and maintenance at Faro Mine, a former open pit lead-zinc mine. Its remediation project is expected to take 15 years to complete and is currently estimated to cost $1 billion, plus $166 million for the first 10 years of long-term operation and maintenance.
Parsons Inc. was awarded a $108-million contract in February for construction, care and maintenance at Faro Mine until March 2026, with the option to extend the contract for the duration of active remediation. The company said the contract could ultimately span 20 years and exceed $2 billion.
In 2012, Ottawa committed $1.28 billion in funding over 10 years for the cleanup of historical low-level radioactive waste in the municipalities of Port Hope and Port Grandby, Ont. To date more than $722 million has been spent on assessment and remediation.
The Port Grandby Project was completed earlier this year and has moved into long-term monitoring for hundreds of years. The Port Hope cleanup, which started in 2018, will continue into 2030.
The cleanup in the Esquimalt Harbour seabed in Victoria currently has a budget of $162.5 million. Roughly $214 million has already been spent on remediation and assessment. The Department of National Defence said that may include costs before 2015, when the remediation project began.
Cleanup of United Keno Hill Mine, a historical silver, lead and zinc mining property near Yukon's Keno City, is estimated to cost $125 million, including $79 million during its active reclamation phase. That is expected to begin in 2023 and take five years, followed by a two-year transition phase then long-term monitoring and maintenance. More than $67 million has been spent on remediation, care and maintenance at the site so far.
Other costly federal sites that have been cleaned up include the Cape Dyer Dew-Line, 21 former radar stations across the Arctic, for $575 million, the Sydney tar ponds and coke ovens on Cape Breton Island, N.S., for nearly $398 million, and the 5 Wing Goose Bay air force base in Labrador, for $142.9 million.
The 2022 public accounts state the gross liability for the 2,524 federal contaminated sites where action is required is nearly $10 billion based on site assessments. Of the 3,079 unassessed sites, 1,330 are projected to proceed to remediation with an estimated liability of $256 million.
The federal contaminated sites action plan was established in 2005 with $4.54 billion in funding over 15 years. That was renewed for an additional 15 years, from 2020 to 2034, with a commitment of $1.16 billion for the first five years.
Jamie Kneen with MiningWatch Canada said the contamination from Giant Mine highlights the importance of the planning and assessment process for development projects.
"If you don't actually do any planning around something, you can end up with a pretty horrible mess," he said. "In this case, it killed people before they started even capturing the arsenic. We don't want that to happen anymore."
This report by The Canadian Press was first published Nov. 27, 2022.
___
This story was produced with the financial assistance of the Meta and Canadian Press News Fellowship.