Putin welcomes China's Xi to Kremlin amid Ukraine war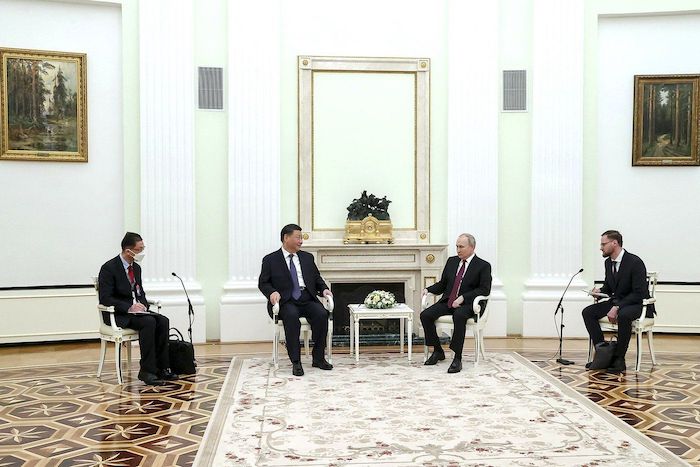 In this handout photo released by Russian Presidential Press Office, Russian President Vladimir Putin, center right, and Chinese President Xi Jinping, center left, talk to each other during their meeting at the Kremlin in Moscow, Russia, Monday, March 20, 2023. (Russian Presidential Press Office via AP)
Moscow
Russian President Vladimir Putin warmly welcomed Chinese leader Xi Jinping to the Kremlin on Monday, a visit that sent a powerful message to Western leaders allied with Ukraine that their efforts to isolate Moscow have fallen short.
Xi's trip — his first abroad since his re-election earlier this month— showed off Beijing's new diplomatic swagger and gave a political lift to Putin just days after an international arrest warrant was issued for the Kremlin leader on war crimes charges related to Ukraine.
The two major powers have described Xi's three-day trip as an opportunity to deepen their "no-limits friendship." China looks to Russia as a source of oil and gas for its energy-hungry economy, and as a partner in standing up to what both see as U.S. domination of global affairs. The two countries, which are among the five permanent members of the U.N. Security Council, also have held joint military drills.
They shook hands before sitting down and making brief statements at the start of their meeting, calling each other "dear friend" and exchanging compliments. Putin congratulated Xi on his re-election and voiced hope for building even stronger ties.
He welcomed China's proposals for a political settlement in Ukraine and noted that Russia is open for talks.
"We will discuss all those issues, including your initiative that we highly respect," he said. "Our cooperation in the international arena undoubtedly helps strengthen the basic principles of the global order and multipolarity."
Moscow and Beijing have common cause: Earlier this month, Xi accused Washington of trying to isolate his country and hold back its development as it challenges for regional and possibly global leadership.
In an increasingly multipolar world, the U.S. and its allies have been unable to build a broad front against Putin. Last month, on the first anniversary of the invasion of Ukraine, although 141 countries voted to condemn Russia at the United Nations, several members of the G-20 — including India, China and South Africa — chose to abstain. Many African nations haven't openly criticized Russia over its invasion, either.
Xi thanked Putin for the congratulations on his re-election and noted Russia was the site of his first foreign trip after that.
Kremlin spokesman Dmitry Peskov said that over dinner, Putin and Xi will likely include a "detailed explanation" of Moscow's actions in Ukraine. Broader talks involving officials from both countries on a range of subjects are scheduled for Tuesday, he added.
For Putin, Xi's presence is a prestigious, diplomatic triumph amid Western efforts to isolate Russia after its invasion of Ukraine.
Moscow and Beijing are making common cause: Earlier this month, Xi accused Washington of trying to isolate his country and hold back its development as it challenges for regional and possibly global leadership.
In an increasingly multipolar world, the U.S. and its allies have been unable to build a broad global front against Putin. On the first anniversary of the invasion last month, although 141 countries voted to condemn Russia at the United Nations, several members of the G-20 — including India, China and South Africa — chose to abstain. Many African nations haven't openly criticized Russia over its invasion, either.
In an article published in the Chinese People's Daily newspaper, Putin described Xi's visit as a "landmark event" that "reaffirms the special nature of the Russia-China partnership."
Putin also specifically said the meeting sent a message to Washington that the two countries aren't prepared to accept attempts to weaken them.
"The U.S. policy of simultaneously deterring Russia and China, as well as all those who do not bend to the American diktat, is getting ever fiercer and more aggressive," he wrote.
Xi's trip came after the International Criminal Court in The Hague announced Friday it wants to put Putin on trial for the abductions of thousands of children from Ukraine.
China portrays Xi's visit as part of normal diplomatic exchanges and has offered little detail about what the trip aims to accomplish, though the nearly 13 months of war in Ukraine cast a long shadow on the talks.
At a daily briefing in Beijing on Monday, Foreign Ministry spokesperson Wang Wenbin said Xi's trip was a "journey of friendship, cooperation and peace."
On the war, Wang said: "China will uphold its objective and fair position on the Ukrainian crisis and play a constructive role in promoting peace talks."
Beijing's leap into Ukraine issues follows its recent success in brokering talks between Iran and its chief Middle Eastern rival, Saudi Arabia, which agreed to restore their diplomatic ties after years of tensions.
Following that success, Xi called for China to play a bigger role in managing global affairs.
"President Xi will have an in-depth exchange of views with President Putin on bilateral relations and major international and regional issues of common concern," Wang said.
He added that Xi aims to "promote strategic coordination and practical cooperation between the two countries and inject new impetus into the development of bilateral relations."
Although they boast of a "no-limits" partnership, Beijing has conducted a China First policy. It has shrunk from supplying Russia's war machine — a move that could worsen relations with Washington and turn important European trade partners against Beijing. On the other hand, it has refused to condemn Moscow's aggression and has censured Western sanctions against Moscow, while accusing NATO and the United States of provoking Putin's military action.
China last month called for a cease-fire and peace talks between Kyiv and Moscow. Ukrainian President Volodymyr Zelenskyy cautiously welcomed Beijing's involvement, but the overture fizzled.
The Kremlin has welcomed China's peace plan and said Putin and Xi would discuss it.
Washington strongly rejected Beijing's call for a cease-fire as the effective ratification of the Kremlin's battlefield gains.
Kyiv officials say they won't bend in their terms for a peace accord.
"The first and main point is the capitulation or withdrawal of the Russian occupation troops from the territory of Ukraine in accordance with the norms of international law and the UN Charter," Oleksiy Danilov, the secretary of Ukraine's National Security and Defense Council, tweeted on Monday.
That means restoring "sovereignty, independence and territorial integrity," he wrote.
The Kremlin doesn't recognize the authority of the International Criminal Court and has rejected its move against Putin as "legally null and void." China, the U.S. and Ukraine also don't recognize the ICC, but the court's announcement tarnished Putin's international standing.
China's Foreign Ministry called on the ICC to "respect the jurisdictional immunity" of a head of state and "avoid politicization and double standards."
Russia's Investigative Committee said Monday it is opening a criminal case against a prosecutor and three judges of the ICC over the arrest warrants issued for Putin and his commissioner for children's rights, Maria Lvova-Belova. The committee called the ICC's prosecution "unlawful" because it was, among other things, a "criminal prosecution of a knowingly innocent person."
___
Follow the AP's coverage of the war at https://apnews.com/hub/russia-ukraine
Blinken warns Ukraine cease-fire now would result in 'Potemkin peace,' legitimizing Russian invasion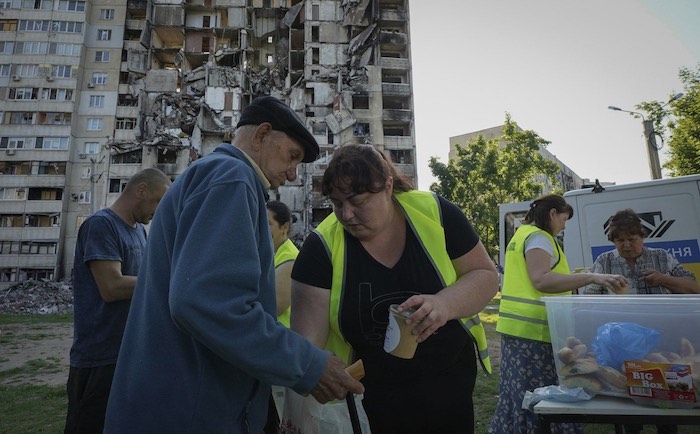 By Susie Blann And Matthew Lee in Kyiv
KYIV, Ukraine (AP) — U.S. Secretary of State Antony Blinken said Friday that the United States and its allies should not support a cease-fire or peace talks to end the war in Ukraine until Kyiv gains strength and can negotiate on its own terms.
As an anticipated Ukrainian counteroffensive appeared to be taking shape, Blinken said heeding calls from Russia and others, including China, for negotiations now would result in a false "Potemkin peace" that wouldn't secure Ukraine's sovereignty or enhance European security.
"We believe the prerequisite for meaningful diplomacy and real peace is a stronger Ukraine, capable of deterring and defending against any future aggression," Blinken said in a speech in Finland, which recently became NATO's newest member and shares a long border with Russia.
His use of the term "Potemkin" referred to the brightly painted village fronts that 18th century Russian government minister Grigory Potemkin reportedly used to have built to create an illusion of prosperity for Russia's empress.
Blinken repeated the U.S. view that "a cease-fire that simply freezes current lines in place" and allows Russian President Vladimir Putin "to consolidate control over the territory he has seized, and rest, rearm, and re-attack — that is not a just and lasting peace."
Allowing Moscow to keep the one-fifth of Ukrainian territory it's occupied would send the wrong message to Russia and to "other would-be aggressors around the world," according to Blinken, implying that a cease-fire shouldn't be arranged until either Ukraine pushes Russia back or Russia withdraws its troops.
Blinken's position is similar to that of Ukrainian officials, including his statement that Russia must pay for a share of Ukraine's reconstruction and be held accountable for the full-scale invasion of its neighbor in February 2022.
After months of battlefield stalemate across a 685-mile (1100-km) front line, Ukrainian officials have given confusing signals about whether a counteroffensive, relying heavily on recently deployed advanced Western weapons and training, is coming or already underway.
Some have suggested the campaign will not be a barrage of simultaneous attacks across the entire front but rather a series of more targeted, limited strikes, first to weaken Russia's supply lines and infrastructure, then expanded to broader targets with greater intensity.
Ukrainian President Volodymyr Zelenskyy weighed in again on Friday.
"This is not a movie," he told reporters in Kyiv. "It is hard to say how you'll see the counteroffensive. The main point here is for Russia to see it. And not just see but feel it. Especially, we speak about the troops that have occupied our territories. De-occupation of our territories – this is the result of our counteroffensive. When you see this, you'll understand that it has started."
Zelenskyy has said his goal is to drive Russian troops out of the four territories it partially occupies and illegally annexed last fall, as well as from the Crimean Peninsula the Kremlin illegally seized in 2014.
Putin has said two of his goals in invading Ukraine were to improve Russia's security and prevent Ukraine from joining NATO but the Kyiv government has applied to join the alliance, and Sweden is hoping to be accepted as a member in July. That would surround Russia with NATO countries in the Baltic Sea.
Blinken described the Russian invasion of Ukraine as a catastrophic strategic failure for Moscow that had strengthened NATO, the European Union and Ukraine. Russia has become more isolated, he said, shackled to China as a junior partner in a relationship that Beijing has increasingly come to resent, and no longer able to use energy as a political tool in countries it once counted as its own or satellites.
For its part, Russia wants any talks to address Ukraine's request to join NATO.
"Naturally, this (issue) will be one of the main irritants and potential problems for many, many years to come," Kremlin spokesman Dmitry Peskov said Friday.
Blinken said Washington was ready to support peace efforts by other countries, including those by China and Brazil but that any peace agreement must uphold the principles of sovereignty, territorial integrity and independence.
China, which says it is neutral and wants to serve as a mediator but has supported Moscow politically, on Friday urged countries to stop sending weapons to Ukraine. The United States is a leading Western ally and supplier of arms to Kyiv.
In Kyiv, in the sixth air attack in as many days, Ukrainian air defenses late Thursday and early Friday intercepted all 15 incoming cruise missiles and 21 attack drones, Ukraine's chief of staff, Valerii Zaluzhnyi, said.
The Ukrainian capital was simultaneously attacked from different directions by Iranian-made Shahed drones and cruise missiles from the Caspian Sea region, senior Kyiv official Serhii Popko wrote on Telegram.
A 68-year-old man and an 11-year-old child were wounded in the attack, in which falling debris damaged private houses, outbuildings and cars, according to Ukraine's Prosecutor General's Office.
Elsewhere, several explosions occurred Friday in the Azov Sea port of Berdyansk in the Russian-occupied part of Ukraine's southern Zaporizhzhia region, one of the four provinces Russia illegally annexed. Russian-appointed officials blamed Ukrainian rocket attacks and said nine people were wounded. Videos posted on social media appear to show smoke rising in the port area. Ukrainian officials acknowledged their forces were responsible and claimed Russian ships were evacuating the port.
The Moscow-appointed governor of Ukraine's occupied Donetsk province, Denis Pushilin, claimed Friday that Ukrainian strikes had killed three people and wounded four, including a 3-year-old-girl.
In other developments Friday, border regions of Russia again came under fire. One of the most frequently hit targets of cross-border shelling, Russia's Belgorod region, was bombarded by artillery shells and drone strikes in multiple villages, Gov. Vyacheslav Gladkov said. At least two women died in a car, multiple people were injured, and apartment buildings, cars, power transmission lines and farm equipment were damaged, he said on Telegram.
The Freedom of Russia Legion, one of the groups that has claimed responsibility for prior attacks on Belgorod, blamed the Russian military for the deaths. The group alleged the Russian army had mistakenly believed the car belonged to the paramilitary group. Thousands of people have been evacuated from the region, and many roads have been closed.
Air defense systems shot down several Ukrainian drones in Russia's southern Kursk region, Gov. Roman Starovoit reported. In Russia's Bryansk region, Gov. Alexander Bogomaz said Ukrainian forces shelled two villages, with no reported casualties.
Two drones also attacked energy facilities in Russia's western Smolensk region, which borders Belarus, officials said.
The U.K. Ministry of Defense said the incursions could be a Ukrainian strategy to disperse Russian forces before a counteroffensive.
"Russian commanders now face an acute dilemma of whether to (strengthen) defenses in Russia's border regions or reinforce their lines in occupied Ukraine," the ministry said.
___
Matthew Lee reported from Oslo, Norway. Karl Ritter contributed from Stockholm and Andrew Katell from New York.
Records detail Jeffrey Epstein's last days and prison system's scramble after his suicide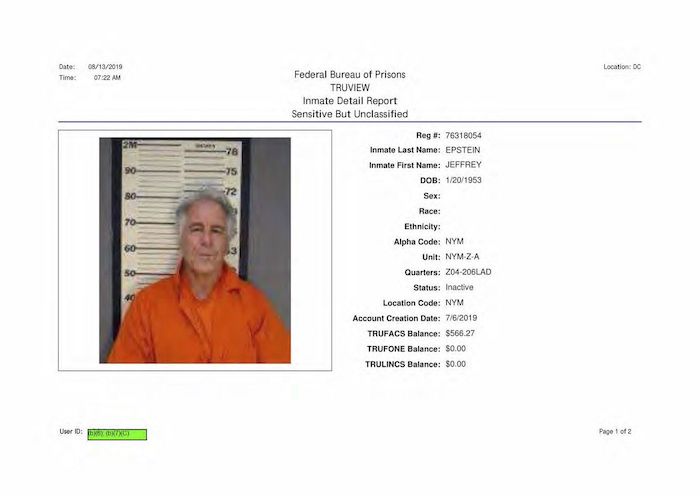 This photo shows one page of more than 4,000 pages of documents that the Associated Press obtained on Thursday, June 1, 2023, related to Jeffrey Epstein's jail suicide from the federal Bureau of Prisons under the Freedom of Information Act. (Federal Bureau of Prisons via AP)
By Jake Offenhartz And Michael R. Sisak in New York
NEW YORK (AP) — Nearly four years after Jeffrey Epstein's death, thousands of pages of records obtained by The Associated Press are shedding new light on the financier's time behind bars and a frantic response by federal corrections officials to his death.
The documents, including emails between jail officials and psychological evaluations, offer a fuller picture of Epstein as he awaited trial on sex trafficking charges at the now-shuttered Metropolitan Correctional Center.
Epstein killed himself at the federal jail in 2019. In the days and weeks that followed, corrections officials struggled to explain how such a high-profile detainee had managed to take his own life.
The records show how he was moved from the jail's general population to specialized housing and how he was briefly on suicide watch before being downgraded to psychiatric observation — his status when he killed himself.
Here are takeaways from the more than 4,000 pages of documents:
AN AGITATED INMATE
Epstein was anxious and despondent during much of his time in jail, prompting concern from jail guards and psychological experts about his mental state. He complained often about jail life, including poor sleep, constipation, the color of his uniform and his treatment by other detainees. The noise from a broken toilet in his cell left him sitting in the corner with his hands over his ears, according to one psychologist.
But despite his litany of complaints, Epstein insisted that he wouldn't take his own life. Even after he was discovered on his cell's floor with a strip of bedsheet around his neck and placed on suicide watch for 31 hours, he denied that he was contemplating suicide, which he said was against his Jewish religion. Plus, he added, he was a "coward" who didn't like pain.
"He described having a 'wonderful life,''" a psychological evaluation stated. "He said 'it would be crazy' to take his life. He furthered, 'I would not do that to myself.'"
A LETTER TO ANOTHER SEX OFFENDER
Among the new revelations was an attempt by Epstein to reach out to another notorious pedophile: Larry Nassar, the USA Gymnastics team doctor convicted of sexually abusing scores of young athletes.
A letter sent by Epstein to Nassar was found returned to sender in the jail's mail room weeks after Epstein's death. "It appeared he mailed it out and it was returned back to him," the investigator who found the letter told a corrections official by email. "I am not sure if I should open it or should we hand it over to anyone?"
The letter itself wasn't included among the documents turned over to the AP, which also don't indicate what became of the letter.
FINAL PHONE CALL
Epstein was found dead on the morning of Aug. 10, 2019. He had hanged himself with a bedsheet, according to the medical examiner. Hours earlier, he appears to have successfully deceived jail guards one last time by telling them he wanted to talk on the phone to his mother, who had been dead for 15 years.
A correctional officer escorted Epstein to a shower area at around 7 p.m., where he was permitted to make a 15 minute "social call." Reports later indicated that he had phoned his 30-year-old girlfriend.
Weeks after his death, a jail warden questioned why an employee had failed to follow policy by allowing Epstein to make an unmonitored call.
MUDDLED RESPONSE
The documents shed light on the lurching response by the Bureau of Prisons in the critical hours of Epstein's death.
In one email, a prosecutor involved in Epstein's criminal case complained to an agency lawyer that it was "frankly unbelievable" that the agency was issuing public news releases "before telling us basic information so that we can relay it to his attorneys who can relay it to his family."
In another email, the prosecutor wrote of getting "increasingly frantic calls" from Epstein's lawyers.
"We need to know as soon as possible the very basic facts, such as time and cause of death at the absolute minimum," wrote the prosecutor, whose name was redacted. "It has now been hours since this was reported publicly," the prosecutor wrote, adding that it was "extraordinary frustrating to have to tell them that we have less information than the press."
As news outlets began reporting details of the agency's failings, a high-ranking federal prison official made the apparently baseless suggestion to the agency's director that reporters must have been paying jail employees for information.
THE AFTERMATH
Epstein's death touched off a wave of anger toward the Bureau of Prisons and questions about the operation of the Metropolitan Correctional Center. In an internal memo, officials blamed "seriously reduced staffing levels, improper or lack of training, and follow up and oversight" for the death.
Two guards who were supposed to be watching Epstein on the night of his death were found to have falsified records, admitting to napping and browsing the internet instead of monitoring the high-profile inmate.
The documents show other efforts to implement reforms, such as requiring jail captains to review footage ensuring that guards are completing their rounds every 30 minutes. Jail officials said they would allow psychological experts to play a larger role in determining how housing decisions are made.
In some respects, the officials may have overcorrected. A memo sent to the Bureau of Prisons director shortly after Epstein's death warned that wardens were "defaulting to leaving inmates on suicide watch longer than the psychologists have advised."
By 2021, the Metropolitan Correctional Center had closed down. An investigation by the Justice Department's inspector general is still ongoing.
___
For more AP coverage of Jeffrey Epstein: https://apnews.com/hub/jeffrey-epstein