Putin says Ukraine's future in doubt as cease-fires collapse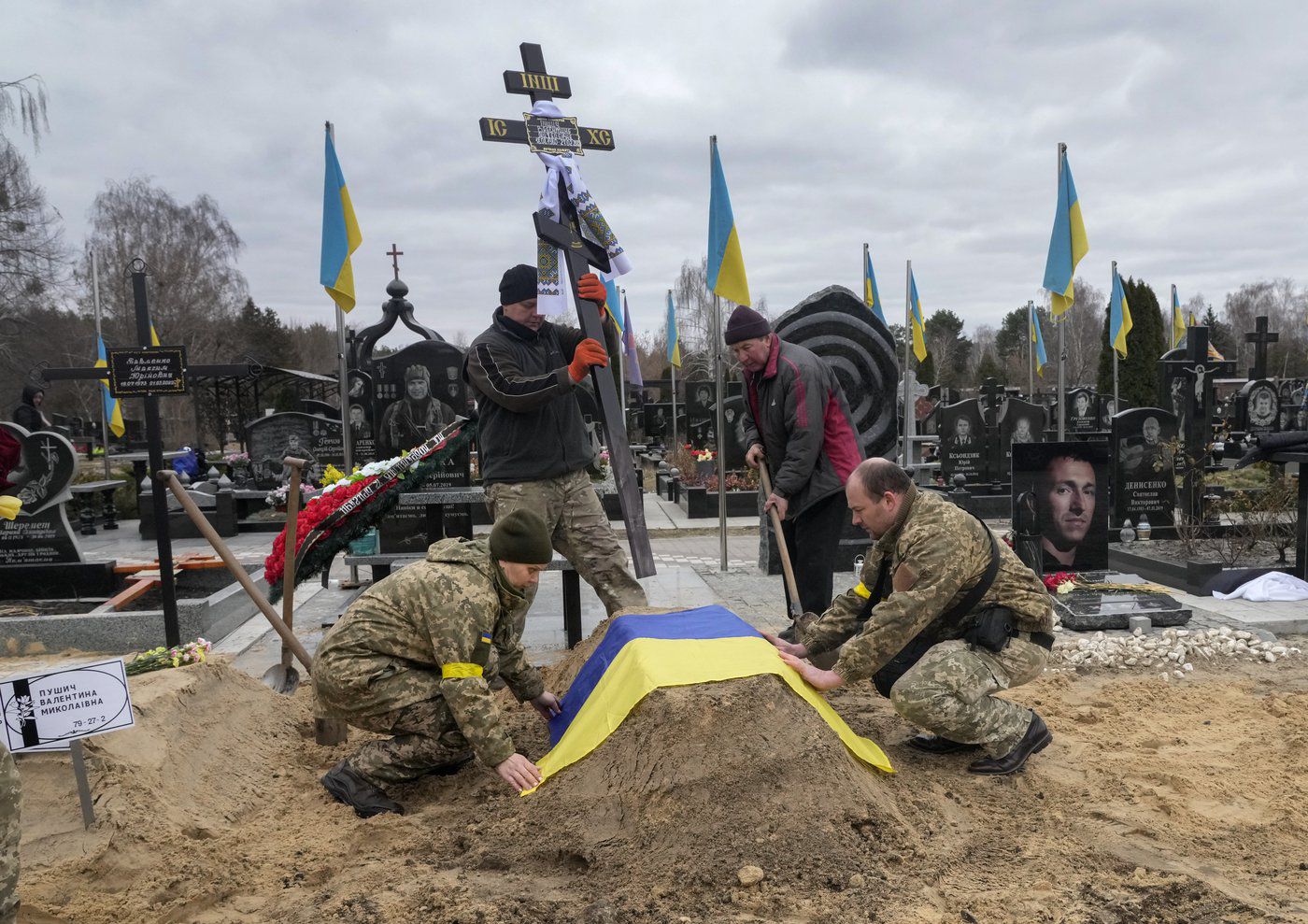 LVIV, Ukraine (AP) — Russian President Vladimir Putin warned Saturday that Ukrainian statehood is in jeopardy and likened the West's sanctions on Russia to "declaring war," while a promised cease-fire in the besieged port city of Mariupol collapsed amid scenes of terror.
With the Kremlin's rhetoric growing fiercer and a reprieve from fighting dissolving, Russian troops continued to shell encircled cities and the number of Ukrainians forced from their country grew to 1.4 million. By Saturday night Russian forces had intensified their shelling of Mariupol, while dropping powerful bombs on residential areas of Chernihiv, a city north of Kyiv, Ukrainian officials said.
Bereft mothers mourned slain children, wounded soldiers were fitted with tourniquets and doctors worked by the light of their cellphones as bleakness and desperation pervaded. Putin continued to pin the blame for all of it squarely on the Ukrainian leadership and slammed their resistance to the invasion.
"If they continue to do what they are doing, they are calling into question the future of Ukrainian statehood," he said. "And if this happens, it will be entirely on their conscience."
He also hit out at Western sanctions that have crippled Russia's economy and sent the value of its currency tumbling.
"These sanctions that are being imposed, they are akin to declaring war," he said during a televised meeting with flight attendants from Russian airline Aeroflot. "But thank God, we haven't got there yet."
Russia's financial system suffered yet another blow after Mastercard and Visa announced they were suspendingoperations in the country.
Ten days after Russian forces invaded, the struggle to enforce the temporary cease-fires in Mariupol and the eastern city of Volnovakha showed the fragility of efforts to stop the fighting across Ukraine.
Ukrainian officials said Russian artillery fire and airstrikes had prevented residents from leaving before the agreed-to evacuations got underway. Putin accused Ukraine of sabotaging the effort.
A third round of talks between Russia and Ukraine will take place Monday, according to Davyd Arakhamia, a member of the Ukrainian delegation. He gave no additional details, including where they would take place.
Previous meetings were held in Belarus and led to the failed cease-fire agreement to create humanitarian corridors for the evacuation of children, women and older people from besieged cities, where pharmacies have run bare, hundreds of thousands face food and water shortages, and the injured have been succumbing to their wounds.
In comments carried on Ukrainian television, Mariupol Mayor Vadym Boychenko said thousands of residents had gathered for safe passage out of the city of 430,000 when shelling began and the evacuation was stopped, and the attack escalated later in the day.
"The city is in a very, very difficult state of siege," Boychenko told Ukrainian TV. "Relentless shelling of residential blocks is ongoing, airplanes have been dropping bombs on residential areas. The Russian occupants are using heavy artillery, including Grad multiple rocket launchers."
Russia has made significant advances in the south, seeking to cut off Ukraine's access to the sea. Capturing Mariupol could allow Russia to establish a land corridor to Crimea, which it annexed in 2014.
Meanwhile the head of the Chernihiv region said Russia has dropped powerful bombs on residential areas of the city of the same name, which has a population of 290,000. Vyacheslav Chaus posted a photo online of what he said was an undetonated FAB-500, a 1,100-pound (500-kilogram) bomb.
"Usually this weapon is used against military-industrial facilities and fortified structures," Chaus said. "But in Chernihiv, against residential areas."
In a speech to Ukrainians on Saturday, President Volodymyr Zelenskyy pointed to "the 500-kilogram bombs that were dropped on the houses of Ukrainians. Look at Borodyanka, at the destroyed schools, at the blown-up kindergartens. At the damaged Kharkiv Assumption Cathedral. Look what Russia has done."
The West has broadly backed Ukraine, offering aid and weapons and slapping Russia with vast sanctions. But the fight itself has been left to Ukrainians, who have expressed a mixture of courageous resolve and despondency.
"Ukraine is bleeding," Foreign Minister Dmytro Kuleba said in a video released Saturday, "but Ukraine has not fallen."
Russian troops advanced on a third nuclear power plant, having already taken control of one of the four operating in the country and the closed plant in Chernobyl, Zelenskyy told U.S. lawmakers.
Zelenskyy pleaded with the lawmakers for additional help, specifically fighter planes to help secure the skies over Ukraine, even as he insisted Russia was being defeated.
"We're inflicting losses on the occupants they could not see in their worst nightmare," Zelenskyy said.
Russian troops took control of the southern port city of Kherson this week. Although they have encircled Kharkiv, Mykolaiv, Chernihiv and Sumy, Ukrainian forces have managed to keep control of key cities in central and southeastern Ukraine, Zelenskyy said Saturday.
Diplomatic efforts continued as U.S. Secretary of State Antony Blinken arrived in Poland to meet with the prime minister and foreign minister, a day after attending a NATO meeting in Brussels in which the alliance pledged to step up support for eastern flank members.
In Moscow, Israeli Prime Minister Naftali Bennett met with Putin at the Kremlin. Israel maintains good relations with both Russia and Ukraine, and Bennett has offered to act as an intermediary in the conflict, but no details of Saturday's meeting have emerged.
In the wake of Western sanctions, Aeroflot, Russia's flagship state-owned airline, announced that it plans to halt all international flights except to Belarus, starting Tuesday.
The death toll of the conflict was difficult to measure. The U.N. human rights office said at least 351 civilians have been confirmed killed since Russia's invasion of Ukraine on Feb. 24, but the true number is probably much higher. The Russian military, which doesn't offer regular updates on casualties, said Wednesday that 498 of its troops had been killed.
Ukraine's military is vastly outmatched by Russia's, but its professional and volunteer forces have fought back with fierce tenacity. Even in cities that have fallen, there were signs of resistance.
Onlookers in Chernihiv cheered as they watched a Russian military plane fall from the sky and crash, according to video released by the Ukrainian government. In Kherson, hundreds of protesters waved blue and yellow Ukrainian flag sand shouted, "Go home."
A vast Russian armored column threatening Ukraine's capital remained stalled outside Kyiv. Ukrainian presidential adviser Oleksiy Arestovich said Saturday afternoon that the military situation was quieter overall and that Russian forces hadn't "taken active actions since the morning."
Zelenskyy has pleaded for a no-fly zone over his country and lashed out at NATO for refusing to impose one, warning that "all the people who die from this day forward will also die because of you."
Putin warned that a no fly zone would be considered a hostile act, and NATO has said it has no plans to implement one. Western officials have said a main reason is a desire to not widen the war beyond Ukraine.
The U.S. Congress is considering a request for $10 billion in emergency funding for humanitarian aid and security needs. The U.N. said it would increase its humanitarian operations both inside and outside Ukraine, and the Security Council scheduled a meeting for Monday on the worsening situation.
As Russia cracks down on independent media reporting on the war, more major international news outlets said they were pausing their work in that country. Putin said nothing warrants imposing martial law at this point.
And in a warning of an impending hunger crisis yet to come, the U.N. World Food Program has said millions of people inside Ukraine, a major global wheat supplier, will need food aid "immediately."
Kyiv's central train station remained crowded with people desperate to flee. "People just want to live," one woman, Ksenia, said.
___
Associated Press reporters from around the world contributed to this report.
___
Follow the AP's coverage of the Ukraine crisis at https://apnews.com/hub/russia-ukraine
After US offer, Germany unleashes Leopard tanks for Ukraine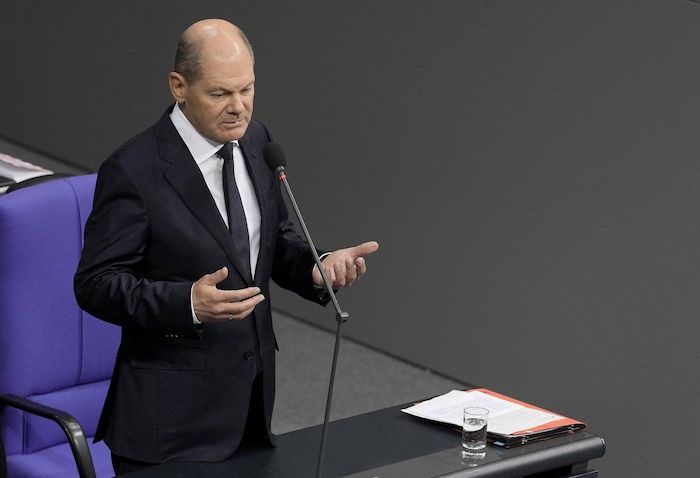 By Frank Jordans And Kirsten Grieshaber in Berlin
BERLIN (AP) — After weeks of hesitation that created impatience among Germany's allies, Chancellor Olaf Scholz announced Wednesday that his government would provide Ukraine with Leopard 2 battle tanks and approve requests by other countries to do the same.
The German government said it would initially provide Ukraine with one company of Leopard 2 A6 tanks, or 14 vehicles. The goal is for Germany and its allies to provide Ukraine with 88 of the German-made Leopards, which comprise two battalions.
"This is the result of intensive consultations, once again, with our allies and international partners," Scholz said in an address to German lawmakers.
"It was right and it is important that we didn't let ourselves be driven (into making the decision)," he added.
Ukrainian President Volodymyr Zelenskyy expressed satisfaction at the news. Several European countries have equipped their armies with Leopard 2 tanks, and Germany's announcement means they can give some of their stocks to Ukraine.
"German main battle tanks, further broadening of defense support and training missions, green light for partners to supply similar weapons. Just heard about these important and timely decisions in a call with Olaf Scholz," Zelenskyy wrote on Twitter. "Sincerely grateful to the chancellor and all our friends in (Germany)."
The long-awaited decision came after U.S. officials revealed Tuesday a preliminary agreement for the United States to send M1 Abrams tanks to help Ukraine's troops push back Russian forces that remain entrenched in the country's east almost a year after Russia invaded its neighbor. The officials spoke on condition of anonymity because the decision has not yet been made public.
It is not clear when or how the tanks would be delivered to Ukraine, or how soon they could have an impact on the battlefield. Military analysts have said Russian forces are thought to be preparing for a spring offensive.
While Ukraine's supporters previously have supplied tanks, they were Soviet models in the stockpiles of countries that once were in Moscow's sphere of influence but are now aligned with the West. Zelenskyy and other Ukrainian officials insisted their forces need more modern Western-designed tanks to defeat Russia.
NATO Secretary-General Jens Stoltenberg welcomed Germany's decision. "At a critical moment in Russia's war, these can help Ukraine to defend itself, win and prevail as an independent nation," Stoltenberg wrote on Twitter.
Russia's ambassador to Germany, Sergey Nechayev, called Berlin's decision to send Leopard 2 tanks to Ukraine "extremely dangerous."
The move "shifts the conflict to a new level of confrontation and contradicts the statements of German politicians about their reluctance to get involved in it," Nechayev said in a statement.
"We're seeing yet again that Germany, as well as its closest allies, is not interested in a diplomatic resolution of the Ukraine crisis. it is determined to permanently escalate it and to indefinitely pump the Kyiv regime full of new lethal weapons," the statement read.
Scholz had insisted that any decision to provide Ukraine with powerful Leopard 2 tanks would need to be taken in conjunction with Germany's allies, chiefly the United States. By getting Washington to commit some of its own tanks, Berlin hopes to share the risk of any backlash from Russia.
Ekkehard Brose, head of the German military's Federal Academy for Security Policy, said tying the United States into the decision was crucial, to avoid Europe facing a nuclear-armed Russia alone.
But he also noted the deeper historic significance of the decision.
"German-made tanks will face off against Russian tanks in Ukraine once more," he said, adding that this was "not an easy thought" for Germany, which takes its responsibility for the horrors of World War II seriously.
"And yet it is the right decision," Brose said, arguing that it was up to Western democracies to help Ukraine stop Russia's military campaign.
German Defense Minister Boris Pistorius cautioned that it would take about three months for the first tanks to be deployed in Ukraine. He described the Leopard 2 as "the best battle tank in the world."
"This is an important game change, possibly also for this war, at least in the current phase," he said.
The German government said it planned to swiftly begin training Ukrainian tank crews in Germany. The package being put together would also include logistics, ammunition and maintenance.
Kremlin spokesman Dmitry Peskov described German and U.S. intentions with the tanks as a "a rather disastrous plan."
"I am convinced that many specialists understand the absurdity of this idea," Peskov told reporters Wednesday.
"Simply because of technological aspects, this is a rather disastrous plan. The main thing is, this is a completely obvious overestimation of the potential (the supply of tanks) would add to the armed forces of Ukraine. It is yet another fallacy, a rather profound one," the Kremlin official said.
Peskov predicted "these tanks will burn down just like all the other ones. … Except they cost a lot, and this will fall on the shoulders of European taxpayers." he added.
Germany has already provided considerable amounts of military hardware to Ukraine, including powerful PzH 2000 howitzers, Iris-T air-defense systems and Gepard self-propelled anti-aircraft guns that have proved highly effective against Russian drones. It also announced plans to supply a Patriot air-defense battery and Marder infantry fighting vehicles.
Ahead of Scholz's official announcement, members of his three-party coalition government welcomed the Cabinet's agreement to supply the domestically made tanks.
"The Leopard's freed!" German lawmaker Katrin Goering-Eckardt, a senior Green party lawmaker, said.
However, two smaller opposition parties criticized the move. The far-right Alternative for Germany, which has friendly ties to Russia, called the decision "irresponsible and dangerous."
"Germany risks being drawn directly into the war as a result," party co-leader Tino Chrupalla said.
The Left party, which also has historic links to Moscow, warned of a possible escalation in the Russia-Ukraine conflict.
Recent opinion polls showed German voters split on the idea.
Scholz sought to reassure people in his country who were concerned about the implications of sending tanks to Ukraine.
"Trust me, trust the government," he said. "By acting in an internationally coordinated manner, we will ensure that this support is possible without the risks to our country growing in the wrong direction."
Polish Prime Minister Mateusz Morawiecki, who had previously called into question Germany's commitment to helping Ukraine, thanked Scholz following Wednesday's announcement.
"The decision to send Leopards to Ukraine is a big step towards stopping Russia," Morawiecki wrote on Twitter. "Together we are stronger."
Other European nations, such as Finland and Spain, indicated a willingness Wednesday to part with their own Leopard or similar battle tanks as part of a larger coalition.
Prime Minister Rishi Sunak of Britain, which had said it planned to send 14 of its Challenger 2 tanks to Ukraine, welcomed Germany's decision to further "strengthen Ukraine's defensive firepower."
"Together, we are accelerating our efforts to ensure Ukraine wins this war and secures a lasting peace," Sunak said on Twitter.
Still, it isn't clear whether Ukraine will receive the estimated 300 tanks that analysts say are required to keep Russia from advancing in Donetsk, Luhansk and Zaporizhzhia provinces and to press a counteroffensive in the country's southeast.
Andriy Yermak, head of the Ukrainian president's office, said on Telegram after Germany's announcement that "many Leopards are needed."
___
Lolita C. Baldor and Matthew Lee in Washington, Vanessa Gera in Warsaw and Jill Lawless in London contributed to this report.
___
Follow AP's coverage of the war in Ukraine: https://apnews.com/hub/russia-ukraine
Putin: Ukraine action aimed to end 'war' raging since 2014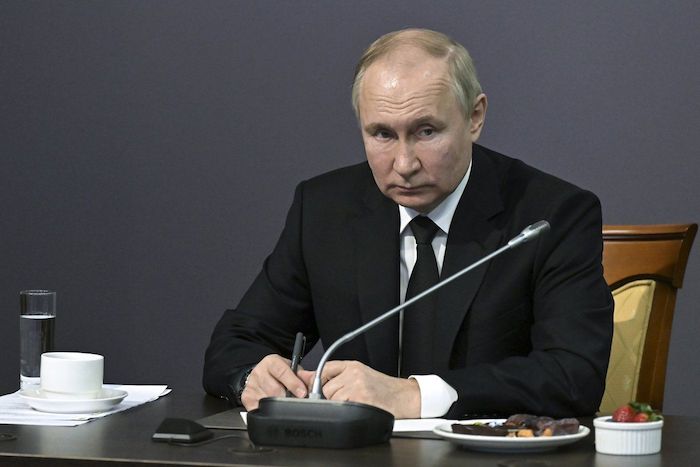 ST. PETERSBURG, Russia (AP) — Russian President Vladimir Putin said Wednesday that Moscow's action in Ukraine was intended to stop a "war" that has raged in eastern Ukraine for many years.
Speaking at a meeting with veterans, Putin said Moscow had long sought to negotiate a settlement to the conflict in Ukraine's Donbas, an eastern industrial region where Russia-backed separatists have battled Ukrainian forces since 2014.
"Large-scale combat operations involving heavy weapons, artillery, tanks and aircraft haven't stopped in Donbas since 2014," Putin said. "All that we are doing today as part of the special military operation is an attempt to stop this war. This is the meaning of our operation — protecting people who live on those territories."
Putin insisted again that Russia tried to negotiate a peaceful settlement to the separatist conflict before sending in troops, and said "we were just duped and cheated."
He described Ukraine's east as Russia's "historic territories," adding that Moscow conceded their loss after the 1991 collapse of the Soviet Union but had to act to protect Russian speakers there.
Putin has explained his decision to send troops into Ukraine on Feb. 24 by citing a need to protect Russian speakers, as well as to pursue the "demilitarization" and "denazification" of Ukraine to prevent the neighboring country from posing a threat to Russia. Ukraine and its Western allies have rejected the rationale as a cover for an unprovoked act of aggression.
Putin attended the meeting with veterans during a visit to St. Petersburg for the 80th anniversary of the Red Army breaking the Nazi siege there on Jan. 18, 1943.
The blockade of the city, which was then called Leningrad, lasted nearly 900 days and was only fully lifted in January 1944, marking one of the bloodiest pages of World War II. About 1 million people died in Leningrad during the siege, most of them from starvation.
Putin on Wednesday laid a wreath at the city's Piskaryov memorial cemetery, where 420,000 civilian victims of the siege and 70,000 Soviet soldiers were buried. He also put flowers in a section where his brother, who died as a child during the siege, was buried in a mass grave.
Putin said once that his mother was declared dead and was about to be taken for burial when his father, who had just come home on a visit from the frontlines, managed to ward off a funeral team at the last moment and helped her recover.
Putin's father, who was badly wounded in fighting for Leningrad, died in 1999 at the age of 88, and his mother died the previous year aged 86.
Putin on Wednesday also visited a defense factory in St. Petersburg, where he promised workers more social benefits and draft deferments. He said the "courage and heroism of our soldiers" and defense industry efforts would secure Russia's victory.
Speaking energetically but frequently clearing his throat, Putin said Russia produces three times as many air defense missiles as the United States.