Putin claims Moscow ready for Ukraine talks as attacks go on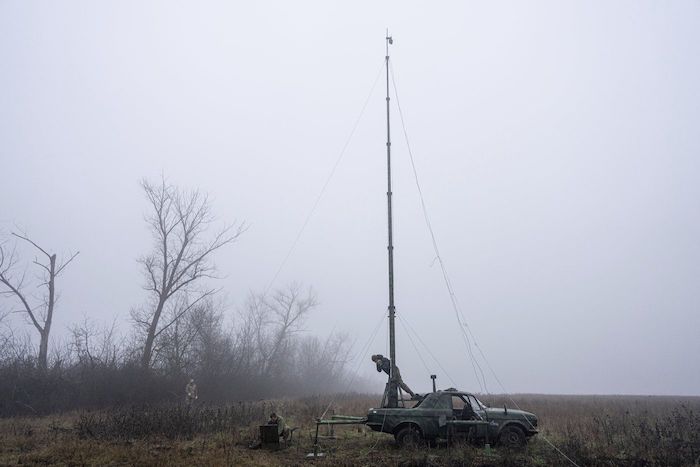 KYIV, Ukraine (AP) — President Vladimir Putin claimed that Russia is ready for talks to end the war in Ukraine even as the country faced more attacks from Moscow — a clear sign that peace wasn't imminent.
Putin said in a state television interview, excerpts of which were released on Sunday afternoon that Russia is "prepared to negotiate some acceptable outcomes with all the participants of this process."
He said that "it's not us who refuse talks, it's them" — something the Kremlin has repeatedly stated in recent months as its 10-month old invasion kept losing momentum.
Putin also repeated that Moscow has "no other choice" and said he believed the Kremlin was "acting in the right direction."
"We're defending our national interests, the interests of our citizens, our people," he said.
Putin's remarks come as attacks on Ukraine continue. A country-wide air raid alert was announced twice on Sunday alone, and three missiles in the afternoon hit the city of Kramatorsk in the partially occupied Donetsk region, local officials reported.
The missiles hit an industrial area of the city, and there weren't any casualties, according to the Ukrainian governor of Donetsk, Pavlo Kyrylenko. Kyrylenko said that the city of Avdiivka was also attacked on Sunday with six rounds of shelling, and a woman was wounded there.
Elsewhere in the front-line region, around the city of Bakhmut, where fierce battles have been underway in recent weeks, the Russian forces were struggling to keep up the pace of their offensive, a U.S.-based think tank reported this weekend.
"Russian forces' rate of advance in the Bakhmut area has likely slowed in recent days, although it is too early to assess whether the Russian offensive to capture Bakhmut has culminated," the Institute for the Study of War wrote in its recent update.
The think tank cited Russian military bloggers, who it said have recently acknowledged "that Ukrainian forces in the Bakhmut area have managed to slightly slow down the pace of the Russian advance around Bakhmut and its surrounding settlements."
Sources on Ukrainian social media "previously claimed that Ukrainian forces completely pushed Russian forces out of the eastern outskirts of Bakhmut" around Dec. 21, the report added.
"Russian forces will likely struggle to maintain the pace of their offensive operations in the Bakhmut area and may seek to initiate a tactical or operational pause," the institute concluded.
A day before, a deadly Russian attack on the southern city of Kherson, retaken by Ukrainian forces last month, killed and wounded scores of people.
The Russian forces shelled Ukrainian-held areas of the partially occupied Kherson region 71 times over the past 24 hours, including 41 attacks on the city of Kherson, the region's Ukrainian governor Yaroslav Yanushevich reported on Sunday.
A total of 16 people have been killed, according to the official, including three emergency workers killed in the process of demining the Berislav district of the region. Yanushevich said that 64 more have been wounded.
In the neighboring Dnipropetrovsk region, the city of Nikopol was shelled overnight from heavy artillery, Gov. Valentyn Reznichenko said. No casualties have been reported.
___
Follow AP's coverage of the war in Ukraine: https://apnews.com/hub/russia-ukraine
Poland is done sending arms to Ukraine, Polish leader says as trade dispute escalates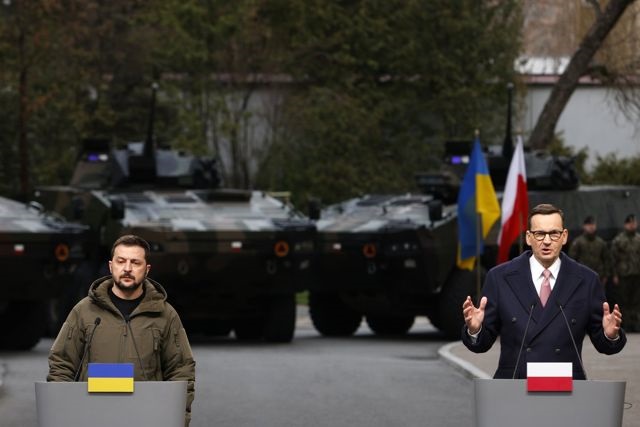 Poland's Prime Minister Mateusz Morawiecki, right, and Ukrainian President Volodymyr Zelenskyy attend a press conference in Warsaw, Poland, Wednesday, April 5, 2023. Poland's prime minister said on late Wednesday his country is no longer sending arms to Ukraine, a comment that appeared aimed at pressuring Kyiv but put Poland's status as a major source of military equipment in doubt as a trade dispute between the neighboring states escalates. (AP Photo/Michal Dyjuk, File)
By Vanessa Gera in Warsaw
WARSAW, Poland (AP) — Poland's prime minister said his country is no longer sending arms to Ukraine as a trade dispute between the neighboring states escalates and his populist party faces pressure from the far right in the upcoming national election.
Prime Minister Mateusz Morawiecki said in a television interview late Wednesday that Poland is "no longer transferring any weapons to Ukraine because we are now arming ourselves with the most modern weapons" in a military modernization plan spurred by fears of Russian aggression in the region. He did not elaborate or explain how the two actions were mutually exclusive.
A government spokesman, Piotr Mueller, clarified Thursday that the country was now only providing supplies of ammunition and armaments that had previously been agreed to, noting that "a series of absolutely unacceptable statements and diplomatic gestures appeared on the Ukrainian side."
White House national security adviser Jake Sullivan said he believes that "Poland will continue to be a supporter of Ukraine."
"When I read the headlines this morning, I was of course concerned and had questions, but I've subsequently seen the Polish government spokesman come out to clarify that in fact Poland's provision of equipment, including things like Polish-manufactured Howitzers, is continuing and that Poland continues to stand behind Ukraine," Sullivan said when asked about the matter at a news briefing.
Poland has supplied Ukraine with a wide range of weaponry, including Leopard 2 tanks and Soviet-era MiG fighter jets. Poles are still largely in favor of supporting Ukraine, believing their nation would be vulnerable if Russia were to prevail just across the border. But there is also a growing weariness in society with the large numbers of refugees.
Ahead of the national election on Oct. 15, the far-right Confederation party has said that Poland is not getting the gratitude it deserves for arming Ukraine and accepting its refugees. And emotions have been running high since Poland, Hungary and Slovakia announced a new ban on Ukrainian grain imports last week, saying they wanted to protect their farmers.
The Polish-Ukrainian spat comes as Ukraine forces are making slow progress breaking through Russian battle lines in a counteroffensive that has not moved as quickly or as well as initially hoped and Poland's move could have wider fallout as another winter of fighting approaches. Kyiv's leaders are lobbying for a new round of advanced weapons, including longer range missiles.
U.S. Army Gen. Mark Milley, chairman of the Joint Chiefs of Staff, said last weekend that there is a continued need for more weapons and equipment in Ukraine and that allies and partners are looking for ways to address that.
But some U.S. voters are beginning to tire of helping Ukraine, and Ukrainian President Volodymyr Zelenskyy visits Washington this week as Republican leaders in Congress diverge on how to send more military and humanitarian aid to the country.
A leading security and defense expert, Michal Baranowski, said that Poland gave most of what it could give earlier in the war, and with no plans for shipments of major equipment soon, he doesn't see a threat to Ukraine's capabilities in the near term. Still, he considers Morawiecki's comments troubling for Ukraine as its seeks to maintain Western support in the war unleashed by Russia.
"The message is very bad, both for Poland's reputation but also because Poland has been one of the chief advocates of military aid to Ukraine. Saying Poland will not be sending more weapons means that Poland can no longer play this role," said Baranowski, managing director of Warsaw-based GMF East, part of the German Marshall Fund think tank.
He said Poland's attempt to show toughness toward Kyiv should be understood in the context of the election campaign. In response to Morawiecki saying Poland would now focus on modernizing its own forces, Baranowski noted that Poland is capable of both modernizing its military and continuing to help Ukraine.
Donald Tusk, a top opposition leader, accused Morawiecki and other ruling authorities of a "moral and geopolitical scandal of stabbing Ukraine in the back politically when they decide to fight on the Ukrainian front, just because it will be profitable for their campaign."
Poland, Hungary and Slovakia said the new ban on Ukrainian grain imports was put in place to protect their farmers from a glut of Ukrainian grain in their markets, which lowers prices and hurts their livelihood. Kyiv responded with a complaint at the World Trade Organization against the three countries that sparked even more angry reactions from Poland.
Polish and Ukrainian agriculture ministers said Thursday they were working to resolve the situation in a way that takes the interests of both countries into account. Ukraine meanwhile was lifting its complaint against Slovakia as the two sides sought a resolution, Slovak authorities said.
At the United Nations on Tuesday, Zelenskyy suggested that the countries opposing Ukraine on grain were in fact working on Russia's behalf. Poland urgently summoned the Ukrainian ambassador to complain Wednesday.
Morawiecki said in interview on private broadcaster Polsat that a NATO and U.S. hub in the Polish city of Rzeszow used for transporting weapons into Ukraine would not be affected. "We are not going to risk the security of Ukraine," he said.
The German Foreign Ministry said: "Ukraine continues to need our full support. It is important that we in Europe act decisively and in solidarity in this regard. Germany will support Ukraine humanitarianly, politically, economically and with weapons for as long as it needs us."
___
Associated Press writers Seung Min Kim in Washington, Lorne Cook in Brussels, Kirsten Grieshaber in Berlin and Karel Janicek in Prague contributed to this report.
UN envoy for Sudan resigns, warning that the conflict could be turning into 'full-scale civil war'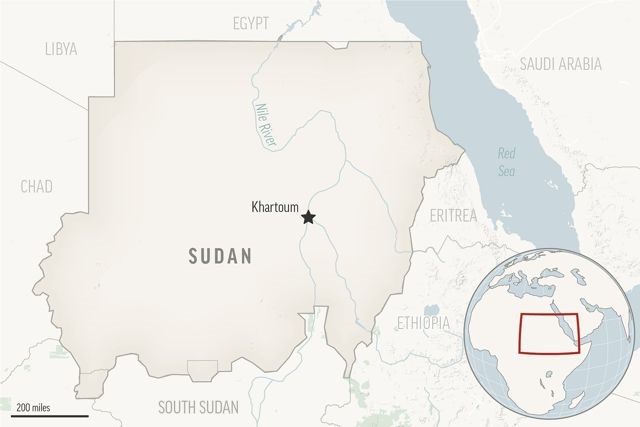 By Edith M. Lederer in Tanzania
UNITED NATIONS (AP) — The U.N. special envoy for Sudan who was declared unwelcome by the country's military rulers announced his resignation Wednesday in a final speech to the U.N. Security Council, warning that the conflict between Sudan's two military leaders "could be morphing into a full-scale civil war."
Volker Perthes, who had continued to work outside Sudan, said the fighting shows no sign of abating, with neither side appearing close to "a decisive military victory." He also said the violence in Sudan's western Darfur region "has worsened dramatically," with the warring parties blatantly disregarding human rights and civilians being targeted based on their ethnicity.
Sudan has been rocked by violence since mid-April, when tensions between the country's military, led by Gen. Abdel Fattah Burhan, and the paramilitary Rapid Support Forces, commanded by Gen. Mohamed Hamdan Dagalo, burst into open fighting.
Perthes said at least 5,000 people have been killed since then and over 12,000 wounded, calling these conservative numbers and saying the actual number "is likely much higher."
The Sudanese people are also facing "a crisis of epic and tragic proportions, with more than 20 million people — almost half the population — experiencing acute levels of hunger and food insecurity, the U.N. humanitarian office's operations director, Edem Wosornu, told the council.
"And more than 6 million people are now just one step away from famine," she said. "If the fighting continues, this potential tragedy comes closer to reality every day."
The fighting has forced 4.1 million people to flee their homes to other places in Sudan and more than 1 million to seek refuge in neighboring countries, Wosornu said, stressing that displacement and insecurity "have driven cases of sexual violence to distressing levels."
Perthes was a key mediator after the conflict began, but the military government claimed he was biased and informed U.N. Secretary-General Antonio Guterres on June 8 that he was declared persona non grata.
The U.N. denounced the move, saying that a member of its personnel cannot be declared persona non grata — unacceptable to the government — and that this goes against the U.N. Charter.
In announcing his resignation, Perthes, who was appointed as special representative for Sudan in January 2021, urged the warring sides to end the fighting and warned them "they cannot operate with impunity."
"There will be accountability for the crimes committed," he said.
Secretary-General Guterres told a news conference that he had accepted Perthes' resignation, saying, without elaborating, that the envoy "has very strong reasons to resign."
Perthes also warned of "the risk of a fragmentation of the country," pointing to a myriad of compounding crisis, including Darfur, the cross-border mobilization of Arab tribes, fighting in the country's South Kordofan and Blue Nile provinces between the Sudanese military and rebels, and rising tensions in eastern Sudan amid ongoing tribal mobilization.
He also added — referring to Sudan's longtime autocratic leader Omar al-Bashir who was deposed in a popular uprising in 2019 — that "the mobilization by former regime elements advocating for a continuation of the war is of particular concern."
U.S. Ambassador Linda Thomas-Greenfield sharply criticized Sudan's military leaders for threatening to end the U.N. political mission in Sudan known as UNITAMS if Perthes addressed the Security Council, calling the threats "unacceptable" and declaring that "No country should be allowed to threaten this council's ability to carry out its responsibilities for peace and security."
In a highly unusual procedure aimed at trying to maintain the U.N. mission, the council meeting started with a briefing by Ghana's ambassador who chairs the Security Council committee monitoring sanctions against Sudan, and Sudan's U.N. Ambassador Al-Harith Mohamed was then given the floor.
He claimed the government "is in control of the political and security initiatives and is communicating with all regional players and international terrorist in order to end the war," and is receiving "the full support of the Sudanese people who categorically reject the presence of the Rapid Support Forces."
He urged the Security Council and the international community to support the government, accusing the Rapid Support Forces and their militias summoning "killers and mercenaries" to destroy the country. "The international community must not allow for a new generation of terrorists against the state who who transform (it) into Frankenstein," he said.
Albania's U.N. Ambassador Ferit Hoxha then gaveled that council meeting to an end and after the Sudanese ambassador left, he gaveled the start of a new meeting on the secretary-general's lateat report on Sudan, which opened with the briefing by Perthes.
Thomas-Greenfield told Perthes the United States regrets his departure.
Perthes made no mention of his next steps. A former German academic with extensive background in international relations, Perthes served as chief executive officer and director of the German Institute for International and Security Affairs from 2005 to September 2020. From 2015 to 2018, he served as a U.N. assistant secretary-general and senior adviser to U.N. special envoy for Syria.