Public hearings in Emergencies Act inquiry to start in September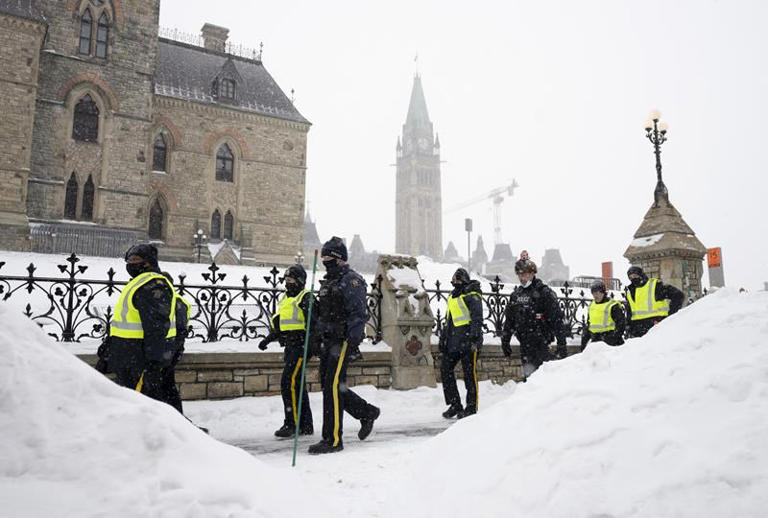 OTTAWA — The inquiry into Ottawa's unprecedented use of the Emergencies Act during protests in February will start its public hearings next month.
The Public Order Emergency Commission announced today that it expects the hearings to run from Sept. 19 until Oct. 28 at Library and Archives Canada in downtown Ottawa.
Commissioner Paul Rouleau said in a statement that he intends to hold the government to account and wants the inquiry to be as "open and transparent" as possible.
Hearings will be livestreamed online and members of the public will have opportunities to share their views, with a final report expected early next year.
Parties to the inquiry including "Freedom Convoy" organizers, police forces and all three levels of government are expected to testify and contribute documentary evidence on the invocation of the act in February.
The federal Liberals made the move amid border blockades and the occupation of downtown Ottawa by protesters demonstrating against COVID-19 vaccine mandates.
This report by The Canadian Press was first published Aug. 15, 2022.
The Canadian Press
No, Lockdown Instigators Do Not Deserve the Benefit of the Doubt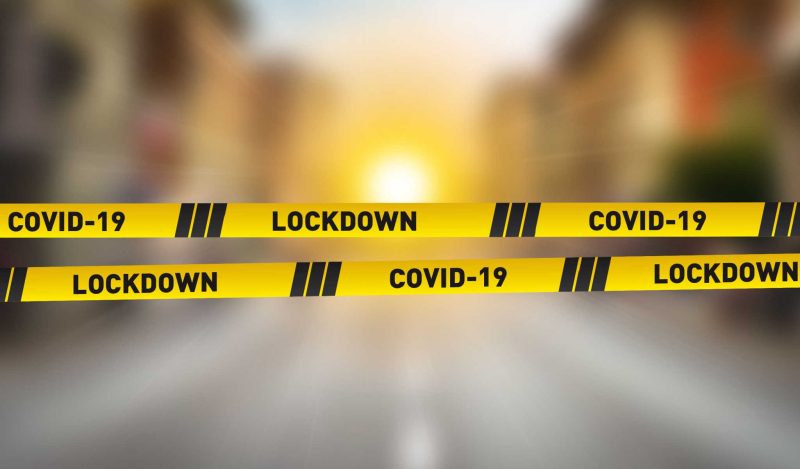 BY
MICHAEL SENGER
In the United States, some 2,000,000 people—over 1% of adult men—currently reside in prisons and jails. In America's poorest cities, crime and law enforcement are intertwined with life to such a degree that many children grow up more familiar with the justice system than the education system. For kids who grow up in these circumstances, getting through school while staying out of jail is a feat worth celebrating.
Some of this is, of course, necessary to maintain a peaceful society in a country as open and unequal as the United States. But the American political-prison-industrial complex is also riddled with perverse incentives. As Supreme Court Justice Neil Gorsuch put it: "We live in a world in which everything has been criminalized. And some professors have even opined that there's not an American alive who hasn't committed a felony under some state law." We've even developed an Orwellian lexicon for this system; the term "crime of moral turpitude" is a tacit admission that America's statutes are riddled with crimes that do not actually involve "moral turpitude"—it's puzzling why these should be considered crimes at all.
Worse yet, an estimated 5% of convicts are actually innocent. That means there are currently some 100,000 Americans in prisons and jails who didn't even commit the crimes for which they were charged. The sad truth is that just living in one of America's poorest neighborhoods comes with some risk of incarceration; the more people around who are convicted, the greater the odds of becoming an innocent convict oneself. Juries do their best, but they're beset by the usual human biases. Judges know all too well that verdicts often come down to such irrelevant factors as the defendant's charisma, physical attractiveness, or even what the jury had for breakfast that morning.
Mass incarceration is one sad byproduct of inequality and community deterioration in the 21st century. But an even worse byproduct of that inequality is an entire caste of Western elites who've begun to manipulate the system to exempt themselves and their supporters from the rule of law to a degree not seen since the rise of the fascist regimes of the 1930s. And in no instance has this been made more clear than in the promulgation of Covid lockdowns into policy in early 2020.
The Crime
Lockdowns, or the shutting of businesses and community spaces with the force of law, were unprecedented in the Western world prior to Xi Jinping's lockdown of Wuhan and weren't part of any democratic country's pandemic plan; rather, these pandemic plans suggested only voluntary social distancing measures. While lockdowns bore some facial resemblance to the voluntary social distancing measures contemplated in pandemic plans, this similarity was no coincidence, as the concept of "social distancing" in its origin was lifted by the US CDC straight from the Chinese Communist Party policy of "lockdown" as imposed during SARS in 2003. Further, some leading federal officials have disclosed that at the time they recommended temporary social distancing measures for Covid, they did so with the intent that state governors would enforce them as indefinite forced lockdowns.
As former UN Assistant Secretary-General Ramesh Thakur has documented in scrupulous detail, the harms that lockdowns would cause were all well-known and reported at the time they were first adopted as policy in early 2020. These included accurate estimates of mass deaths due to delayed medical operations, a mental health crisis, drug overdoses, an economic recession, global poverty, hunger, and starvation.
Yet regardless, for reasons we're still only beginning to understand, some key scientists, health officials, national security officials, media entities, international organizations, billionaires and influencers advocated the broad imposition of these unprecedented, devastating policies from the earliest possible date, ostensibly to stop or slow the coronavirus as the CCP claims to have done in Wuhan, while censoring any contrary opinions, spinning a false illusion of consensus amongst an unknowing public. A report later revealed that military leaders saw this as a unique opportunity to test propaganda techniques on the public, shaping and "exploiting" information to bolster government messages about the virus. Dissenting scientists were silenced. Psyops teams deployed fear campaigns on their own people in a scorched-earth campaign to drive consent for lockdowns.
These early advocates of lockdowns inverted the definitions of key public health principles in sophisticated, Orwellian fashion. While the lockdowns they advocated were deliberately intended to overturn existing public health practices, they instructed the public to "follow the science," leading the public to believe that their policies were grounded in established scientific practice. They used the rhetoric of equity and vulnerability to advocate policies that disproportionately harmed the most vulnerable and increased existing economic divides. They then retroactively cited the broad public support for lockdowns that had been sown by their own propaganda as justification for their propaganda in support of those lockdowns.
Ultimately, these lockdowns failed to meaningfully slow the spread of the coronavirus and killed tens of thousands of young people in every country in which they were tried. We now know the virus had already begun spreading undetected all over the world by fall 2019 at the latest and had an infection fatality rate under 0.2%.
However, the lockdowns caused the public to believe that the virus was hundreds of times deadlier than it really was. Simultaneously, the World Health Organization issued global PCR testing guidance—using tests later confirmed by the New York Times to have a false positive rate over 85%—pursuant to which millions of cases were soon discovered in every country. Additionally, the WHO issued new guidance on the use of mechanical ventilators to member nations; over 97% of those over age 65 who received mechanical ventilation in accordance with this guidance were killed.
Terrified by this surge of deaths and the psychological terror campaigns deployed by governments on their own people, populations across the Western world proceeded to impose an ever-darker swathe of illiberal mandates including forced masking and digital vaccine passes for everyday activities. Young children, who were at virtually no risk from the virus, lost years of primary education in the worst education crisis since the end of the Second World War. An indefinite state of legal emergency was imposed which continues to this day. The global fight for human rights and the end of poverty was set back decades.
Over $3 trillion in wealth was transferred from the world's poorest to a tiny number of billionaires and their supporters, predominantly in China and in the tech and pharmaceutical industries. Several key early lockdown proponents indicated that they saw Covid as an opportunity to "entrench a new idea of ​​the left … reconstructing a cultural hegemony on a new basis." Authoritarian regimes grew more autocratic, and democratic governments took on authoritarian characteristics.
Worst of all, a norm was grafted onto Western democracy that the fundamental rights to movement, work, association, bodily autonomy, and free expression, for which our forebears fought so tirelessly, can be suddenly and indefinitely suspended, without precedent, analysis, or logic, based on nothing but vague promises that doing so will "save lives"—rendering them all but moot.
Meanwhile, the lockdowns and mandates led to the deaths of over 170,000 Americans and proportionate numbers in countries that imposed them across the Western world. By 2021, lockdowns had killed over 228,000 children in South Asia. Studies of excess deaths indicate that lockdowns led to several million deaths in India and proportionate numbers in other developing nations.
A million here, a million there, pretty soon you're talking real atrocities.
These numbers do not even begin to count the total damage that will ultimately ensue due to the economic devastation of lockdowns, which we will continue to witness for many years to come. Many early lockdown proponents may never be among the 2,000,000 Americans currently residing in jails and prisons, but we can be sure that thousands more would-be innocent children will one day be added to the prison rolls as a result of the economic destruction their policies unleashed.
Ladies and gentlemen, this case ultimately comes down to whether, unlike the other 2,000,000 Americans currently in state custody, we can be sure that by virtue of their socioeconomic position and the panic over a virus which panic they deliberately stoked with their own policies, this handful of key early lockdown proponents acted in good faith when they convinced the world to adopt these unprecedented, catastrophic policies based on the belief that China eliminated the virus from an entire country by shutting down one city for two months—so sure that the question demands no further inquiry. I leave that for you to decide.
Reprinted from the author's Substack
The Choice Is Liberty or Lockdown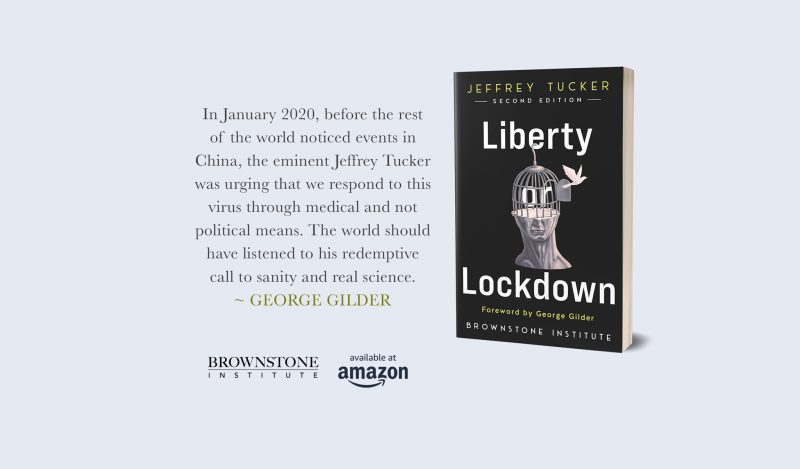 BY
JEFFREY A. TUCKER
Two years after the first edition, the second edition of Liberty or Lockdown is now in print, just as the US president announced the end of the pandemic. The emergency declaration that excused the mass violation of human rights is still in effect.
The significance of the timing of the first edition of this book is obvious to anyone who has lived through our strange times: September 2020. That was six months following the lockdown of most of the world during which places where people might "congregate" were shut by governments.
The reason was to avoid, mitigate, eliminate maybe, or otherwise diminish the disease impact of the virus that caused Covid. This was before the vaccine came out, before the Great Barrington Declaration, and before data on excess deaths the world over showed vast carnage from these policy decisions.
The state was unleashed on the population as never before, in the name of science. There are no words to describe my outrage then and now.
The onset of lockdowns put me to work trying to understand the thinking, a process which took me back through the history of pandemics, the relationship between infectious disease and freedom, and the origin of lockdown ideology in 2005.
The times during which this book was written were beyond strange. People went full medieval in every way in which that term can be understood. There was public flogging in the form of masking and the abolition of fun, feudalistic segregation and disease shaming, the practical end of most medical care unless it was for Covid, the scapegoating of non-compliers, the neglect and abuse of children, and a turn to other pre-modern forms. All of this became worse once the non-sterilizing vaccines appeared on the market that many if not most people were forced to accept at pains of losing their jobs.
Writing now in September of 2022, I cannot even imagine going through the pain of putting this research together again. I'm very pleased it was done then because now this book survives as a marker that there was dissent, if nothing else. I've added no new essays though I've written hundreds since then. The second edition should really stand as is.
This was also a period of time – still is today – when vast numbers of people feel betrayed by technology, media, politicians, and even their one-time intellectual heroes. It is a time of grave destruction with still-broken supply chains, roaring inflation, mass cultural demoralization, labor market confusions, shattered lives of young and old, and terrible uncertainty about the future.
When I put this book to bed in 2020, I had hoped we were near the end of this disaster. How wrong I was! Let us hope, too, that it is a period of rebuilding, however quietly it is taking place.
Starting Brownstone Institute is part of that for me. So many others have joined. Today we published articles from all over the world since so many around the world have shared in this suffering. What will it take to emerge from the other side?
From my point of view, it is not complicated. We need a renewed appreciation of human liberty and rights. That's it. That is the whole prescription. It does not sound hard but apparently it is. This task will likely consume the rest of our lives.
Jeffrey Tucker
September 2022
Introduction to the Portuguese Edition (2021)
As I write, and much to my astonishment and sadness, the world is still in chains. These chains have been created by governments. They bind their citizens' choices and actions in the name of virus control. I had expected the folly of lockdowns to end within weeks after their imposition, once the data were in on the demographics of severe outcomes. But through a terrible combination of factors – government and public ignorance and fear, media frenzy, big tech censorship, the outsized voice of fake lockdown science, and an unwillingness on the part of the lockdown industry to admit error – they continued for a full year and continue today.
On the day I'm writing, Paris and Berlin are once again under lockdown, Sao Paulo is being brutalized, and ever larger parts of Eastern and Western Europe are experimenting with a third round of failure. Anthony Fauci in the US is all over the media essentially denying that human immunity exists in any meaningful sense, kids are still being kept out of school, businesses are being forced to engage in preposterous rituals just to survive, most members of the ruling class parade in masks in a theatrical affectation that they are following the science, and a weary people are massively divided between those who want to believe the authorities and those who have lost all credulity in public health.
Our communities are shattered, our houses of worship in diaspora, our spirits crushed, and our expectations for the good life in tatters.
Also pouring in are the devastating data on the consequences of lockdown. The economic costs are stupefying, beyond anything we imagined we would ever see. The cultural costs are too, with arts and music devastated, along with the industries that support them. The most interesting and possibly counterintuitive costs are related to public health itself: the missed cancer screenings, the missed appointments, the prevalence of suicide ideation, the record drug overdoses, the alcoholism, the mental and emotional despair. As for settled matters of human rights – the freedom to speak, travel, worship, learn, trade – they are suddenly all in question.
It's true that parts of the world are entirely open, and thank goodness for them. These places are experiencing no worse outcomes, and often much better outcomes, from the severe aspects of this disease than those who are still experimenting with rolling lockdowns. More evidence pours in by the day: this is a normal virus, with natural immunity, with distinct characteristics that should be mitigated by medical professionals one person at a time – not managed by politicians and their advisors with agendas that have nothing to do with public health.
I've been involved in the debate over the government's role in disease control for at least 15 years. Until last year, the consensus of the experts was that governments have a very limited role, simply because of the capacity of pathogens to outsmart even the best intentions of the powerful and their plans. In the golden age of public health in the 20th century, such brutal methods as public quarantines, shutdowns, mandatory masks, closures, travel restrictions, and universal stay-at-home orders were specifically ruled out as counterproductive, overly disruptive, and futile for achieving the task of minimizing damage from new pathogens. The powers to do all this have been there for the better part of 15 years or possibly for longer but they were not deployed for good reasons.
For reasons that will become increasingly clear over time, 2020 became the year of the great experiment. Suddenly, "nonpharmaceutical interventions" would replace our laws, our settled traditions of liberty, and love of peace and prosperity, and even the ideals of the Enlightenment itself. We put fear above rationality, division above community, power above rights, wild experiments above settled science, and the intellectual pretensions of a tiny ruling class above the interests of the social order.
It was all so shocking and inexplicable that most of the world's population sat through month after month in a state of confused delirium, attached to screens with pundits preaching to us daily that all of this was necessary and good. And yet, we all recall now that humanity has always lived amidst pathogens new and old. We dealt with them and cobbled together an implicit social contract around infectious disease: we agreed nonetheless to build civilization and experience social progress, treating sickness and death as something to mitigate within the context of human rights. For the first time ever, we tried a global lockdown as scripted by scientific elites.
But now writing one year later, I'm pleased to say that the days of shock and awe are over, gradually being replaced by disillusionment with the ruling class and incredulity toward those who did this to us. There is no power on earth strong enough or rich enough to suppress truth. Truth exists within the realm of ideas, and that is a realm of infinite reproducibility, malleability, and portability, subject only to the willingness of the curious and courageous to tell that truth in every possible way to as many people as possible in every venue available. This is how truth wins, reaching one mind at a time.
We've all been tested during this last year. What are our intellectual commitments? Do we really believe them or have we adopted them for career reasons? What are the pressures to which we will succumb in order to relinquish our principles for prestige? How much are we willing to give up in order to fight for a cause larger than ourselves? I've been surrounded by heroes this year who have inspired me – God bless them – and others who were unwilling to step up when their voices were most needed, much to my sadness.
That aside, let's all admit something: part of each of us has been broken by these lockdowns. No one wants to live in a world in which our essential rights and liberties can be granted or taken away based on the judgment calls of a handful of scientists who have no regard for our traditions of law. That's called tyranny. We now know how terrible it is. And how futile. How demoralizing. How utterly ghastly and unconscionable.
I somehow always come around to silver linings, not only because it is my personality but also because they always exist. The silver lining is that much of the world has lived through the apotheosis of statism, that ugly ideology that posits that force is a better way to organize the world than choice. We dabbled in it as societies for the better part of 100 years and then suddenly in one year we went full on, just as a test. That test completely failed. We know it first hand. As I write, I'm confident that we've seen the worst of it.
Now is our chance – right now – to choose another path. We don't need to work out every detail. We don't need an alternative plan. And it's not just about getting a new set of political leaders. What we need is a different philosophy. I humbly suggest that the philosophy that built modern civilization – that which we once called liberalism – will do just fine as a base line. Let us believe it, rally around it, institutionalize it, protect it, and fight for it. In doing so, we are not just working in our own self-interest but also in the common good of all.
Never lockdowns. Never again.