Premiers need to keep talking about the health-care crisis: medical associations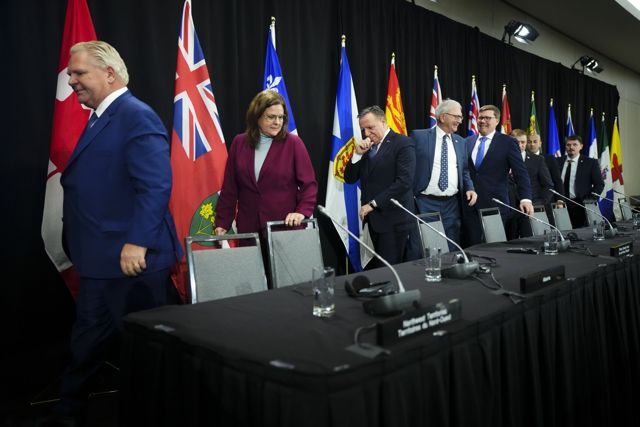 Ontario Premier Doug Ford, left to right, Manitoba Premier Heather Stefanson, Quebec Premier Francois Legault, New Brunswick Premier Blaine Higgs, Saskatchewan Premier Scott Moe, Newfoundland Premier Andrew Furey, Yukon Premier Ranj Pillai and Nunavut Premier P.J. Akeaagok, leave following a press conference of Canada's premiers discussing health care, in Ottawa on Tuesday, Feb. 7, 2023. The Canadian Medical Association and 14 other organizations representing health-workers are urging provincial and territorial premiers to make sure health-care remains at the top of their agenda at their next meeting in July. THE CANADIAN PRESS/Sean Kilpatrick
Ottawa
The Canadian Medical Association and 14 other organizations representing health workers are urging premiers to keep health care at the top of the agenda at their next meeting in July.
The provincial and territorial leaders met several times last year to compare notes on the health-care crisis and call on the federal government to give them more money to fix it.
In February, Prime Minister Justin Trudeau announced a deal that will see Ottawa give $196 billion for the Canada Health Transfer over the next 10 years.
All provinces except Quebec have agreed to the deal in principle.
In a press release on behalf of several doctors' and nurses' associations, the Canadian Medical Association says the deals are a positive step but the health-care crisis has not ended.
They say excessive wait times, a lack of primary care, a shortage of workers and overcapacity in emergency rooms should all be on the premiers' agenda.
This report by The Canadian Press was first published June 5, 2022.
Alberta says first steps to reform provincial health delivery system coming this fall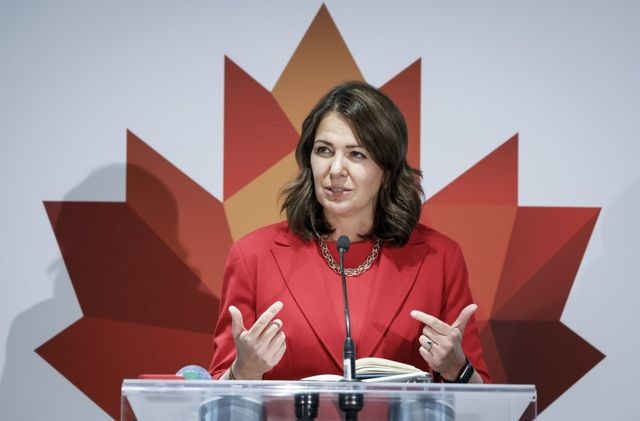 Alberta Premier Danielle Smith speaks to the media in Calgary, Monday, Sept. 18, 2023. Smith says the first steps are coming this fall to reconfigure Alberta's health delivery system – a plan the Opposition calls a recipe for more chaos from a government fresh off turning lab testing into a debacle. THE CANADIAN PRESS/Jeff McIntosh
By Dean Bennett in Edmonton, Alberta, Canada
Premier Danielle Smith says the first steps are coming this fall to reconfigure Alberta's health delivery system — a plan the Opposition calls a recipe for more chaos from a government fresh off turning lab testing into a debacle.
"We will not delay," Smith told mayors, councillors and other local leaders at the Alberta Municipalities convention Friday.
She said Health Minister Adriana LaGrange is to present her proposal to Smith and cabinet Wednesday on how to decentralize Alberta Health Services.
"If we get the cabinet approval and the caucus approval, we would be moving on some of that direction in the fall so that we are prepared for the new budget cycle in February."
Smith has directed LaGrange to revamp the structure of Alberta Health Services, better known as AHS, saying it needs to be more responsive to regional needs and focus more on direct hospital care.
She has said LaGrange will look at whether AHS still needs to be in charge of non-acute functions such as midwifery, primary care staffing and continuing care.
Alberta finished centralizing its health system 15 years ago to create AHS.
Smith has made AHS reform the centrepiece of her leadership.
Last year, she fired the governing board of AHS and replaced it with a single administrator. She blamed the agency for failing to step up during the COVID-19 pandemic as hospitals came close to being overrun with patients.
Opposition NDP Leader Rachel Notley said Smith's plan is only going to make things worse, particularly given the province abandoned last month its attempt to fully privatize community lab services after the changes resulted in long waits for tests in Calgary and southern Alberta.
"People all across this province are struggling to get access to lab (testing) now because of the dysfunction of this UCP (government)," Notley told reporters after her speech to Alberta Municipalities delegates.
"Overlaying more disorganization on top of that is a recipe for further undermining our health care and our public health care.
"There is not a single solitary thing that this UCP government has done under (former premier) Jason Kenney's leadership or Danielle Smith's leadership that has made our health care better."
Alberta Municipalities represents and speaks for villages, towns and cities that make up about 85 per cent of the province's population.
Wetaskiwin Mayor Tyler Gandam, the newly elected president of Alberta Municipalities, said they're hoping for changes and improvements to fix doctor shortages and emergency rooms forced to limit their operating hours.
"I was speaking with members of council from Ponoka and hearing that their emergency room had been shut down nearly 20 times this year so far," Gandam told reporters.
"The last thing that a person should be worrying about is whether or not the emergency room is going to be open or an ambulance is going to able to respond to their call when they need it."
The convention focused mainly on calls for more funding from the province.
On Thursday, delegates voted 98 per cent on a motion calling on the province to roll back years of municipal funding cuts on infrastructure.
The association says the province has cut both per capita spending and the percentage of total budget spending for years, resulting in about $1.3 billion less investment in community infrastructure per year that needs to be returned, particularly as the province continues to attract thousands more newcomers a year.
Smith said she will look at ways to get more money to municipalities to help bring property taxes down along with more one-time funding from recent budget surpluses to help accelerate capital projects.
"'I've watched it happen many times that we're very generous (and) increase the funding when times are good, and then when times turn the other way, we ask you to take a pretty big haircut, and that puts a lot of extra pressure on you," Smith told the delegates.
This report by The Canadian Press was first published Sept. 29, 2023.
Food insecurity among Indigenous kids is a 'public health crisis,' doctors say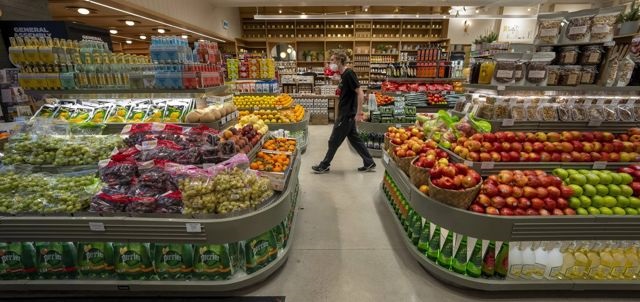 Fresh produce is shown at a market in Toronto on Wednesday Feb. 2, 2022. THE CANADIAN PRESS/Frank Gunn
By Nicole Ireland
Family physician Dr. Rebekah Eatmon sees parents in tears, frustrated that they can't provide enough healthy food for their children.
"I've never met an Indigenous parent that doesn't want to do the best for their kids," said Eatmon, who works at an Indigenous clinic in Vancouver and in two remote First Nations in B.C.
Rising food prices have put "an even bigger burden on families who were struggling before," said the doctor, who is a member of Lax Kw'alaams First Nation on her father's side and Métis on her mother's side.
As families across Canada grapple with the increasing cost of groceries, a new study says First Nations, Métis and Inuit children and youth have been disproportionately affected by food insecurity for years — to the point that it's an "urgent public health crisis."
"The seriousness of this in Indigenous communities is unlike any other population," said Dr. Anna Banerji, an associate professor of pediatrics at the University of Toronto and lead author of the study, which was recently published in the journal PLOS Global Public Health.
Banerji and her co-authors looked at dozens of peer-reviewed research studies, as well as reports from First Nations, Métis and Inuit organizations, to determine the extent of food insecurity among Indigenous children in Canada.
"Moderate" food insecurity is defined by Statistics Canada as a "compromise in quality and/or quantity of food consumed."
"Severe" food insecurity is defined as "reduced food intake and disrupted eating patterns."
The data show a disproportionately higher rate of moderate to severe food insecurity among Indigenous people living both on and off reserve, the study said, although people living in rural and remote Indigenous communities in the North were at especially high risk, partly because of extremely high food costs.
"(In) some of these Indigenous communities, it is to the point where some children don't have food to eat all day long," said Banerji.
One study of Inuit children in Nunavik, the northernmost region of Quebec, found that children from food-insecure homes were an average of two centimetres shorter than those from food-secure homes.
"It's incomprehensible that in a country as rich as Canada that we have kids who are stunted and children who are starving," she said.
Moderate to severe food insecurity can lead to malnutrition, which affects the "physical, intellectual, emotional (and) social development of the child," said Dr. Véronique Pelletier, a pediatrician at CHU Sainte-Justine in Montreal and a co-author of the study.
Malnutrition can be caused not only by a lack of food, but by a lack of high-quality, nutritious food, she said.
For example, many Indigenous families who live in remote areas can't get healthy food, including meats, fish, fruits and vegetables, because they are perishable and won't last long after being transported long distances, the study said.
Those types of food are also out of reach for many Indigenous people because they can't afford to buy them.
That means that many Indigenous children have obesity but are nutrient-starved, because their diets consist largely of more affordable carbohydrate or fat-heavy food, the study said.
Eatmon, who was not involved in the study, said its findings ring true.
"Families know what the best things are for their kids. I've never chatted with a family that wants to give their kids Eggos over blueberries," she said.
"But the reality is the blueberries will spoil in a couple days and the Eggos will stay for months inside their freezer."
The long-lasting effects of colonization are driving factors behind much of the food insecurity Indigenous people face, the study said, because they disrupted sources of healthy food such as traditional hunting, fishing and gathering.
"Over thousands of years, Indigenous populations have adapted to a diet suitable to their environment," the study said. That diet included animals and plants harvested locally.
"Some cultural sharing practices involving feasts and ceremonies were outlawed, resulting in loss of intergenerational knowledge of traditional food procurement and preparation," it said.
In addition, trauma from residential schools and discrimination has fuelled "underemployment and poverty for some individuals and communities" — which in turn leads to a lack of ability to afford nutritious food.
Combating food insecurity requires Indigenous-led solutions that are specific to each community's needs, said Deyowidron't Teri Morrow, a dietitian at Six Nations of the Grand River in southwestern Ontario.
Morrow, who was not involved in the study, pointed to food shortages in grocery stores during the COVID-19 pandemic lockdown as an example of how her First Nation was able to create their own food security.
"We could still go out and hunt and fish," she said, adding that they also picked wild leeks and fiddleheads.
"We were shipping them within the community here because people couldn't get to the grocery store," said Morrow, who also chairs the Dietitians of Canada Indigenous Nutrition Knowledge Information Network.
Programs that re-establish traditional foods within Indigenous communities are one way of fighting food insecurity, Banerji said. Other examples of success stories include community greenhouses and community freezers.
Banerji and her co-authors are calling for more government support for these types of initiatives, as well as school-based nutrition programs in all Indigenous communities to ensure kids get at least one healthy meal a day.
"Indigenous Peoples must have access to healthy and affordable food and our government is taking the steps necessary to close long-standing socioeconomic gaps," said an emailed response from Zeus Eden, press secretary to Minister of Indigenous Services Patty Hajdu, on Thursday.
"We know that affordability is a top concern for all Canadians, especially those in remote, rural and Indigenous communities who face a higher cost of living," Eden said.
He pointed to recently announced funding of $120 million for 24 regional Indigenous governments "to further support traditional hunting, harvesting, and food sharing activities," as well as income assistance of "approximately $300 per month to address urgent financial needs" for more than 100,000 people in First Nations communities.
The federal government is also working on developing a national school food policy "over the next few years," the statement said.
"We will continue to work with all levels of government and across departments to address food insecurity, reduce poverty, and promote economic reconciliation," it said.
This report by The Canadian Press was first published Sept. 28, 2023.