Political pressure grows for end to convoy protests as Ottawa warns of weekend surge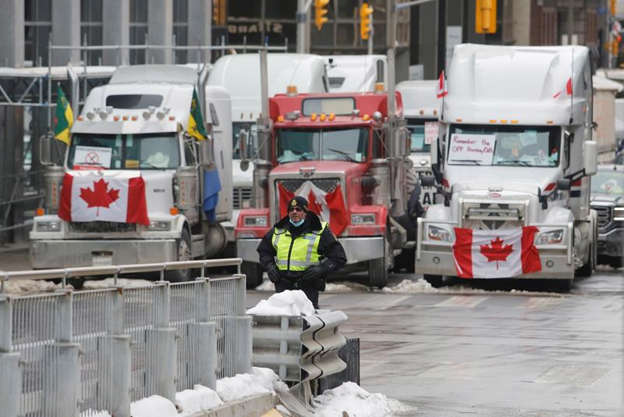 OTTAWA — Pressure has mounted on both sides of the border, and across the political aisle in Canada, for protesters blockading key crossings with the U.S. and others encamped by Parliament Hill to go home, or for officials to move them out of the way.
Late Thursday, Prime Minister Justin Trudeau called for all members of Parliament from every party to denounce the "illegal blockades and occupations happening across the country."
Trudeau said he briefed the leaders of all opposition parties on the latest developments and stressed on them to call for an end to the blockades. There are blockades at border crossings near Coutts, Alta., Emerson, Man., and the busy Windsor-Detroit Ambassador Bridge.
"They're harming the communities they're taking place in – and they're hurting jobs, businesses, and our country's economy," Trudeau said in a series of posts on Twitter.
"We'll continue to work closely with municipal and provincial governments to end these blockades, and to make sure they have the resources they need."
Trudeau said he also spoke with Mayor Drew Dilkens about the blockade of the Ambassador Bridge that links Windsor, Ont., with Detroit.
"We're committed to helping the mayor and the province get the situation under control – because it is causing real harm to workers and economies on both sides of the border."
Interim Conservative Leader Candice Bergen issued a brief statement about the meeting.
"Thank you to the Prime Minister for the briefing this evening," she said on Twitter. "I continue to call on him to take action to bring this to an end peacefully and quickly."
NDP Leader Jagmeet Singh called on Trudeau to act urgently to end the protests and blockades, noting the occupations are hurting families, small businesses and workers.
"Canadians have been missing national leadership during this crisis. They're tired of jurisdictional excuses, they just want this to stop," Singh said in a release.
"We owe them to use every tool available to stop these occupations that are harming Canadian workers and their families, and to work on a plan to get this to end."
The Bloc Quebecois said it continues to advocate for a peaceful solution and hopes for the voluntary and rapid departure of the occupiers and demonstrators.
According to the Bloc Quebecois, the prime minister and opposition leaders agreed to keep details of the meeting confidential for security reasons.
"We can't tolerate these dangerous situations for heath and security, as well as their impact on social climate and Canada and Quebec's perception on an international level", said the party in a statement.
Trudeau also met Thursday with the government's Incident Response Group about the blockades and protests.
A readout of the meeting said they discussed their work with the Ontario government to restore access to the Ambassador Bridge and other ports of entry and the prime minister's recent conversation with Premier Doug Ford.
"The group committed to continue providing federal resources to support enforcement efforts in Ottawa where the occupation has significantly disrupted local residents' lives, impacting businesses and families with harassment, threats of violence, and vandalism," the readout said.
"They reiterated that the federal government has and will continue to respond to all requests for appropriate support and resources."
The Canadian Trucking Alliance said Thursday the industry would pay a heavy price for the border actions. It called on governments to end the current blockades and provide a plan to prevent them from happening again.
By evening, Teamsters general president Jim Hoffa called for demonstrators to end their protest.
Political support for the protesters seemed to evaporate as well, as the interim Conservative leader, who two weeks ago suggested her party would do everything to make the demonstrations the prime minister's problem, reversed course and cut her party's support.
Speaking to the House of Commons earlier, Bergen called on protesters to go home and end activity that she said was hurting the country's economic rebound from COVID-19.
"Take down all of the blockades. Protest peacefully and legally, but it's time to remove the barricades and the trucks for the sake of the economy," Bergen said.
South of the border, Michigan Gov. Gretchen Whitmer in a written statement urged federal, provincial and local authorities in Canada to immediately end the blockades that threaten her state's economy. She did so hours before a Michigan congresswoman, Elissa Slotkin, warned of similar protests in the future the longer Canadian authorities let the situation persist.
There was no White House briefing Thursday, but officials said senior staff and cabinet members including Homeland Security Sec. Alejandro Mayorkas and Transportation Sec. Pete Buttigieg have been in regular contact with their counterparts in Ottawa.
They have been "engaged around the clock to bring this to a swift end," one official said, speaking on condition of anonymity in order to discuss internal conversations.
"The president is being regularly briefed about the situation."
Homeland Security Adviser Liz Sherwood Randall was also scheduled to speak later Thursday with Jody Thomas, the prime minister's recently appointed national security and intelligence adviser.
Public Safety Minister Marco Mendicino said the RCMP is sending reinforcements to Ottawa and Windsor.
The latter city was granted intervener status Thursday in an application for an injunction that would stop protesters blocking Canada-bound traffic at the Ambassador Bridge crossing. An Ontario Superior Court justice was set to hear submissions Friday.
The same court on Thursday granted a request from the Ontario government to freeze protesters' access to millions in donations raised on the fundraising platform GiveSendGo.
Earlier Thursday, Trudeau said his government was working with municipal and provincial leaders to put an end to barricades that were "hurting communities across the country.
"We're going to continue to do what's necessary to end these barricades," Trudeau told reporters on his way into the House of Commons.
But the protests showed no signs of letting up.
Speaking to a crowd gathered by Parliament Hill, protester Bethan Nodwell, who is involved in one of the fundraising sites the Ford government targeted, urged protesters to hold the line downtown until reinforcements arrive this weekend.
"We're blocking the airports. We're blocking borders. We are blocking it all. We are not going to retreat," she said into the microphone.
The situation in Ottawa, which has spurred similar actions nationally and abroad, continued to dominate debate even as political fissures have formed inside the Liberal caucus and Official Opposition over the handling of the protests and public health measures.
The so-called Freedom Convoy rolled in to Ottawa two weeks ago ostensibly to protest federal vaccination mandates for truckers. It has also demanded an end to all COVID-19 restrictions and some in the group have called for the government to be dissolved.
Ottawa police said Thursday that a dozen trucks left an area outside the downtown core after negotiations with protesters who have used the parking lot there as a staging and logistics ground.
Ten more trucks left streets near Parliament Hill, and another vehicle was towed for obstructing traffic as police looked to reduce the footprint of the protesters' occupation of downtown Ottawa.
There are now about 400 vehicles left in the core.
Demonstrators with large trucks have been warned by police that if they block streets they could be charged with mischief to property, or have their vehicles and other property seized and possibly forfeited. Police also warned that charges or convictions might mean being barred from travelling to the United States.
On Thursday afternoon, police said they had made three more arrests since Tuesday, bringing the total number of arrests to 25. An investigation is also underway after demonstrators refused to stop for an officer and hit a police cruiser near downtown, though police said no one was injured.
Speaking to reporters Thursday afternoon, Ottawa police Chief Peter Sloly described the demonstration as sophisticated and well-organized. He warned anyone considering coming to the capital on the weekend to think twice about entering the city and said they'll be met by a beefed-up police presence.
Sloly also said he expected an imminent announcement from upper levels of government about the city's request for 1,800 additional officers to bolster the local force.
"As they arrive, they will continue to advance our efforts to end this demonstration as quickly and as safely as possible," Sloly said.
This report by The Canadian Press was first published Feb. 10, 2022.
— With files from Mike Blanchfield, Jim Bronskill, Stephanie Taylor, Mia Rabson and Justin Tang in Ottawa and Nicole Thompson in Toronto
Jordan Press and Laura Osman, The Canadian Press
'Freedom Convoy' trial resumes with questions for mayor's chief of staff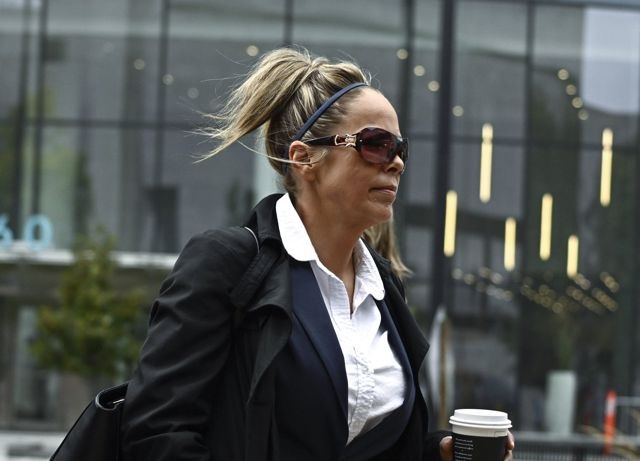 Tamara Lich arrives for her trial at the courthouse in Ottawa, on Tuesday, Sept. 19, 2023. Lich and fellow Freedom Convoy organizer Chris Barber are charged with mischief, obstructing police, counselling others to commit mischief and intimidation.THE CANADIAN PRESS/Justin Tang
Ottawa
The chief of staff for former Ottawa mayor Jim Watson is expected to continue his testimony in the trial of two "Freedom Convoy" protest organizers today before the court takes a two-week break.
Serge Arpin was involved in the mayor's deal with convoy organizers Tamara Lich and Chris Barber to move trucks off of residential streets last year.
Arpin and the mayor hoped the deal would result in some 400 trucks moving out of residential neighbourhoods and onto the street along Parliament Hill as the protest went on for weeks.
Lich and Barber are on trial for alleged mischief and counselling others to commit mischief, intimidation and other offences during the protest.
Friday was initially expected to be the final day for the Crown to present its case against them, but legal arguments and other delays have put the court well behind schedule, and Arpin is only the fourth of 22 Crown witnesses expected to testify.
The court is looking for more dates to finish the Crown's case and leave time for more legal arguments at the end of the trial.
This report by The Canadian Press was first published Sept. 22, 2023.
Notes suggest city considered leaving trucks on Wellington indefinitely, court hears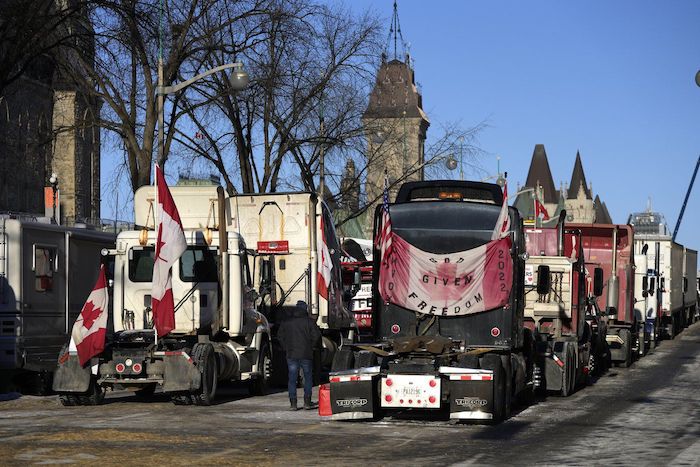 The City of Ottawa's emergency services manager took the stand for the third day in a row in the criminal trial of two 'Freedom Convoy' organizers. Kim Ayotte, general manager of emergency and protective services at the City of Ottawa, arrives at the courthouse in Ottawa where he will appear as a witness at the trial of "Freedom Convoy" organizers Tamara Lich and Chris Barber, on Tuesday, Sept. 19, 2023. THE CANADIAN PRESS/Justin Tang
By Laura Osman in Ottawa
Notes taken during a meeting between city employees and "Freedom Convoy" protesters show the City of Ottawa entertained allowing big-rig trucks to remain on the street along Parliament Hill indefinitely, the court heard Thursday.
The notes were produced by the defence during the criminal trial of two convoy organizers, Tamara Lich and Chris Barber. They had struck a deal with then-mayor Jim Watson to move trucks out of residential neighbourhoods and onto Wellington Street during the protest last year.
The city's emergency services manager, Kim Ayotte, met with several convoy organizers and other city staff over pizza on Feb. 13 to go over the details and come up with a plan.
Barber was among the protest organizers in attendance.
"Kim Ayotte produced maps and outlined the area on Wellington that the city is agreeable to stage trucks indefinitely," said minutes of that meeting, which were filed as evidence in court.
Ayotte told the court Thursday that police never agreed to stage the trucks indefinitely, and that was not part of the deal.
"Police were in the room and they did not agree to that," Ayotte said on the witness stand.
Ayotte took notes throughout the protest, but didn't make any during the meeting. He said he understood the meeting to be an informal attempt to build relationships with the protest organizers.
The agreement was brokered between Watson and Lich by Dean French, the former chief to staff to Premier Doug Ford, Serge Arpin told the court Thursday. Arpin served as Watson's chief of staff at the time.
The mayor offered to meet with protesters and hear out their concerns if they could show significant progress on moving the trucks.
Ayotte said he considered the agreement they struck a success on Feb. 14, when Barber reported to Ayotte that he had worn himself out moving 40 trucks.
Those efforts stopped on Feb. 15 after an incident between police and protesters.
"We had little troubles this morning in communication with some city police," Barber wrote to Ayotte in a text message sent Feb. 15. The message was filed as evidence in the trial.
"Kinda put things on hold till issues are resolved."
Ayotte reached out to his point person with the police, acting Supt. Robert Drummond, but said the police gave him limited information about why the deal fell through.
A text message exchange filed as evidence to the court shows Drummond initially told Ayotte that the police liaison team would check in with the truckers on Feb. 15 "to see if there are any more takers, but the groups are very fractured."
Later that morning, Drummond said police would not be helping to move any more trucks, except for those of protesters who wanted to voluntarily leave the city.
Arpin said the city was aware that there were various factions in the convoy, but French had told him that Lich and Barber were part of the "broad, moderate leadership."
That day of the meeting with convoy organizers over pizza, Ayotte signed an affidavit in support of the city's request to the Ontario Superior Court for an injunction against people who violated city bylaws.
Lawrence Greenspon, the lawyer representing Lich, said Ayotte's affidavit did not mention the agreement by convoy organizers to reduce the footprint of the protest zone that had been struck earlier the day.
In response to questioning by Greenspon, Ayotte also confirmed that no one with the City of Ottawa mentioned the coming injunction application to protest organizers who attended the pizza meeting.
Barber's lawyer, Diane Magas, said the tone of the affidavit suggested that demonstrators were not co-operating with the city or police at all.
"But that's not quite true," Magas said, pointing to the co-operative effort to move trucks that they agreed to in a meeting with him hours before he signed the document.
Justice Heather Perkins-McVey asked if Ayotte revised his affidavit at all in light of the plan he made with protest organizers. He said he did not, and he viewed them as "two separate issues.
Arpin's testimony is expected to continue Friday.
This report by The Canadian Press was first published Sept. 21, 2023.