Police warn public after recent distraction style thefts targeting seniors
The Edmonton Police Service is alerting the public following recent reports of distraction style jewelry thefts that appear to be targeting seniors.
On Thursday, March 7, 2019, an 86-year-old female was in the parking lot of a business in the area of 124 Avenue and 153 Street when she was reportedly approached by an unknown male and female in a black Dodge Durango. While speaking to the complainant, the female suspect reportedly placed fake gold rings on the woman's fingers and a fake gold necklace around her neck, removing the wedding ring and necklace that she was wearing in the process. The suspects then allegedly drove away.
On Sunday, March 10, 2019, a similar incident reportedly took place in the parking lot of a grocery store in the area of 173 Street and Stony Plain Road. A 75-year-old male reported that while attempting to exit his vehicle he was blocked by an unknown female. The female then reportedly placed fake gold jewelry on his hands and wrists, removed his gold watch and quickly left the parking lot with an unknown male in a black SUV.
Investigators believe the two incidents in west Edmonton are linked and may involve the same suspects. In each incident the suspects are described as an adult male and female with a dark skin tone, dark hair and heavy accents that may be Eastern European or Middle Eastern. The female was also described as wearing a full length dress and a head scarf and both suspects reportedly drove rental vehicles that officers believe they may be switching regularly.
Detectives continue to actively investigate these incidents and believe the suspects are likely travelling across Alberta committing similar thefts. As a result, officers are concerned there may be additional complainants in Edmonton and are encouraging them to come forward.
Photos of the fake jewelry used by the suspects are included below.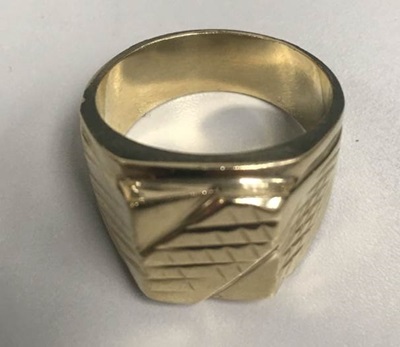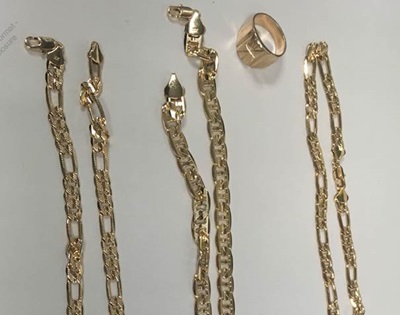 Police are also warning the public, in particular seniors, to be aware of their surroundings when in parking lots and to be extra vigilant if approached by strangers who are trying to give away or sell something. Citizens are advised to look around when approaching theirs vehicles and, if they notice suspicious individuals approaching, change direction and proceed to the nearest public area.
Anyone who believes they may have been victimized is asked to contact the EPS at 780-423-4567 or #377 from a mobile phone. Anonymous information can also be submitted to Crime Stoppers at 1-800-222-8477 or online at www.p3tips.com/250.
Four Races = Four Podiums for Central Alberta's Parker Thompson in Busy Victoria Day Speedfest Weekend
CANADIAN TIRE MOTORSPORT PARK – TORONTO, ONTARIO
From Parker Thompson Racing
Thompson boldly kicked off the new race season in Canada this weekend at Canadian Tire Motorsport Park. The 21-year-old competed in four races as part of two different series that joined the annual Victoria Day Speedfest weekend at the Toronto area racetrack. In those four races, Thompson earned four podiums. In the Canadian Touring Car Championship (CTCC), he dominated the weekend, taking the Audi R8 LMS GT4 of Speedstar Motorsport to two overall victories. In the Porsche GT3 Cup Challenge Canada, Thompson earned a 2nd and 3rd place finish in two tightly contested races. 
The performance puts an exclamation mark on what has been a commanding start to Thompson's 2019 season. Thompson has been racing south of the border since March when the Indy Pro 2000 season commenced in St. Petersburg, Florida. He joined Porsche GT3 Cup Challenge USA shortly after. Thompson is in contention for championship titles in those two series. After this weekend, he is set up to challenge for the Porsche GT3 Cup Challenge Canada and CTCC championship titles as well. In this calendar year, Thompson has already raced 12 times within the four series. In those races, he has 10 podiums and 5 wins.Racing two series in one weekend presented a unique opportunity for Thompson.
"I'm so fortunate to have the opportunity to work with two great teams in SCB Racing and Speedstar Motorsport. Sports GT racing is still very new to me. With some great people behind me though, we've managed some great results. We have a great chance to contend for two championships here in Canada. Speedstar Motorsport has proven great results in international series as well. I'm excited about future possibilities that exist with that team and their partners." – Parker Thompson

Canadian Touring Car Championship
Driven by Thompson, the #1 Audi R8 LMS GT4 of Speedstar Motorsport and New Roads Automotive Group, dominated both CTCC races on the weekend. With future endeavors in other series on the horizon, Thompson and the team had a watchful eye on the SRO GT4 America's races that also took place as part of the Victoria Day Speedfest weekend. Running cars identically classed to Thompson's Audi R8, the GT4 America's series features drivers from around the globe and participation from a variety of manufacturers.
In the Speedstar Motorsport / New Roads Automotive Group Audi R8, Thompson marked a lap time that bested not only all CTCC competitors, but all GT4 America's entrants as well. In fact, the 1:23.332 that Thompson posted is faster than any GT4 lap on recent record at Canadian Tire Motorsports Park.
"We're racing guys over in the SRO GT4 America's paddock. We're comparing and making sure we're faster than all the manufacturers over there. The Speedstar Motorsport / New Road Automotive Group #1 Audi R8 was on rails all weekend long. It's amazing to drive for this team. Thank you to everyone who came out from New Roads Automotive Group and Audi Uptown." – Parker Thompson.
photo credit CTCC & Phillip Sutherland)

photo credit CTCC & Phillip Sutherland)

Photo credit CTCC & Phillip Sutherland)
Porsche GT3 Cup Challenge Canada
As expected of the popular one-make series, the opening races of the Porsche GT3 Cup Challenge Canada were tightly contested. An incident in Saturday morning's qualifying cut the session short, leaving multiple drivers unhappy with their starting positions for race one. Thompson would start in second position. Over the course of the race he applied good pressure on leader, Jeff Kingsley, but was not able to execute a pass. The two crossed the finish line with a comfortable margin over 3rd place Marco Cirone.
The starting line-up for race two put Thompson in the fifth position. Intense battles with Marco Cirone, Jeff Kingsley, and Patrick Dussault saw Thompson make his way up to second position. Heavy rain would fall, ending the race before he had any chance to challenge for the lead. The excitement of Thompson's dramatic performance was tempered somewhat post-race when he was penalized one position for making a pass outside of track limits. The final result was third place.
After combining point totals for both races, Thompson holds second place in the overall championship standings, just one point behind race 2 winner Roman DeAngelis. The two drivers are also first in second in the Porsche GT3 Cup Challenge USA standings. Having shared the track for six races so far this year, Thompson and DeAngelis are demonstrating the tight competition that the GT3 Cup series is renowned for.
MAY 24 – 26, 2019 – INDY PRO 2000 Race 4 & 5 – Lucas Oil Raceway, Indianapolis, IN
JUN. 02 – 03, 2019 – CTCC Race 3 & 4 – Calabogie Motorsport Park – Ottawa,
JUN. 08 – 09, 2019 – GT3 CUP CANADA & USA – Circuit Gilles Villeneuve – Montreal
About Parker Thompson
Red Deer, Alberta native Parker Thompson is regarded as one of Canada's premiere racing drivers. He started racing karts at age 8 and his natural talent and competitive drive quickly elevated him to international level competitions. By age 13 he was ranked 3rd in the world in Rotax Max karts. Now 21 years old, Parker continues his successful career racing on the Road to Indy, and in multiple sports car series.
Everything you need to know to enjoy the long weekend in an Alberta park
From the Province of Alberta
Get ready to long weekend
It's time to kick off the summer camping season and for Albertans to get out and explore provincial attractions or simply travel to visit family and friends.
"Whatever it is Albertans choose to do this long weekend, our province has a wealth of unique experiences that support our economy, including camping in our provincial parks. Wherever the destination, government hopes people will have a safe, relaxing and enjoyable May long weekend."
Below are a few tips and information to support a safe and enjoyable long weekend.
Camping
We all share a responsibility to be courteous campers, which ensures campgrounds are enjoyable and safe for everybody.
General etiquette rules are:

Avoid excessive noise so that everyone can enjoy the peace and tranquility of parks.
Quiet hours are between 11 p.m. and 7 a.m.

Still looking for a campsite or a picnic area? Check out AlbertaParks.ca.
Liquor in provincial parks
The previous liquor ban in select provincial parks is lifted; however, rules and regulations around campground quiet hours, excessive noise and appropriate behaviour continue to be in place and will be enforced.
Liquor consumption is restricted to registered campsites only.
Fire bans
At this time, a fire ban is in effect throughout most of northern Alberta, prohibiting campfires, unauthorized burning and restricting the use of off-highway vehicles on public lands.
Fire bans outside of Alberta provincial parks are posted on AlbertaFireBans.ca Download the Fire Bans app before you head out.
Provincial parks-related fire bans, restrictions and associated advisories are posted on AlbertaParks.ca Fire Bans.
Safety on the road
More collisions and fatalities take place on Alberta's roads on long weekends than other weekends. To help travellers get home safely, traffic enforcement measures will be ramped up this May long weekend.
Alberta sheriffs will be working in integrated traffic units with RCMP to patrol provincial highways to target impaired drivers, aggressive and careless drivers, distracted drivers and speeders.
Drive for the conditions of the road (check 511 Alberta for latest highway conditions).
Fish and wildlife
Increased enforcement on our highways, waterways, public lands and in our parks will help responsible Albertans enjoy the long weekend safely.
In addition to protecting fish and wildlife and managing human/wildlife conflicts, fish and wildlife officers will be protecting the landscape and waterbodies, including monitoring random camping, boating and off-highway vehicle use.
Ensure you know the fishing regulations and the hunting regulations.
Bear safety
Albertans can do their part to avoid human-bear conflict. Be bear and cougar smart. Carry bear spray and know how to use it.
When travelling in bear country, keep dogs on a leash, travel in groups and make noise whenever possible.
Impaired driving
Arrive alive! Any form of impaired driving is unacceptable and dangerous, and puts everyone on Alberta roads at risk.
Impaired driving from alcohol, drugs, fatigue or distraction injures or kills thousands of Albertans every year.
Museum and historic sites
Alberta's historic sites, museums and archives are open for the summer with new programs and experiences.
People can purchase an Experience Alberta's History Annual Pass and get unlimited access to all provincial historic sites and museums for one year from date of purchase.
Recreation on public land
Conditions on the May long weekend are typically very wet due to spring rains, melting snow and frost, making the land more susceptible to significant damage from recreational activities.
Be aware of regulations around motorized recreation and non-motorized recreation on trails and in waterways. Wheeled and tracked vehicles are not permitted to be operated or parked on the bed, shore and/or in the water of Alberta's streams, rivers, lakes and wetlands.
Damage or loss to public land (i.e., dumping of garbage, abandoned vehicles, sign removal, gate removal) needs to be reported to the Report A Poacher line at 1-800-642-3800.
Camping is limited to a 14-day stay on public land.
Respect the land and know the rules and regulations around random camping on public lands.