Police warn public after recent distraction style thefts targeting seniors
The Edmonton Police Service is alerting the public following recent reports of distraction style jewelry thefts that appear to be targeting seniors.
On Thursday, March 7, 2019, an 86-year-old female was in the parking lot of a business in the area of 124 Avenue and 153 Street when she was reportedly approached by an unknown male and female in a black Dodge Durango. While speaking to the complainant, the female suspect reportedly placed fake gold rings on the woman's fingers and a fake gold necklace around her neck, removing the wedding ring and necklace that she was wearing in the process. The suspects then allegedly drove away.
On Sunday, March 10, 2019, a similar incident reportedly took place in the parking lot of a grocery store in the area of 173 Street and Stony Plain Road. A 75-year-old male reported that while attempting to exit his vehicle he was blocked by an unknown female. The female then reportedly placed fake gold jewelry on his hands and wrists, removed his gold watch and quickly left the parking lot with an unknown male in a black SUV.
Investigators believe the two incidents in west Edmonton are linked and may involve the same suspects. In each incident the suspects are described as an adult male and female with a dark skin tone, dark hair and heavy accents that may be Eastern European or Middle Eastern. The female was also described as wearing a full length dress and a head scarf and both suspects reportedly drove rental vehicles that officers believe they may be switching regularly.
Detectives continue to actively investigate these incidents and believe the suspects are likely travelling across Alberta committing similar thefts. As a result, officers are concerned there may be additional complainants in Edmonton and are encouraging them to come forward.
Photos of the fake jewelry used by the suspects are included below.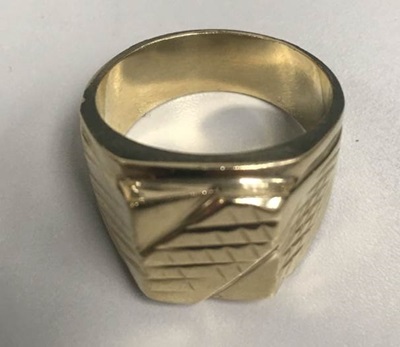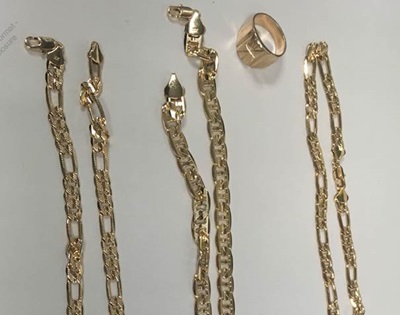 Police are also warning the public, in particular seniors, to be aware of their surroundings when in parking lots and to be extra vigilant if approached by strangers who are trying to give away or sell something. Citizens are advised to look around when approaching theirs vehicles and, if they notice suspicious individuals approaching, change direction and proceed to the nearest public area.
Anyone who believes they may have been victimized is asked to contact the EPS at 780-423-4567 or #377 from a mobile phone. Anonymous information can also be submitted to Crime Stoppers at 1-800-222-8477 or online at www.p3tips.com/250.
Energy Companies calling on average Canadians to make oil and gas top of mind for federal politicians
Three of Canada's top energy sector leaders are asking average Canadians to boost Canada's energy industry ahead of this fall's federal election.  The Presidents of Cenovus Energy, Canadian Natural Resources Limited, and MEG Energy have penned an "Open Letter to Canadians" urging everyone to talk to federal candidates about supporting the energy sector.
The letter makes a simple assessment of the facts surrounding energy creation worldwide and asks Canadians to back our own companies as they attempt to lead the way toward "a lower carbon future"…
Open letter to Canadians from:
Tim McKay, Canadian Natural Resources Limited,
Alex Pourbaix, Cenovus Energy,
Derek Evans, MEG Energy
We have big decisions to make as a country, and there is an opportunity for each of you to influence the outcome.
Canadians want to know what the energy sector is doing to address the global climate change challenge while working to strengthen our economy.
As energy company leaders, we believe Canada is ideally positioned to do its part to both positively impact climate change and ensure a strong and vibrant economy for the future.
This is not an 'either' 'or' conversation, it's an 'and' conversation.
The world needs more energy to sustain a growing global economy that is expected to lift three billion people out of poverty in the decades ahead. We need more wind, solar and hydro, but oil and natural gas remain a large part of the mix too. This is true in even the most optimistic scenarios for the worldwide adoption of renewable energy.
The world also needs to significantly reduce greenhouse gas emissions.  But shutting down Canada's oil industry will have little impact on global targets.  In fact, it could have the opposite effect, with higher carbon fuels replacing our lower emissions products.
A healthy Canadian oil and natural gas industry is vital in leading the way to a lower carbon future.
Made-in-Canada technologies that reduce emissions at our oil and natural gas operations could be adapted for sharing with other industries worldwide.  We are already making meaningful progress developing those solutions.
We've reduced the emissions intensity in the oil sands by about 30% over the past two decades, and a number of oil sands operations are producing oil with a smaller greenhouse gas impact than the global average.  We're working to get those numbers even lower.
And Canada's energy companies are the country's single largest investors in clean tech.  Through organizations such as Canada's Oil Sands Innovation Alliance (COSIA), Petroleum Technology Alliance Canada (PTAC) and the Clean Resource Innovation Network (CRIN) we are continuing to work on – and share – breakthrough technologies.
But we can't do it alone.
And that's why we are writing this letter.
As we head into the upcoming election, we are asking you to join us in urging Canada's leaders of all political stripes to help our country thrive by supporting an innovative energy industry.  One that can contribute to solving the global climate change challenge and play a significant role in creating future energy solutions by developing our resources in the cleanest most responsible way possible today.
The choices we make will determine the quality of life we create for ourselves and future generations.  These choices will impact our ability to fund schools, hospitals, parks and the social programs that we as Canadians so deeply value.
This isn't about any particular pipeline, policy or province. This is about the future of Canada.
This slideshow requires JavaScript.
Tim McKay
President Canadian Natural Resources Limited
Alex Pourbaix
President & CEO Cenovus Energy
Derek Evans
President & CEO MEG Energy
Murder charges against 2 in Drumheller Institution slaying
From the RCMP Major Crimes Unit
RCMP Major Crimes Unit lay murder charges in Drumheller
The RCMP Major Crimes Unit (MCU) South have laid first degree murder charges against two inmates at the Drumheller Institution following a serious assault which occurred on August 4, 2019.
At 7:34 p.m. on August 4, Drumheller RCMP responded to a complaint of a stabbing at the Drumheller Institution.  The 42-year-old victim was taken to an area hospital where he succumbed to his injuries.
On August 5, RCMP MCU South attended the Institute along with Calgary RCMP Forensic Identification Section to investigate and gather evidence. An autopsy was completed on August 6 confirming that the death was caused by stab wounds.
Two male inmates, 24-year-old Giovanni James Alexis and 23-year-old Richard George Paul have both been charged with first degree murder in the death of Jason Tremblay. A court date has not yet been confirmed.
Further information will not be provided in relation to this incident.