Police arrest "fake" psychic
From Edmonton Police Service: Police charge woman in psychic scam
The Edmonton Police Service is seeking complainants after charging a 22-year-old woman in relation to multiple incidents of fraud.
The charges stem from 10 similar incidents that occurred between April 2018 and May 2019. The accused worked as a psychic using the name "Sabrina Burt" or "Sable," and operated under the business name "Sable Psychic Studio." She is alleged to have defrauded the 10 complainants of a total of more than $72,500, with the highest individual loss totaling $20,250.
It was reported to police that the accused told the complainants they needed to pay a fee of thousands of dollars to obtain a special crystal for a procedure that would remove negative energy. The accused allegedly told complainants that the fee would be refunded after the procedure had taken place.
Investigators believe the accused exploited the complainants' vulnerabilities to convince them to pay ever-increasing amounts of money towards the crystal procedure, in addition to changing the price and misrepresenting the services being provided. The promised refund never occurred.
On June 10, 2019, Cynthia Burt, 22 was arrested in Edmonton on three outstanding Canada-wide warrants in relation to a similar file in Ontario, and charged with fraud over $5,000 (x6) and fraud under $5,000 (x4) in relation to this recent series in Edmonton.
Detectives believe there may be others who have had similar encounters with the accused, and are encouraging them to come forward by calling the EPS at 780-423-4567.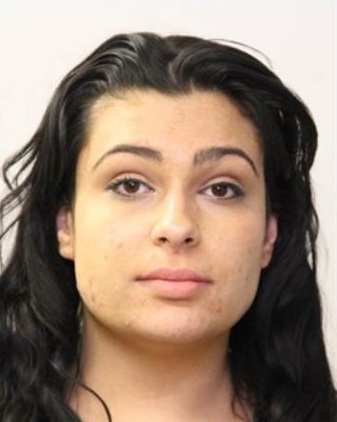 Cynthia Burt, 22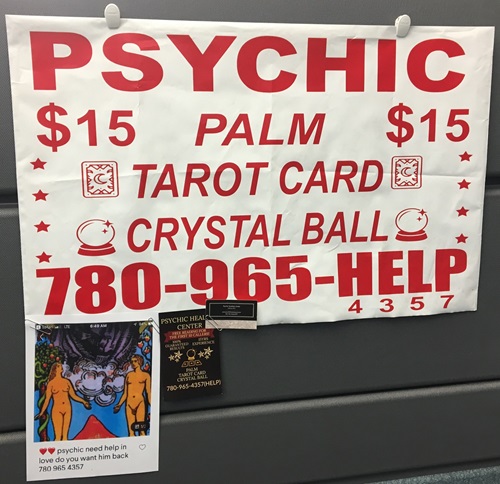 The accused's advertising, some of which may still be in use

Anyone with any information about this or any other crime is asked to contact the EPS at 780-423-4567 or #377 from a mobile phone. Anonymous information can also be submitted to Crime Stoppers at 1-800-222-8477 or online at www.p3tips.com/250.
EPS officer charged with "distribution of an intimate image"
An Edmonton Police Service (EPS) member was charged today, July 18, 2019, in relation to an incident that occurred in 2018.
Const. Samuel Sanson, a 12 year member with the EPS, was charged with one count of distribution of an intimate image pursuant to Sec. 162.1 of the Criminal Code of Canada. The charge stems from a non-work related incident that reportedly took place in Edmonton in September 2018.
The constable is currently on leave.
The charges follow an in-depth investigation by the EPS Professional Standards Branch which was subsequently reviewed by Alberta Justice.
As the matter is currently before the courts, the EPS is not able to provide further comment or information about the incident or investigation.
Search for missing man last seen at Red Deer hotel expands
The Calgary Police Service Homicide Unit is seeking public assistance in relation to the disappearance of Abdikadir TUKHOV, who was reported missing in December 2016.
Abdikadir TUKHOV, 43, of Calgary was reported missing by friends on Sunday, Dec. 11, 2016. He was last seen on Monday, Dec. 5, 2016, leaving a residence in the community of Abbeydale.
Police have exhausted all footprints of life and as a result of new information from members of community, TUKHOV's disappearance is considered suspicious. Friends also believe that TUKHOV may have been met with foul play.
TUKHOV lived a transient lifestyle and spent time in Calgary, Grand Prairie, Edmonton and Red Deer. It is believed he worked as a taxi driver in Grand Prairie prior to his disappearance.
Investigators are seeking public assistance to identify a man and a woman seen with TUKHOV at the Cambridge Red Deer Hotel (previously the Sheraton Red Deer), located at 3310 50 Ave., Red Deer, in the early morning hours of Sunday, Dec. 4, 2016. Police believe they may have information about TUKHOV's disappearance or his activities prior to his disappearance.
A photo of TUKHOV with the man and woman is available above.
The woman is described as 25 to 40, with an average build with brown hair.
The man is described as 30 to 45, with an average build. He can be seen wearing a hat in the photo.
"We know that people in the community have information about Abdikadir's disappearance," says Staff Sergeant Martin Schiavetta of the CPS Homicide Unit. "Abdikadir left behind a wife and two children and we ask that anyone who has information come forward so that we can provide closure to his friends and family. Even what seems like the most insignificant information can sometimes be enough to help detectives solve a case."
Anyone with information is asked to call the Calgary Police Service Homicide Tip Line at 403-428-8877. They may also contact the Calgary Police Service non-emergency number at 403-266-1234 or Crime Stoppers anonymously through either of the following methods:
TALK: 1-800-222-8477
TEXT: www.calgarycrimestoppers.org
Case # 16660072/4110