Police arrest "fake" psychic
From Edmonton Police Service: Police charge woman in psychic scam
The Edmonton Police Service is seeking complainants after charging a 22-year-old woman in relation to multiple incidents of fraud.
The charges stem from 10 similar incidents that occurred between April 2018 and May 2019. The accused worked as a psychic using the name "Sabrina Burt" or "Sable," and operated under the business name "Sable Psychic Studio." She is alleged to have defrauded the 10 complainants of a total of more than $72,500, with the highest individual loss totaling $20,250.
It was reported to police that the accused told the complainants they needed to pay a fee of thousands of dollars to obtain a special crystal for a procedure that would remove negative energy. The accused allegedly told complainants that the fee would be refunded after the procedure had taken place.
Investigators believe the accused exploited the complainants' vulnerabilities to convince them to pay ever-increasing amounts of money towards the crystal procedure, in addition to changing the price and misrepresenting the services being provided. The promised refund never occurred.
On June 10, 2019, Cynthia Burt, 22 was arrested in Edmonton on three outstanding Canada-wide warrants in relation to a similar file in Ontario, and charged with fraud over $5,000 (x6) and fraud under $5,000 (x4) in relation to this recent series in Edmonton.
Detectives believe there may be others who have had similar encounters with the accused, and are encouraging them to come forward by calling the EPS at 780-423-4567.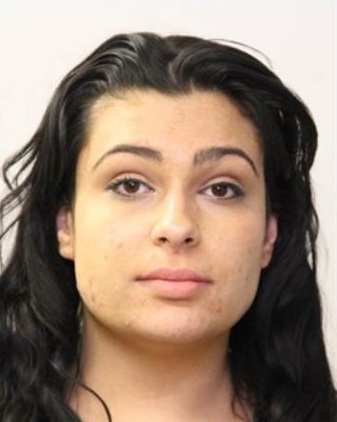 Cynthia Burt, 22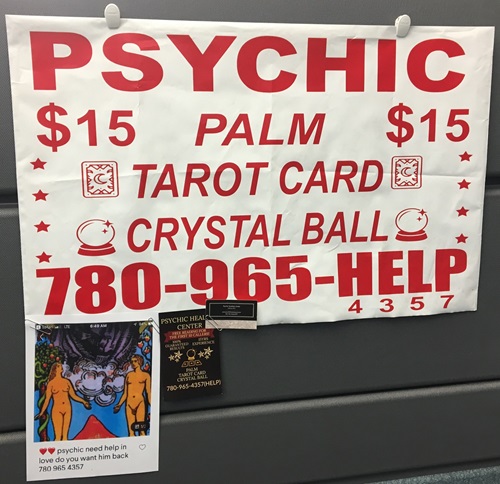 The accused's advertising, some of which may still be in use

Anyone with any information about this or any other crime is asked to contact the EPS at 780-423-4567 or #377 from a mobile phone. Anonymous information can also be submitted to Crime Stoppers at 1-800-222-8477 or online at www.p3tips.com/250.
EPS: Shooting in Ambleside
At approximately 3:05 p.m. today, Thursday, November 21, 2019, EPS received a weapon's complaint call through 911.
– SW Division patrol members responded to a residential address near Wright Drive and 177 Street in the neighbourhood of Ambleside.
– Upon arrival, it was reported to police that a male had sustained what appear to be gunshot wounds.
– Paramedics treated and transported the complainant to hospital with serious injuries.
– No suspect(s) have been identified at this time. Police believe the shooting was a targeted incident, and thus don't believe the surrounding community is in any imminent danger, at this time.
– Anyone with information about this shooting is asked to contact the EPS at 780-423-4567 or #377 from a mobile phone. Anonymous information can also be submitted to Crime Stoppers at 1-800-222-8477 or online atwww.tipsubmit.com/start.htm
– There are no further details at this time.
St. Paul RCMP looking for witness to assault on officer
Nov. 20, 2019
St. Paul RCMP charge male after officer assaulted
St. Paul County, Alta. – On Nov. 12, 2019 at approximately 4:30 p.m., St.  Paul RCMP responded to a report of an intoxicated male on Highway 36 near Cork Hall in St. Paul County.
An officer of the Eastern Alberta District Rural Crime Reduction Unit (EADRCRU) was near by and responded to the area. The suspect male was located on the side of the highway and arrested as a matter of ensuring his safety.
During the arrest the male resisted and assaulted the officer by striking him in the head, face, and neck. The officer was able to gain control of the male after deployment of a Taser. The suspect male was assessed by EMS and then transported to the St. Paul RCMP Detachment.  The officer was transported to the hospital and later transferred by EMS to Edmonton for additional assessment and treatment for serious non-life threatening injuries.
Elmer Jackson (40) of Saddle Lake was charged with:
Assault of a police officer causing bodily harm
Resisting arrest
Causing a disturbance
He was remanded into custody after a judicial hearing and will be appearing in St. Paul Provincial Court on Nov. 28, 2019.
St. Paul RCMP would like to speak to an adult female who was pulled over at the scene prior to police attending and remained on scene to witness the incident until the male was taken into custody. The witness departed on Highway 36 before she could be identified and was driving a newer white Ford Edge. The witness is asked to contact St. Paul RCMP at 780-645-8870 or your local police.
As this matter is now before the courts, no further information will be released.