Poised to face Predators, Calgary Flames suddenly see Stars
By Donna Spencer in Calgary
En route back to Calgary from Winnipeg after their last game of the regular season, the Flames players who were checking their phones saw their first-round playoff opponent flip suddenly from the Nashville Predators to the Dallas Stars in a matter of minutes.
The Predators were 4-0 on the Arizona Coyotes seven minutes into their regular-season finale Friday and looked certain to start the NHL post-season against the Flames just a week after an antagonistic clash of the two clubs in Nashville.
But the combination of an improbable Coyotes comeback in regulation time and Dallas doubling the Anaheim Ducks 4-2 vaulted the Stars over the Predators by a point and set up a playoff date with the Flames starting Tuesday at the Saddledome.
The Coyotes, doomed to the Western Conference basement, wouldn't go quietly against Nashville with five unanswered goals starting at 13:21 of the first period and ending at 10:27 of the third in a 5-4 win.
The Predators dropped into the conference's second wild-card berth behind Dallas and into a first-round matchup with the top-seeded Colorado Avalanche.
"I guess if you looked at the score last night when it was four-nothing, a little bit of a plot twist, but we knew that there was possibility of couple different teams," said Flames forward Blake Coleman on Saturday.
"We were on the flight and just kind of checking in on the score here and there. Guys were kind of wondering what was going on. At one point there, you started to assume maybe Nashville. It was just in the cards for us to play Dallas."
The best-of-seven series opens in Calgary with games Tuesday and Thursday before heading to American Airlines Center for Game 3 on May 7 and Game 4 on May 9.
The Flames (50-21-11) went 2-0-1 versus the Stars (46-30-6) this season, including a 4-2 win April 21 at the Saddledome to clinch first place in the Pacific Division.
"Two close teams," Flames head coach Darryl Sutter said. "I said the last few days I thought it would be Dallas. It was Dallas."
Calgary's dramatic 5-4 overtime win over Nashville on Tuesday that featured 56 minutes in penalties (including two fights), 74 hits and Matthew Tkachuk's tying goal with a tenth of a second left had increased anticipation of a Calgary-Nashville matchup.
The Flames have recent post-season history with the Stars, however.
After beating the Winnipeg Jets in the qualifying round of the NHL's 2020 playoff bubble in Edmonton, the Flames were ousted in the first round in six games by the Stars, who went onto the Stanley Cup final and fell in six games to the Tampa Bay Lightning.
"They've got some guys that have had playoff experience," said Coleman, who was a member of the Lightning that year.
"They're a big strong team. They're going to be a tough out. They're good in their own building. We've got to prepare the right way. We know there's not going to be any easy games in the playoffs. We'll start our preparation starting today and it's going to be a good test."
The 35-year-old winger from Plano, Texas, looks forward to playing post-season hockey in his home state.
"It's awesome," Coleman said. "It was fun getting to play Dallas in the finals couple years ago, hearing from anybody and everybody I ever played with or met at a hockey rink.
"That was fun for me, but this is a totally different experience, getting to play in front of family and friends at home. I'm excited for it.
"At the end of the day, it's just another playoff game and playoff environment that we've got to win in. Just eliminate any distractions and play my game and do what I can't help the team."
This report by The Canadian Press was first published April 30, 2022.
Alberta Premier Danielle Smith says conservatives must learn to win in 'big cities'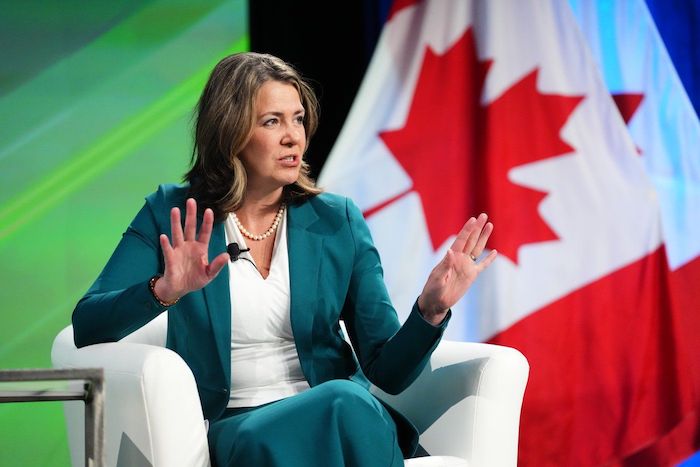 Alberta Premier Danielle Smith speaks at the Canada Strong and Free Network in Ottawa on Thursday, March 23, 2023. THE CANADIAN PRESS/Sean Kilpatrick
Ottawa (CP) – Alberta Premier Danielle Smith says conservatives must learn how to win in "big cities."
Smith made the comment to a room of conservatives gathered in Ottawa for the annual conference of the Canada Strong and Free Network, formerly called the Manning Centre.
With Albertans set to go the polls in a provincial election this year, Smith says the United Conservative Party has more ground to gain in the province's two largest cities: Calgary and Edmonton.
Smith replaced Jason Kenney as party leader and premier last fall, after he resigned following a leadership review where he received only 51 per cent support.
Kenney faced considerable backlash leading up to that vote for his handling of the COVID-19 pandemic, and Smith told today's crowd that the party had lost "a lot" of its base.
Smith's belief that conservatives must make inroads in large cities is shared by the federal Conservatives, with Leader Pierre Poilievre spending many of his weekends in Metro Vancouver and the Greater Toronto Area — areas where his party has struggled to gain ground in the past several elections.
This report by The Canadian Press was first published March 23, 2023.
Roy scores OT winner as Golden Knights tip Oilers 4-3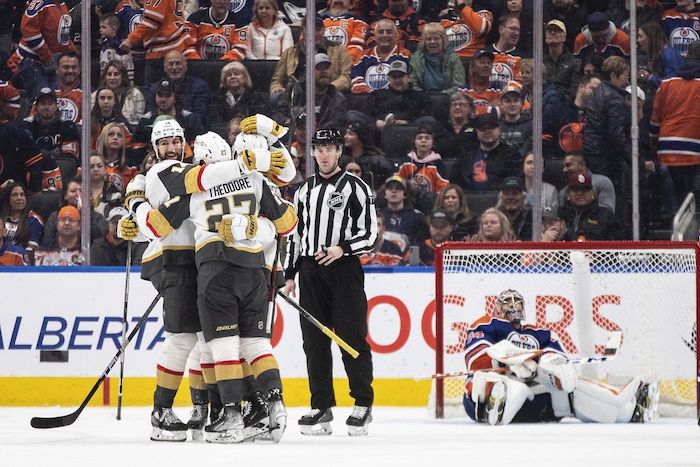 Vegas Golden Knights celebrate the winning goal on Edmonton Oilers goalie Stuart Skinner (74) during overtime NHL action in Edmonton on Saturday March 25, 2023.THE CANADIAN PRESS/Jason Franson
By Shane Jones in Edmonton
The Vegas Golden Knights made sure to keep the Edmonton Oilers at arm's length in the Pacific Division race.
Nicolas Roy scored the overtime winner and Jack Eichel had a goal and two assists as the Golden Knights won their fourth consecutive game, knocking off the Oilers 4-3 on Saturday night to give themselves a seven-point cushion atop the Pacific Division standings over third-place Edmonton with nine games to play.
Roy was left alone in front of the Edmonton net and deposited his own rebound past Oilers goalie Stuart Skinner 2:26 into OT.
"It's a big win, big road trip," said Knights defenceman Brayden McNabb. "They were sneaking up on us and we were able to get an extra point out of this game.
"We have that next-man-up mentality, it's been that way all year. We've had injuries throughout the year, the guys are prepared, we have great depth, we have great goaltending and it showed tonight. It felt a little bit like a playoff game, for sure."
Pavel Dorofeyev and Jonathan Marchessault also scored for the Knights (46-21-6) who have won eight of their last nine and sport a league-best 17-3-2 record since the NHL All-Star break.
"Gutsy win for us, it's a divisional game and I thought we played well," Eichel said. "It's a really good team over there, they generate a lot of offence and I thought we did a really good job limiting them."
Zach Hyman, Leon Draisaitl and Warren Foegele replied for the Oilers (41-23-9) who had a five-game winning streak snapped.
"It was a tight game. It was what you expect in the playoffs," Draisaitl said. "It is obviously a team that we could face. I think we know how to handle these types of games. Obviously tonight didn't go our way, but we will take the point."
Vegas scored on the first shot of the game 61 seconds in as Eichel took a feed on a two-on-one from Ivan Barbashev and beat the Oilers' starter stick-side for his 27th goal of the season.
Not to be outdone, the Oilers also scored on their first shot on Knights goalie Laurent Brossoit 3:28 into the opening frame, as Draisaitl put it right on the tape of Zach Hyman's stick in front of the net and he redirected in his 31st. Draisaitl set a new career high for points on the play, hitting 111 after capping out at 110 points two previous seasons.
The Golden Knights regained the lead on the power play with 3:33 to play in the first period when the puck came to Dorofeyev on a broken play and he wired home his fifth of the campaign to the top right corner.
Edmonton's lethal power play allowed them to knot the game up midway through the middle period as Connor McDavid sent it to Draisaitl in the slot and he took it on the backhand before spinning around and scoring his 45th goal of the season. It was also Draisaitl's 28th power-play goal, the most by any player in a season since Mario Lemieux in 1995-1996.
Vegas found another gear to start the third and went ahead 3-2 almost seven minutes into the final frame as Eichel dropped a pass back in the lane to Marchessault, who beat Skinner with a one-timer.
Brossoit followed that up with a massive save on Mattias Ekholm.
Edmonton tied the game once again with 8:41 to play in the third as Foegele tied his career high by scoring his 13th on a long wrist shot to eventually send the game to extra time.
"It's disappointing we didn't get the two points," said Oilers head coach Jay Woodcroft. "Some of the goals we gave up were preventable. We're going to take the lessons from tonight and learn from it."
NOTES
Edmonton won both previous meetings between the two teams this season, both by 4-3 scores. … Vegas was missing a bunch of bodies in Mark Stone (back), William Carrier (lower body), Adin Hill (lower body), Logan Thompson (undisclosed), Reilly Smith (lower body) and Alec Martinez (personal). As a result, defenceman Ben Hutton returned to the lineup after being a healthy scratch the past 21 games. Forward Keegan Kolesar also returned after missing six games with an upper-body injury. In net, Brossoit made his first start since Feb. 25. … Edmonton was without the services of Ryan Murray (back) and Ryan McLeod (upper body). … The Golden Knights and Oilers both boast 11 skaters with 10-plus goals — tied for second in the NHL in that category. … Oilers defender Cody Ceci played in his 700th career NHL game.
UP NEXT
The Knights are off until Tuesday, when they will play the Oilers in a rematch in Vegas.
The Oilers make a quick trip to Arizona to face the Coyotes on Monday before playing the Knights on Tuesday in the final regular-season matchup between the two teams.
This report by The Canadian Press was first published March 25, 2023.