Poilievre tries to head off PPC vote as Bernier bets on social conservatives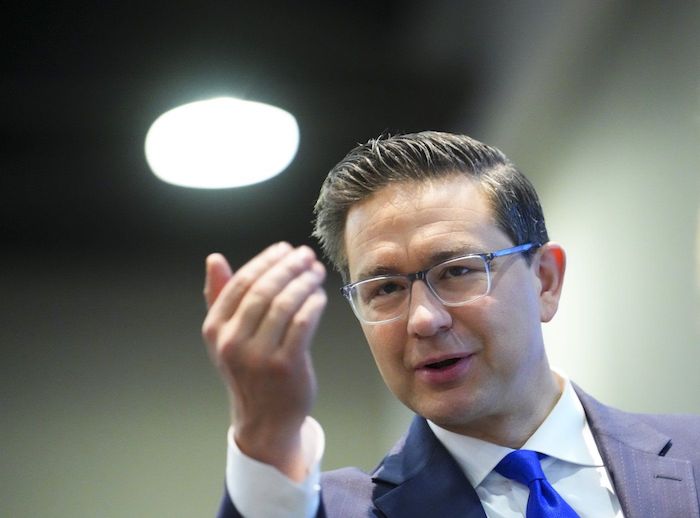 Conservative Leader Pierre Poilievre takes part in the National Prayer Breakfast in Ottawa on Tuesday, May 30, 2023. Pierre Poilievre is off to Manitoba to rally supporters in a byelection, where Maxime Bernier is hoping social conservatives send him back to Parliament. THE CANADIAN PRESS/Sean Kilpatrick
By Stephanie Taylor in Ottawa
Pierre Poilievre is off to Manitoba to rally Conservative supporters ahead of a byelection that Maxime Bernier is hoping will send him back to Parliament.
The far-right People's Party of Canada leader lost his Quebec seat in the 2019 federal vote and lost again in the 2021 election.
The riding of Portage—Lisgar came up for grabs after longtime Conservative MP Candice Bergen, who served as the party's interim leader before Poilievre took over, decided to resign. Bernier will test his luck in the rural Manitoba riding that delivered his fledging party its best result in 2021, with slightly more than 20 per cent of the vote.
Numbers like that spooked Conservative MPs, especially those in the West who saw their typically rock-solid support slipping to a more populist party.
Bernier stood vehemently against COVID-19 health restrictions, while then-Tory leader Erin O'Toole struggled to strike a position on vaccine mandates that satisfied anyone the party's base.
Now with Poilievre at the helm, the federal Conservatives are facing a rematch and supporters are looking for a victory that quashes the idea that the PPC poses a real threat.
Poilievre plans to host a "special meet and greet" rally Friday evening in Winkler, a city roughly an hour and a half south of Winnipeg. MPs have also visited the area, including House leader Andrew Scheer, whose razor-thin defeat of Bernier in the Conservatives' 2017 leadership race paved the way for the former Quebec MP to strike out on his own.
But the People's Party's candidate from the 2021 race attributes his support in that vote to momentum driven by strong feelings about the pandemic.
And Solomon Wiebe thinks the political climate has shifted.
"(Bernier) would be very lucky to get half of what I got last time," he said in an interview on Thursday.
"This is just what my expectations are, and I like to keep my expectations real."
As far as Bernier is concerned, his biggest challenge is operational, given that his party lacks the strength of the Conservatives. "We didn't have that team in the beginning of the campaign." Money is another matter, as the Tories raised $8.3 million in the first three months of the year, compared to the People's Party, which hauled in just under $300,000.
Bernier believes people across the acres of farmland and Mennonite communities that dot the sprawling rural riding remember the pandemic.
It's a reality the Conservative candidate knows, too.
Branden Leslie — who managed Bergen's election campaign in 2019 — won the party's nomination over three others, including the former provincial health minister, by highlighting that he stood as "pro-freedom" while his opponent locked down churches.
It was in the region where Bernier was also arrested for violating COVID-19 restrictions in 2021.
His strategy for attracting support for the June 19 byelection has so far involved making anti-trans statements targeting youth and children — characterizing it as a position on "gender ideology" — and vowing to reopen the abortion debate. Both are issues he views as weaknesses for the federal Conservatives.
"It's important for people here," he said in an interview. "People want to have a real debate about (these) issues."
He also hopes to tap into frustration over what he calls "climate hysteria."
Poilievre also rails against what he calls "destructive woke policies," releasing a recent video showing the toppling of statues, vandalized Christian churches and a decision by one Quebec school to replace Mother's Day events with a celebration of parents — a move that was made to acknowledge that some students were living in foster care, or had lost a parent.
Poilievre earned the support of social conservatives during last year's leadership race for his vocal opposition to vaccine and mask mandates, but there remain some who believe he should put a greater focus on cultural issues.
He has said a future Conservative government would not pass a law restricting abortion. And after ousting a social conservative candidate during a nomination race in rural Ontario back in March, some supporters of Campaign Life Coalition say they are "very cautiously observing" what Poilievre does next.
"We're not ready to abandon the Conservative party by any means," said Jack Fonseca, director of political operations for the anti-abortion group, adding he hopes that situation was a "one-off" and not indicative of the way social conservatives can expect to be treated.
At the time, a party spokeswoman said the candidate, Gerrit Van Dorland, was barred for failing to comply with a request to provide all previous comments made online or in other publications. His campaign disputed that.
Fonseca, who said his group has support in almost 900 households across Portage—Lisgar, likes at least some of what Bernier is proposing.
RightNow, another anti-abortion group that spoke out after Van Dorland's disqualification, is providing its supporters with information on where Bernier and Leslie stand on certain matters in the upcoming byelection, rather than endorsing anyone outright. That's because both espouse certain "pro-life" stances, according to co-founder Alissa Golob.
In a written statement, Leslie said he is "pro-life" and attacked Bernier as a parachute candidate.
"Maxime Bernier will say and do whatever he thinks people want to hear in order to get attention. He is pretending to be a social conservative, even though his entire record as an MP was to support woke policies," Leslie said.
Bernier, meanwhile, continues to blast the federal Tories as "fake conservatives." His message to prospective supporters is to "give Maxime a chance."
"'If you don't like what I'm doing, if I'm not keeping my word, then just vote me out in 2025."
This report by The Canadian Press was first published June 2, 2023.
Hot rental market makes search 'stressful' for many — and it won't get better soon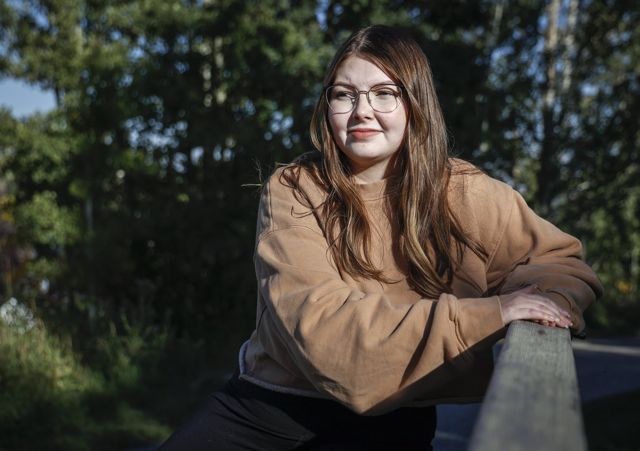 Marissa Giesinger is pictured in Calgary, Thursday, Sept. 21, 2023. On the hunt for a rental home in Calgary over the last six weeks, Giesinger and her boyfriend trawled through listings morning, noon and night, only to find most come along with dozens of applications and a steep price tag. THE CANADIAN PRESS/Jeff McIntosh
By Tara Deschamps in Toronto
On the hunt for a rental home in Calgary over the last six weeks, Marissa Giesinger and her boyfriend trawled through listings morning, noon and night, only to find most come along with dozens of applications and a steep price tag. As an added difficulty, many landlords are unwelcoming to the couple's brood — dogs Kado and Rosco and a cat named Jester.
"We made the tough decision recently to house our dogs with someone else until we can find a place that's affordable and we can take both of them," said Giesinger, a 23-year-old Mount Royal University student.
"It's definitely been stressful."
The competitive rental market Giesinger has encountered in Calgary is being seen across the country as multiple factors combine: high interest rates deter buyers and add to rental demand, still-high inflation is squeezing renter budgets, there's an undersupply of purpose-built rental units and population growth is fuelling demand.
These conditions have left prospective renters feeling even more frustrated than usual by sky-high rents, the frenzy of interest that surrounds any affordable listing and the litany of demands landlords can make when so many people are interested in their home.
Giacomo Ladas, communications director for Rentals.ca, calls it "almost a perfect storm" — and it isn't likely to ease up any time soon.
"What this does is create such a burden on this rental housing market that even though we're out of the (busy) summer rental season, there's so much demand that (these conditions are) going to continue like this until the fall and into the winter," he said.
Data crunched by his organization and research firm Urbanation.ca shows average asking rents for newly-listed units in Canada increased 1.8 per cent between July and August and 9.6 per cent from a year earlier to reach a record high of $2,117 last month.
Between May and August, asking rents in Canada increased by 5.1 per cent or an average of $103 per month.
When Giesinger rented a two-bedroom basement unit with a roommate a few years ago, the duo paid $1,000 per month, but now she routinely spots "super tiny," one-bedroom places for $1,350 a month.
"If you want a basement suite or an apartment, you're looking at minimum $1,200 and that doesn't include any utilities or anything like that unless it's a super rare listing," Giesinger said.
Rentals.ca data show newly listed one-bedroom properties in Calgary priced at an average $1,728 per month in August, up 21.6 per cent from a year earlier. Two-bedroom homes have climbed 17.4 per cent to $2,150 over the same period.
The picture in Vancouver and Toronto is far bleaker. Rentals.ca found the cities had the highest rents in the country.
Newly-listed one-bedroom properties in Vancouver averaged $2,988 in August, up 13.1 per cent from a year earlier, while two-bedroom units hit $3,879, an almost 10 per cent increase year-over-year.
Newly-listed Toronto one-bedroom homes averaged $2,620 in August, up almost 11 per cent from the year before, while two-bedroom properties had a 7.1 per cent rise over the same time frame to $3,413.
It's numbers like these that have convinced Kanishka Punjabi to abandon her hopes of moving in the near term.
"Two days ago, I gave up on my search because the rental market is that bad," she said.
The public relations worker has been living in Mississauga, Ont., but felt it was time to find a home in downtown or midtown Toronto, closer to where she works.
However, few of the two-bedroom homes she spotted in her two-month search were within her $2,800 budget.
For example, one apartment she liked at the intersection of Yonge and Eglinton streets had 25 offers in just over a week.
"Some people actually just sent in their offer without looking at the apartment too because there are so many people who are in desperate need of rental units," said Punjabi. "There's just not enough."
The Canada Mortgage and Housing Corp. has projected that the country needs to build 3.5 million additional homes beyond what's planned before the market reaches some semblance of affordability.
It also calculated that the annual pace of housing starts — when construction begins on a home — edged down one per cent in August to 252,787 units compared with 255,232 in July.
Despite the nudge down, Rishi Sondhi, an economist with TD Bank Group, said it has been a strong year for starts because the industry is responding to elevated prices by building at a robust pace.
But between population growth and rising interest rates, he said, "supply is struggling to keep up with demand" and that's bound to weigh on renters for quite some time.
"In the short term, it would be unrealistic to expect too much of a reprieve simply because population growth is likely to remain strong through the duration of this year — and that's really one of the big fundamental drivers," he said.
"In addition, it's unlikely to expect affordability in the ownership market to improve too much either because we think the Bank of Canada (key rate) is going to be on hold for the remainder of the year, but there is some risk that they take rates even higher, especially if inflation doesn't co-operate."
For renters like Giesinger that message puts even more pressure on her to settle on a place soon.
"Now I'm scrambling to find the money for a deposit and we're still never really sure like what kind of place we're going to get," she said.
"And when you're battling dozens of other people for a rental it can be super stressful."
This report by The Canadian Press was first published Sept. 24, 2023.
RCMP 'gutted' by death of Const. Rick O'Brien, 51, shot in B.C.: deputy commissioner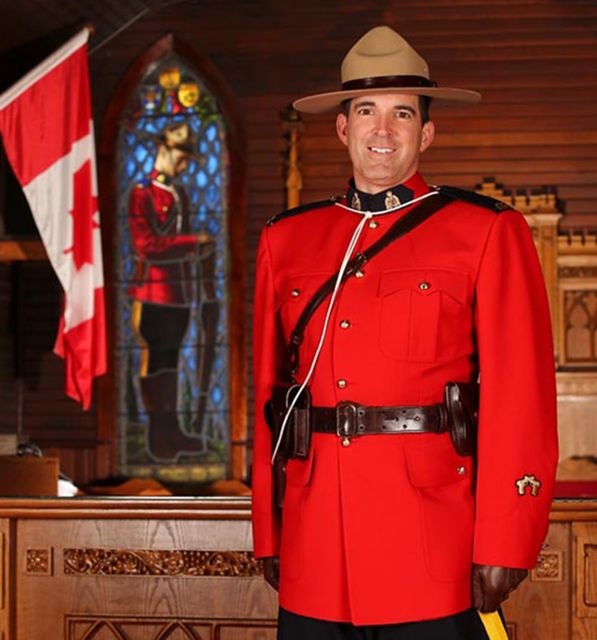 RCMP Const. Rick O'Brien poses in this undated RCMP handout photo. The 51-year-old officer was shot and killed and two other officers were injured while executing a search warrant in Coquitlam, B.C., on Friday, Sept. 22, 2023, while a suspect was shot and is in hospital with non-life-threatening injuries. THE CANADIAN PRESS/HO, RCMP
By Nono Shen in Coquitlam
The death of another Mountie in British Columbia less than a year after the last killing "enrages" the lead officer in the province.
RCMP Deputy Commissioner Dwayne McDonald said Const. Rick O'Brien, 51, was shot dead and two other officers were injured on Friday as they tried to execute a search warrant in Coquitlam, B.C.
A suspect in his 20s was also shot and is in hospital with non-life-threatening injuries.
O'Brien, who had a wife and children, was decorated for bravery in the rescue of victims during a home invasion within months of joining the RCMP in 2016.
"This is an extremely difficult and tragic day for our members," McDonald said Friday. "Const. O'Brien led by example. He had a great sense of humour. He was well respected by his peers and he was loved in his community."
He said O'Brien was part of a team from Ridge Meadows RCMP that had been serving a search warrant at a home in the neighbouring community of Coquitlam.
McDonald said O'Brien died at the scene. One injured officer is in hospital with non-life-threatening injuries, he said, while the other suffered minor injuries and was discharged.
While McDonald didn't reveal details about the investigation, he said it was a long-term probe.
A procession of RCMP vehicles led an ambulance carrying O'Brien's body from Coquitlam to Abbotsford later Friday.
O'Brien's death comes just 11 months after the death of RCMP Const. Shaelyn Yang, who was stabbed to death while accompanying a Burnaby, B.C., city worker to a homeless campsite.
McDonald said the past year had been a tragic one for police departments across Canada.
"It hurts. It really hurts. I'm outraged," he said. "To see police officers across this country killed trying to protect their communities enrages me."
Policing was a second career for O'Brien, who worked with at-risk youth before joining the RCMP. His entire career was spent at the Ridge Meadows detachment.
Supt. Wendy Mehat, the officer in charge of Ridge Meadows, said speaking about the impact of O'Brien's death was the most difficult moment of her career.
"Rick's contribution to his work, and his fellow team members at this detachment was immeasurable. Rick loved visiting schools and helping students, doing presentations, supporting our detachment (with) food drives and sport events," she said.
"He was truly exceptional, a hard worker and a good human being. His death is senseless and heartbreaking." Mehat said.
McDonald said O'Brien's death seemed to speak to an issue he and his colleagues across the country have been talking about.
"Perhaps painting police in a certain light … sometimes seems to encourage people to resist authority and disrespect the profession of policing and, quite honestly, fight the police," he said.
"I'm not commenting on this particular instance. But I will say that this is a stark reminder that the police are here to help you."
The Independent Investigations Office said in a statement that the officers went to a home in the Metro Vancouver city on Friday.
"While there, the attending officers became engaged in an altercation with a man which resulted in multiple officers being injured and the man being shot," the statement said.
"Emergency Health Services transported all injured to hospital, but one of the officers who was shot succumbed to their injuries."
Carley Hodges, a witness in the busy area of city, described a chaotic scene, with an officer receiving CPR as he was put in an ambulance, another officer with a wound on his leg and a tourniquet above it, and a man in handcuffs.
Hodges said there were "tons of police cars, ambulances and fire trucks coming in."
Mehat said O'Brien's death was "senseless and heartbreaking."
"He simply went to work today, and he was killed, doing his duty and keeping his community safe. The hours, weeks and months ahead will be difficult to our communities and Maple Ridge, Pitt Meadows, Coquitlam and across the country."
B.C. Solicitor General Mike Farnworth said he was shocked and saddened to learn of O'Brien's death.
"All three officers are shining examples of the extraordinary individuals who chose to take on the challenging mantle of protecting the public.
"I have spoken to the local mayors, and we all agree that the death of an officer is a stark reminder of the dangers police face to keep us safe. They put their lives on the line every day to fulfil their oath to protect our communities."
Prime Minister Justin Trudeau sent his condolences to O'Brien's family, friends and colleagues on social media.
"And to the officers who were injured: I'm wishing you a fast and full recovery."
This report by The Canadian Press was first published Sept. 22, 2023.
This is a corrected story. A previous version said police were trying to serve an arrest warrant.