Poilievre threatens to filibuster budget bill if Liberals don't meet demands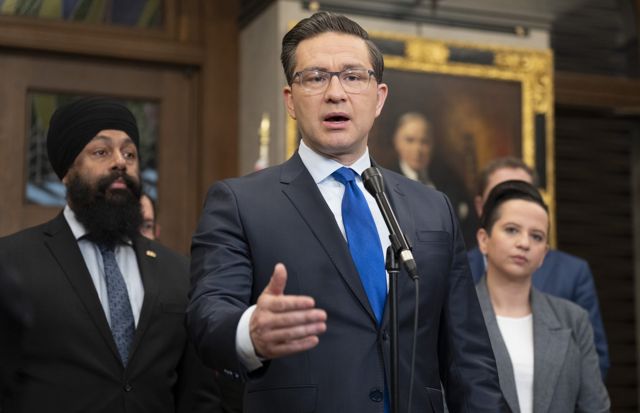 Flanked by Conservative Finance and Middle Class Prosperity critic Jasraj Singh Hallan and Conservative deputy leader Melissa Lantsman and other members of Parliament, Conservative leader Pierre Poilievre speaks with reporters in the Foyer of the House of Commons, Monday, June 5, 2023 in Ottawa. THE CANADIAN PRESS/Adrian Wyld
By Nojoud Al Mallees in Ottawa
Conservative Leader Pierre Poilievre is threatening to use procedural tools to delay passage of the federal budget in the House of Commons if the Liberals don't meet his demands.
But Liberal House leader Mark Holland says the federal government won't cower over the Tory threats.
"We will continue to work through their juvenile tactics. They can ride tricycles, through Parliament if they want to. But we will get the work of Parliament done," Holland told reporters Monday.
During a news conference earlier in the day, Poilievre outlined two conditions to avoid potential filibustering by his party.
He called on the government to present a plan to balance its budget "in order to bring down inflation and interest rates" and demanded the Liberals cancel any future increases to the carbon price.
Poilievre argued that by reducing spending, the federal government could make the Bank of Canada's job of fighting inflation easier. And in turn, that would allow the Bank of Canada to cut interest rates sooner, he said.
"If the government does not meet these demands, we will use all procedural tools at our disposal to block the budget from passing," Poilievre said.
Those tools include amendments and lengthy speeches, he said.
Poilievre's threat comes as MPs gear up for their summer break, with the Commons set to rise June 23. Members are attending extended sittings every day until midnight to get bills passed before the break.
Holland, responsible for co-ordinating with other federal parties on bills in Parliament, said stalling tactics have already begun and he accused Conservative MPs of faking technical difficulties Friday.
"It is a hijacking of Parliament," Holland said.
The House leader said MPs will continue to sit until the budget bill is passed.
Prime Minister Justin Trudeau also played down the threat made by Poilievre. "The Conservative leader has no plan for the economy, proposes nothing but cuts."
Trudeau said blocking the bill would amount to blocking support for Canadians, including enhancement of the Canada Workers Benefit.
"These are real-life consequences for the political and partisan games that the leader of the official Opposition is engaging in," Trudeau said.
Finance Minister Chrystia Freeland tabled the 2023 budget in March after promising to keep spending plans restrained, given inflation is still high.
However, the fiscal projections in the budget show no end in sight for federal deficits despite the fall budget update in November projecting a balanced budget in 2027-28.
Following the release of federal and provincial budgets, Bank of Canada governor Tiff Macklem said that while government spending was not helping to bring down inflation, it was also not pushing it higher.
This report by The Canadian Press was first published June 5, 2023.
Cost of living: Pepsi and Coca-Cola absent in meeting with federal industry minister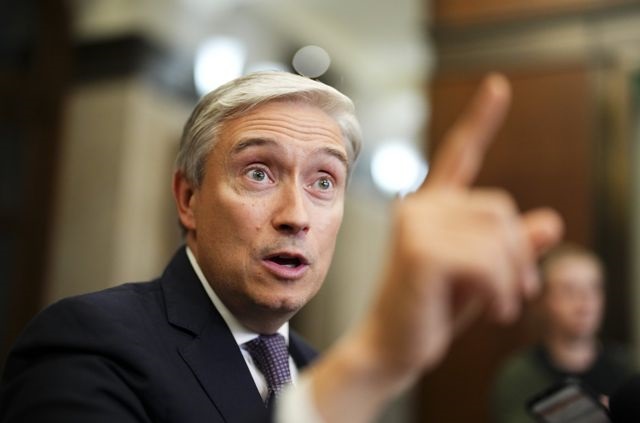 Innovation, Science and Industry Minister Francois-Philippe Champagne speaks to reporters in the foyer of the House of Commons on Parliament Hill in Ottawa on Tuesday, Sept. 19, 2023. Canada's industry minister made a point of calling out Pepsi and Coca-Cola for not sending representatives to a meeting he convened on Monday with manufacturing companies to discuss stabilizing grocery prices. THE CANADIAN PRESS/Sean Kilpatrick
Canada's industry minister made a point of calling out Pepsi and Coca-Cola for not sending representatives to a meeting he convened on Monday with manufacturing companies to discuss stabilizing grocery prices.
François-Philippe Champagne singled out the two companies when asked by a journalist what the consequences would be if major industry players did not succeed in stopping high inflation.
"This morning, (their CEOs) did not attend the meeting," Champagne said of beverage giants Pepsi and Coca-Cola.
"I intend to call on them and I will continue to do so. … I don't stop," he told reporters.
The Canadian leaders of seven international manufacturing companies, including Nestlé and Kraft Heinz, met with Champagne.
He summoned them to answer to Prime Minister Justin Trudeau's call earlier this month for Canadian grocers to come up with a plan to stabilize prices by Thanksgiving.
If major grocers fail to deliver ideas, Champagne said, "the consequence is for all 40 million Canadians because we will be able to see who is taking action and who is not."
A government source told The Canadian Press that the CEOs of Pepsi and Coca-Cola responded to the federal government summons by stating they were not available Monday. The source was granted anonymity because they were not allowed to speak publicly about the matter.
It's unclear, however, whether another meeting between major food companies and the government will take place.
Monday's meeting brought together top Canadian executives from McCain, Unilever, Nestlé, Lactalis, Lassonde, Kraft Heinz, and Smucker Foods.
All avoided speaking with journalists. The CEO of the Food, Health & Consumer Products of Canada association, Michael Graydon, attended the meeting and agreed to answer questions on their behalf.
Graydon called the meeting "very productive."
"We're very much about co-operation and support, collaboration," he said. "It's an industry that needs to align and work collectively to find a solution."
He said manufacturers want to collaborate with other players in the supply chain, such as major retailers like Loblaw and Costco, whose leaders Champagne met with one week earlier.
In a statement, Pepsi said it is open to meeting with Champagne.
"We are pleased that our industry association, FHCP, led a productive conversation with the government and representatives from industry today," it said.
"We were not able to attend today's meeting, but we offered to meet with the minister. We are committed to collaborating with the government to identify solutions during this challenging time for Canadians."
Trudeau has said that if the government isn't satisfied with what major grocers come up with to stabilize prices, he would intervene, including with tax measures.
Graydon said it remains to be seen how detailed the plans will be by the government's Thanksgiving deadline.
"We'll have to see whether, you know, the detail of how much completeness can be done by that time. But I think everybody's working very hard to achieve that," Graydon said.
Champagne said he is happy Graydon "wants to do something," because "it's a gain for Canadians."
"It's clear that what's important is that we have timelines, work plans, and obviously concrete actions," the minister said.
This report by The Canadian Press was first published Sept. 25, 2023.
Moneris confirms credit and debit card processing outage, but offers few details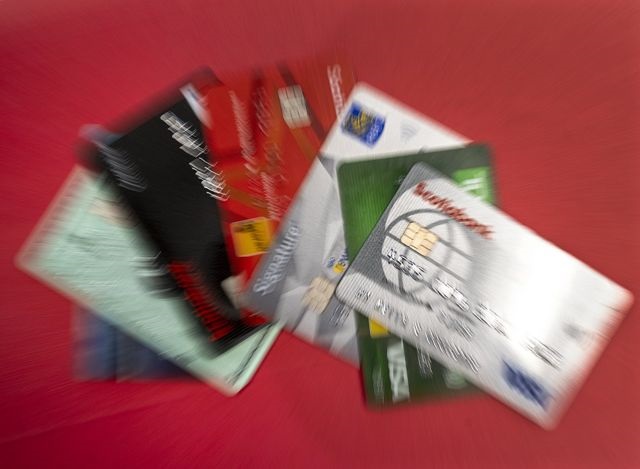 Toronto
The Canadian payment processing firm Moneris confirmed Saturday that credit and debit card transactions were interrupted by a network outage earlier in the day.
The Toronto-based technology company issued a statement saying there was nothing to suggest the outage was related to a cyber attack.
Complaints about outages started rolling in to the Downdetector.ca website before noon eastern time, but Moneris did not say when the outage started.
About three hours later, Moneris posted a message on X — the social media site formerly known as Twitter — saying it had resolved the network problem.
It remains unclear how many businesses and transactions were affected, but data provided by Downdetector.ca indicated complaints had come in from across the country.
In a statement provided to The Canadian Press, the company said the outage lasted about 90 minutes.
"We have resolved the network outage and returned transaction processing to normal," the statement said. "We continue to investigate the root cause of the issue. There are no indications this appears to be cyber-attack related and all transaction systems are functioning normally again."
The company, a joint venture between Royal Bank and BMO Bank of Montreal, said transaction processing could be slow as its systems catch up with the backlog.
Moneris says it supports more than 325,000 merchant locations across Canada.
This report by The Canadian Press was first published Sept. 23, 2024.