Plastics producers ask court to quash planned federal ban on single-use straws, cups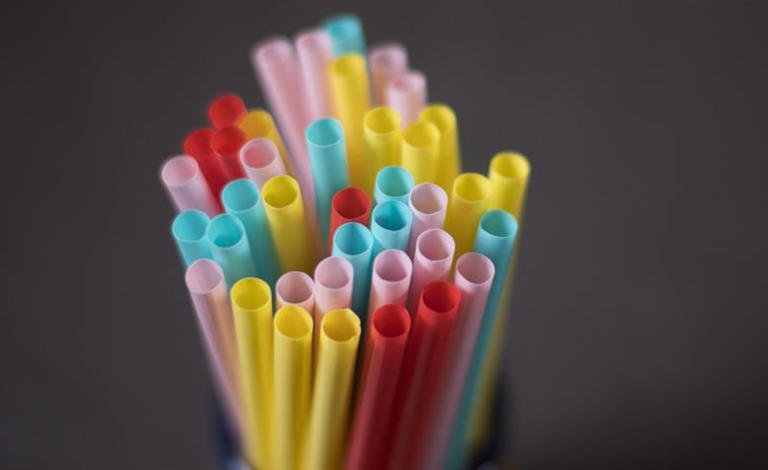 OTTAWA — More than two dozen plastic makers are asking the Federal Court to put an end to Ottawa's plan to ban several single-use plastic items including straws, cutlery and takeout containers.
It is the second lawsuit filed in the court by a coalition of plastics makers calling themselves the Responsible Plastic Use Coalition.
The first suit filed in 2021 seeks to overturn the government's decision to designate plastics as "toxic" under the Canadian Environmental Protection Act.
Environment Minister Steven Guilbeault used that designation to publish regulations that will ban the sale, import and production of six plastic items.
The second lawsuit filed in mid-July asks the Federal Court to quash the ban, prohibit the government from using the act to regulate single-use plastics and prevent the ban from being implemented in the meantime.
Guilbeault says he is confident the government's regulations will be upheld and would rather work with the industry to improve recycling than battle the sector in court.
This report by The Canadian Press was first published Aug. 10, 2022.
The Canadian Press
Alberta set to release report on whether to ditch CPP for provincial pension plan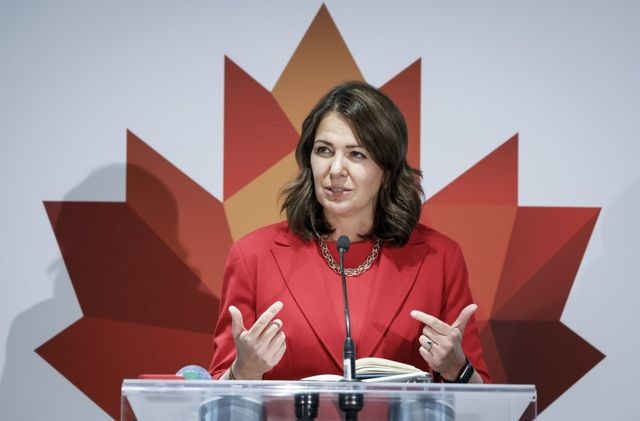 Alberta Premier Danielle Smith speaks to the media in Calgary, Alta., Monday, Sept. 18, 2023. THE CANADIAN PRESS/Jeff McIntosh
By Dean Bennett in Edmonton
The Alberta government is set to release its long-promised report on whether the province should quit the Canada Pension Plan and pursue its own provincial program.
United Conservative Premier Danielle Smith, along with Finance Minister Nate Horner and panel chair Jim Dinning, are to release the report at a news conference in Calgary on Thursday.
The Opposition NDP says it has received leaked details of what is coming and says Albertans should prepare for some financial flim-flam on the potential benefits.
NDP finance critic Shannon Phillips says the report relies on an outdated financial withdrawal formula dating back to the CPP's creation in the mid 1960s.
"The report is expected to claim Alberta is owed hundreds of billions of dollars from the fund," Phillips said in a statement Tuesday.
"However, if every province used this formula, it would total nine times what is currently invested in the CPP."
The Opposition NDP has accused Smith of playing politics with nest-egg savings, by using an Alberta pension plan to create a wedge issue with the federal government.
The NDP said the idea is offside with public sentiment, given opinion polls suggest ditching CPP is deeply unpopular with Albertans.
Horner's office did not immediately return a request for an interview.
Economist Trevor Tombe said he's interested in how the province plans to balance the potential short-term benefit of a young, prosperous Alberta leaving the CPP versus the long-term volatility that comes with fluctuations in demographics and the economy combined with a smaller pool of capital.
Tombe, with the University of Calgary, said the report could launch a multi-year political and legal battle over how a province can leave the CPP, what it gets and what the effect would be on other provinces.
"The CPP's assets this year are pegged at $530 billion, a pretty significant amount of funds at stake," said Tombe.
The report is being done by Lifeworks, formerly known as Morneau Shepell, which helps companies with employee and family assistance plans, absence management, pension benefits administration and retirement planning.
Smith has said regardless of the report's conclusions, Albertans would have the final say in a referendum.
Both Smith and her predecessor, Jason Kenney, have extolled the potential of a go-it-alone program, given Alberta's wealth and comparatively young population.
The issue has waxed and waned for the last two decades amid concerns Alberta puts in far more than it gets out and may benefit from a stand-alone benefit program such as in Quebec.
The UCP government began studying the Alberta option in earnest in June 2020 under Kenney. Later that year, the outside consultant was hired to study the benefits and drawbacks.
In March 2021, Kenney said work on the report was almost done and his government was just weeks away from announcing next steps. The report never materialized.
In February, Smith's office said the report was being updated to reflect new figures on the CPP.
Should it take steps to exit the CPP, Alberta would be charting new territory given that Quebec did not exit the plan, but rather didn't join it when the CPP was created.
The pension plan is part of a suite of measures championed by the UCP to carve out some space between Alberta and the federal government.
Other potential measures include a provincial police force and a separate revenue collection agency.
The provincial police force idea was spelled out in mandate letters to ministers when Smith first took office late last year, but disappeared from the revised mandate letters when she reshuffled her cabinet after winning the May 29 provincial election.
Last month, Justice Minister Mickey Amery said the provincial police force idea is not dead and said his department would continue to consult with Albertans on where they want to go with policing.
This report by The Canadian Press was first published Sept. 20, 2023.
UK leader Rishi Sunak signals plan to backtrack on some climate goals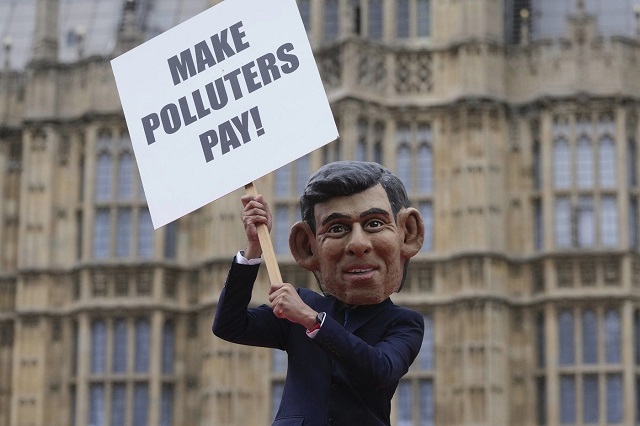 Oxfam's Rishi Sunak 'big head' protests outside the Parliament in London, Tuesday, Sept. 19, 2023. On the eve of the UN Climate Ambition Summit, Oxfam's Rishi Sunak 'big head' staged a protest on top of a giant oil barrel, amongst dozens of real oil drums, supporting the Make Polluters Pay campaign. Calling for oil and gas giants, such as BP and Shell, to pay more tax to raise critical funds to help communities devastated by climate change. (AP Photo/Kin Cheung)
By Jill Lawless in London
LONDON (AP) — Prime Minister Rishi Sunak is preparing to water down some of Britain's environmental commitments on Wednesday, saying the country must fight climate change without penalizing workers and consumers.
The news drew wide criticism from political opponents, environmental groups and large chunks of U.K. industry, but was welcomed by sections of the governing Conservative Party.
Sunak issued a late-night statement Tuesday in response to a BBC report saying the prime minister is considering extending deadlines for bans on new gasoline and diesel cars — currently set for 2030 — and on new natural-gas home heating, due in 2035.
Sunak said he would set out a "proportionate" approach to the environment. He summoned his Cabinet to an unscheduled conference call to discuss the plans ahead of a speech hastily rescheduled for Wednesday afternoon. It had been due later in the week.
"For too many years, politicians in governments of all stripes have not been honest about costs and trade-offs," Sunak said. "Instead, they have taken the easy way out, saying we can have it all."
Sunak did not confirm details of his announcements. He said he would keep a promise to reduce the U.K.'s emissions of climate-warming greenhouse gases to net zero by 2050, but "in a better, more proportionate way."
The government has previously boasted of Britain being a leader in cutting carbon emissions. U.K. greenhouse gas emissions have fallen by 46% from 1990 levels, mainly because of the almost complete removal of coal from electricity generation. The government had pledged to reduce emissions by 68% of 1990 levels by 2030 and to reach net zero by 2050.
But with just seven years to go until the first goalpost, the government's climate advisers said in June that the pace of action is "worryingly slow." Sunak's decision in July to approve new North Sea oil and gas drilling also spurred critics to question his commitment to climate goals.
Former Prime Minister Boris Johnson, who brought in the 2030 gasoline car target when he was leader, said businesses "must have certainty about our net-zero commitments."
"We cannot afford to falter now or in any way lose our ambition for this country," he said.
News of plans to backtrack broke as senior politicians and diplomats from the U.K. and around the world — as well as heir to the British throne Prince William — gathered at the United Nations General Assembly in New York, where climate is high on the agenda. Sunak is not attending, sending his deputy instead.
Greenpeace U.K. policy director Doug Parr said the prime minister was "taking the public for fools."
"Rowing back on home insulation and commitments to help people move away from gas will ensure we stay at the mercy of volatile fossil fuels and exploitative energy companies," Parr said.
Environmentalists were not the only ones blindsided by the move. Automakers, who have invested heavily in the switch to electric vehicles, expressed frustration at the government's apparent change of plan.
"We're questioning what is the strategy here, because we need to shift the mobility of road transport away from fossil fuels towards sustainable transport," said Mike Hawes, chief executive of the Society of Motor Manufacturers and Traders, an industry body.
Ford U.K. head Lisa Brankin said the company had invested 430 million pounds ($530 million) to build electric cars in Britain.
"Our business needs three things from the U.K. government: ambition, commitment and consistency. A relaxation of 2030 would undermine all three," she said.
Analyst Tara Clee of investment firm Hargreaves Lansdown said the retreat could undermine Britain's hard-won reputation for leadership on green technology, threatening the wider economy.
"The market has been directing capital to the net-zero transition and has been working in good faith," Clee said. "These changes send a message that nothing is set in stone, and committing in earnest to a movable goalpost could be a major business risk."
Britain's Conservatives have been openly reassessing their climate change promises after a special election result in July that was widely seen as a thumbs-down from voters to a tax on polluting cars.
The party, which trails behind the Labour opposition nationwide, unexpectedly won the contest for the suburban London Uxbridge district by focusing on a divisive levy on older vehicles imposed by London's Labour mayor, Sadiq Khan. Some Conservatives believe axing green policies is a vote-winner that can help the party avoid defeat in a national election due by the end of next year.
"We're not going to save the planet by bankrupting the British people," Home Secretary Suella Braverman said Wednesday.
But Conservative lawmaker Alok Sharma, who chaired the COP26 international climate conference in Glasgow in 2021, warned that it would be "incredibly damaging … if the political consensus that we have forged in our country on the environment and climate action is fractured."
"And frankly, I really do not believe that it's going to help any political party electorally which chooses to go down this path," he told the BBC.