Pierre Poilievre elected leader of the Conservative party with massive victory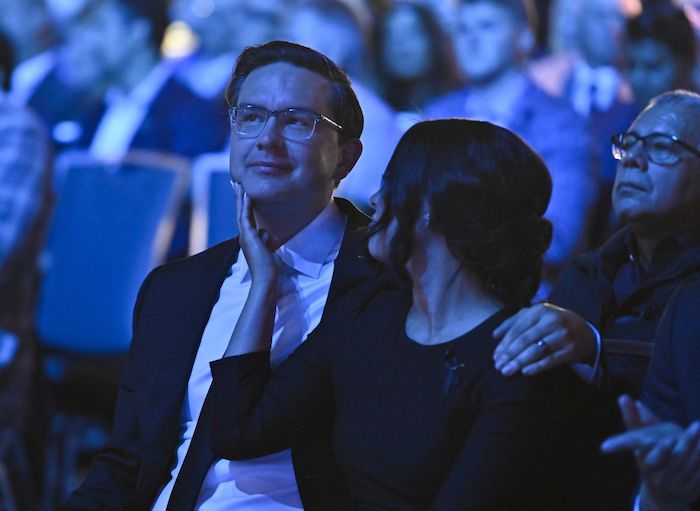 By Stephanie Taylor in Ottawa
Pierre Poilievre, one of the first members of Parliament elected under the Conservative party's banner, is now its leader after a resounding first-ballot victory announced Saturday night in Ottawa.
Many in the room full of Conservative faithful at a downtown Ottawa convention centre erupted into cheers and applause at the news that the party veteran and former cabinet minister had so quickly and firmly secured the top job with 68 per cent of support.
As he took the stage, some chanted 'freedom,' which was the central rallying cry of his campaign.
Even before the results were officially announced, a crowd of supporters mobbed Poilievre, requesting photos while he and his wife, Anaida, waited with family to hear the announcement.
"Tonight begins the journey," Poilievre told the crowd, "to replace an old government that costs you more and delivers you less with a new government that puts you first — your paycheque, your retirement, your home your country."
Saturday also marks the start of Poilievre's new beginning as party leader. He is now leader of the country's Official Opposition, also now known as His Majesty's Loyal Opposition.
Despite his big win, Poilievre and his team have to get to work to prepare the party for when the House of Commons resumes sitting on Sept. 20. That is one day later than originally scheduled, to accommodate the state funeral for the Queen being held Sept. 19. There will also be a special sitting on Thursday to commemorate the late monarch.
Poilievre is also expected to meet his caucus on Monday.
At 43, Poilievre has spent most of his adult life on Parliament Hill working as an MP, first getting elected for his Ottawa-area riding at only 25.
From his earliest days after arriving in 2004 through to the end of the Conservatives' reign in government at 2015, Poilievre earned himself the reputation of being attack dog in the House of Commons, serving first as parliamentary secretary to former Conservative prime minister Stephen Harper, and later in his cabinet.
He's kept that combative style up through Prime Minister Justin Trudeau's time in power, often criticizing his government's spending and current inflation rate as "Justinflation."
Poilievre kept that line of out of his victory speech Saturday, which he opened by expressing sorrow for the death of Queen Elizabeth II — something nearly all speakers did — and then revisited many of his campaign themes around cost-of-living concerns.
"Today people feel like they've lost control of their pocketbooks and their lives," he said. "The cost of government is driving up the cost of living."
Some people are hanging on by a thread, Poilievre said, vowing to restore hope.
A pledge to end remaining COVID-19 vaccine mandates to allow people "to work and travel freely" received one of the largest cheers from the crowd on Saturday night.
Poilievre, who throughout the race was accused of launching personal attacks against other candidates, thanked each of his four competitors by name during his speech.
He thanked former Quebec premier Jean Charest for his service the country. Charest, who likely had the best chance of preventing Poilievre from winning the leadership, earned just 16 per cent of support on the first ballot, placing him in distant second place.
Rookie Conservative MP Leslyn Lewis, who stunned many with her strong showing in the 2020 leadership race, earned just nine per cent this time around, despite having the backing of the party's well-mobilized social conservative wing.
Former Ontario legislator Roman Baber scored roughly five per cent and rural Ontario MP Scott Aitchison finished with about one per cent.
"To supporters of all of these fine candidates, I open my arms to you. Now today we are one party serving one country," Poilievre said.
He also thanked his family. Poilievre thanks his mother Marlene, who was in the audience, along with his father Don and his partner Ross. Poilievre was adopted at birth and on Saturday said his biological mom was also in the room.
"We're a complicated and mixed-up bunch, like most families, like our country," said Poilievre.
A riding-by-riding breakdown of the results show Poilievre captured widespread support across the country, being the first choice for Conservative party voters in nearly each of its 338 ridings.
Former Conservative party leader Andrew Scheer, who campaigned for Poilievre said that margin of victory surpassed expectations.
"When we were having big, big turnouts at the rallies, Pierre's first question was, 'OK, but how many memberships did we actually sell?'" he said in an interview at the event on Saturday.
"Everything was about not taking it for granted."
Earlier in the evening, former leader Erin O'Toole appeared by video to deliver thanks and emphasized to the crowd the importance of unity in the party. He said he was honoured to lead, but for "too short" of a time.
Candice Bergen, the longtime Manitoba MP who led the party in the interim after caucus voted to oust O'Toole in February, also addressed the audience. In her final speech as interim leader, Bergen said she wants to be remembered as helping promote unity.
She also imparted some advice to the new leader: "Respect, listen to and trust our caucus."
Poilievre turned heads in the campaign when he began appearing in front of crowds that at times swelled into the thousands, which he kept up throughout the race.
That prompted his campaign to say his populist message had unleashed a movement, which it galvanized to sell more than 300,000 memberships.
The Conservative party said nearly 418,000 ballots would be counted in the race, out of some 678,700 eligible voters.
Before Poilievre was elected as an MP, he grew up running in Conservative circles, coming to Ottawa in 2002 as a political staffer for former Canadian Alliance leader Stockwell Day and grew up campaigning for the likes of leaders such as Jason Kenney.
Poilievre was raised in Calgary and was adopted by his parents. He has said the reason he became interested in politics is because of an injury that left him unable to keep playing competitive sports as a teen.
In the years since the Conservatives lost power, Poilievre served as the party's finance critic, honing his economic messages against government spending and deficits, which he delivered more loudly once the COVID-19 pandemic hit and inflation surged.
Leadership ambitions had been on Poilievre's mind for at least a couple of years.
He considered running the last time the party was picking a leader in 2020, but ultimately decided against it just days before his campaign was supposed to launch.
This report by The Canadian Press was first published Sept. 10, 2022.
Premier Smith asks Prime Minister to halt "Just Transition" legislation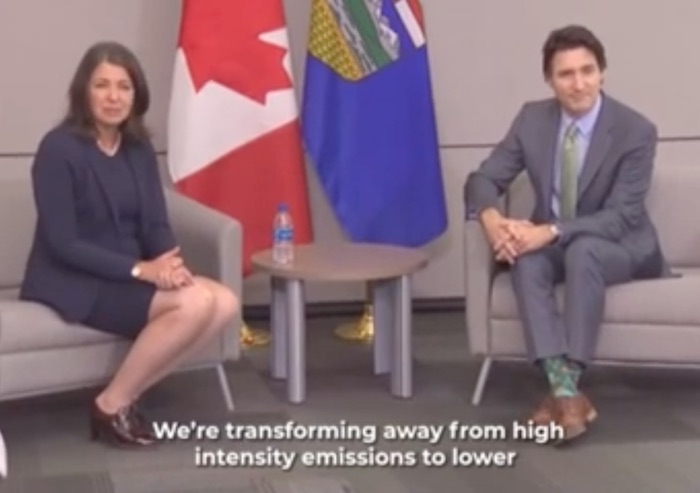 Premier Smith meets with the Prime Minister
Premier Danielle Smith met with the Prime Minister for approximately 30 minutes primarily discussing Alberta's request for the federal government to halt the introduction of its proposed 'Just Transition' legislation and other emission reduction strategies.
The Premier asked the federal government to instead work collaboratively with the Government of Alberta on developing a plan and partnership to attract energy investment and workers into Alberta's conventional, non-conventional and emerging energy sectors while reducing Canada's and Alberta's net emissions.
The Prime Minister expressed a willingness to explore this strategy with the Premier through their respective ministers and the Premier will be following up with further correspondence regarding proposed next steps in the near future.
The Premier used today's discussion to outline Alberta's expectations as to what must and must not be included in any future federal legislation, targets or policies as it relates to Alberta's energy sector. These expectations included:
Abandonment of any references to 'just transition' or any other terminology or policies that signal the phaseout of Alberta's conventional or non-conventional energy sector or workforce.
Increased workforce training and participation in all of the conventional, non-conventional and emerging energy sectors.
The need for formal consultation and collaboration with Alberta before the federal government announces or implements legislation, targets or policies that materially impact Alberta's energy sector.
Substantial increase in LNG exports to Asia through the lens of meeting targets through replacement of higher emitting fuel sources with clean Canadian LNG.
Joint federal-provincial initiatives to facilitate increased private investment in nuclear, hydrogen, bitumen beyond combustion, geothermal, lithium, helium, zero-emission vehicle, CCUS, petrochemical and other emerging technologies and fuels that make Alberta's conventional and non-conventional energy sector increasingly carbon neutral.
What Trudeau has offered to the premiers to fund health care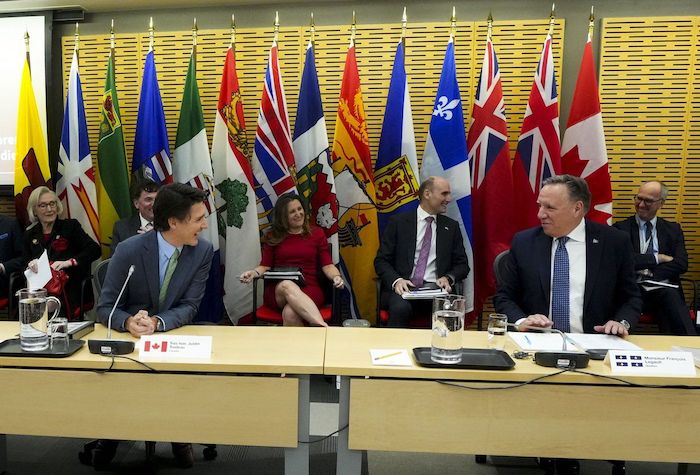 By Laura Osman in Ottawa
Premiers got their fist look at Ottawa's offer to increase long-term health funding Tuesday at a meeting with Prime Minister Justin Trudeau, but the federal proposal falls short of what they were seeking.
The provinces budgeted about $204 billion for health care in this fiscal year and the Canada Health Transfer was set at $45 billion, or about 22 per cent of that. The premiers want the federal share to increase to 35 per cent, which amounts to another $26 billion in this year alone.
Instead, Ottawa put together a 10-year, $196.1 billion deal, of which $46.2 billion is new funding.
Here's what the Liberals are offering:
$2 billion, no questions asked
The federal government plans to table legislation before the end of March to dole out $2 billion to provinces to address immediate health-care needs like surgical backlogs.
There are no strings attached.
Ottawa offered the same amount last year during the Omicron wave of COVID-19.
More money for the Canada Health Transfer
The main source of federal funding for health care comes from the Canada Health Transfer, which is the biggest pot of money the federal government gives to provinces and territories.
It's calculated based on a minimum yearly increase of three per cent or the three-year moving average of nominal gross domestic product (GDP) — whichever is higher.
Ottawa has now offered to step up the minimum yearly increase to five per cent for the next five years.
The total amount after the five years will serve as the new baseline moving toward.
The move is expected to give provinces an extra $17.3 billion over 10 years in new support. The federal Finance Department anticipates the CHT to grow by 33 per cent over the next five years, and 61 per cent over the next 10 years.
It all hinges on better data
The increase to the Canada Health Transfer is contingent on an agreement to share comparable data and digitize the health information of Canadians so it can be more easily accessed and shared between hospitals, clinics and jurisdictions.
Tailored deals with each provinces
Ottawa has also put $25 billion on the table for tailored one-on-one deals with each province to make progress on four major issues: family health services, health worker shortages and backlogs, mental health and substance use, and health-care modernization.
The deals will be highly flexible for each province, but they will have to show their work to get the money.
The government says it wants to see a plan from each province and targeted results they hope to accomplish. The provincial and territorial governments will then need to report on their progress.
Higher wages for personal support workers
Trudeau says he'll give provinces $1.7 billion over five years to increase the pay for personal support workers, who provide the majority of bedside care in long-term care and homecare settings.
No targets have been set yet for how high those wages should be. In the last election, the Liberals pledged to increase personal support worker pay to a minimum of $25 per hour.
Indigenous health
The federal government put forward $2 billion over 10 years specifically for fair and equitable access to appropriate health care for Indigenous Peoples through a health-equity fund.
The spending will come after consultations with Indigenous groups.
Other spending
— $505 million over five years for the Canadian Institute for Health Information Canada Health Infoway, and other federal data agencies to develop new health data indicators, as well as create a "Centre of Excellence" on health worker data, and support other efforts to modernize health data systems.
— $150 million over five years for the Territorial Health Investment Fund for medical travel and to deliver health care in the territories.
This report by The Canadian Press was first published Feb. 7, 2023.