Pierre Poilievre: A look at the new Conservative leader's key campaign promises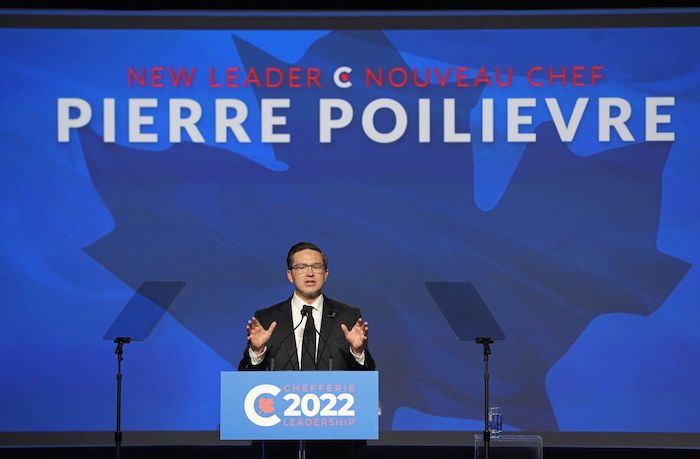 Ottawa – Pierre Poilievre was elected as the new leader of the Conservative Party of Canada on Saturday night, a definitive first-ballot victory after a campaign that focused on securing more "freedom" for Canadians.
Here is a look at some key pledges from his leadership campaign.
Energy
Poilievre has promised to cancel Ottawa's carbon price on consumer goods and build more pipelines. He says Canada would rely on technology to tackle its greenhouse-gas emissions, but hasn't provided further detail.
Government budgets
He promised to enact a "Pay-As-You-Go Law" that would cap federal spending at its budgeted amount and force it to find savings when something new is added. Poilievre says emergencies such as natural disasters and pandemics would be exempt from his rule, but new spending projects would require officials to look at existing budgets and to find what can be cut or changed to curb spending.
Freedom of expression
Poilievre said a government led by him would promote free speech on university campuses by withholding federal funding to institutions that don't commit to doing so. He also promises to appoint a former judge as a "free speech guardian" to probe any alleged violations.
Bank of Canada
Poilievre pledged to adopt a bill first introduced by former Conservative leader Andrew Scheer, who helped with his campaign, that would subject the central bank to the federal auditor general. He also received intense criticism for a promise to fire Tiff Macklem as the Bank of Canada governor over the country's high rate of inflation. Poilievre also promised to ban the central bank's proposed digital currency, although early in the campaign he also pledged that a Poilievre government would make it easier for Canadians to use cryptocurrencies such as Bitcoin.
Housing
Poilievre said he'd force cities such as Toronto and Vancouver to increase new home building by 15 per cent, under threat of losing federal funding, in an effort to bring down housing prices. He also promised a slate of other measures, including paying an extra $10,000 to municipalities for every new home that is built, and converting federal properties into affordable housing.
Immigration
He promised to incentivize provincial governments to ensure licensing bodies rule on newcomers' applications within 60 days. Poilievre also said he would provide more study loans to those immigrating to Canada who need extra training to meet licensing requirements.
This report by The Canadian Press was first published Sept. 10, 2022.
Premier Smith asks Prime Minister to halt "Just Transition" legislation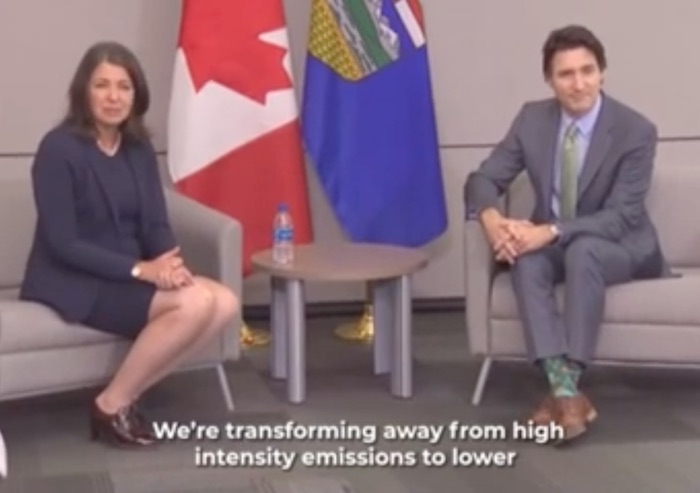 Premier Smith meets with the Prime Minister
Premier Danielle Smith met with the Prime Minister for approximately 30 minutes primarily discussing Alberta's request for the federal government to halt the introduction of its proposed 'Just Transition' legislation and other emission reduction strategies.
The Premier asked the federal government to instead work collaboratively with the Government of Alberta on developing a plan and partnership to attract energy investment and workers into Alberta's conventional, non-conventional and emerging energy sectors while reducing Canada's and Alberta's net emissions.
The Prime Minister expressed a willingness to explore this strategy with the Premier through their respective ministers and the Premier will be following up with further correspondence regarding proposed next steps in the near future.
The Premier used today's discussion to outline Alberta's expectations as to what must and must not be included in any future federal legislation, targets or policies as it relates to Alberta's energy sector. These expectations included:
Abandonment of any references to 'just transition' or any other terminology or policies that signal the phaseout of Alberta's conventional or non-conventional energy sector or workforce.
Increased workforce training and participation in all of the conventional, non-conventional and emerging energy sectors.
The need for formal consultation and collaboration with Alberta before the federal government announces or implements legislation, targets or policies that materially impact Alberta's energy sector.
Substantial increase in LNG exports to Asia through the lens of meeting targets through replacement of higher emitting fuel sources with clean Canadian LNG.
Joint federal-provincial initiatives to facilitate increased private investment in nuclear, hydrogen, bitumen beyond combustion, geothermal, lithium, helium, zero-emission vehicle, CCUS, petrochemical and other emerging technologies and fuels that make Alberta's conventional and non-conventional energy sector increasingly carbon neutral.
What Trudeau has offered to the premiers to fund health care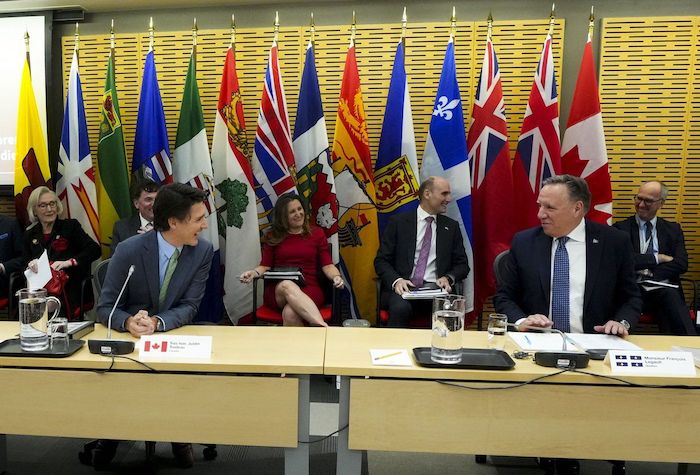 By Laura Osman in Ottawa
Premiers got their fist look at Ottawa's offer to increase long-term health funding Tuesday at a meeting with Prime Minister Justin Trudeau, but the federal proposal falls short of what they were seeking.
The provinces budgeted about $204 billion for health care in this fiscal year and the Canada Health Transfer was set at $45 billion, or about 22 per cent of that. The premiers want the federal share to increase to 35 per cent, which amounts to another $26 billion in this year alone.
Instead, Ottawa put together a 10-year, $196.1 billion deal, of which $46.2 billion is new funding.
Here's what the Liberals are offering:
$2 billion, no questions asked
The federal government plans to table legislation before the end of March to dole out $2 billion to provinces to address immediate health-care needs like surgical backlogs.
There are no strings attached.
Ottawa offered the same amount last year during the Omicron wave of COVID-19.
More money for the Canada Health Transfer
The main source of federal funding for health care comes from the Canada Health Transfer, which is the biggest pot of money the federal government gives to provinces and territories.
It's calculated based on a minimum yearly increase of three per cent or the three-year moving average of nominal gross domestic product (GDP) — whichever is higher.
Ottawa has now offered to step up the minimum yearly increase to five per cent for the next five years.
The total amount after the five years will serve as the new baseline moving toward.
The move is expected to give provinces an extra $17.3 billion over 10 years in new support. The federal Finance Department anticipates the CHT to grow by 33 per cent over the next five years, and 61 per cent over the next 10 years.
It all hinges on better data
The increase to the Canada Health Transfer is contingent on an agreement to share comparable data and digitize the health information of Canadians so it can be more easily accessed and shared between hospitals, clinics and jurisdictions.
Tailored deals with each provinces
Ottawa has also put $25 billion on the table for tailored one-on-one deals with each province to make progress on four major issues: family health services, health worker shortages and backlogs, mental health and substance use, and health-care modernization.
The deals will be highly flexible for each province, but they will have to show their work to get the money.
The government says it wants to see a plan from each province and targeted results they hope to accomplish. The provincial and territorial governments will then need to report on their progress.
Higher wages for personal support workers
Trudeau says he'll give provinces $1.7 billion over five years to increase the pay for personal support workers, who provide the majority of bedside care in long-term care and homecare settings.
No targets have been set yet for how high those wages should be. In the last election, the Liberals pledged to increase personal support worker pay to a minimum of $25 per hour.
Indigenous health
The federal government put forward $2 billion over 10 years specifically for fair and equitable access to appropriate health care for Indigenous Peoples through a health-equity fund.
The spending will come after consultations with Indigenous groups.
Other spending
— $505 million over five years for the Canadian Institute for Health Information Canada Health Infoway, and other federal data agencies to develop new health data indicators, as well as create a "Centre of Excellence" on health worker data, and support other efforts to modernize health data systems.
— $150 million over five years for the Territorial Health Investment Fund for medical travel and to deliver health care in the territories.
This report by The Canadian Press was first published Feb. 7, 2023.