Photographer rides out Ian to capture the storm for others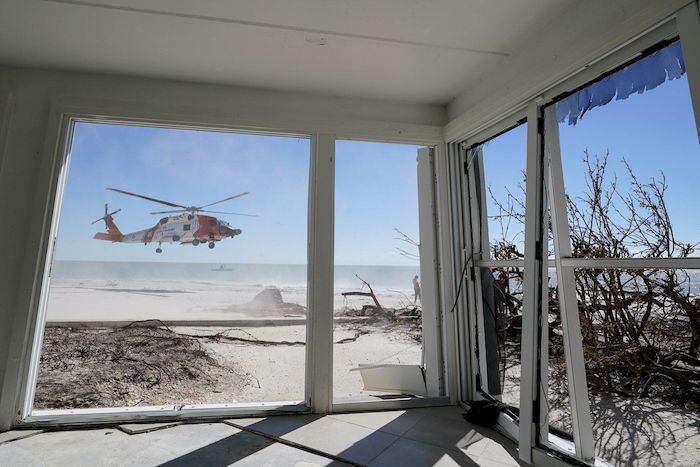 By Brendan Farrington
Chuck Larsen has lived on Sanibel Island for 12 years and until last week had never experienced a major hurricane. The 76-year-old who moved from California decided to ride out Hurricane Ian in his condominium with little idea of the horror he was about to go through.
He filled his bathtub with water, stocked up on food and water, and made sure batteries were charged and his windows were rated to withstand 150 mph (240 kph) winds. He followed the forecast thinking the island would get strong wind and rain, and trees would fall, but areas to the north would take the hardest hit.
"I have to tell you, I felt fairly safe going into this, but when the glass blew out and started shattering inside … I realized this was a problem," said Larsen, who has since "retreated to Orlando."
There was another reason Larsen wanted to stay. He is the part owner and photographer for the local news website santivachronicle.com.
"I stayed behind to record the event and record the aftermath for publication without realizing exactly how bad this storm was going to be," Larsen said in a Zoom interview. "I tried to photograph the storm as it was happening. The high winds, the rain, the surge from the Gulf. After the storm I tried to document what was left, what damage was done, and it was horrific."
But with no internet or cell phone connectivity, he wasn't able to publish any material until several days later when he was safely evacuated.
Larsen has spent a career in television and continues to run a television distribution consulting company. His first television job was as a reporter and anchor at an Indianapolis station. One of his co-workers was weatherman David Letterman.
Larsen was attracted to Sanibel because of its old Florida charm and the community of residents who want to preserve it. The barrier island off Fort Myers has no buildings taller than three stories, no chain restaurants or stores, no traffic lights and is home to locally owned shops. It's famous for the thousands of shells that wash up on the beaches and is a quaint, picturesque island for tourists.
He and his wife vacationed there a few years before deciding to move to the island of about 6,500 full-time residents. Sanibel attracts retirees — about 57% of the population is 65 years old or older — and while not an enclave for the mega-rich, the median value of owner-occupied homes tops $700,000 and its per capita income is more than $90,000, both well above state averages.
"At the moment, it looks like nothing you would remember if you had ever visited Sanibel. It's devastated," Larsen said.
While he, his wife and two dogs took shelter in an interior room during the storm, he ventured out the next morning with his camera hoping to get images for his news website, which covers community events, human interest stories and features on residents of Sanibel and nearby Captiva Island.
"It was like living in a war zone — just decimated property and condominiums, trees gone, I don't think there was a car that survived. It was pretty dramatic, much worse than I've ever experienced," Larsen said.
He and his wife eventually found a boat to take them to the mainland. They're staying with a daughter in Orlando, not sure when they'll be able to get back to their island home. But Larsen is sure they will.
"Sanibel is a very cohesive community. It will rebuild. It won't happen immediately. It will probably happen faster than most people might think, but it will need a complete rebuild — electric grid, water systems — it's going to take a lot of work, but it will come back. I have no doubt about that."
Ice Explorer rollover investigation complete – No criminal charges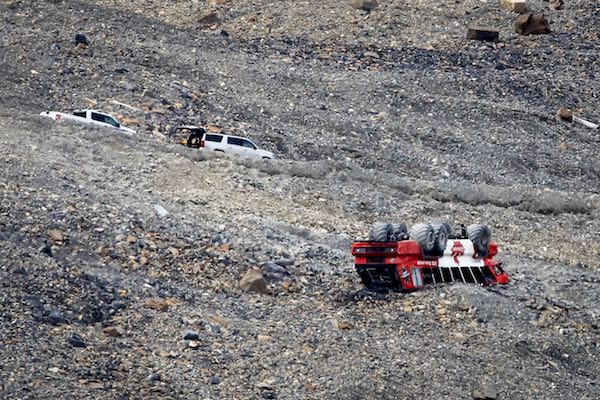 Submitted by Alberta RCMP
Jasper RCMP investigate Ice Explorer rollover in the Columbia Icefields – Update #7
The RCMP have completed their investigation into the tragic events of the Ice Explorer rollover in Columbia Icefields on July 18, 2020. The RCMP have shared all requested investigative material gathered during the criminal investigation with the Ministry of Labour as required by the Alberta OH&S Act. While the RCMP is aware of the charges resulting from the regulatory investigation, the criminal standard is high and the criminal investigation is independent, separate and parallel to the OH&S investigation.
Upon consultation with the Alberta Crown Prosecution Service, the RCMP have determined that no criminal charges are warranted in this investigation. This determination brings the RCMP's criminal investigation to a close.
This investigation was of the utmost seriousness and was complex, both factually and legally.
Our thoughts continue to go out to the families of the deceased and the injured, and to all who have been impacted by this tragedy.
No further details can be shared at this time.
'Cautiously optimistic': Lawyer for trucker in Broncos crash waiting on Federal Court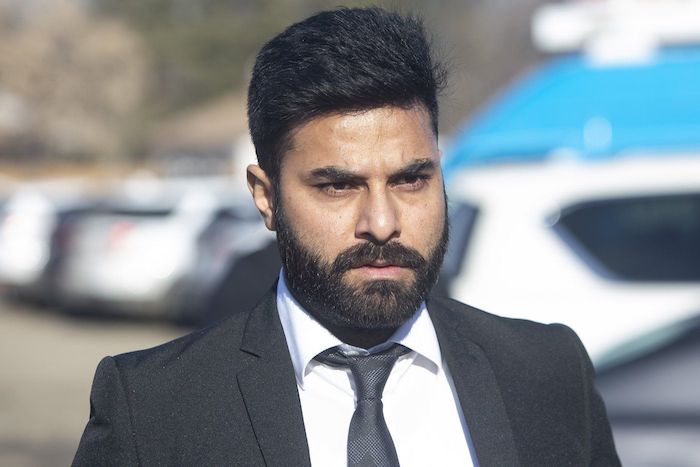 By Bill Graveland in Calgary
A lawyer for a former truck driver who caused the deadly Humboldt Broncos bus crash says he's cautiously optimistic that he will get the chance to argue against his client's possible deportation before Federal Court.
In 2019, Jaskirat Singh Sidhu was sentenced to eight years after pleading guilty to dangerous driving causing death and bodily harm in the Saskatchewan crash that killed 16 people and injured 13 others.
The Canada Border Services Agency recommended in March that Sidhu be handed over to the Immigration and Refugee Board to decide whether he should be deported to India.
Michael Greene, Sidhu's lawyer, said if the Federal Court decides not to hear the case, the deportation process would continue.
He said all written arguments with the Federal Court were filed in July, adding that no news can be good news when waiting for the court to make its decision.
"I'm cautiously optimistic, but I know enough not to get cocky about something like that," Greene said. "Usually when it takes time, it means you've got an arguable case."
It is also a high-profile case, so a judge might want to be extra careful, he said.
Court was told that the rookie Calgary trucker, a newly married permanent resident, went through a stop sign at a rural intersection and drove into the path of the Humboldt Broncos bus carrying players and staff to a junior hockey league playoff game.
The Parole Board of Canada granted Sidhu day parole in July for six months. He can get full parole after that if he follows conditions, including not contacting the families of the victims.
"Day parole means he is at home. He's with his wife and I can't tell you how happy that makes them," Greene said. "They're trying to get back to some sense of normalcy."
Greene said even if he is granted permission to appeal before the court and is successful, the matter would be sent back to Canada Border Services Agency for another review. He said the original officer put all the weight of his decision on the gravity of the harm caused.
"You can't get your hopes up too high," Greene said.
"Sometimes the judge will make comments in their decision that will give some guidance to the (CBSA) officers."
An online fundraising page set up to raise money to help keep Sidhu in Canada has reached more than $42,000.
A message from Sidhu's wife, Tanvir Mann, a Canadian citizen, said her husband made a "tragic mistake."
"When confronted by the unimaginable magnitude of the consequences of his mistake, he did everything he could to make things better," Mann writes.
"I pray that there are people out there who don't believe that Jaskirat should be deported and are willing to contribute to my fight to be able to live out our lives in Canada."
The Canada Border Services Agency has previously declined to comment on Sidhu's case, but said there are multiple steps built into the process to ensure procedural fairness.
Greene said he understands that several of the victims' families are still angry.
"It's completely understandable. It is," he said. "Everybody deals with grief and loss in their own way."
This report by The Canadian Press was first published Dec. 1, 2022.