Pfizer says COVID-19 vaccine works in kids ages 5 to 11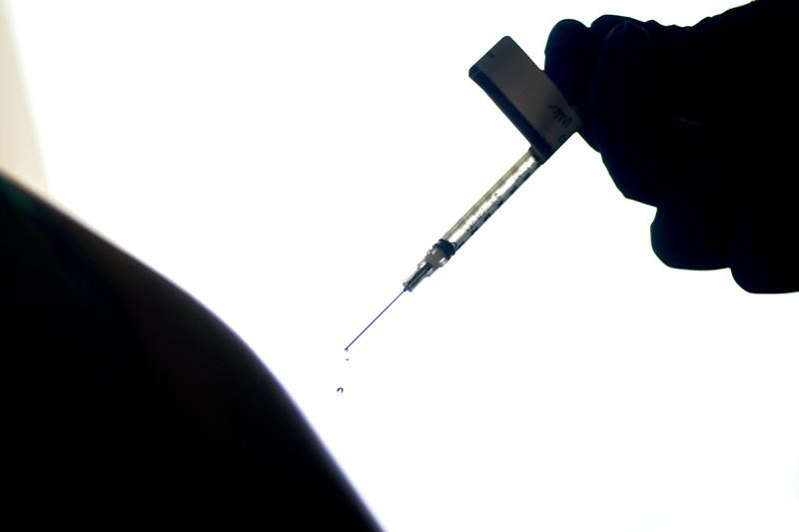 Pfizer said Monday its COVID-19 vaccine works for children ages 5 to 11 and that it will seek U.S. authorization for this age group soon — a key step toward beginning vaccinations for youngsters.
The vaccine made by Pfizer and its German partner BioNTech already is available for anyone 12 and older. But with kids now back in school and the extra-contagious delta variant causing a huge jump in pediatric infections, many parents are anxiously awaiting vaccinations for their younger children.
For elementary school-aged kids, Pfizer tested a much lower dose — a third of the amount that's in each shot given now. Yet after their second dose, children ages 5 to 11 developed coronavirus-fighting antibody levels just as strong as teenagers and young adults getting the regular-strength shots, Dr. Bill Gruber, a Pfizer senior vice president, told The Associated Press.
The kid dosage also proved safe, with similar or fewer temporary side effects — such as sore arms, fever or achiness — that teens experience, he said.
"I think we really hit the sweet spot," said Gruber, who's also a pediatrician.
Gruber said the companies aim to apply to the Food and Drug Administration by the end of the month for emergency use in this age group, followed shortly afterward with applications to European and British regulators.
Earlier this month, FDA chief Dr. Peter Marks told the AP that once Pfizer turns over its study results, his agency would evaluate the data "hopefully in a matter of weeks" to decide if the shots are safe and effective enough for younger kids.
An outside expert said scientists want to see more details but called the report encouraging.
"These topline results are very good news," said Dr. Jesse Goodman of Georgetown University, a former FDA vaccine chief. The level of immune response Pfizer reported "appears likely to be protective."
Many Western countries so far have vaccinated no younger than age 12, awaiting evidence of what's the right dose and that it works safely. Cuba last week began immunizing children as young as 2 with its homegrown vaccines and Chinese regulators have cleared two of its brands down to age 3.
While kids are at lower risk of severe illness or death than older people, more than 5 million children in the U.S. have tested positive for COVID-19 since the pandemic began and at least 460 have died, according to the American Academy of Pediatrics. Cases in children have risen as the delta variant swept through the country.
"I feel a great sense of urgency" in making the vaccine available to children under 12, Gruber said. "There's pent-up demand for parents to be able to have their children returned to a normal life."
In New Jersey, 10-year-old Maya Huber asked why she couldn't get vaccinated like her parents and both teen brothers have. Her mother, Dr. Nisha Gandhi, a critical care physician at Englewood Hospital, enrolled Maya in the Pfizer study at Rutgers University. But the family hasn't eased up on their masking and other virus precautions until they learn if Maya received the real vaccine or a dummy shot.
Once she knows she's protected, Maya's first goal: "a huge sleepover with all my friends."
Maya said it was exciting to be part of the study even though she was "super scared" about getting jabbed. But "after you get it, at least you feel like happy that you did it and relieved that it didn't hurt," she told the AP.
Pfizer said it studied the lower dose in 2,268 kindergartners and elementary school-aged kids. The FDA required what is called an immune "bridging" study: evidence that the younger children developed antibody levels already proven to be protective in teens and adults. That's what Pfizer reported Monday in a press release, not a scientific publication. The study still is ongoing, and there haven't yet been enough COVID-19 cases to compare rates between the vaccinated and those given a placebo — something that might offer additional evidence.
The study isn't large enough to detect any extremely rare side effects, such as the heart inflammation that sometimes occurs after the second dose, mostly in young men. The FDA's Marks said the pediatric studies should be large enough to rule out any higher risk to young children. Pfizer's Gruber said once the vaccine is authorized for younger children, they'll be carefully monitored for rare risks just like everyone else.
A second U.S. vaccine maker, Moderna, also is studying its shots in elementary school-aged children. Pfizer and Moderna are studying even younger tots as well, down to 6-month-olds. Results are expected later in the year.
___
AP journalist Emma Tobin contributed to this report.
___
The Associated Press Health and Science Department receives support from the Howard Hughes Medical Institute's Department of Science Education. The AP is solely responsible for all content.
Lauran Neergaard, The Associated Press
Edward Rogers files B.C. court petition to have newly formed board declared valid
TORONTO — The son of late Rogers Communications Inc. founder Ted Rogers is seeking a ruling from B.C.'s Supreme Court that would legitimize a company board he formed by replacing five of its members.
Edward Rogers' mother Loretta Rogers and sisters Melinda Rogers-Hixon and Martha Rogers claim the board is illegitimate and does not comply with laws in B.C., where the company is incorporated.
They and several other associates say the only legitimate version of the Rogers board is the one that existed last week, before Edward Rogers replaced five directors with people of his choosing.
Edward Rogers was ousted from his role as board chair, but he remains at the helm of his family's trust, which controls 97 per cent of the firm's Class A voting shares and 10 per cent of outstanding Class B shares.
He has been at the centre of a power struggle since media reports revealed he was plotting to give Rogers' former chief financial officer Tony Staffieri the job of CEO Joe Natale, a move some family and board members oppose.
The ongoing feud has left Rogers in a state of uncertainty as it awaits regulatory approvals for a $26-billion takeover of rival Shaw Communications Inc.
This report by The Canadian Press was first published Oct. 26, 2021.
Companies in this story: (TSX:RCI)
The Canadian Press
Blackhawks GM Bowman resigns after sexual assault probe
Chicago Blackhawks general manager and president of Hockey Operations Stan Bowman resigned Tuesday after an investigation commissioned by the team found he was among a group of leaders who failed to respond promptly to allegations that an assistant coach sexually assaulted a player in 2010.
The results of the independent review by Jenner & Block were handed over to the Blackhawks on Monday, and team CEO Danny Wirtz said the report "is both disturbing and difficult to read."
Former federal prosecutor Reid Schar, who ran the investigation, said Tuesday that Bowman, former team president John McDonough, hockey operations executive Al MacIsaac, former executive vice president Jay Blunk and then-assistant general manager Kevin Cheveldayoff met with then-coach Joel Quenneville and mental skills coach Jim Gary to discuss allegations that then assistant coach Brad Aldrich had assaulted a player.
Schar said accounts of the meeting "vary significantly."
"What is clear is that after being informed of Aldrich's alleged sexual harassment and misconduct with a player no action was taken for three weeks," Schar said.
The investigation was commissioned by the team after two lawsuits were filed against the Blackhawks: one alleging sexual assault by assistant coach Aldrich during the team's Stanley Cup run and another filed by a former student whom Aldrich was convicted of assaulting in Michigan. Aldrich left the Blackhawks after the 2009-10 season.
A former player said Aldrich assaulted him, and that the team did nothing after he informed an employee. The lawsuit, filed May 7 in Cook County Circuit Court, alleges Aldrich also assaulted another unidentified Blackhawks player. The former player who sued and is seeking more than $150,000 in damages is referred in the document as "John Doe."
The eight-page lawsuit says Aldrich, then a video coach for the Blackhawks, "turned on porn and began to masturbate in front of" the player without his consent. It says Aldrich also threatened to "physically, financially and emotionally" hurt the player if he "did not engage in sexual activity" with him.
___
More AP sports: https://apnews.com/hub/apf-sports and https://twitter.com/AP_Sports
Jay Cohen And Stephen Whyno, The Associated Press